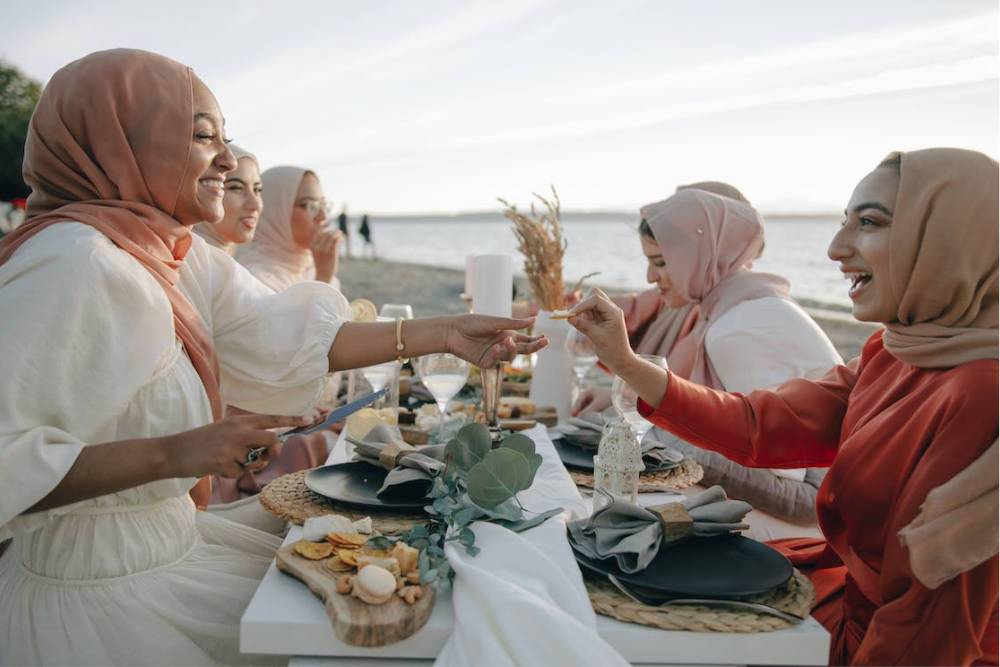 Ultimate Eid Outfit Ideas For Women Of All Sizes
Eid celebrations 2023 are quickly approaching. This is a time for Muslims all over the world to unite and celebrate.

Eid, a term derived from Arabic, refers to a festive occasion. It is customary to celebrate Eid with loved ones and relish in food to express joy and happiness.

Additionally, the festivities involve various preparations, including dressing up in the finest attire and honouring Islamic cultural traditions. This is a time to show off a fierce sense of fashion, which is an important part of the Eid celebration.

If you are a woman who celebrates Eid, here is a quick guide curated to help you showcase your personality and for an Insta-worthy post-2023 in both western and traditional looks with rich pastels and bold colours to commemorate celebrations around the world.
Panaprium is proud to be 100% independent, free of any influence, and not sponsored. We carefully handpick products from brands we trust. Thank you so much for buying something through our link, as we may earn a commission that supports us.


Traditional Fusion


There is nothing more attractive than a white shirt in a western wardrobe and there is nothing so timeless as a saree. If you want to dress traditionally but do not want to deal with the hassle of using multiple safety pins, try combining a shirt and a saree.

It will give you a one-of-a-kind and personalized fashion style that is comfortable to wear and can be worn multiple times with different options each time. This is the best option if you want to be creative and create a multicultural look.

Here is our selection of shirts to help you create the look.


Cardigan


Cardigans are a versatile addition to any outfit, effortlessly pairing with other clothing items. If your style leans towards boho and you enjoy the natural aesthetic, then adding cardigans will elevate any dress to the next level.

They add a feminine touch and provide a flattering silhouette due to their flowy nature fabric. For a vintage-inspired look that showcases your inner old soul with a youthful spirit, consider pairing a satin dress with a long summer cardigan.

This combination exudes a magical charm that is sure to turn heads. Check out our selection of beautiful, comfy cardigans.


Co-ord set


The 70s are back—Co-ord sets, a fashion staple from decades ago, have resurfaced in the fashion industry, bringing back the trend. If your fashion aesthetic prioritizes comfort, convenience, and keeping up with the latest trends, then this is the perfect outfit for you.

Co-ord sets are one of the best comebacks and a hassle-free outfit choice. They create an illusion for the body, with the matching top and bottom almost concealing your body shape. This allows for versatility in styling options while maintaining a trendy look.
 



Oversized Suit


Oversized clothing is a godsend for women who hate the feeling of clothes hugging their bodies. You cannot go wrong with an oversized suit if your style is bold, mysterious, and confident. It is a common misconception that oversized clothing looks baggy.

It is all about how you carry it. Oversized suits have a mysterious element to them. It conceals your true silhouette. They are an ideal option if you want a bossy look. Also, a great look if you want to tease the "gossip aunties" by letting them speculate about why you are hiding your flawless curves.

Here is our selection of suits for a flattering look.


Kaftan


A kaftan is a wardrobe staple that every woman should have. If you are celebrating Eid in hot weather, dressing up in a kaftan is an excellent option. Your body will appreciate its loose, thin, and flowy silhouette.

Kaftans are perfect summer attire suitable for people of all ages and body types. Depending on the complexity of their embroidery, patterns, and colours, kaftans can be worn as traditional garments.

Here is our selection of kaftans to wear this summer.


Maxi skirt


If you are short on time and need a fast, convenient, and comfortable outfit that is feminine and easy to wear, opt for a maxi skirt. These skirts are extremely adaptable, pairing effortlessly with items from your existing wardrobe.

You will not have to fret about matching because they can be teamed with any simple top. Spice it up with accessories and enjoy a nice breezy feel as it is not going to be out of style anytime soon.

Here is our selection of maxi skirts to help you create the look.


Palazzo pants


Combining comfort and elegance is effortless with palazzo pants. Stay cool in hot weather with lightweight, breezy, and comfortable palazzos that allow your skin to breathe.

Palazzo pants are also highly fashionable, accentuating your waistline while their relaxed, flowing style pairs perfectly with heels, making them ideal for afternoon Eid celebrations.

Here is our selection of heels to help you create the look.


Layer it


Here is a DIY hack for creating a traditional look by combining a maxi dress with a maxi skirt or palazzo pants, perfect for those who enjoy making their unique style.

This look is simple to put together using items from your wardrobe, without the need to spend extra money. Ensure the color scheme is monochromatic and complements each other, creating a seamless flow for the whole outfit.


Formal wear


A classy look is always a safe bet. Combine sleek pants with a sharp blazer that exudes confidence. Achieve a classy look by wearing fitted contemporary, and flattering silhouettes in neutral tones that will make you feel powerful, luxurious, and extravagant.

Here is our selection of sustainable blazers to help you create the look.


Maxi dress

 
A Maxi dress is a perfect go-to outfit for Eid. Recognize your body type and what type of fabric best suits your fit, and you will look stunning, guaranteed.

It is a timeless fashion that is also the most comfortable to wear. Depending on the cut of the maxi dress, it can highlight your upper curves and look truly elegant when paired with statement jewelry.

Here is our selection of elegant jewelry for a timeless look.


Jeans


Don't just wear jeans and a top—that is boring! Rather, make it fun. Swap your tights for jeans and add a stylish twist to your button-down dress by adding a bold top underneath, creating a chic contrast that exudes effortless artistic flair.

Select a lightweight, flowy dress and accessorize it with bold or minimal pieces, pairing it with couture heels to achieve the desired look. The outfit could work both as a traditional or contemporary look.

Here is our selection of organic cotton jeans to help you create the look.
Was this article helpful to you? Please tell us what you liked or didn't like in the comments below.