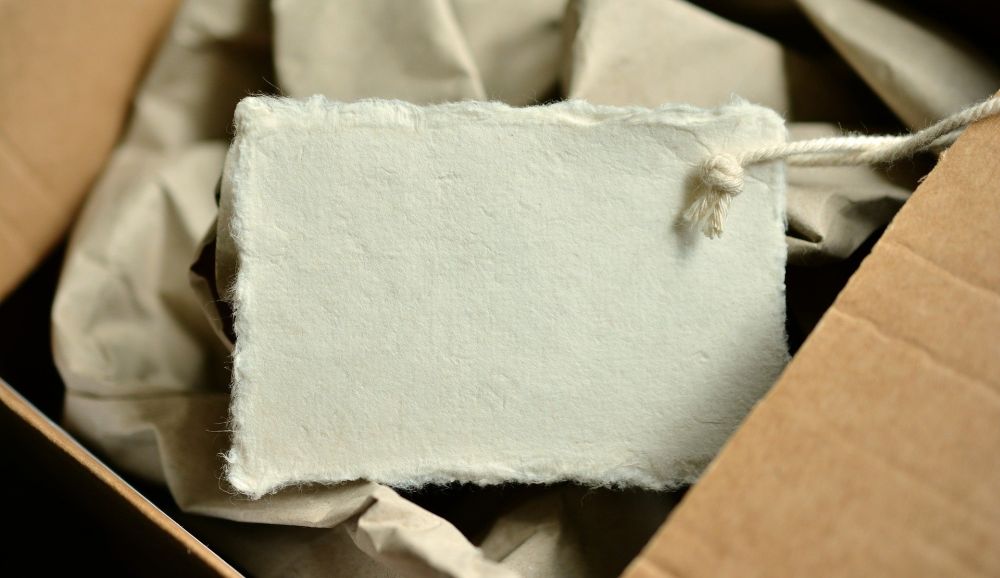 Eco-Friendly Packaging Ideas for Clothing

Fortunately, there are now many different solutions when looking for Eco-friendly packaging ideas for clothing. A few years ago, I did not pay much attention to the packaging when I went shopping for clothes.

Nowadays, it has become much clearer that the clothing industry must make efforts to introduce sustainable packaging choices.
Panaprium is proud to be 100% independent, free of any influence, and not sponsored. We carefully handpick products from brands we trust. Thank you so much for buying something through our link, as we may earn a commission that supports us.

Why Use Eco-Friendly Packaging for Clothing?
The clothing industry is contributing to climate change. It is a fact. There are growing concerns and we should do all we can to reduce the ill effects. The industry should be considering more sustainable processes.

Packaging is important to transport the product safely from the brand to the customer. It allows us to display the design and set the product apart from the competition. When possible, packaging for clothing should be recycled and re-used.

In the fashion industry, businesses should strive to make more sustainable choices. And according to the Sustainable Packaging Coalition (SPC), Eco-friendly packaging ideas for clothing should:
be physically designed to optimize materials and energy,
be made from materials that are healthy throughout the life cycle,
be sourced, manufactured, transported, and recycled using renewable energy,
be manufactured using clean production technologies and best practices,
use renewable or recycled source materials,
meet market criteria for both performance and cost,
be beneficial, safe, and healthy for individuals and communities throughout its life cycle,
be effectively recovered and utilized in biological and/or industrial closed-loop cycles.

Using a life-cycle approach, the Sustainable Packaging Coalition promotes sustainable packaging processes. It starts with the design and selection of materials and end with product usage.

Please keep in mind that you have the power. As consumers, we have an important role to play as we choose what product to buy and how we dispose of packaging materials. Please help with the safe recycling and composting of materials. And look out for Eco-friendly packaging when shopping. Continue reading to find out the best Eco-friendly packaging materials for clothing on the market.


Recycled PET
Recycled PET or polyethylene terephthalate is indeed a very popular choice for packaging. Also known as RPET, it is the most widely used plastic in the world. It is safe and highly sustainable since it can be recovered and reused again and again.


Recycled polypropylene
Polypropylene abbreviated as PP is a recyclable thermoplastic polymer. It is used in many different products and highly resistant. Unfortunately, a significant proportion is still dumped into landfills and not recycled. It is currently not as economically viable to recycle PP as it is to recycle other polymers such as PET.



Corn starch
Corn starch or maize starch is a type of starch derived from corn (maize). Sometimes referred to as corn flour, it is a carbohydrate extracted from the endosperm of corn. Companies that care about their environmental impact often make good usage of this idea for Eco-friendly packaging.
It is a green alternative, bio-based and biodegradable, organic, ethical, sustainable and reusable. Corn starch is one of the many plant-based packaging solutions. It is sometimes called bio-based plastics or corn plastic.



Cardboard boxes
Cardboard is a generic term for heavy-duty paper-based packaging. It has a much greater thickness and durability that normal paper. A cardboard box is generally made up of recycled paper.
To serve as an Eco-friendly packaging solution, it should have a considerable proportion of recycled content, sourced from old cardboard or other sources of second-hand paper.
Make sure to look for packing materials made from Forest Stewardship Council (FSC) certified paper or recycled cardboard and paper when shopping.



Paper foam
Paper foam is a great idea for Eco-friendly clothing packaging. It has a low impact on the environment and is biodegradable. Paper foam is a high-end packaging material, sustainable, Eco-friendly, low-carbon, recyclable and renewable.

I hope this gives you some ideas for reducing and reusing materials to save resources. As a consumer, you too can help in reducing harmful materials and processes used in the clothing industry.
Was this article helpful to you? Please tell us what you liked or didn't like in the comments below.