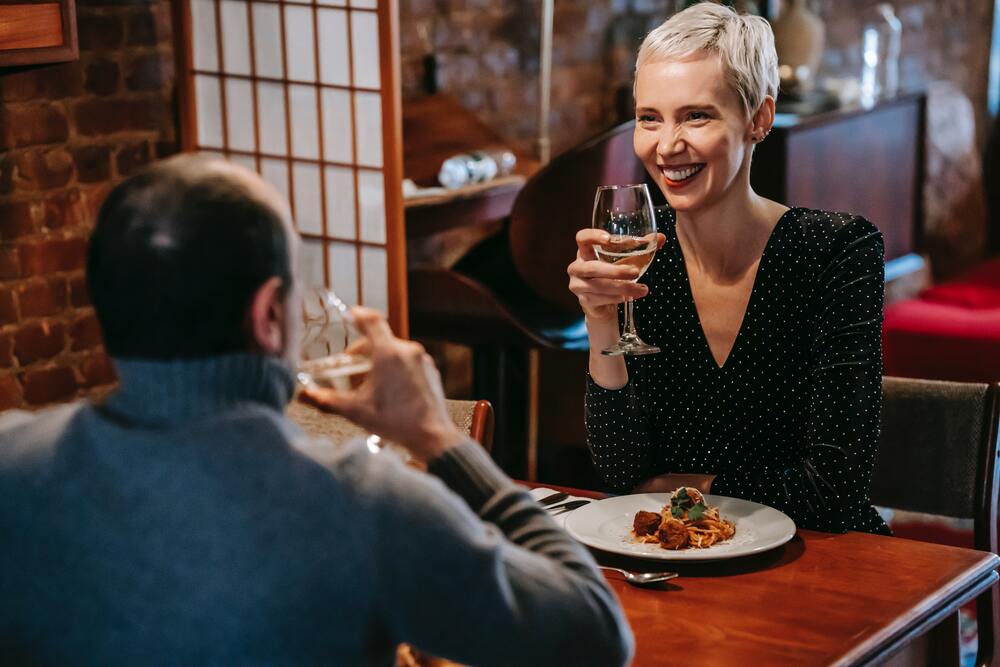 Cute Outfits For A Lunch Date! 29+ Great Ideas
Lunch dates with your significant other or friends are a delightful experience, but finding the perfect outfit that balances comfort and style can be challenging, especially during hot weather. Luckily, we have compiled various outfit ideas to make you feel your best while helping you beat the heat.
Light-colored clothing is ideal for lunch dates as it keeps you cool while making you look vibrant and lively. For example, a chic and cool choice would be a pastel-colored floral dress made from lightweight fabric accessorized with slides, sunglasses, and a straw bag.
Other options include skirts with tank tops, T-shirt dresses, pants with check patterns, jumpsuits, and jeans with casual shirts and block heels. However, avoid wearing overly glittery or satin outfits and dark colors like black.
With that said, choosing an outfit that makes you feel confident and relaxed is essential. Here are some unique, elegant, and fashionable outfit ideas that will make you pop out on your next lunch date.
Panaprium is proud to be 100% independent, free of any influence, and not sponsored. We carefully handpick products from brands we trust. Thank you so much for buying something through our link, as we may earn a commission that supports us.
Oversized shirt and cut-off jeans
Consider an oversized shirt paired with cut-off jeans and spaghetti-strap heels for a casual lunch with friends or family. This effortless look is perfect for a heavy lunch and will make you feel carefree and relaxed. Add a pop of fun to the outfit with a bright yellow handbag.
Not sure about how to look attractive in an oversized shirt? Check out these tips on how to wear oversized clothes and look stunning.
Pastel blazer for spring
Elevate your look with a pastel blazer for a spring lunch date. This fashionable item adds a touch of girl boss vibes to any outfit. Pair it with a simple top and jeans for a casual yet polished look.
Satin slip dress and denim jacket
Opt for a satin slip dress and denim jacket for a feminine style that's not too overdressed. The combination is perfect for a lunch date with your girlfriends. Add some accessories like a statement necklace or earrings to complete the look.
Belted shirt dress

For a comfortable and stylish option, try a belted shirt dress. This dress hides your belly and creates a slimming figure. It's available in sleeveless and short sleeve designs, so you can choose the one that suits your style.
Bright hues and fun patterns
Consider bright hues and fun patterns for an outdoor lunch party to make a statement. This look will make you picture-perfect and ready for any social media snap.
20 best patterned pants to easily look stylish.
Peplum top and jeans
If you're a pear-shaped girl, consider a peplum top with jeans. This top creates an illusion that hides your rolls and makes you feel confident. Pair it with your favorite jeans and chunky low heels for a complete look.
Statement one-piece dress
For plus-size ladies, a one-piece statement dress is perfect for a lunch date. This dress with feminine cold-shoulder and peplum detailing is both flattering and fashionable. Pair it with nice pumps, chunky low heels or sandals to complete the look.
Regarding footwear, opt for chunky low heels or nice pumps instead of stiletto heels. Stiletto heels may appear too dressy for a daytime lunch date. So, choose comfortable yet chic footwear that matches your outfit perfectly.
The floral wrap dress

A floral wrap dress is perfect for a Sunday best look. It's a timeless piece that you can wear to any lunch date. Pair it with sleek white sneakers and a midi sundress for a chic and effortless look. Plus, it's a wrap dress, so you can always loosen the tie if you feel bloated after lunch.
Smart casual attire
Think of smart casual attire for a business lunch or client meeting at a country club. A fitted blazer, dress pants, and a nice blouse perfectly balance your personal style and professional look. Remember to complete the ensemble with a structured bag and closed-toe heels.
20 Best Casual Chic Work Outfits You Need To Wear
Elegant tweed jacket
Opt for an elegant tweed jacket if you're having lunch with your colleagues and building bonds. It's a better option than a blazer, making you look more approachable and casual. A Chanel-inspired tweed jacket is a great outerwear option you can style in multiple ways.
Paper bag pants
If you don't like dresses, paper bag pants are another great choice. They are comfortable and belly-forgiving, making them an excellent option for a lunch date. Team them up with a blouse or a cami top and a cute high bun for a fresh and casual look.
Faux leather biker jacket for chilly days
When the days are chilly, you can opt for a faux leather biker jacket. Pair it with sunglasses to complete the look.
Cutout sweater top for flirty vibes in fall
If you're feeling extra flirty for your fall lunch date, a cutout sweater is serious in style these days. It's not overly sexy, but it's perfectly fancy to make your date partner keep an eye on you.
15 best affordable and sustainable sweater vests.
Knitted sweater
While a sequin dress may be too over-the-top for fine dining lunch, throw on a knitted sweater and achieve a wearable yet feminine look. Pair it with a YSL clutch or mini shoulder bag.
Sleeveless knit top, white shirt, and mini pleated skirt
When in doubt, layer up your look. Layer a sleeveless knit top on top of a white shirt and a mini pleated skirt for a perfect IT girl style. Together with combat boots and a crossbody bag, this look is 10/10 instagrammable.
15 best affordable and sustainable pleated tennis skirts.
Maxi coat
Pair a maxi coat and a white high-neck top for an irresistibly posh look. Pair it with jeans and chunky sneakers for a nice contrast to balance out the vibes.
Jumpsuit
Another foolproof lunch outfit is the jumpsuit. A jumpsuit may be worn for informal and formal settings, depending on how you mix and match your pieces. Choose one with flared pants if you are tiny. That might lengthen your legs and make you look leaner and taller.
15 best organic cotton jumpsuits to wear in 2023.
Single-patterned outfits
Instead of monotone, consider a single-patterned garment, such as a black-and-white vertical stripes. Combine it with monochromatic accent pieces for a well-balanced look.
Bomber jackets
If you don't already have a bomber jacket, buy one as soon as feasible. They are loose, comfy, warm, and sensual and can be easily incorporated into any fall or winter style.
Lace-up tops
Lace-up shirts add curiosity and appeal to any basic outfit by being subtly sexual without being overly exposing. Pair a fitted lace-up blouse with a high-waisted fabric skirt for a feminine look.
Trendy formal pieces
Although a lunch date is not the place for formal attires, subbing in some fashionable formal outfits occasionally, is a good way to spice up things . An off-the-shoulder fitting dress is a stunning and modern formal wardrobe essential that goes with practically anything.
Casual and chic
If you're looking for a casual yet chic outfit, pair your favorite skinny jeans with a colorful blouse or a printed top. Complete the look with a pair of sandals or ballet flats.
Boho vibes
Try a maxi dress with a floral print or a peasant blouse with a pair of high-waisted shorts for a boho-inspired look. Accessorize with a hat or statement earrings to complete the look.
A shift dress or a midi skirt
If you're looking for a timeless look, a shift dress or a midi dress paired with is always a great choice. Accessorize with simple jewelry and a pair of heels for a classic look.
15 best affordable and sustainable midi skirts.
A wrap dress or a skirt
Pair a wrap dress or a skirt with a ruffled blouse for an attractive and flirtatious style. To complete the ensemble, add a lovely purse and stiletto shoes.
A romper
If you want to look stylish, go for a romper with a blazer or a denim jacket. Then enhance the look with a pair of fashionable sneakers or ankle boots.
Check out our 15 best organic cotton rompers for babies and adults.
Flat sandals, shorts, and oversized top
When it comes to stylish outfits for lunch, simplicity is frequently crucial. Flat sandals with cut-offs and an oversized shirt will give you a relaxed look for an informal event like a lunch date. Combining the flowing top and fitting shorts gives a balanced, comfortable, and attractive style.
20 best affordable and sustainable denim shorts.
Ruffled sandals and a loose-sleeved blouse
Unique ruffled sandals and an open blouse will undoubtedly set you apart from the crowd. Combine the ensemble with a white denim short or a midi skirt to transform the look into a great lunch date look.
Jeans, heels, and a white top and a patterned shirt
Take inspiration from this fantastic outfit if you're looking for a sensual, fashionable appearance that's perfect for a lunch date. The monochromatic color palette, jeans, heels, and white top all contribute to a creative, cohesive outfit. Accessorize with an eye-catching faux leather designer handbag and a bold lip color.
Maxi skirt and off-shoulder top
The boho-chic style is perfect for a casual lunch date. A flowy maxi skirt with an off-shoulder top creates a breezy and feminine look. Add some edge to this outfit with white sneakers, a statement belt and a denim jacket.
Trench coat and white dress
A black classic trench coat paired with a fitting white dress is a timeless and sophisticated outfit for a lunch date during winter. The simplicity of this outfit creates a polished yet elegant look. You can accessorize this outfit with a statement scarf or a structured tote bag.
Floral midi dress and sneakers
Pair a floral midi dress with sneakers for a playful and comfortable outfit. This outfit creates a trendy feminine look for a casual lunch date. You can accessorize this outfit with a statement bracelet or playful earrings.
 Check out these Veja sustainable sneakers you didn't know you needed.
Ruffled dress and heeled sandals
A romantic lunch date look can be achieved with a red or pink
ruffled dress and heeled sandals. This outfit creates a soft and feminine look that is perfect for a lunch date. You can accessorize this outfit with a statement necklace or a delicate bracelet.
Additional tips and inspiration for the ideal lunch date outfit
It's always exciting to have lunch dates with someone special. However, choosing the perfect outfit for such an occasion can be challenging. You want to look great without overdressing or underdressing. The following are tips and inspirations for creating a perfect outfit for your lunch date.
Go for Comfort: While looking great on your lunch date is important, it's equally important to feel comfortable in your outfit. Avoid wearing outfits that are too tight or restrictive. Instead, opt for outfits that are both comfortable and stylish. For instance, you can wear a flowy dress or jeans with a soft blouse.
Accessorize Wisely: Accessories can make or break your outfit. Choose the right accessories to add some charm and style to your look. However, be careful not to go overboard with accessories. Wear a statement necklace, bracelet, or earrings to keep it simple and classy. Don't forget to carry a stylish bag that compliments your outfit.
Final thoughts
Creating cute outfits for lunch dates doesn't have to be frustrating. With some inspiration and creativity, you can easily assemble a stylish and unique outfit that works perfectly for any lunch date. Try out these tips and ideas for a look sure to impress.
Whether you want to dress up or dress down, there are numerous options that you can choose from to look great and feel comfortable. Always try to level up your styling game and make a great impression on your next lunch date.
Was this article helpful to you? Please tell us what you liked or didn't like in the comments below.
About the Author: Dinushka Breaker Gunasekara