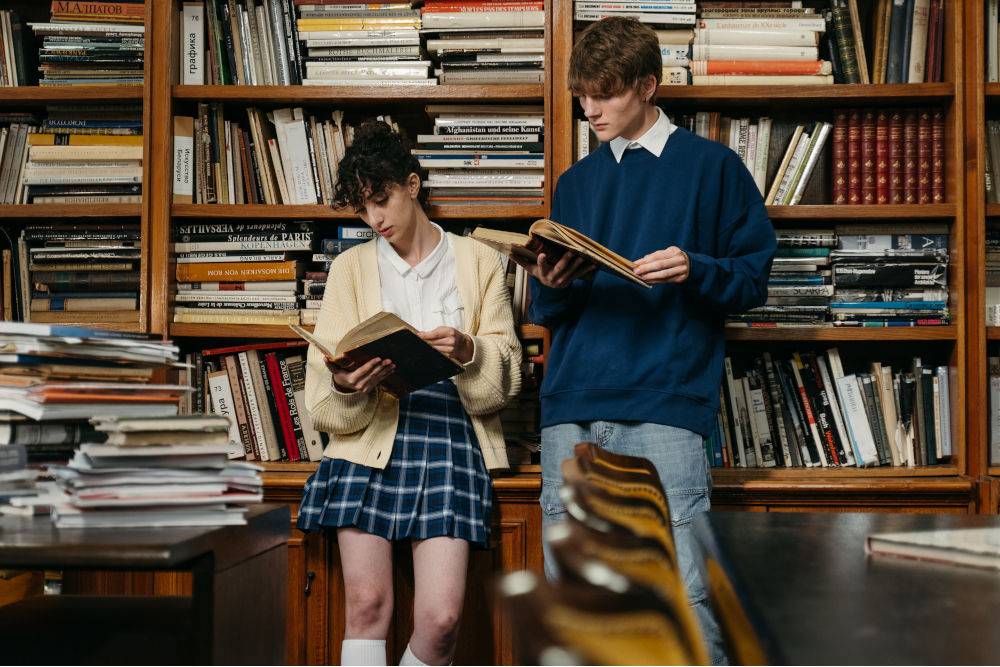 20+ Cute Outfits to Wear to the Library
Library outfits keep you comfortable and stylish so you can feel on-trend while you cram for a test or track down the book you need for a paper. The right outfit can give you confidence as you study or courage for a study date.
 
Cute outfits to wear to the library feature layers to keep you warm and contrast loose and tight tops and bottoms for style. Choose roomy sweaters, hoodies, or tees with jackets and pair them with leggings or jeans. Pick accessories that don't clank or jangle as you move, like scarves and tote bags.
 
Any outfit you would wear to a college class is also appropriate for the campus library. While you can rock a studious grunge look of a hoodie and sweats for a serious study marathon, for the best cute library outfits you can elevate your style by adding a vintage cardigan or pencil skirt for a cool librarian aesthetic.
 
Whether you want to rock a librarian aesthetic or find the perfect cozy outfit for a study session at the library, this line-up of cute outfits to wear to the library has you covered!
Panaprium is proud to be 100% independent, free of any influence, and not sponsored. We carefully handpick products from brands we trust. Thank you so much for buying something through our link, as we may earn a commission that supports us.


Long Cardigan

 
Long cardigans over a sleeveless top or tee keep it casual, especially when paired with skinny jeans or leggings. Wear your favorite knubbly old sweater for a private study session at the library or a colorful long cardigan to meet with your friends!
 
Plus, long cardigans have a slimming effect by elongating your form. Check out our styles featuring cardigans here!




Skinny Jeans

 
Nothing says college campus vibe like a pair of ripped skinny jeans! For a low-key cute library outfit, pair your jeans with a chunky sweater and flats.
 
If you want to feel good about your jeans while you look good in them, check out our best styles of sustainable jeans here!


Flared Jeans

 
You can pull off retro flare jeans by adding a button-down blouse knotted at the waist or a puff-sleeve sweater for a cozier style.

 Check out our eco-friendly sweater options here!


Cute Layers


Library temperatures are a fickle beast, so make sure you layer up your cute outfit so you can cool down or bundle up as needed. Good options include a tank top with a button-down or a denim jacket with a printed blouse.
 
Take a look at affordable denim jacket options here!


Blazer


For a study date at the library, sharpen your style by pairing a blazer with skinny slacks or jeans! You can wear flats for a demure vibe or sneakers for a trendier style.
 
Better yet, find a recycled blazer for your perfect cute library outfit!


Scarves

 
Style a scarf instead of jangling jewelry with your perfect outfit to wear to the library. The scarf can add a fun pop of color to any outfit. Plus, it will help keep you warm while you study!

Find your new favorite ethical, vegan scarf here!

 

Leggings

 
Leggings, boots, and a hoodie make for the coziest possible cute library outfit on a chilly winter day. To dress up your leggings a bit, try wearing a loose sweater instead!
 
If you love breathable leggings, take a look at these affordable bamboo legging options!




Sweater Dress

 
Why not pair fleecy warmth with a sexier library style? Try a sweater dress with opaque tights or leggings. Add on a scarf or big earrings for a splash of color!
 
You can find a great selection of cheap, cute sweater dresses here!
 



Sweats


If you mean business and you want to hunker down and study at the library, go for a cute but scruffy study style of sweatpants and a jacket.
 
You can find sustainable sweatpants and joggers here!

 

Corduroy


Turn an old-school professor staple into a cute library trend by adding corduroy pants or a jacket to your outfit!
 
Wear your corduroy with pride by selecting sustainable corduroy pants like these.


Hoodie


Sport your school colors or your own favorite saying on a hoodie for a laid-back cute library outfit. Simply match the hoodie with thick leggings and cute ballet flats for an adorable, casual style!
Our selection of sustainable hoodies!
 
Mini Skirt


Yes, you can pull off a mini skirt or short shorts in the library! Just make sure to wear your short skirt over a pair of nice, thick tights to keep you warm. For a slightly Goth vibe, try adding a pair of chunky boots with this cute library outfit.

You can even check out eco-friendly tights brands here!


Comfortable Shoes

 
Cute ballet flats dress up any outfit without going over-the-top sexy like a pair of heels. But sneakers, boots, or sandals can also work well. Just make sure you feel comfortable wearing them for a long time in the library!
 
You can find comfortable shoes to wear with bare feet here!


Jean Jacket

 
A jean jacket is another fall classic for the campus library. You can wear your jacket over a loose tee for a casual cute outfit, or pick an adorable cami and ballet flats with jeans for a study group session with friends. If your library always feels chilly, add a looped scarf to complete the ensemble!
 
If you need to freshen up your collection of comfortable tees, check out this list of the best organic cotton t-shirts.
 
A-Line Skirt

 
You can put together a librarian aesthetic outfit by matching an A-line skirt with a button blouse and belt or create a great contrast by pairing your skirt with sneakers and a vintage tee.
 
If you need more ideas for cute skirt outfits, find them here!


Retro Cardigan

 
Dress up with an ironic twist on the classic old-school librarian style with a vintage cardigan. Just don't tuck a tissue up your sleeve! If you really want to look vintage, try adding tall socks or a ruffled blouse, too.
 
You can find sustainable cardigan options to check out here.


Plaid Jacket


Make a scholarly statement with a warm plaid jacket, your favorite comfy shirt, and jeans or cargo pants.
 
If you want a stylish, affordable jacket made in Italy, check out this selection!


Bow Blouse

 
Another way to tie in a vintage librarian aesthetic is to find a bow-tie blouse. This style, popular in the 1960 and then the 80s, has come back in full force!
 
If you want a cute skirt to wear with your vintage-style blouse, check out these options for affordable pencil skirts.


Peter Pan Collar

 
Nothing says librarian aesthetic quite like a vintage-style Peter pan collar on a blouse or dress!
 
Don't forget a chunky sweater to pair with the vintage blouse.

 

Cowl Neck Sweater

 
A cozy cowl-neck or turtleneck sweater paired with leggings and flats you can slip on and off under your study carrel makes the perfect cute winter library outfit.
 
You can even find organic cotton sweaters to choose from here.


Crop Top


A crop top could feel a little too informal for a library, but if you wear a puffy jacket over it you can sport a cool summer style without flouting any rules!
 
Plus, you can find great affordable, sustainable crop tops here.
Was this article helpful to you? Please tell us what you liked or didn't like in the comments below.
About the Author: Hannah Cobb