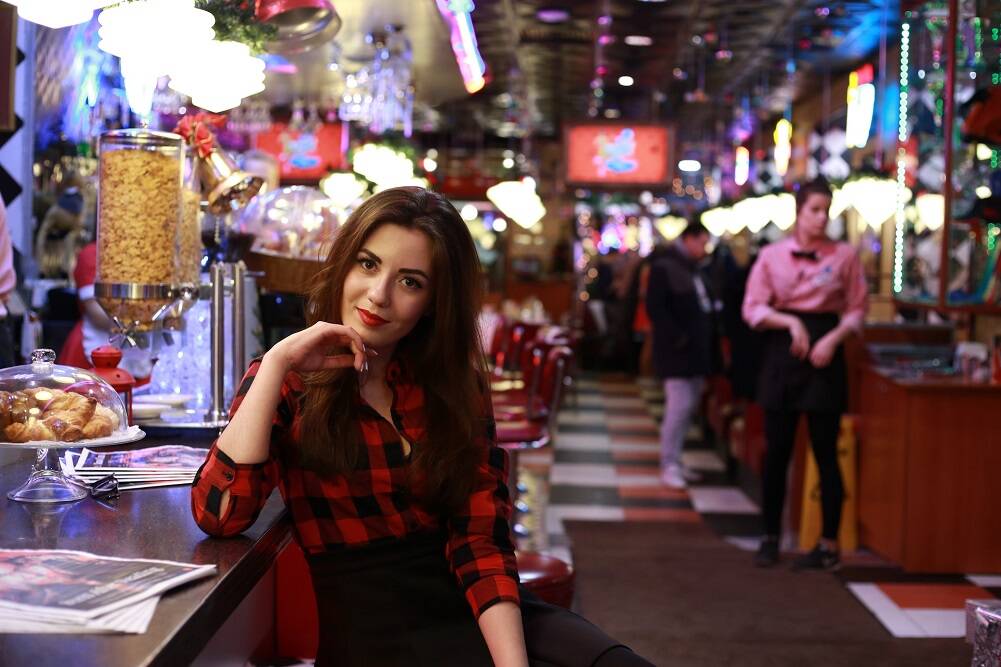 The Ultimate Guide To Cute Nightclub Bartender Outfits
Wondering what to wear on your first day as a nightclub bartender? I got you covered. 
As a bartender, the perfect outfit makes you look approachable and confident, while still allowing you to move fast and execute orders quickly. If you're relying on your tips to earn extra cash, know that your appearance plays a huge part in encouraging clubbers to talk to you and order from you. 
The type of venue you're working at is crucial when it comes to choosing your outfit. A classy glamorous nightclub requires formal attire. Whereas a regular casual nightclub gives you room to try more youthful and daring styles.
Of course, remember to follow house rules if there is a dress code or uniform. But if you have the freedom to choose, check out our fabulous selection of 20+ cute female nightclub bartender outfits that will have you shaking, and pouring in style.
Panaprium is proud to be 100% independent, free of any influence, and not sponsored. We carefully handpick products from brands we trust. Thank you so much for buying something through our link, as we may earn a commission that supports us.
Black on black
Have you ever wondered why most bartenders wear all-black outfits? It's because black is the best color to hide stains and spills. Yes. If this is your first bartending job, be aware that your clothes won't remain unscathed for long. 
But luckily, all-black outfits also make you look effortlessly stylish. Combine black dress pants with a black sleeveless turtle-neck top for a classy bartender outfit. Finish the look with golden earrings, red lips, and a sleek ponytail to look fabulous for your first shift. 
If you work at a regular nightclub with a younger crowd, create a laid-back yet elegant outfit by pairing a cute blouse with black fitted jeans or black shorts.
Check out our selection of sustainable alternative clothing brands. They are experts at creating fabulous all-black outfits.
 The monochromatic look
Express your personality and stand out from the crowd with a colorful outfit. Why not try a forest green dress or a cute romper? 
A colorful look can make you seem more approachable and memorable to your customers. It may encourage them to come back to you for their next orders and give you more tips. 
But remember to avoid prints and patterns as well as color-blocking. A monochromatic outfit will make you look more professional and sophisticated. 
Also, prefer darker colors such as navy blue or burgundy since they hide stains better. Bright colors tend to fade in dark places like nightclubs anyway. 
Get inspired by the best affordable non-fast fashion brands that we know of.
Tight-fitting tops
Avoid at all cost bat sleeves and other types of baggy apparel. You don't want your clothes to get tangled up with bottles or glasses and drop them on the ground. Instead, choose a well-tailored button shirt or a cute blouse with 3/4 sleeves that won't distract you as you dash to prepare orders.
But be careful not to overdo it. Constricting super-tight clothes will prevent you from moving freely and may leave you out of breath in a crowded venue. 
 A white shirt and suspenders
The classic white button shirt is a timeless piece that will make you look smart and professional. Choose a well-tailored shirt that fits you perfectly and spice it up with suspenders for a chic look. You could even try red or green suspenders to show your personality and add a touch of color to your outfit. Pair this ensemble with dress pants or fitted black jeans. 
But remember that bartending comes with the risk of staining your clothes. So save this type of outfit for the fanciest nightclubs or wear a cute apron to protect your white shirt.
Find your favorite shirt from this selection of elegant and affordable shirts made in Italy.
A white shirt and a vest
You can't go wrong with this look. It is a classic of the bartender's wardrobe. Combining your classic white shirt with a well-fitted vest creates a cute, slimming, and incredibly chic bartender outfit. 
An all-black look with a black shirt and a black vest combined with black dress pants would also be a fantastic option. If you work at a dance nightclub with a younger crowd, you could even drop the shirt and wear the vest alone or over a lace bra.
Take a look at this selection of affordable and sustainable workwear brands to find the perfect vest for your job.
The little black dress
This is another classic. Create a cute and sophisticated nightclub bartender outfit with an A-line or a tailored black dress. App a pop of color with a bold lipstick to make you stand out from your colleagues behind the bar. 
Remember that you need to prepare clubbers' orders quickly. So you should choose the length of your dress carefully. You don't want to be distracted by a mini-dress that you need to pull down every five minutes or by a long dress that constricts your movements. 
Check out our selection of sustainable and affordable black dresses.
Black button shirt 
A black button shirt might be the perfect versatile item if you want to achieve an elegant look and still be able to hide stains and spills. 
You can pair it with pretty much anything. Dark-colored jeans, dress pants, or a pencil skirt would be great choices. Even shorts would look great. But only if they are consistent with your nightclub's dress code.
Get inspired by our selection of ethical button-up shirts for a dressy look. 
Flattering jeans
You might think that jeans are too laid-back to wear at a nightclub. But if you choose dark-colored flattering ones, they could make the cut in your bartender's wardrobe. 
Prefer dark indigo and black jeans with a skinny or slim cut. And avoid low-rise designs to maintain a professional appearance. 
These types of jeans are very versatile and easy to match with any top. Pair them with a button shirt for a fancy outfit or with a cute blouse or a crop top for a more playful look.
Pick your favorite design from our selection of the best organic cotton denim jeans to wear in 2023.
Denim long-sleeve button shirt
A long-sleeve denim button shirt is a great timeless piece to create a dressy look. You can wear it on its own or as an overshirt with a cute strap top. It will also look great over a black dress or any other all-black outfit. Add a cute belt over the shirt at your waistline to create a stylish look and prevent your shirt from getting tangled up in bottles while you work. 
Find the perfect denim shirt for you with our selection of 50 affordable and sustainable denim brands.
Dark denim shorts
We talked about chic bartender outfits that would be suitable for any type of nightclub. But if you work at a lively nightclub with a crazy party crowd, you might want to shake things up with a more youthful and trendy look.
Dark denim shorts are super versatile and will allow you to move freely while working. Just remember to avoid anything too short and balance the look with a cute top that is not too revealing.
This selection of affordable and sustainable denim shorts will be most helpful to you.
A crop top
Crop tops are super trendy and create a breathable playful outfit for your busy shifts. They look amazing with high-waisted bottoms. Choose darker colors to make it harder to notice accidental spills. 
Why not try a unique cut, like an off-the-shoulder or a one-shoulder design? It will add a touch of glamour to your cute nightclub bartender outfit.
Check out our selection of organic cotton crop tops that you will love.
A cross-back top
During hectic nightclub shifts, the temperature can rise quickly. A cross-back top will allow air to flow through and will be perfect to keep you cool. Combine your favorite cross-back top with dark-colored jeans or shorts for a cute and playful look.
 A corset top
A corset top is a great stylish piece to create an eye-catching outfit. But as a female nightclub bartender, you don't want to overdo it. Neutral bottoms such as high-waisted black jeans are preferable to still look professional with a corset for your shift. Remember to choose a design that is not too tight. You need to feel comfortable enough to work long hours in a hot crowded venue. 
A black corset is the safest choice in terms of fashion and practicality, though you should not shy away from colors if it fits your personality.
Get inspiration from this selection of affordable and sustainable corset brands.
A black sheer blouse
Pick a sheer blouse to add a touch of glamour and sophistication to your outfit. Black is the go-to color to create an elegant look with see-through tops. Sheer fabrics are breathable and easy to layer with a camisole top or a pretty lace bra for example. Pair it with dress pants or a skirt for a polished look or with black fitted jeans or shorts for a more laid-back outfit. Accessorize with golden jewelry to elevate your look. You will feel confident and stylish all night long. 
If you want to explore more options for a casual chic work outfit, check out this selection of affordable and sustainable blouses.
A blazer 
No clothing item says professional better than a well-fitted blazer. It is one of the most versatile pieces that you can have in your closet. 
A black blazer will never be out of style and will take the simplest outfit from casual to classy. It will also keep you warm during those winter nights or when you are on duty at your nightclub's rooftop bar. 
Be memorable to your customers with a statement blazer in a bold color. It is a great way to express your personal style while still maintaining a professional vibe.
Find your favorite blazer with this selection of ethical and sustainable blazers.
A classy romper
Rompers create cute and playful bartender outfits. They will allow you to move quickly and keep you cool as the night goes on. Combine them with statement earrings and trendy sneakers for a stylish and comfortable look. 
However, don't pick your beach romper from last summer. Instead, choose a classy well-fitted one that is appropriate for the night scene. 
Check out our selection of the best organic cotton rompers.
A skater skirt
A skater skirt is a stylish and practical option for nightclub bartenders. The flared silhouette allows for easy movement and gives a fun and flirty vibe to your outfit. Pair it with a cute blouse, or a stylish bodysuit for a chic feminine look. It will also look great with suspenders and a white button shirt. 
If you want to explore more skirt options, get inspired by our selection of the best organic cotton skirts.
 Faux-leather leggings
Faux-leather leggings are amazing alternatives to fitted black jeans. They are stylish and comfortable to wear. Plus, they add an edge to any outfit. Wear them with your classic button shirt to spice it up, or pair them with a romantic sheer blouse for a cute edgy look.
Check out our selection of the best stores for cheap and cute edgy clothing. 
 A cute hat
A cute hat will keep your hair out of your face while you work and make you stand out from the crowd. Pick a style and color that compliments your face and fits your personality. But choose your hat size carefully so that your hat won't fall off all the time. You don't need the distraction. 
These 15 affordable and sustainable hats and beanies will surely inspire you. 
A stylish apron
Many nightclubs will provide you with an apron for your shift. But if that's not the case, you can bring your own cute bartender apron. A lot of glamorous modern venues are bringing them back in style right now. 
A stylish apron will make you feel like a true professional and will keep your clothes clean. Choose a lightweight fabric that is easy to wash. 
And here is a little tip to make aprons look more flattering. When you tie your apron, make an accordion fold at the waist to create a cinched flattering waistline. 
Loafers
Loafers are a great option to complete your classy bartender outfit. Choose brown or black ones that are easy to combine with most of your closet. Add non-slip soles to your shoes if they don't come with the original design. 
Keep in mind that flat shoes are a must for your line of work. As a female nightclub bartender, comfortable shoes should be your top priority. Don't even think about wearing your favorite stilettos. 
You will be standing up all night on a slippery floor, and you will need to move fast without twisting an ankle. Your choice of shoes will make all the difference between a fun shift and painful hours of agony.
Find your favorite pair of loafers with our selection of the best affordable and popular American-made footwear.
 Sneakers
If your nightclub allows you to wear them, sneakers make a comfortable and fashionable footwear option. They are also easy to clean and most of them are waterproof which is convenient when you work behind a bar. 
Avoid sporty designs and prefer stylish sneakers in colors that complement your outfit and personal style. You can't go wrong with black or white. Although black is the most practical choice. 
Here is our selection of the best brands for sustainable sneakers in Europe.
Flat ankle boots
Flat ankle boots are very popular with female bartenders. Black ankle boots are stylish and comfortable shoes. They look amazing with fitted jeans, shorts, and even skirts or dresses. Choose a non-slip and water-resistant pair of boots to perform your shift in the best conditions.
Remember that high-quality shoes last longer and are usually more comfortable. Since you will be standing for hours mixing drinks and talking to people, it might be best to invest in quality boots. 
Get inspired by this selection of affordable vegan leather boots.
Was this article helpful to you? Please tell us what you liked or didn't like in the comments below.
About the Author: Pauline Assoune