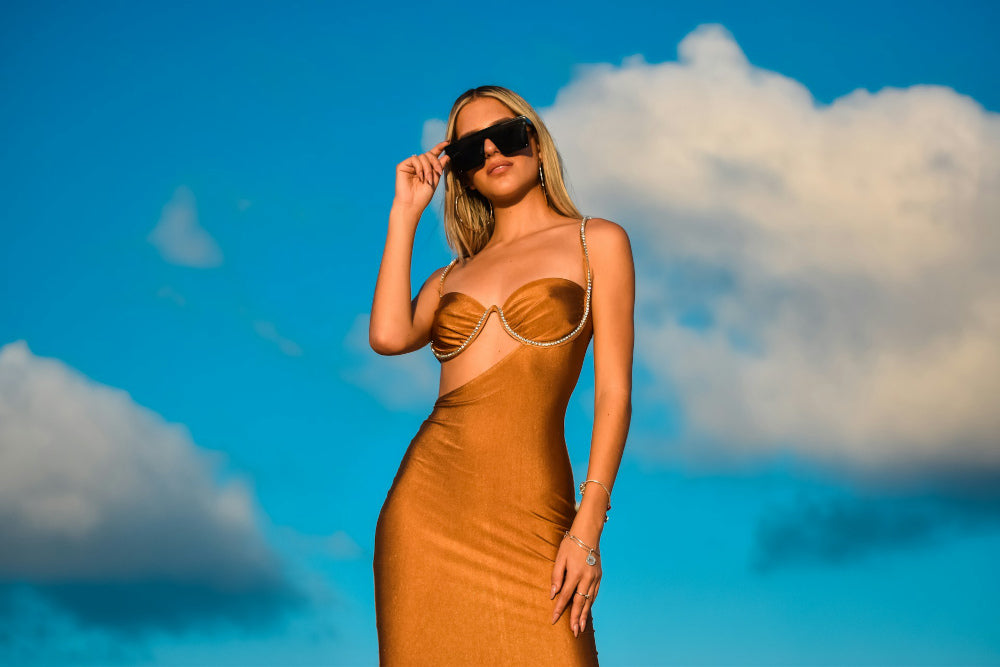 How To Dress With Glamor To A Bruno Mars Concert
Known for his infectious beats, soulful voice, and dynamic performances, Bruno Mars has not only redefined the landscape of contemporary pop music but has also become a fashion icon in his own right.

His versatile music genre, blending R&B, funk, soul, and pop music, invites a kaleidoscope of fashion choices. From sleek and polished outfits that pay homage to classic crooners of the past to bold and edgy styles that scream modern-day showman, Bruno Mars' fashion sense reflects the same dynamism found in his chart-topping hits.

Continue reading as we delve into the eclectic and ever-stylish preferences of the "24K Magic" maestro, dissecting his signature looks and translating them into wearable, concert-ready ensembles.
Panaprium is proud to be 100% independent, free of any influence, and not sponsored. We carefully handpick products from brands we trust. Thank you so much for buying something through our link, as we may earn a commission that supports us.
1. Sequin Chic
A black sequin mini dress is a fantastic choice for a Bruno Mars concert, offering a mix of glamour and a touch of rockstar chic. Sequins add a level of sophistication and glamour to an outfit. The sparkle and shine they provide instantly elevate the aesthetics of the attire.
Many high-end clothing rental services offer fabulous gowns that you can wear to create a fashionable, comfortable, and stunning outfit for an upcoming concert event. Check out our selection of the best places to effortlessly rent modern, sumptuous cocktail dresses at an affordable price in the USA, UK, Canada, and Australia.

Keep accessories minimal to let the luxurious fabrics shine. Wear stylish footwear to complement the sequins. Consider strappy heels or classy pumps.
2. Flared Jeans
Create an appealing twist with retro-inspired and modern pieces. Choose flare jeans that elongate your legs and complement the overall retro vibe. Combine them with a sleek crop top and chunky sneakers.

Liven up with a tiny pastel handbag and fancy sunglasses. This outfit will ensure you are comfortable and on-trend for a Bruno Mars concert experience.
3. Jumpsuit
Jumpsuits are the favorite pieces of many men and women because they are versatile and stylish, making them suitable for various occasions, including concerts.
Opt for a jumpsuit that allows for ease of movement. Stretchy fabrics or styles with a looser fit can be both comfortable and chic. Here are some of the best affordable and sustainable jumpsuits made under high social and environmental standards.
4. Funky Look
Incorporate everyday pieces with a touch of eccentricity to craft a funky look to wear to a Bruno Mars concert. Choose well-fitted jeans with a classic wash and pair them with a spaghetti strap top.

Elevate the look with platform boots and a funky bomber jacket in bold colors or unique applications.
5. Glitter Glam
Pair a metallic or sequin mini skirt with a black bodysuit and ankle boots for a show-stopping look perfect for a Bruno Mars concert.

Choose a form-fitting black bodysuit and ankle boots in a neutral color, like black or silver, to complement the ensemble without overpowering the statement skirt. Find your favorite mini skirt to craft this unique look here.

Add a fancily decorated lightweight jacket or a blazer if you need an additional layer.
6. Edgy Look
Channel the edgy, cool aesthetic inspired by Bruno Mars' style with faux leather, fur, and white sneakers. This combination will ensure you exude confidence and style.

Pair faux leather pants with a fitted crop top for an edgy and contemporary vibe. Layer a cropped faux fur vest over the leather crop top to introduce texture and a touch of glamour.

Complete the ensemble with a pair of white sneakers to create an appealing color contrast and add a laid-back feel.
7. Sporty Spice
Create a fun and stylish look for a Bruno Mars concert night with athleisure-inspired gold faux leather joggers paired with a gold strapless crop top. This combo offers both comfort and a trendy look. You can easily move and dance while still maintaining a fashionable edge.
Find beautiful and sustainable crop tops to craft this gold outfit here. 
Gold is perfect for a Bruno Mars concert, as metallics align with his 24K magic theme. Incorporate a statement gold chain necklace for a touch of 24K magic.
8. Sexy Look
Make a bold and glamorous statement, drawing inspiration from Bruno Mars' energetic performances and show-stopping style with a form-fitting bodycon mini dress. The bodycon silhouette accentuates your curves and exudes confidence.
Here are the best affordable and sustainable bodycon dresses that every woman needs to own to look fashionable and feel comfortable on a budget.

Pair the dress with statement heels or over-the-knee boots in a metallic or bold color to add a touch of flair.
9. Ripped Jeans
Create a relaxed, contemporary, stylish look with ripped jeans and a graphic tee. Opt for a pair of form-fitting ripped skinny jeans for a sleek appearance, and pair them with a graphic tee featuring bold prints or Bruno Mars-related imagery.

Complete the ensemble with platform sneakers, adding a sporty element that aligns with the contemporary aesthetic. If you are interested in sustainable brands that produce high-quality sneakers, Meet Sustainable Luxury Sneaker Brand Squamate.
10. Punk Rock Princess
Create a unique and fashion-forward look by balancing contrasting elements with a princess-style tulle skirt, fitted leather jacket, and high-heeled ankle boots. The juxtaposition of the feminine tulle skirt with the edginess of a leather jacket creates a chic and fashionable look. This stylish contrast is ideal for a concert environment that honors uniqueness and inventiveness.
High-heeled ankle boots can complement this ensemble, adding a touch of sophistication and tying in with the edgier elements of the leather jacket. Ensure the boots are sufficiently comfy to move around and dance during the performance.
11. Maxi Dress With A Sexy Slit
Choose a flowy maxi dress with a deep slit on one side to introduce a hint of allure to the concert look. Opt for bright tones to enhance the charisma vibe. Here is our selection of the best affordable maxi dresses made in the USA under high social and environmental standards.

Style your maxi dress with jewelry in various textures and materials. Think beaded bracelets and a metal necklace to add a free-spirited vibe.
12. Urban Cool Look
Elevate your urban cool look with a statement glitter top in a bold color or metallic shade and a denim jacket over it. The combination of glitz from the glitter and the casual coolness of denim creates a balanced and stylish urban look. Find cool denim jackets made from recycled or organic materials here.
Pair the top and jacket with high-waisted mom-style jeans. The high-waist style complements the glitter top, and the mom-style cut adds a relaxed street-style touch to the outfit.
13. Romantic Slip Dress
Create a romantic and classy look with a satin slip dress. Choose a satin slip dress in a soft, romantic shade, such as blush pink, champagne, or delicate lavender. These colors evoke a romantic atmosphere and are versatile enough to complement various skin tones.
Avoid chunky and bold jewelry. Instead, opt for delicate and feminine pieces to maintain the romantic aesthetic.
14. Aloha Shirt
Capture the essence of Bruno Mars' unique style and pay homage to his Hawaiian roots in a classy and fashionable way with a beautiful Hawaiian shirt. Opt for an Aloha shirt with vibrant and typical floral prints.
Style your Aloha shirt with classic denim jeans for a casual yet stylish look. Alternatively, if the weather is warm, you can opt for denim shorts to keep things cool and comfortable.
15. Denim Shorts
Craft a unique fusion of streetwear, glam, and a touch of rock and grunge with denim shorts, fishnet tights, a bra top, and a faux fur jacket. Choose a pair of distressed denim shorts and layer them over rhinestone-embellished fishnet tights.
Consider a bra top with unique details like lace or appealing cutouts, and complete the look with a faux fur jacket. This choice introduces a touch of glamour and sophistication to the ensemble.
Layer on gold accessories for a touch of Bruno's signature bling.
Was this article helpful to you? Please tell us what you liked or didn't like in the comments below.
About the Author: Iana Jekova