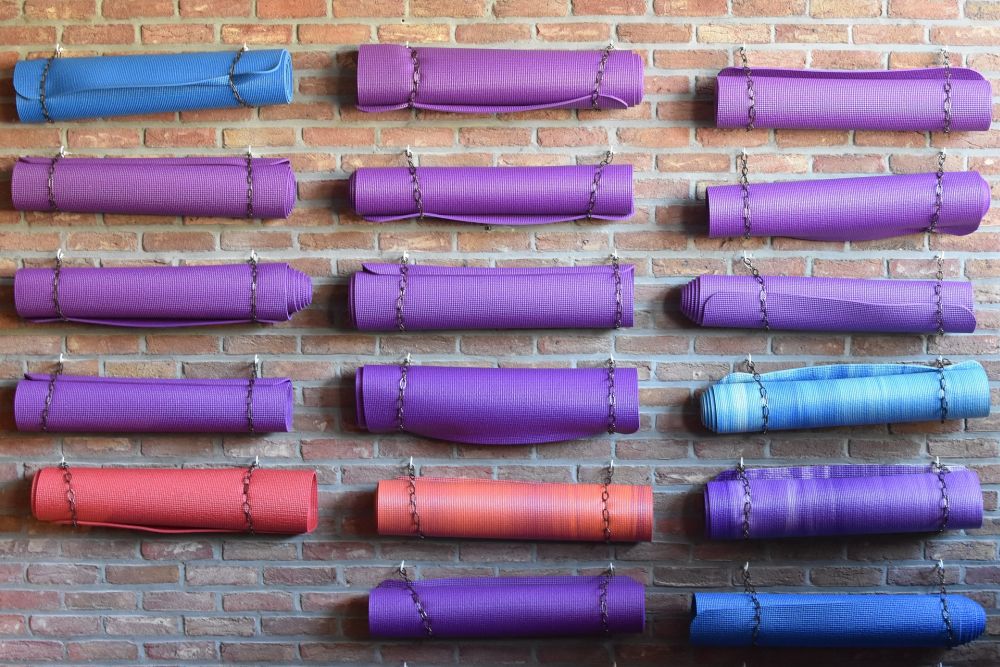 Best Yoga Mat For Beginners | How To Choose
What is the best yoga mat for beginners? If you are new to yoga, you might wonder how to choose the right yoga mat for you.
Practicing on a good yoga mat is very important to make yoga enjoyable. You should feel pleasure every time you step on your mat. It should appeal to you.
Investing in the best yoga mat for beginners encourages you to practice. It is a good commitment to yourself and your yoga practice.
Lifestyle changes and new healthy habits are very difficult to follow. Especially in the beginning, having a great mat that makes you smile is key to stick with yoga.
There are now many different types of yoga mats to choose from. You can find a color and pattern that suits your style. Most importantly, your yoga mat should prevent you from slipping.
In addition, I recommend you pick a yoga mat you can easily store and take with you everywhere. Also consider an environmentally friendly, comfortable and thick enough mat.
A great material and surface texture will make you happy with your choice. Make sure to choose a yoga mat that suits you. It depends on your goals, values, lifestyle, level and budget.
The worse you can pick is a stinky and slippery cheap yoga mat. Yoga should make you feel amazing every time. It begins with the best yoga mat for you. Here is how to choose.
Panaprium is proud to be 100% independent, free of any influence, and not sponsored. We carefully handpick products from brands we trust. Thank you so much for buying something through our link, as we may earn a commission that supports us.
Do You Need A Yoga Mat?
If you want to take yoga seriously, you need a yoga mat. There are many different sizes and materials to choose from. Pick one that allows you to perform better and progress safely.
If you are practicing at home, using a carpet or a blanket is slippery. It is fine to sit down, if you are completely new to yoga, and if you are doing the very basic postures.
Lending a mat at the studio might not be the best idea. You will often find poor quality yoga mats there, and in bad condition. It is not the best choice to make your practice your own.
Consider upgrading to the best yoga mat for beginners to take your practice to the next level. A good yoga mat is the first reminder of the investment you made in yourself.
A great yoga mat will make you enjoy your practice even more, day after day. That is why getting your own is a very good idea. Which yoga mat should you buy? Read on to find out.
What Is A Good Price For Your First Mat?
The best yoga mat for beginners prevents you from slipping and sliding. It provides a clean, non-slip and safe surface for you do yoga on. You should feel safe and confident on your mat.
If you choose a cheap yoga mat, you are not committed to become a yogi yet. This is a great way to test your drive to become the happiest, healthiest you.
Even cheap yoga mats can be sticky. But you will not get the best quality material and texture. And it will not last very long before you have to change it again.
If you sweat, your hands and feet will slide. Plus, cheap mats are usually made of PVC and not eco-friendly at all. It is not ideal for a regular yogi.
If you have the intention to practice often, I highly recommend that you invest in yourself and upgrade your yoga mat. After a great practice on a premium mat, you will never go back.
Be willing to spend more and you will get a better quality. Premium yoga mats last longer and are eco-friendly. They provide a non-slip surface with good grip. No sliding even if you sweat.
Make sure to pick a mat without PVC. It is well worth it. Ultimately, make a choice according to your personal needs. If it is important to you, it is worth the extra price.
How To Choose A Yoga Mat According To Your Needs?
The type of yoga mat you need depends on your body type. You might want to consider a thicker mat if you are new. Very thin mats are reserved to experienced yogis with years of training.
Extra padding and cushioning is great to protect the joints. You will also need a good length if you are tall. The yoga mat of your choice should be comfortable and practical.
After a few sessions, you can tell how your body respond to yoga. You will be able to figure out your personal needs. If you are unsure about investing, go with quality options later.
I always advice beginners to start slow and learn the basics. A flowing yoga class with dynamic and vigorous movements is suitable for experienced yogis.
That is why grip is very important if you are new. Restorative classes are spent the majority of the time seated. In this case grip is less important. Go for a soft and cushy mat instead.
If you sweat a lot or practice any form of hot yoga, choosing a high quality non-slip mat is key. Pick a lightweight yoga mat you can easily transport if you take classes regularly.
The same goes if you travel a lot and want to take your mat with you. It is less important if you practice at home.
What Is The Best Yoga Mat For Beginners?
Thickness
It is a good idea to pick a yoga mat with extra padding. Too thin and it will not provide much comfort. Too thick and transport, finding balancing and stability will not be easy.
A 6mm premium yoga mat provides plenty of cushioning without being too difficult to take with you. It is a good thickness if you are new to yoga as well.
Material
A good material is essential for quality texture, stickiness, eco-friendliness and durability. Stay away from PVC. It is the most common and cheap. But it wears out really quickly.
Other possible materials include rubber, jute, cotton. Avoid natural rubber if you are allergic to latex. A rubber and padded mat is great to start with. Soft, comfortable and resistant.
Non-slip
Sticky yoga mats are great for added grip. Any rigorous form of yoga require a non-slip mat. The right mat texture is crucial to provide enough stickiness.
During a sweaty and vigorous practice, you absolutely want to feel safe on your mat and avoid sliding. It should also feel comfortable and be easy to clean.
Eco-friendly
Earth-friendly yoga mats are usually made of natural or recycled rubber. They also sometimes include jute or organic cotton. Avoid PVC.
Size
Your mat should be easy to store. Extra-long and extra wide yoga mats are only necessary in rare cases. If you are not particularly tall, avoid these.
Weight
Consider how much your yoga mat is going to weight on your shoulders. Light weight is easier to transport.
Cleaning
Cheap yoga mats need washing very frequently. Like sponges, very porous, they absorb sweat and bacteria. Less hygienic, they also take longer to dry.
Style
Pick the best yoga mat for beginners that makes you smile. The right color and pattern is important to make yoga even more enjoyable.
Summing up:
How to choose the best yoga mat for beginners? Pick a mat that suits your needs. Invest in your yoga mat as you invest in yourself. It is very important to commit to regular practice.
The right yoga mat will make your practice even more enjoyable. Eco-friendly, non-slip, comfortable, light weight, and durable ensure the best experience.
Was this article helpful to you? Please tell us what you liked or didn't like in the comments below.