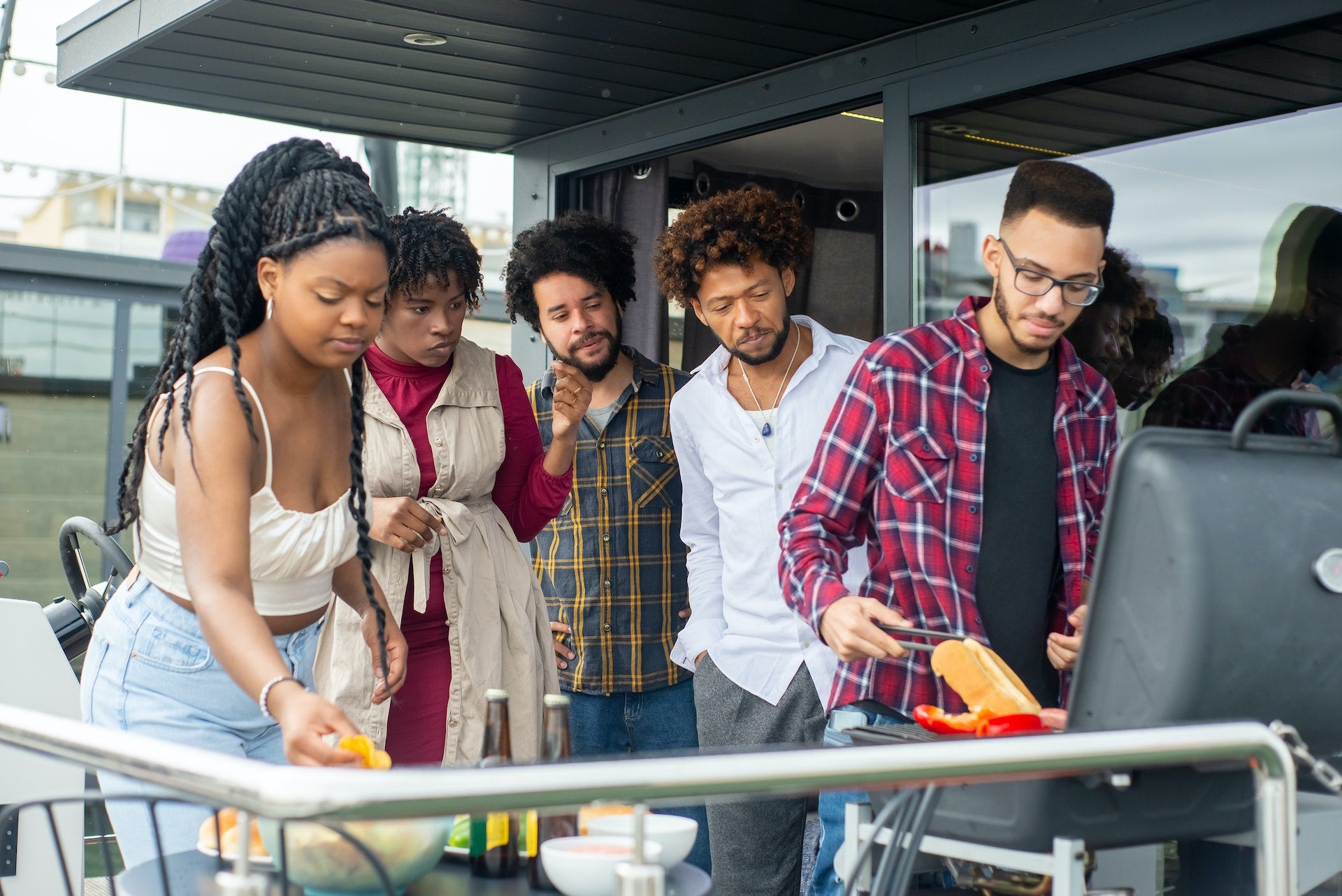 How To Be Stylish At Any BBQ Party - 15+ Outfits
Barbecues are not just about grilled food. They are about socializing, friendships, and spending quality time with your loved ones.

The best outfits for a BBQ party are stylish and comfortable. Sometimes it's best to wear your coziest clothes, while other times you should dress up a little.

It all depends on the occasion, as well as on how close you are to the people you'll meet, which can be members of your family, neighbors, friends, or friends of friends.

Struggling to find the perfect outfit? There's no need to worry, we are here to help you! Keep reading to discover the most stylish outfits you can wear to any BBQ party.


Panaprium is proud to be 100% independent, free of any influence, and not sponsored. We carefully handpick products from brands we trust. Thank you so much for buying something through our link, as we may earn a commission that supports us.

Dressy outfits
A BBQ party can sometimes be a bit more formal: Maybe you don't know everyone, and some people from work are coming. In this case, you will need to dress up a bit.

Don't overdo it though! A simple, beautiful dress or a shirt and trousers combo will work perfectly.

Let yourself be inspired by these 20 best popular and cheap European clothing brands.



Jeans + cute top
Dress cute and comfy for a BBQ party with your friends.
Choose a beautiful and sustainable pair of jeans, and add a nice top and a pair of flat shoes. Your outfit will be ready in no time!

Wear comfortable fabrics
Comfortable clothes are very important if you want to have a great time.
Always remember that uncomfortable materials can ruin your day.
Purchase your clothes from sustainable brands that work under very high-quality standards.



Summer dresses
Summer days are perfect for BBQ parties.
For a great time, choose to wear beautiful, breathable summer dresses that feel and look fantastic.
Click here to discover 20 cute and cheap summer dresses.



Outfits for men
The first thing men should do before choosing an outfit for a BBQ party is to decide whether they need to dress up or down. After that things are pretty easy.

For very relaxed occasions, we recommend a T-shirt and a pair of jeans. If you want to up the style game, choose a shirt instead of a T-shirt.

Learn more about the best affordable and ethical men's clothing brands.

Maxi dresses
Maxi dresses are very comfortable especially when it's hot outside.
They are stylish, versatile, breathable, and allow a lot of mobility.

Purchase yours from a sustainable brand.



Swimwear
Get your swimwear ready if the BBQ party is taking place on the beach. The same goes for a house with a swimming pool!

Great news! There are now many sustainable brands that use eco-friendly materials to create stylish and affordable swimsuits, one-pieces, and bikinis.



Effortless outfits
No matter if you are heading to a family BBQ party, to the beach, or a friend's house, you should wear something beautiful and comfortable.
That's because BBQ parties are all about having a great time.
For inspiration, take a look at these sustainable Scandinavian clothing brands.

Floral dresses
Fashionable and very pleasing to the eyes, floral patterns are great for many occasions, including a BBQ party.
Don't forget to choose a loose fit and a soft material that promotes comfort and breathability.
Here you can find the best summer organic cotton dresses for 2023.

Add a cardigan
If you're worried about the temperatures dropping at sunset, you can always bring a beautiful cardigan to keep you warm.
You can create an infinite number of stylish outfits with cardigans - they look fantastic both dressed up and down.
If you want to learn how to style a cardigan check out this article.

Sweatpants
For family BBQs you can dress as comfortably as you like. Sweatpants are a great idea because they're super cozy and look great on anyone.

This kind of relaxed attire is perfect if you are going to help your family prepare the grilled food.

If you want to learn more about affordable and sustainable sweatpants, click here.

Sweatshirts
Wear a sweatshirt and a pair of jeans or sweatpants for the most relaxed outfit!
Cotton sweatshirts are very lightweight and ideal for warm weather, while fleece sweatshirts are great for autumn.

Be stylish and comfy with one of these 20 best affordable and sustainable sweatshirts.


T-shirts
T-shirts need no introduction!

They are the kings of comfort, and come in so many beautiful designs and colors! Have a great time with your friends wearing a laid-back, sustainable T-shirt.

Denim jackets
Denim jackets are timeless and classic clothing items that are perfect for a BBQ party.
They are also amazing for layering, looking very chic next to knitwear and cotton clothes.

Don't forget to purchase yours from an ethical brand.



Leggings
If you're having a BBQ with just a few close friends, you can wear leggings. They are extremely comfortable and versatile.
Leggings show that you have an interest in sports and taking care of your body. You can wear leggings with tops, T-shirts and flannel shirts.

What's better than leggings? Leggings with side pockets!



DON'Ts
It's time to talk about the clothes that are not recommended for a BBQ party.
Don't overdress because it will make you feel very uncomfortable.
Gowns, high heels, glitter dresses, as well as synthetic materials that aren't breathable  should be avoided if you want to be stylish and have a good time.
You should also avoid clothes that aren't in the right size for your body, as well as clothes that are inappropriate for the weather conditions.


Summing up
BBQ parties are great occasions to wear beautiful and comfortable clothes that are usually a bit more relaxed than everyday wear.

If you're struggling to find the perfect outfit, go for a classic and timeless combination: Jeans and a shirt.
Wear comfortable shoes because you will most likely be walking on both concrete and grass and you will be wearing your shoes for many hours in a row.

Always keep in mind the type of relationship you have with the persons that you are going to see - a BBQ that happens during a work team building requires something more formal than what you would wear for a weekend BBQ with your parents.
If you like this article, share it with your friends!
Was this article helpful to you? Please tell us what you liked or didn't like in the comments below.
About the Author: Miruna Dulcea