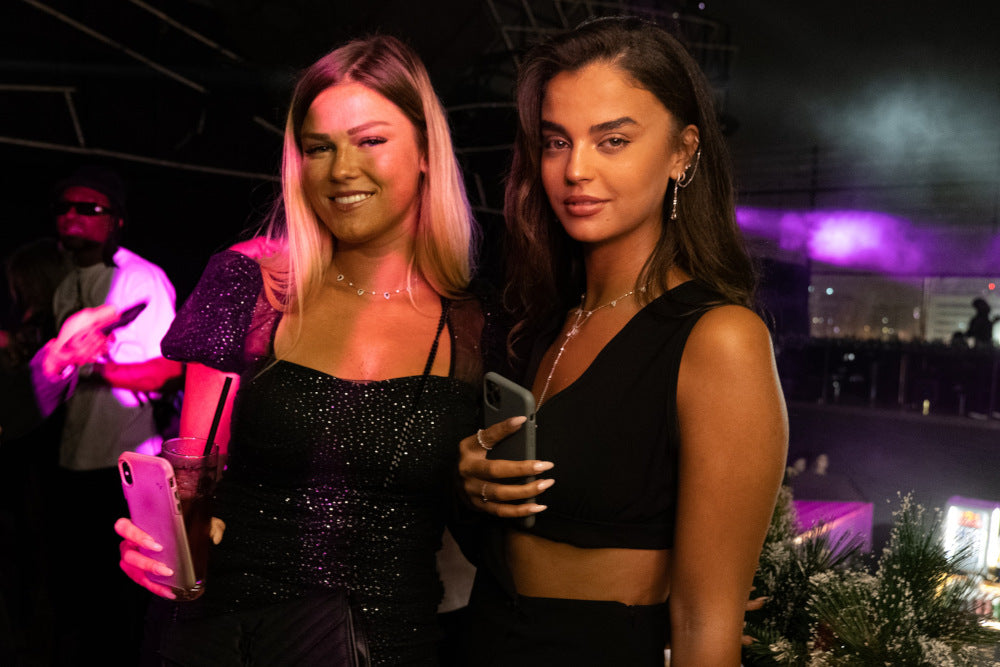 Master Tips For Amazing Night-Out Outfits In Barcelona
Nightlife in Barcelona is lively and rich, with plenty of bars, restaurants, and nightclubs that offer diverse music and ambiance. When choosing what to wear to a night out in Barcelona, consider matching your style and the specific atmosphere of the venues you plan to visit. Some upscale clubs may have strict dress requirements, so make sure to check them on their website.

Generally, recommended attire for women would include a tight crop top or blouse top, tight jeans or tailored pants, and fancy shoes. A form-fitting dress with heels is ideal for a sexy and fashionable look. Men should stick to business casual attire. A button-down or v-neck with fitted jeans or chino pants works well for many night occasions. The addition of a blazer is ideal and complements both men's and women's attire.
Whether you are visiting a fancy-front beach club or simply spending a night out with friends while exploring different bars, we will guide you to curate your perfect night outfit in Barcelona.
Panaprium is proud to be 100% independent, free of any influence, and not sponsored. We carefully handpick products from brands we trust. Thank you so much for buying something through our link, as we may earn a commission that supports us.
1. Shiny Leggings With A Nice Top
Show some bold and edgy character with a pair of shiny leggings in a combination with a nice top or blouse.
Shiny leggings are made from nylon and spandex or faux leather and come in many designs. You will find your favorite one in our selection for the best affordable and luxurious faux leather pants for women and men.
Opt for a classic black or metallic shades, and pair it with a white top. Add some accessories like statement jewelry, a clutch purse, or a belt to complete your night-out look.
2. Feel Sexy in A Bodycon Dress
Make a bold statement in a sexy, tight, and fitted bodycon dress. Its design hugs the contours of your body, and the elasticity of the fabric makes it extremely attractive.

Make sure to choose a comfortable for dancing and moving around bodycon dress. Shorter lengths are a favorite in clubwear, but choose a length that you feel confident in.
3. Stylish Jumpsuit
We love jumpsuits because they are comfortable and look super stylish. Choose a jumpsuit that accentuates your curves and creates a sleek, sophisticated look. You can either go for a long or a short one. Consider adding a belt to define your waist and create a more tailored and flattering look.

Faux leather, sequin, or reflective fabrics can be very suitable for a night out as they interact beautifully with the night and club lights. Choose ethically-made jumpsuits with organic or recycled fabrics from our list here.
4. Animal Prints
Animal prints can add a bold and fashionable element to your outfit. They are eye-catching and make a statement. 
Solid-colored bottoms in neutral tones like black, white, gray, or beige work well with animal prints. This combination allows the print to take center stage.
Skinny, boyfriend or flared jeans complement animal print tops nicely and create a laid-back style. A combination with tailored bottoms like slacks, pencil skirts, or high-waisted trousers will give a more polished look.
5. Sequin Glam
Every garment that sparks and shines will be your best choice for Barcelona's vibrant nightlife. Sequins are highly reflective and catch the light, creating a dazzling and eye-catching effect. This characteristic makes sequin garments perfect for nighttime events and settings where low lighting or club lights can enhance their shimmer and sparkle.

Select a sequin dress that suits your body type and personal style. You can find sequin dresses in various lengths, styles, and colors. Check out our selection of the best affordable and elegant dresses for special occasions and find your best match for a night out in Barcelona.
6. Retro Look With Bell-Bottoms
Add a retro flair to your look with bell bottoms and a nice top. Select jeans bell bottoms or dressy bell bottoms for a more elegant look, and pair them with a stylish top that balances the proportions. You can opt for a fitted blouse, a crop top, or a tucked-in shirt.

Complete the look with heeled boots or platform shoes.
7. Corset Top
Corsets were initially worn as undergarments but have slowly shifted into visible statements in fashion. Corsets today are symbols of power, confidence, and glamour, and there are so many ways to wear them.

Pair your corset top with high-waisted pants, a skirt, or tailored trousers for an elegant look. This combination will create a flattering and sophisticated silhouette. 
Check out our selection of the best affordable corset brands here.
8. Mini Skirt
Create a sexy and playful look with a mini skirt and satin top. Mini skirts are a versatile and fashionable choice for many nightlife settings, including clubs, bars, and restaurants in Barcelona.

Opt for a tube mini skirt in dark hues and pair it with a satin top to mix elegance and charm. Choose classic and understated accessories, such as pearl or gold jewelry, a clutch purse, and a tailored blazer or jacket. These accessories will elevate your look.
Buy beautiful and sexy mini skirts made from sustainable and eco-friendly brands here.
9. Total White
If you are going out on a warm summer night in Barcelona, you will love the trend of a total white outfit. White color is democratic and looks great both to suntan and to paleness. White monochromatic outfit suggests luxury and elegance and appears more radiant and visible in photographs or in the dimly lit surroundings of a nighttime event.
Pair classic white jeans or tailored pants with a white top and complete the outfit with delicate silver jewelry. 
10. Crop Top And High-Waisted Pants
Enjoy your night in Barcelona in a combination of a crop top and high-waisted pants. Opt for a simple and elegant crop top for a more sophisticated look, or go for a backless crop top for a sexy and alluring appearance.
Here is our selection of the best affordable, ethical, and sustainable crop tops to craft fabulous night-out outfits.
11. Slip Dress
Add a romantic flair to your look with a slip dress. Slip dresses are versatile and stylish and beautifully match both casual and dressy events.
Remember to choose suitable undergarments since slip dresses are made from lightweight fabrics. Seamless or nude-colored undergarments can help maintain a smooth and polished look.
Complete the outfit with heeled sandals or pointed shoes.
12. Wear A Skirt With Slits
Celebrities love slits, and there is a reason for that. Slit dresses and skirts, especially high-slit, flaunt with glamor and incitement.
Choose an ethereal long or midi skirt with one or two slits on the side and pair it with a fitted bodysuit, a tucked-in blouse, a crop top, or a dressy camisole. The length of the slit can vary from modest to dramatic, depending on your personal style and the vibe you want to achieve.
13. Extra Layer With A Blazer
Nights get cool during the mid-seasons in Barcelona, and you might need an extra layer. We recommend you wear a blazer with your outfit instead of a sporty or jeans jacket.

Choose a blazer that complements your overall outfit and the setting of the night. A classic black or white blazer can add a touch of sophistication to your look, while a colorful or patterned blazer can bring a more trendy or casual feel.
Craft an elegant and fashionable look with these high-quality, ethically made, and budget-friendly blazers.
14. Fishnet Top
Craft a unique and sexy outfit with a fishnet top. Choose a fishnet top with stones or beads to add a sparkling effect, and pair it with fitted jeans or a skirt. The top provides all the drama needed, so keep the bottom simple.

Also, wear a solid-colored, tight-fitting camisole or bralette underneath the fishnet top to provide coverage and create a beautiful contrast. 
15. What To Avoid
Avoid wearing athletic apparel. This includes sweatpants, hoodies, performance t-shirts, and bike shorts.

Flip-flops, sneakers, and construction boots are also not recommended, especially if you are visiting clubs or lounges.
Was this article helpful to you? Please tell us what you liked or didn't like in the comments below.
About the Author: Iana Jekova