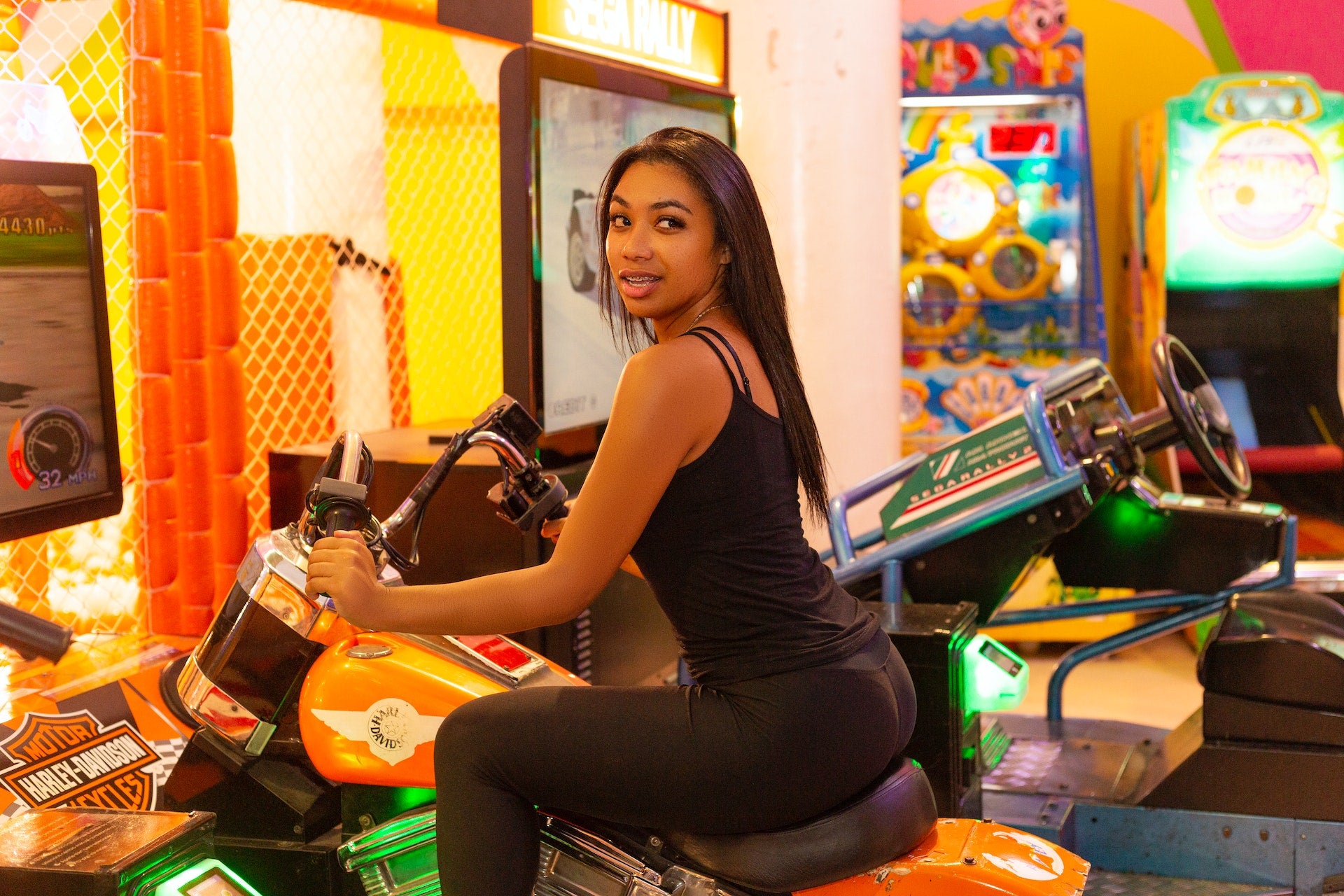 The Ultimate Guide To Arcade Date Outfits
If you want an unusual date full of entertainment, then an arcade date sounds like a great idea for you and your partner.
 Arcade games are making a comeback, and they are fun and affordable. 

This occasion leaves a lot of room to wear some of your favorite clothes and we've created an awesome outfit guide to help you have a fabulous arcade date.
Panaprium is proud to be 100% independent, free of any influence, and not sponsored. We carefully handpick products from brands we trust. Thank you so much for buying something through our link, as we may earn a commission that supports us.

Jeans
Jeans are one of the most comfortable and versatile clothing items. They exist in everyone's wardrobe and it is very easy to create beautiful outfits with them.

For your arcade date, you can wear your jeans in many ways, for example with a T-shirt or a crop top.
Which are better: classic, acid-washed, or distressed jeans? They're all wonderful to wear on your date, so it's entirely up to you!

Buy yours from an ethical brand.



Cute denim shorts
If it's warm enough you can wear a pair of cute denim shorts. They look awesome on everyone while showcasing the best lower body features.

You can now purchase affordable and sustainable denim shorts.



Denim jackets
Another denim item you can successfully wear during your date is a denim jacket.
They are extremely stylish and timeless pieces that you can wear with your favorite tops or dresses in late spring, summer, and autumn.

Here are our recommended affordable and sustainable denim jackets.



Dungarees
Since the '90s fashion is back, dungarees are cool again and they seem to be here to stay.
If you want a very nice outfit with a fresh and carefree vibe, dungarees are the perfect choice and they are now also sustainable!

Leggings
Leggings are cute, modern, and comfortable and they show that you have an interest in fitness.
You can create awesome date outfits starting with a pair of leggings, especially for relaxed occasions, such as arcade dates. Guys usually find this look very attractive.

Check out these beautiful and affordable leggings!


Crop tops
Wearing a crop top can help you highlight your best body features.
Women love them, men love them, and they are affordable, widely available, and very stylish.

Buy your next crop top from a sustainable brand that works under high standards.



T-shirts
T-shirts are soft, comfortable, affordable, and easy to wear. By choosing one, you can save a lot of time and effort that are normally spent trying clothes on, and just relax and enjoy your date.

Don't think they aren't stylish - actually, a lot of people are now rethinking their wardrobes with practicality in mind. Basic T-shirts represent a great base for many outfits and you can always add your favorite accessories.

Make your choice sustainable and always purchase from eco-friendly brands.


Tank tops
Tank tops are beautiful, they have a slimming effect and they help you manage your body temperature during warm days.

Wear them on their own, or under a nice shirt.

Here is our selection of the best organic cotton tank tops.



Mini skirts
Mini skirts look fantastic. Guys find them extremely attractive, which is why they are a very popular choice for date outfits.

You can wear a mini skirt on your arcade date, and you can match it with a beautiful top or T-shirt. Your attire will be a very hot one!

Take a look at these affordable and sustainable mini skirts.

Sweatpants
Initially designed for training purposes, sweatpants have become very fashionable and that's because a lot of people are willing to trade the rigidity of skinny clothes for comfort.

If you embrace this style, then they are the perfect bottoms for an entertaining environment such as your arcade date.

Buy affordable sweatpants from one of these Canadian brands.



Sweatshirts
Wear a sweatshirt with leggings or sweatpants and you have the most relaxing outfit ever, with no effort at all!

You are free to mix the colors you like the most and as footwear, you can choose a nice pair of boots or some comfortable sneakers.

Read our article about affordable and sustainable sweatshirts.


Flannel shirts
Flannel shirts look awesome, they are cozy and they are great for layering.

Discover even more advantages of flannel shirts by purchasing a high-quality one, made by an ethical brand.



Vintage dresses
Since arcade games have been around for a while, being first introduced in the early 1970s, a vintage or vintage-inspired dress is perfect for the occasion!

You should check the second-hand apps, where you can find true hidden gems sold for very affordable prices if you are patient enough.


Corset tops
Corsets are amazing stylish pieces that can be worn under or over other clothes, as well as on their own.
Wear a sexy corset that your boyfriend will love.
You can now shop for ethically made corsets that are beautiful and affordable.

Off shoulder tops
Off-shoulder tops reveal your upper body skin in a very attractive manner, without being vulgar.
They are versatile statement pieces that can be worn with any bottom item of your choice.

Buy yours from a slow fashion brand.

Comfortable shoes
Chose a pair of comfortable shoes that will allow you to feel great the whole date!

You can now buy sustainable shoes produced under very high standards.

Jewelry
Accessorize your cool outfit with some beautiful jewelry!

You have many sustainable jewelry brands from which you can choose and these are some of our favorites.

Bum bags
To keep your hands free and available to engage in different games, we recommend carrying your phone and wallet in a bum bag.
Bum bags are very cool alternatives to classic purses and once you start wearing one you will see the advantages for yourself and you will become a big fan of them.

Make sure yours comes from a cruelty-free brand.


Summing up
Arcade games represent a relaxed environment, ideal to have tons of fun on your date. You can combine both sexy and versatile clothes to create the ultimate outfit that will make you feel beautiful and confident.
This time, in terms of fashion, almost anything is permitted and you should take advantage of the nonrestrictive atmosphere and allow yourself to experiment with your choices.
There is almost no right and wrong, just have fun with the clothes that make you feel great!

If you enjoyed our tips, don't forget to share them with your friends!
Was this article helpful to you? Please tell us what you liked or didn't like in the comments below.
About the Author: Miruna Dulcea