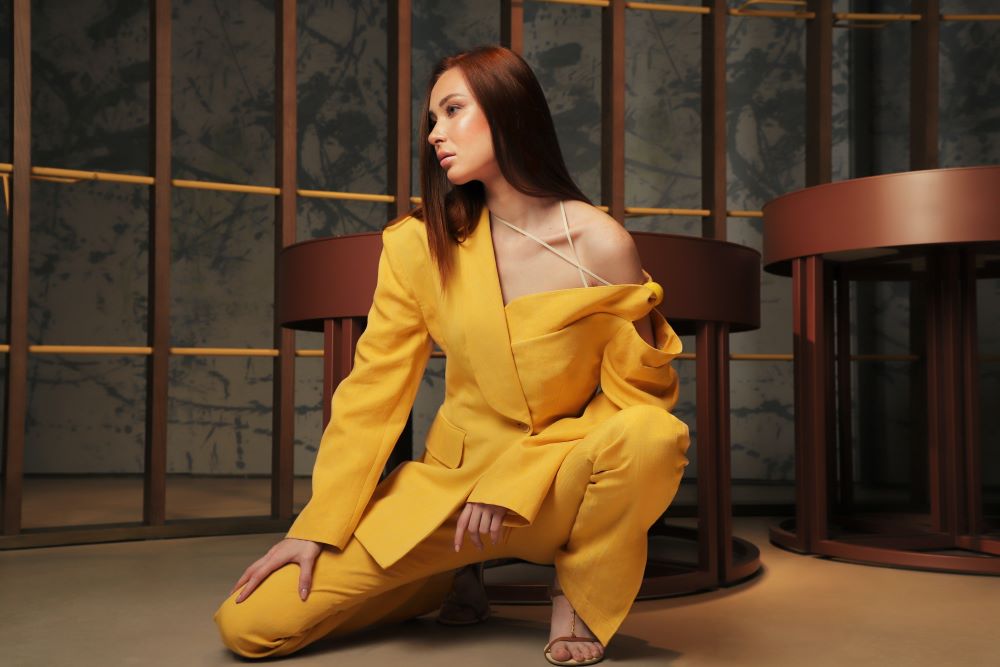 How to Style Yellow Pants: 40+ Best Outfits
Yellow pants can breathe new life into your wardrobe, offering countless opportunities for creating stylish and eye-catching outfits. Whether you are looking to make a bold fashion statement or seeking a more understated and elegant look, yellow pants can be the canvas upon which you paint your style.
One of the most appealing aspects of yellow pants is their ability to bring a burst of sunshine to any ensemble. Yellow is often associated with happiness, optimism, and creativity, making it a fantastic choice for injecting positivity into your attire.
However, styling yellow pants can be a bit of a challenge for some, as this vivid hue can be both captivating and intimidating. That is where our style guide comes in – to provide you with a variety of outfit ideas and inspiration for pairing yellow pants with various tops and accessories.
We will explore a wide range of outfit possibilities, from casual and sporty looks to elegant and sophisticated ensembles. Whether you are planning to wear your yellow pants for a day at the office, a weekend adventure, a special date night, or simply a stroll under the sun, we have got you covered.
So, let's dive into the world of fashion and discover how to make the most of those sunny yellow pants hanging in your closet. With the right combinations and a dash of confidence, you will be ready to steal any spotlight and shine in your yellow pants in no time.
Panaprium is proud to be 100% independent, free of any influence, and not sponsored. We carefully handpick products from brands we trust. Thank you so much for buying something through our link, as we may earn a commission that supports us.
Floral Top
A sleeveless, flowy floral top with intricate patterns in pastel colors like light pink and lavender can complement your yellow pants beautifully.
The soft, feminine vibes of the floral top create a harmonious contrast with the boldness of the yellow, making it a perfect choice for a spring picnic or a casual brunch with friends.
Opt for a top with a flattering neckline, like a V-neck or off-shoulder, to add an extra touch of elegance to your ensemble. Make sure to check out these over 10 ankara tops to wear with jeans in 2023. 
Sunglasses
Oversized sunglasses with yellow-tinted lenses for example not only provide excellent sun protection but also add a playful and trendy element to your outfit. The yellow tint adds a subtle color coordination with your pants, creating a cohesive look.
Choose a frame style that suits your face shape and personal style, whether it is cat-eye, aviator, or round frames, to complete your chic and sun-ready appearance. Do not forget to have a look at the best affordable and sustainable sunglasses from Australia. 
Lovely Blazer
A tailored blazer is a versatile addition to your wardrobe and pairs exceptionally well with yellow pants. This combination exudes sophistication and can easily transition from day to night.
For a business casual look, wear it over a simple yellow tank top, and for a more formal occasion, add a statement necklace and heels.
Try a white blazer for instance. The crispness of the white blazer provides a sharp contrast against the brightness of the pants, creating a polished and stylish ensemble. For more inspiration, check out these original outfits to wear under a blazer. 
White Shirt
The classic white button-down shirt tucked into yellow pants is a timeless and elegant choice. A well-fitted shirt adds an element of refinement to your outfit, making it suitable for office settings or semi-formal occasions.
Roll up the sleeves and leave a few buttons undone for a relaxed yet sophisticated look. Accessorize with a statement belt that complements the pants to accentuate your waist and create a flattering silhouette. Try one of these 15 best ethical button-up shirts for a dressy look. 
Monochrome Look
Opt for a monochrome look by pairing your yellow pants with a soft yellow top in a matching shade. This approach creates a sleek and modern outfit with a harmonious color palette.
To break up the monotony, add a belt in a slightly different shade of yellow or a complementary color to define your waist and add visual interest. Finish the look with neutral-toned shoes, like nude pumps or white sneakers, for a clean and contemporary appearance.
Cute Bralette
For a playful and summery look, wear a lacy white bralette with your yellow pants. Layer a sheer kimono or a lightweight cardigan in a delicate pastel shade to maintain a sense of modesty while showcasing the bralette's intricate details.
This outfit is perfect for outdoor gatherings, music festivals, or beachside vacations, allowing you to stay cool and stylish in warm weather. Here are the best affordable and sustainable bras and bralettes. 
Statement Belt
A wide brown faux leather belt with a statement buckle can add a touch of boho-chic to your yellow pants ensemble. Cinch it at the waist to create an hourglass silhouette and define your figure.
The rich brown color of the belt complements the sunny hue of the pants, adding depth and texture to your overall look.
Pair this outfit with vegan leather sandals and a floppy sun hat for a relaxed, bohemian-inspired style. Make sure to check out these ethical and vegan leather belts. 
Black Tops
Create a bold contrast by pairing your yellow pants with a black top. This combination is perfect for a night out or a stylish dinner date. Choose a blouse with unique details like lace sleeves or a keyhole neckline to add intrigue to your outfit.
Complete the ensemble with black heels or ankle boots for a chic and dramatic appearance. Here are the 15 best affordable, ethical, and sustainable blouses. 
Statement Necklace
Accessorize your outfit with a long, gold pendant necklace that features a delicate design or a meaningful charm. The metallic accents of the necklace will complement the warmth of the yellow pants while adding a touch of elegance to your overall look.
A longer necklace can elongate your neckline and draw attention to your top, creating a balanced and polished appearance. Discover the 15 best affordable and sustainable necklace brands. 
Crop Top
Opt for a trendy and youthful look by pairing your high-waisted yellow pants with a cropped top. This outfit is perfect for a casual day out with friends, offering a laid-back yet stylish vibe.
Choose a crop top that hits just above the waistline of the pants to create a flattering silhouette. You can further elevate the look with a statement belt and sneakers for a modern and urban twist on casual fashion.
For more inspiration, check out our wide collection of the best affordable and sustainable crop tops. 
Striped Top
A striped top paired with yellow pants creates a nautical-inspired look that is perfect for summer outings. The timeless appeal of stripes adds a touch of elegance to your outfit, while the boatneck neckline exudes sophistication.
To infuse a playful element, tie a red bandana as a necktie or headband, channeling a bit of maritime flair. This ensemble is ideal for seaside vacations, coastal strolls, or casual yacht parties.
Comfy Sneakers
Keep it casual and comfortable with white sneakers when styling your yellow pants. This sporty footwear choice complements the relaxed vibe of the outfit and adds a touch of urban chic. Check out the 10 best ethical and affordable vegan running shoes. 
Opt for clean, minimalist sneakers to maintain a sleek appearance. Whether running errands, exploring the city, or enjoying a leisurely weekend, white sneakers provide style and comfort for a laid-back yet fashionable look.
Sporty Outfits
Embrace the athleisure trend by wearing your yellow pants with a matching sporty top and sneakers. This look is all about comfort without compromising style. Choose a sporty top in a coordinating color or with subtle logo branding to create a cohesive outfit.
Accessorize with a backpack and oversized sunglasses for an active and on-trend appearance. Sporty outfits are perfect for casual outings, gym sessions, or days when you want to prioritize comfort while looking effortlessly cool.
Handbag
Carry a crossbody handbag or purse to complete your outfit. A crossbody bag offers practicality and ease of use. Which makes it suitable for various occasions, from shopping trips to casual lunches with friends.
Look for a bag with minimal hardware and clean lines to maintain a timeless and versatile accessory. Discover the 10 best affordable designer handbags made in the USA. 
Graphic T-Shirt
Make a statement by wearing a graphic T-shirt with a bold design that incorporates yellow tones. This look is perfect for expressing your style and interests. Choose a graphic Tee that resonates with you, whether it features artwork, slogans, or pop culture references.
You can further enhance the outfit by adding distressed denim and sneakers for an edgy and laid-back ensemble that is perfect for casual outings, concerts, or art gallery visits. For more inspiration, check out our selection of the best affordable and sustainable graphic Tees. 
Cozy Sweater
Transition into fall by pairing your yellow pants with a cozy sweater in a neutral color like beige or cream. This combination offers both warmth and style, making it ideal for cooler weather.
Opt for a sweater with unique textures, such as cable knitting or ribbing, to add depth and interest to your outfit.
Complete the look with ankle boots or knee-high boots and consider adding a wide-brimmed hat for a touch of bohemian charm. Here are the 15 best organic cotton jumpers and sweaters. 
Elegant Blouse
Dress up your yellow pants with an elegant blouse in a soft pastel shade like blush pink or lavender. An elegant blouse exudes luxury and sophistication, making it suitable for formal events, date nights, or upscale dinners.
Tuck it into your pants and accessorize with delicate jewelry, such as pearl earrings or a dainty bracelet, to enhance the refined look.
Finish the ensemble with heels or pointed-toe flats for a timeless and graceful appearance. Check out the 15 best affordable blouses fro broad shoulders. 
Cool Jacket
Layer a denim or vegan leather jacket over a white tank top and your yellow pants for an edgy and stylish ensemble that is perfect for cooler evenings or casual outings.
The jacket adds an element of coolness and versatility to your outfit, allowing you to adapt to changing weather conditions.
Choose a denim jacket for a more casual and relaxed look or opt for a vegan leather jacket to infuse a touch of urban sophistication. Make sure to check out our extensive selection of the best affordable denim jackets. 
Polo Shirt
Achieve a preppy and classic look by wearing a fitted white polo shirt with your yellow pants. This combination is timeless and versatile, suitable for various occasions, from golf outings to casual gatherings.
A polo shirt offers a neat and polished appearance, and you can style it with the collar popped for added flair.
To complete the preppy look, consider adding boat shoes, loafers, or white sneakers. This ensemble effortlessly combines comfort and sophistication for a refined and sporty outfit.
Brightly Colored Top
Embrace the vibrancy of yellow by pairing your yellow pants with a brightly colored top in a complementary hue, such as coral or turquoise. This bold and eye-catching combination exudes confidence and a sense of fun.
Choose a top with interesting details, like ruffles, bell sleeves, or a wrap-style silhouette, to enhance the visual appeal of the outfit.
Accessorize with metallic jewelry and neutral-toned shoes to balance the vibrant colors and create a harmonious look that is perfect for summer events, tropical vacations, or festive occasions.
Sandals
Finish off your summer look with strappy, flat sandals that provide comfort and style. Whether you opt for gladiator sandals, espadrilles, or simple flip-flops, these footwear choices keep your outfit breezy and laid-back for a day in the sun.
Choose sandals in neutral tones like tan or metallic shades to complement your yellow pants. Add a floppy sun hat, oversized sunglasses, and a woven tote bag to complete the beachy and relaxed aesthetic. Discover the 15 best affordable, vegan, and sustainable sandals. 
Was this article helpful to you? Please tell us what you liked or didn't like in the comments below.
About the Author: Gohar Davtyan