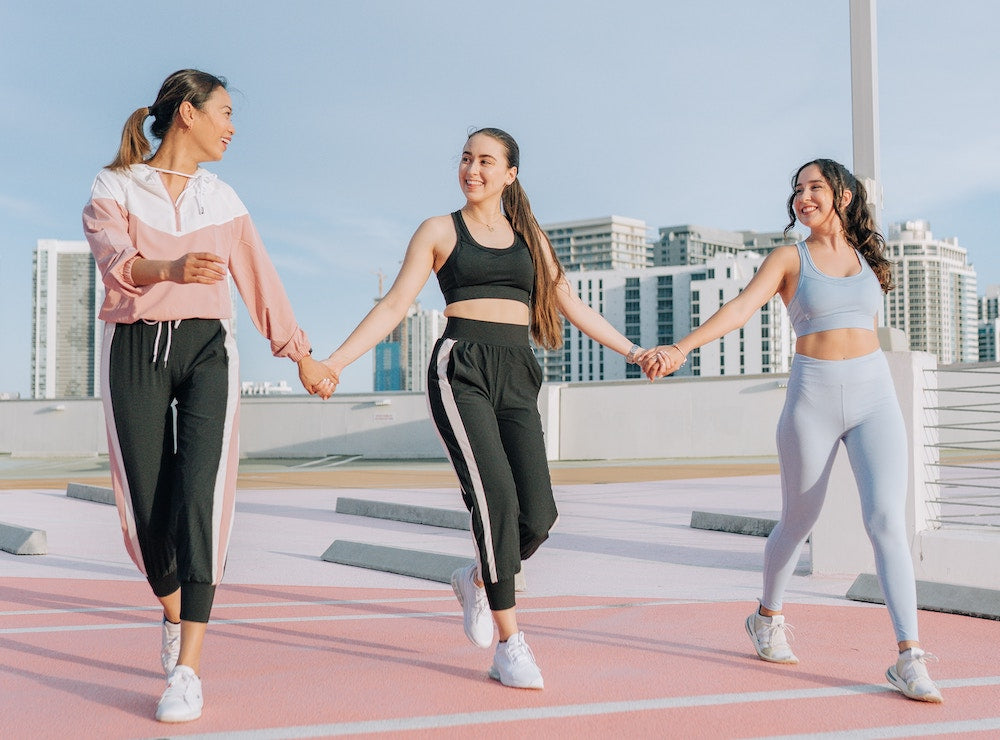 Dress Your Best for Spin Class: The Ultimate Guide
Attending a spin class is an excellent way to get in shape and feel great about yourself. 
Whether you're a seasoned rider or a fresh newbie, having the right gear for spin class can make a world of difference in your workout. 
Breathable tank tops, stretchy leggings, and top-notch workout shoes are only some of the gear you need for a successful ride. We're here to help you choose the best outfit that will make you feel comfortable, supported, and confident. 
So, get ready to gear up and crush your next bike ride. Here's our ultimate guide about what to wear to spin class. 
Panaprium is proud to be 100% independent, free of any influence, and not sponsored. We carefully handpick products from brands we trust. Thank you so much for buying something through our link, as we may earn a commission that supports us.
Breathable Tank Tops
A tank top is one of the best things you can wear to spin class. It's flattering, efficient, and extremely easy to wear. Plus, tank tops will keep you from overheating during the course of your intensive workout. Pair your workout tank with a supportive sports bra, and you're good to go. 
Workout tank tops range from spaghetti straps to thicker straps with more coverage. You can choose a tank top of any length, but make sure it doesn't fit too loosely. Baggy fabric can get in the way of your range of motion, and nobody wants that.
Check out our master list of the best sustainable and affordable activewear brands. 
Comfortable Sports Bras
A well-fitting sports bra is essential for a successful spin class. These classes are high-energy from start to finish. So, you want to make sure you feel secure while riding. 
Choose a sports bra that doesn't fit too tight, but still provides plenty of support to prevent unnecessary soreness and back strain. Make sure you go with a bra that you feel comfortable and confident wearing. 
Nowadays, you don't have to sacrifice sustainability for style. Here are the best eco-friendly sports bras that won't break the bank. 
Short-Sleeve Shirts
A short-sleeve workout shirt is an excellent option if you want more coverage during spin class. Make sure your short-sleeve shirt is made of breathable, moisture-wicking material, such as bamboo or lyocell, to ensure you don't overheat. 
Plenty of athletic brands make short-sleeve shirts in various sizes and styles. Whether you want a simple v-neck tee or a standard t-shirt in a fun color, you're bound to find something you love. 
Check out our selection of the best activewear brands made in the USA. 
Coordinated Sets
Don't be afraid to incorporate your personal style into your spin class gear. Just because you're working out doesn't mean you can't look good! You can find plenty of coordinated sets in monochrome colors or bold prints. 
Wear black high-waisted leggings with a matching tank top, or a colorful tie-dye sports bra and bike shorts with matching details on the sides. 
Take a look at our favorite recycled activewear brands for inspiration. 
Yoga Pants
Yoga pants are great for spin class because they are durable and stretchy. Plus, yoga pants are thicker than your average workout leggings. 
Wear high-waisted yoga pants that fit comfortably but snugly. You don't want your pants riding down while you're launching in and out of the bike saddle. 
You can go with classic black yoga pants or choose a bold, colorful pattern if you want to show off your personality. 
Explore our selection of affordable yoga pants. 
Body-Hugging Leggings
Leggings are excellent if you want something with more coverage than shorts. Compared to yoga pants, leggings tend to be thinner and have a tighter fit. 
High-waisted leggings are the best choice. The high waist band gives your core extra support while in and out of the saddle, and they won't ride down during your intense workout. 
Explore our selection of the best workout leggings with side pockets.
Bike Shorts
Bike shorts are perfect for spin class because they are durable, fashionable, and naturally cooling. What more could you need? 
Bike shorts use stretchy, skin-tight material that allows for freedom of movement and maximum breathability. Plus, bike shorts usually come with a built-in pocket to hold your phone or headphones.
Nowadays, there are bike shorts for any and every style. Check out these affordable bike short options to find the perfect pair. 
Padded Spin Shorts
Let's face it. Those stiff bike seats aren't exactly comfortable. Padded shorts are a worthy investment if you ride regularly and feel discomfort after an intensive session. 
Compared to regular bike shorts, padded shorts provide extra cushion to prevent pain, pressure, and irritation in your bottom half. Padded spin shorts look almost exactly the same as regular bike shorts. Choose shorts that fit snugly and make you feel great. 
Here are sustainable brands that make some of the best workout shorts around. 
Breathable Underwear
Many women wonder if they should wear underwear to spin class. The short answer? Yes. 
Unless you're wearing bike shorts with built-in mesh lining, make sure you suit up with breathable, moisture-wicking undergarments. Going commando can cause irritation and even pesky infections. 
Bamboo is an excellent, sustainable fabric that is naturally moisture-wicking and oh-so breathable. Check out our favorite bamboo underwear brands. 
Sustainable Fabrics
Finding sustainable workout clothing can be tricky. So many moisture-wicking fabrics are made from plastic and other unsustainable materials. Thankfully, however, things are changing.
In recent years, athletic brands have adopted more eco-friendly fabrics like recycled polyester and lyocell. When shopping for spin class outfits, seek out sustainable fabrics that will make you and the plant feel great. 
Learn more about sustainable sportswear fabric before you shop.
Gym Shoes
Wearing the right footwear is essential when it comes to spin cycling.
If you're just starting out on your spinning journey, wear a pair of trusted gym shoes. The design of gym shoes ensures range of motion and a stiff sole, so this style of shoe will feel fine on a spin bike. 
Your gym shoes don't need to be from a fancy athletic brand. Just make sure they fit correctly and are laced up tight before class starts.
Ride in style with ethical and vegan gym shoes. 
Indoor Cycling Shoes
While a pair of regular gym shoes work great, indoor cycling shoes are even better. Invest in a pair of indoor cycling shoes if you're ready to take your riding to the next level. 
Indoor cycling shoes are made specifically for workouts on a spin bike. They're made with stiff soles and cleats that snap into the pedals, ensuring a secure ride.
Check out the best ethical athletic alternatives to the big brands before you start shopping. 
Cycling Socks
Socks are one of the most important accessories for spin class. Choose socks that are comfortable and made from breathable fabric. 
A good pair of breathable socks will prevent blisters and allow for circulation while you're pedaling your heart out. If you want the best pair of spin socks possible, certain brands make cycling socks that are designed with extra padding and special fabric.
You don't have to sacrifice ethics and the planet to find the perfect spin class socks. Check out these ethical alternatives that make eco-friendly socks at a more affordable price point than the designer athletic brands. 
Sweatbands
You'll be working up quite a sweat during spin class. Sweatbands can help keep you cool by absorbing that pesky sweat. 
Many people prefer wearing a sweatband instead of using a towel because it's a convenient way to keep sweat from dripping down your face and into your eyes. Wristbands can also be helpful if you're worried about your hands becoming slick with sweat while on the bike.  
Check out some of our favorite sportswear brands that offer sweatbands and other accessories.
A Reusable Water Bottle
A reusable water bottle is a must-have for spin class. These cardio-intensive classes don't have a lot of breaks, so bring a water bottle that fits in the bike cup holder.
Find a reusable water bottle that you can grab with one hand and is easy to use mid-ride. Plus, using a reusable water bottle is an easy way to cut down on plastic waste. 
What Not to Wear
Now that we've gone through the spin class essentials, here are some tips about what not to wear. 
Jewelry:

We strongly recommend not wearing jewelry to spin class. The fast pace in which you ride the bike can cause earrings, necklaces, and bracelets to snag on the equipment. This can not only ruin your beloved accessories, but can cause serious injury. 
Sweatpants:

You are guaranteed to work up a sweat during spin class. We recommend skipping the sweatpants to avoid overheating. Moisture-wicking leggings or shorts are way more comfortable, breathable, and efficient. 
Cotton:

Although cotton is an excellent sustainable fabric, it's not the best fit for a spin bike workout. Cotton fabric retains sweat and heat, which can make you feel pretty uncomfortable. You want to keep as cool as possible, so go with

sustainable synthetic fabrics

like recycled nylon.  
Was this article helpful to you? Please tell us what you liked or didn't like in the comments below.
About the Author: Liz Flynn