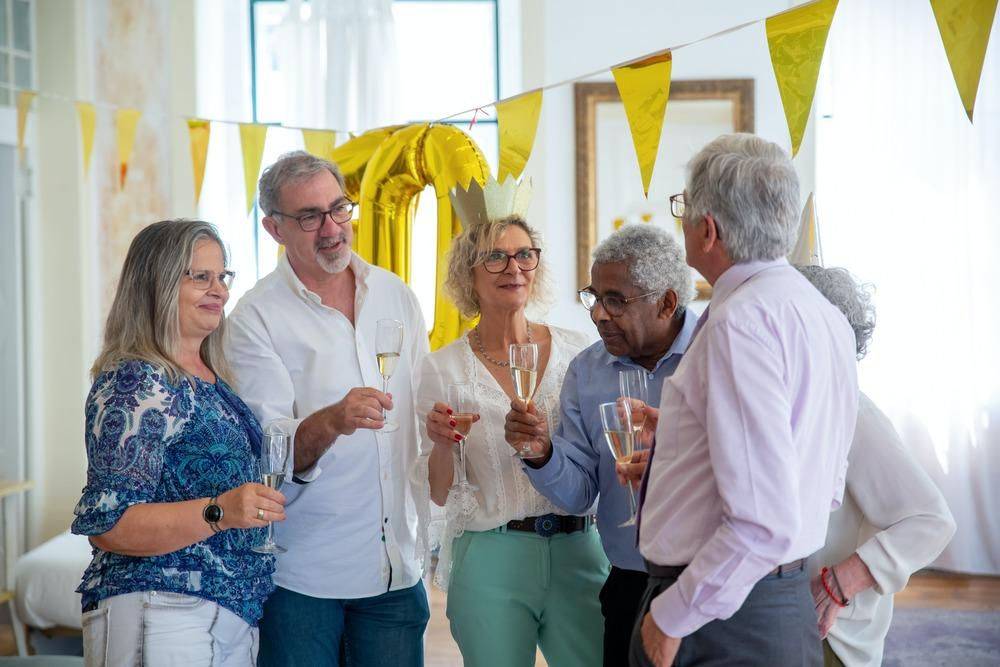 How to Dress Appropriately for a Retirement Party
A retirement party is a special occasion to express appreciation for a retiring coworker, relative, or friend while showing off your own personal style and fashion sense. Therefore, you should pay careful attention to what you choose to wear and ensure that it reflects both you and the
occasion.

When deciding what to wear to a retirement party, consider the level of formality and the specific dress code of the event, if any. Some general guidelines that can help you choose an appropriate outfit are color, comfort, and your relationship with the person whose retirement party you are attending.

Here are some great ideas on styles and themes that you can incorporate into your retirement party look. From classy and formal to casual and sporty, we have all the answers to help you make the best decision for your event.
Panaprium is proud to be 100% independent, free of any influence, and not sponsored. We carefully handpick products from brands we trust. Thank you so much for buying something through our link, as we may earn a commission that supports us.


Formal outfits


Formal outfits are a good choice if you want to look smart and show respect to the retiree. Choose an attire that is appropriate for the occasion, like an elegant dress, for women, accessorized with comfortable heels, minimal jewelry, and a classic hairstyle.

You should also consider the time of day and venue, and complement the outfit with a tasteful and understated makeup look. Men can opt for a suit and tie paired with polished dress shoes. A dress shirt with a crisp collar and cuff links will complete the look and have you looking right for the day.

Pro tip: If you want to give off a sophisticated vibe, go for neutral or darker colors such as black, navy, or burgundy — and this applies to both women and men. Overall, keep your appearance simple and tasteful, to honor the retiree's accomplishments and signify respect for the occasion.

Check out these formal dresses by sustainable brands.


Smart casual attires


Smart casual attires are a great choice for a retirement party, as it strikes the perfect balance between being stylish and comfortable. For women, a knee-length dress in a classic cut and a subtle print or solid color would do the trick. For shoes, wear ballet flats, loafers, or low-heeled pumps, and match them with minimal jewelry and a stylish handbag to bring the look together.

For men, a tailored blazer paired with chinos or dress pants is a good way to go. Pair with loafers or dress shoes in black or brown, and a simple tie or pocket square to elevate the look.

Keep in mind that the key to nailing a smart casual look is to avoid anything too flashy or overly casual. Stick to clean lines and classic pieces, and don't be afraid to add a pop of color or pattern to your outfit. Most importantly, choose clothes that make you feel confident and comfortable.

Take inspiration from this carefully curated list of chic work looks from the best sustainable brands.


Cocktail outfits


A cocktail garb can be a fun and exciting way to bring elegance to your retirement party look. Ladies can wear a classic cocktail dress in a bold color like black, blue or red. A stylish jumpsuit paired with heels and statement jewellery is another cute look to try.

Remember, it's important to feel comfortable and confident in whatever you wear. Dress appropriately for the event, but also make sure to express your personal style.

You can make an ethical choice to rent a cocktail dress instead of buying one. This list will help you find a cute look for rent.


Dressy casual looks


For a dressy casual look, you want to look stylish and put-together, while still being comfortable and relaxed. This would help you move around freely, and engage with the retiree and other guests at the retirement party.

Both women and men can pull off a tailored blazer paired with slim trousers or jeans. Ladies can elevate this look with statement jewellery and a comfortable heel or wedge.

The key to a good dressy casual look is finding the right balance between dressy and casual. Choose comfortable, breathable fabrics and avoid anything too formal or too casual. Above all, like always, make sure you feel confident and comfortable in your outfit.

Get inspired and find something cute and sustainable here.


Sporty casual looks


While it's not very common to dress sporty casual for a retirement party, it can be appropriate if the party has a more relaxed, outdoor, or active theme. For example, if the party is taking place at a park or beach, then a sporty casual outfit could be a good choice.

A pair of leggings or yoga pants paired with a tunic top and sneakers or athletic shoes is a chic look for women who want to look smart and stylish. If you want an even more laid-back look, consider a casual dress paired with sneakers or sandals and a denim jacket.

For men, a casual polo shirt paired with chinos or khaki shorts and sneakers or loafers would do just fine. The trick to pulling off a sporty casual look, especially at a retirement party, is to look athletic and
stylish at the same time. Don't do too much; keep it smart and simple and you'll fit right in.

These sustainable brands offer affordable options for you to create your sporty casual look.


Form-fitting, functional outfits


When dressing for a retirement party, you can choose to show off your great form and at the same time, keep it functional. Here are a few ideas to achieve this look.

For women, a fitted midi-length dress with a flared skirt, paired with dressy sneakers or flats, can be a great choice. Accessorize with simple jewellery and a cross-body bag, and you'll have an enviable retirement party look!

Men can wear a fitted sweater paired with chinos or dress pants, and dressy sneakers or loafers to create a polished and put-together look.

It's important to choose fabrics that are stretchy and breathable when going for a form-fitting and functional look so that it hugs your frame and allows you to move around comfortably.

You may find something to inspire you from this list of chic party dresses.

Hopefully, this guide inspires you to wear outfits that you truly enjoy and helps you make the right choice for your retirement party.
Was this article helpful to you? Please tell us what you liked or didn't like in the comments below.
About the Author: Chioma Nnanna