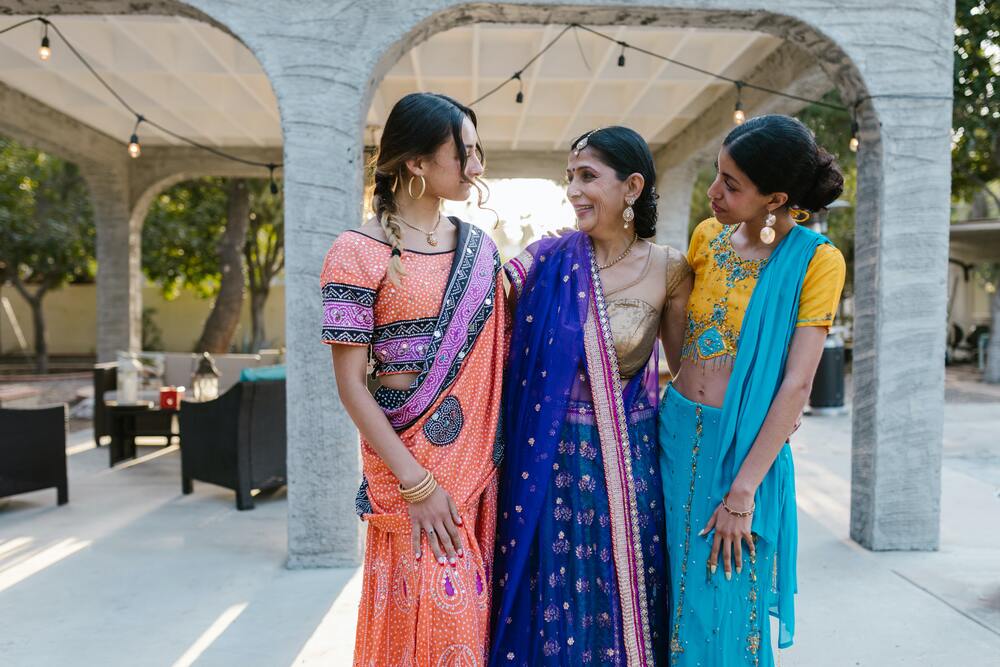 What To Wear With Kurti: 15 Amazing Outfits
A Kurti is an Indian traditional outfit highly coveted for its versatility and elegance. The delicately crafted patterns, embellishments, and soft fabrics make it an ideal choice for casual and formal occasions.
Suitable for women and girls of all ages, Kurtis can instantly enhance one's appearance. Are you facing challenges in styling your Kurtis? Perhaps you're wondering how to match them with other clothing items or what accessories to wear based on their design patterns. Relax! We got you covered. Here you will learn various ways of styling your Kurti.
Panaprium is proud to be 100% independent, free of any influence, and not sponsored. We carefully handpick products from brands we trust. Thank you so much for buying something through our link, as we may earn a commission that supports us.
Kurti with a shrug
You can pair your kuti with a shrug for a trendy and elegant look. Match your simple Kurti with a printed shrug to make a fashion statement. You can achieve an Indo-fusion look by combining any shrug design with a long or short Kurti. Shrugs come in various styles and patterns and are timeless, featuring long or short sleeves.
Kurti with flared skirts
Kurtis come in various designs and patterns to choose from. If you want a unique ensemble, pair a long, straight-fitting ethnic kurti with a flared skirt. Ensure that the two pieces have different colors.
For a more traditional look, add a dupatta to complete the outfit. Alternatively, if you're heading to a casual or cocktail party, consider an asymmetric kurta paired with a skirt lehenga for a chic look.
Please have a look at our eco-friendly maxi skirts to complete your kurti look.
Kurti with a denim jacket
Denim jackets are classic, versatile, and trendy. They can be layered with various outfits, kurti included. Pair a long or short Kurti with your fantastic pair of sneakers for a chic and casual look. You will still rock if you pair your denim jacket with white, black, and mustard yellow Kurti dresses. Whether running errands, heading to college, or going to work, this ensemble will give you a fashionable and put-together appearance.
Here are some of the best affordable denim jackets that every woman needs.
Kurti and sharara pants
Sharara pants are versatile and come in a wide range of styles and patterns, featuring a palazzo-style design with a flared pleat from the knee downwards. Many Indian women greatly admire this unique design. Combining a Sharara with a Kurti can make an excellent choice for ladies of all ages as it enhances the ethnic appeal of the outfit. Pair a basic Kurti with a contrasting sharara bottom for a perfect look.
Check out our selection of the best sustainable wide-leg pants made under high standards here.
Palazzo pants with a kurti
Pair a simple Kurti with a complementary-colored bottom for an effortlessly chic look. This classic combination is a great way to ensure your outfit looks well-coordinated.
Try pairing your Kurti with Palazzo or wide-leg pants for a more modern take. This stylish pairing is versatile enough to be worn to various events, making it a great addition to any wardrobe.
Kurti and dhoti pants
Dhoti pants are amazing outfits and a must-have collection for every closet. The fabric tapers down near the ankles and has many pleats in the thigh area, creating a lovely silhouette. Most dhoti pants are one-size-fits-all, and they look great with short kurtas.
Match an embroidered kurta with a plain dhoti for a more traditional appearance, or vice versa. However, dhoti pants made of lycra fabric should be avoided since they lack the appropriate flare to highlight the design's elegance.
Kurti as a dress
Make a statement at your next party by wearing a kurta or tunic as a dress. You can choose from various fabrics such as cotton,  georgette, and length options ranging from calf-length to above the knee. The possibilities are endless! Add a waist belt to enhance your curves, and combine it with beautiful heels or boots to complete the appearance. You'll turn heads and stand out in a crowd.
Kurtis and patiala salwar
Patiala salwar is timeless and will never go out of style. Pair it with a designer Kurti for a fantastic fusion look. However, don't choose a Patiala Salwar made of shimmery fabric to avoid any clash with the design.
Opt for a Patiala Salwar made from comfortable fabric and match it with a designer Kurti to elevate your fashion game and make you stand out on any occasion. Try this classic combination to create a unique and stylish look.
Kurti with leggings
Leggings are another great choice to wear with Kurti. No matter the style or pattern of your Kurti, these organic and bamboo leggings are always a comfortable option to wear all day long, whether you are at work or in college. You will never go wrong if you pair your kurti with solid-colored leggings.
Kurtis with cigarette pants
Cigarette pants have become a popular trend, slowly replacing leggings and churidars. These pants have a slim, tight-fitting design with small folds near the ankles. They are comfortable, lightweight, and an excellent option for any occasion.
You can pair your cigarette pants with different types of kurtis such as tail-cut kurti, flared kurti, lawn kurti, kaftan kurti, or long kurti. These are an excellent choice for the office or a casual day out with friends and family. You can further elevate your look by donning contrasting heels or flats and matching statement jewelry.
Kurtis and dress pants
You can also pair your kurti with trousers pants, which are popular among young ladies. They offer a chic look when you match them with A-line and asymmetrical kurtis. The trousers' materials are usually thick; hence ideal for colder weather.
Here is our selection of the best affordable work pants for women.
Kurtis with shorts
Kurtis with shorts is typical among college girls who want to rock their style. You can pair your front or side-slit Kurti with shorts or hot pants and complete the look with bohemian accessories to stay relaxed and comfortable in hot weather.
Here are the best organic cotton shorts that you will need to look fashionable and feel comfortable.
Kurti with churidar
Churidars haven't lost their appeal with the latest trends and are perfect for loose and flowing kurtis. If you want an elegant traditional look, pair a blue embroidered kurti with your churidar. Accessorize it with a golden jhumkis, a Tote bag, a silver wrist cuff, and flat chappals for a complete, vintage look for any occasion.
Match with jeans
Jeans can perfectly match any kurti, whether you prefer long, straight, or short since it is versatile and stylish. This modern and trendy style is popular among young girls, and it looks great with any colored Kurti.
You can create a chic look by folding your jeans at the ankle length. This fusion style combines Western and ethnic elements, adding a unique touch to your outfit.
Here is our selection of the best Australian-made denim jeans.
Kurti and wrap-around pants
The wrap-around pants are a contemporary fusion of pants, featuring a wrap-around design, an asymmetrical hemline, and a crinkled effect. Pair the wrap-around pants with a designer jacket-style Kurti for a unique and stylish appearance at any wedding function. You can elevate your look further by adding some fashion statement jewelry.
Want to look stylish with a clean and clear conscience? Check out our selection of the best eco-friendly and ethical jewelry brands.
Conclusion
Kurtis is versatile and can be styled to suit different occasions and moods. Whether paired with palazzo pants, denim jeans, skirts, or even Patiala Salwar, a Kurti always looks fantastic. Besides, they are lightweight, making them ideal to wear during hot weather.
Was this article helpful to you? Please tell us what you liked or didn't like in the comments below.
About the Author: Dinushka Breaker Gunasekara