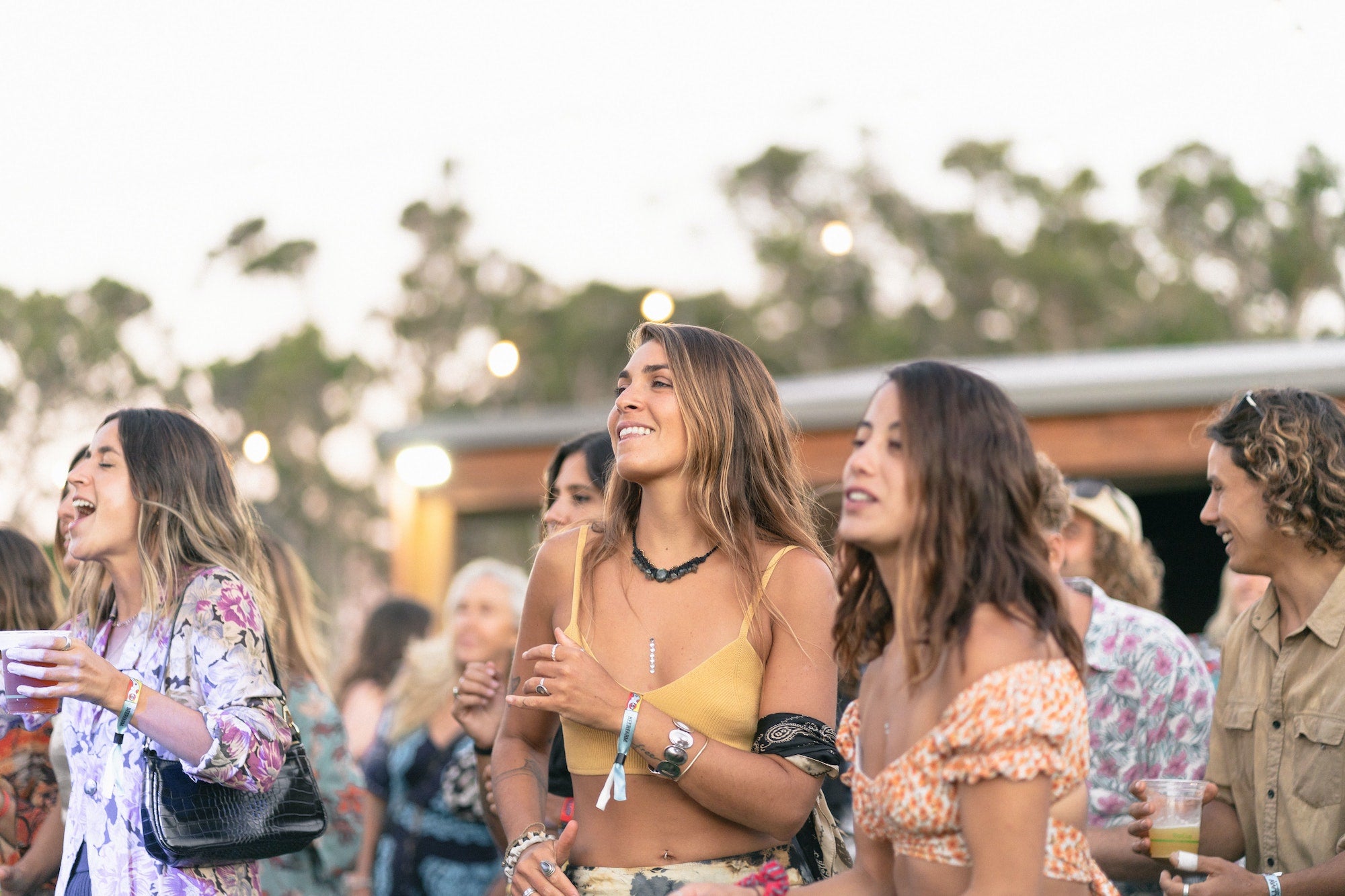 What to Wear to a Jimmy Buffett Concert (15 Fun Outfit Ideas)
Deciding what to wear to a Jimmy Buffett concert shouldn't be stressful. Jimmy Buffett's music is all about chilling out and having a good time. So picking out the perfect outfit should be the same way!


From tropical shirts to flowy dresses, there are plenty of outfit options to get you in the Margaritaville state of mind. To help you narrow it down, we've put together some of the best Jimmy Buffett concert outfit ideas. 


This guide will help you plan the perfect concert look so you can sit back, relax, and get ready to party. After all, it's five o'clock somewhere. 
Panaprium is proud to be 100% independent, free of any influence, and not sponsored. We carefully handpick products from brands we trust. Thank you so much for buying something through our link, as we may earn a commission that supports us.
Wear Comfortable Clothes

If you listen to the lyrics of any Jimmy Buffett song, it's immediately apparent that chill vibes and relaxation are essential for enjoying life. That's why the best way to have fun at a Jimmy Buffett concert is to wear comfortable clothes. 


You're going to be dancing the night away in Margaritaville, so make sure your outfit gives you plenty of room to move around and snack on some cheeseburgers in paradise. 


If you're worried about looking too laid back, don't worry. There are some simple tricks for looking hot in casual clothes. But remember: if you feel great, you look great.
Hawaiian Shirts

A Hawaiian shirt is by far one of the best things to wear to a Jimmy Buffett concert. Jimmy Buffett embodies the escapism of an island vacation. What better way to enjoy his music than with a fun, tropical button-up shirt? 


Wear a Hawaiian shirt with a vintage pattern, or choose something modern and bright. You can't go wrong! If colorful prints aren't your thing, a pastel or brightly colored button-up works just as well.
Breezy Sundresses

A Jimmy Buffett concert should feel like a vacation. That's why a light, breezy sundress works perfectly for the occasion. 


Sundresses are a fabulous concert outfit because there are so many options. You can choose something short and sweet or long and flowing, depending on your style. If a sundress works for the beach, it will work for a Jimmy Buffett concert. 


In addition, there's a wide selection of affordable, cute sundresses ethically made in the US. 
High-Waisted Shorts

High-waisted shorts are great for a Jimmy Buffett concert. They're comfortable, classic, and versatile. A good pair of denim shorts will tie your outfit together no matter what type of top you wear. You can wear cut-offs for an edgy look or a finished hem for a classic, clean style. 


If denim isn't your thing, pair your tropical shirt or tank with high-waisted khaki shorts. If a fellow Parrothead spots you wearing a pair of khakis, they'll know you have a license to chill. 


Explore our favorite high-waisted shorts to find the perfect pair.
Summer Hats

A lot of Jimmy Buffett's concerts are outdoors. Whether or not the show is during the day, a sun hat is a must because it ties your whole leisure look together. 


A vintage baseball cap is always a classic go-to for Jimmy Buffett fans. Other summer hat options include bucket hats, straw boaters, and floppy beach hats. 


If you want to go all out with your look, consider a playful beachcomber hat. Some fans even decorate theirs with parrots and flowers! There are a ton of hat options to explore.
Fanny Packs

Fanny packs are having a moment, which is great news for Jimmy Buffett fans. Whether you wear one around your waist or as a crossbody, a fanny pack is the perfect bag for a Jimmy Buffett concert. 


A fanny pack is cute, versatile, and oh-so-convenient—three of the most important things about a Parrothead outfit. 


Of course, buying vintage and used is always better. There are a ton of excellent used clothing apps where you can find the perfect bag to complete your outfit. 
Bikini Tops

Attending a Jimmy Buffett concert is like going to a giant beach party. If the weather is warm enough and you're feeling adventurous, pair a cute bikini top with some shorts, a skirt, or loose pants. 


A bikini top is a fun way to stay cool and get in the spirit of the music. Just make sure you bring a cover-up or sweatshirt in case a cool breeze sets in.


Check out our selection of sustainable and affordable bikinis.
Colorful T-shirts

Jimmy Buffett is a musician known for his relaxed, casual style. That's why colorful t-shirts are a perfect concert outfit. You can pair your favorite tee with jeans, Bermuda shorts, or a wrap skirt for the ultimate concert outfit. 


Go with bold colors, loose fits, or even your favorite Margaritaville graphic tee. There's quite a selection of USA-made t-shirts to choose from. Anything goes when you're visiting Margaritaville. 
Tropical Prints

Nothing transports you to an island state of mind like a bright, tropical print. Colorful button-up shirts or loose-fitting sundresses come in a variety of cheerful patterns. 


Some popular choices feature palm trees, animals, tropical fruit, or all of the above. If you want something less busy, go with light colors that will reflect the sun. 


You can even switch things up and wear some tropical-themed patterned pants with a solid top. 
One-Piece Swimsuits

Many people like to hit the pool or beach before a Jimmy Buffett concert. The great thing is, you don't even have to change when it's time for the show. Instead, you can get adventurous and wear a one-piece swimsuit as part of your concert look. 


Pair a one-piece with some shorts or a skirt to make a sleek, sexy look. Plenty of fun swimwear with creative embellishments and slinky cut-outs bring a surprising element to this classic beach look. 
Cute Rompers

A cute romper is an excellent option if you want to wear something unique that's still comfortable. A romper with a loose fit and breathable fabric is best.


The best thing about a romper is its all-in-one quality. So many rompers come in fun patterns, bright colors, and a beachy sensibility. All you have to do is accessorize.


To beat the heat, check out our top choices for organic cotton rompers.
Crop Tops

You can't go wrong with a crop top at a Jimmy Buffett concert. This fashion choice is versatile, classic, and comfy. A crop top can easily pair with some high-waisted shorts, khaki pants, and so many other options. 


Of course, a sustainable crop top is always a superb choice. You'll have people asking left and right where you got your outfit.
Lagenlook Pants

The Jimmy Buffett mindset is about feeling comfortable and having a good time. Therefore, Lagenlook or "layered look" pants are an excellent choice for a Jimmy Buffett concert because they are loose, comfortable, and fashionable. 


Go with linen tie-waist trousers or bright, colorful harem pants. Lagenlook pants also come in various silhouettes, from tapered to super wide-leg looks. You're bound to feel comfortable in whatever you choose. 


There are so many comfy wide-leg pants to choose from these days. Here are some favorites. 
Sunglasses

As a Jimmy Buffett fan, you already know his concert will be an all-day affair. That's why a good pair of sunglasses is essential. Spending all day in the sun can be draining, so make sure you have a solid pair of sunnies at all times. 


You can always emulate Jimmy himself with a classic pair of aviator sunglasses. However, choose something funky if you want to fully embrace the island state of mind. A pair of heart-shaped sunglasses or other novelty frames will do the trick. 


If you need inspiration, you can explore a selection of our favorite sustainable sunglasses.
Comfortable Shoes

You know you'll be up on your feet dancing the night away when you go to a Jimmy Buffett concert. That's why comfortable shoes are a must. 


We recommend casual sneakers or close-toed sandals. Your favorite pair of Converse or sustainable lace-up sneakers match anything. Espadrilles are excellent options if you want a more dressed-up look that is beachy and comfortable. 
It's Five O'Clock Somewhere
You've got some outfit ideas for a Jimmy Buffett concert. Now, go out there and have some fun! 


Jimmy Buffett fans are known for being friendly and welcoming, so you're sure to shine no matter what you wear. Just make sure you don't lose your shaker of salt.
Was this article helpful to you? Please tell us what you liked or didn't like in the comments below.
About the Author: Liz Flynn