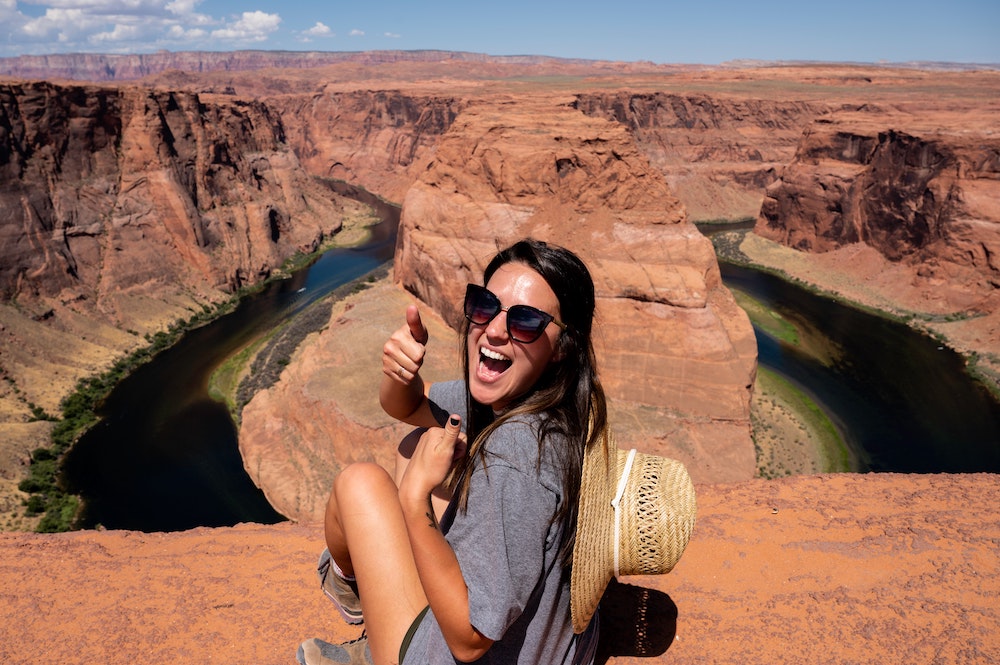 15 Helpful Tips and Outfits to Wear to the Grand Canyon
The Grand Canyon in Arizona is a breathtaking natural wonder of the world. It's worth a visit to see this geological landmark with your own eyes. From camping to driving tours, the Grand Canyon has something for everyone. 
But what should you wear to the Grand Canyon? This part of your trip might be a bit overwhelming, so we're here to help. 
If you're planning a trip to Grand Canyon National Park, you want to prepare for whatever nature may throw your way. 
Dressing in layers and wearing breathable, comfortable clothes are the two most important things to keep in mind. 
We've got you covered with these 15 easy, helpful tips for what to wear to the Grand Canyon. 
Panaprium is proud to be 100% independent, free of any influence, and not sponsored. We carefully handpick products from brands we trust. Thank you so much for buying something through our link, as we may earn a commission that supports us.
A Light T-Shirt
A light t-shirt is one of the best things you can pack for the Grand Canyon. 
Cotton and hemp are excellent t-shirt materials because they're breathable, naturally soft, and comfortable. 
For the best breathable, lightweight t-shirts, check out our selection of organic cotton tops. 
A Flannel Button-Up and Jeans
Get in touch with your outdoorsy side at the Grand Canyon with a button-up flannel and jeans. 
This outfit is casual, cool, and comfortable for spring or fall. Wear a classic red-and-black flannel with ripped black jeans or cozy fall plaid and straight-leg denim. 
Check out our selection of sustainable flannels that are made in America. 
Cargo Pants and Breathable Shirts
Cargo pants and moisture-wicking shirts are best if you plan on hiking while at the Grand Canyon. 
Cargo pants are fantastic because they have plenty of pockets. Plus, many cargo pants come with the option to zip off the bottom half if you get too hot and want to wear cargo shorts instead. 
Explore the best affordable and sustainable cargo pants for your trip to the Grand Canyon. 
An Athleisure Set
A luxurious athleisure set is the way to go if you want to be comfortable but look amazing for pictures at the Grand Canyon. 
Invest in a sustainable athleisure wear brand that crafts flattering, form-fitting leggings and tops. That way, your Grand Canyon outfit will be comfortable, flexible, and fashionable. 
Check out our favorite sustainable sportswear brands for your next great athleisure set. 
Leggings and a Cute Shirt
Leggings and a cute shirt are comfortable options for the Grand Canyon. 
You'll do a lot of walking, hiking, and driving around during your visit. Leggings are guaranteed to keep you comfortable and relaxed. 
These sustainable bamboo leggings are the best options for a fantastic Grand Canyon outfit.  
Running Shorts and a Light Top
Running shorts and a light top are perfect for warm days at the Grand Canyon. 
Wear retro-style, high-waisted shorts with a white crop top or your favorite cotton t-shirt and breathable mesh shorts. 
Explore our selection of cute workout shorts for women. 
A Summer Dress and Sneakers
Hiking isn't required to visit the Grand Canyon. There are plenty of drive-up vistas and views to get some fantastic photos. 
So, pack your favorite summer dress if you don't plan on being too outdoorsy during your visit.
Wear a fun cotton midi dress with sunglasses, sneakers, and a denim jacket for the ultimate vacation look. 
Check out our favorite sustainable summer dresses. 
Denim Shorts and a Tank Top
You can't go wrong with denim shorts and a tank top at the Grand Canyon during summer.
Tuck a relaxed tank top into high-waisted, distressed denim, or wear a sleek athleisure spaghetti strap tank with low-rise shorts.
Explore our selection of denim shorts that are sustainable and affordable. 
Dress in Layers
No matter the season, it's always good to dress in layers at the Grand Canyon. 
The Grand Canyon has average temperatures from the high 80s to low single digits, depending on the season. 
Layer with light jackets and puffer vests over breathable cotton shirts, flannels, and shorts. This way, you can peel off layers if it gets warm or bundle up against cooler night temperatures. 
A Hoodie and Jeans
A hoodie and jeans are perfect for visiting the Grand Canyon in the fall or winter. 
Wear a relaxed cotton hoodie with high-quality jeans to look great in pictures while feeling comfortable out in nature. 
Shop our favorite sustainable hoodies for the coziest, best options. 
A Puffer Jacket and Leggings
If you plan to camp at the Grand Canyon, make sure to pack a light puffer jacket and leggings.
Temperatures can get quite chilly at night, regardless of the season. A puffer jacket and leggings will keep you warm while looking cool.
Check out these high-quality puffer jackets that won't break the bank. 
Pack a Hat
Protect your face from harmful UV rays with a cute, comfortable hat. 
You can wear anything from a fashionable straw sunhat to a classic baseball cap. You can choose your favorite style to coordinate with your outfit. 
No matter what you choose, make sure to apply sunscreen, too. 
Sturdy Shoes
Brave the rocky terrain of the Grand Canyon with a pair of sustainable, sturdy shoes. 
Hiking shoes with ankle protection are best if you plan to hike into the canyon. If you want to just walk around the rim of the canyon and take pictures, a pair of running or walking shoes will work just fine. 
To find your next great pair of shoes, check out these vegan hiking boots and ethically-made running shoes.
What Not to Wear to the Grand Canyon
The dress code for the Grand Canyon is pretty casual. You should wear whatever makes you feel comfortable. 
However, there are some things that we recommend you avoid packing for your trip. 
No-show ankle socks: The Grand Canyon requires plenty of walking. No-show ankle socks can cause blisters and irritation. We recommend wearing hiking or tube socks to protect your feet and ankles. 
Formalwear: Avoid formalwear at the Grand Canyon. This type of clothing can be restrictive and uncomfortable because you'll be outside in the sun and heat. Go with comfy, relaxed styles like leggings and t-shirts. 
High-heel shoes: High-heel shoes can be dangerous at the Grand Canyon. Visitors have to walk along uneven, rocky pathways, which are unsuitable for heels. Wear practical, sturdy walking shoes for the best experience. 
Check out our favorite sustainable outdoor brands if you want more packing inspiration. 
When Should You Visit the Grand Canyon?
So, you have your Grand Canyon wardrobe all ready. Now, when should you visit?
Spring or Fall: The Best Time to Visit
The best time to visit Grand Canyon National Park is March through May and September through November. 
The weather is glorious, and the crowds are more manageable. The North and South Rim of the national park are open to the public during the spring and fall. 
Pro-tip: Make sure to get your entrance pass for the park ahead of time. 
Summer
Summer is peak season at Grand Canyon National Park. Get ready for plenty of crowds and limited hotel availability. 
There are some perks to visiting the Grand Canyon in the summer, such as great weather averaging in the 80s and access to the entire national park.
Winter
After the first winter snowfall, many parts of Grand Canyon National Park close down. If you want to visit during winter, South Rim is open year-round. 
Visiting South Rim in the winter can be a great experience if you're interested in fewer crowds and colder temperatures. 
Was this article helpful to you? Please tell us what you liked or didn't like in the comments below.
About the Author: Liz Flynn