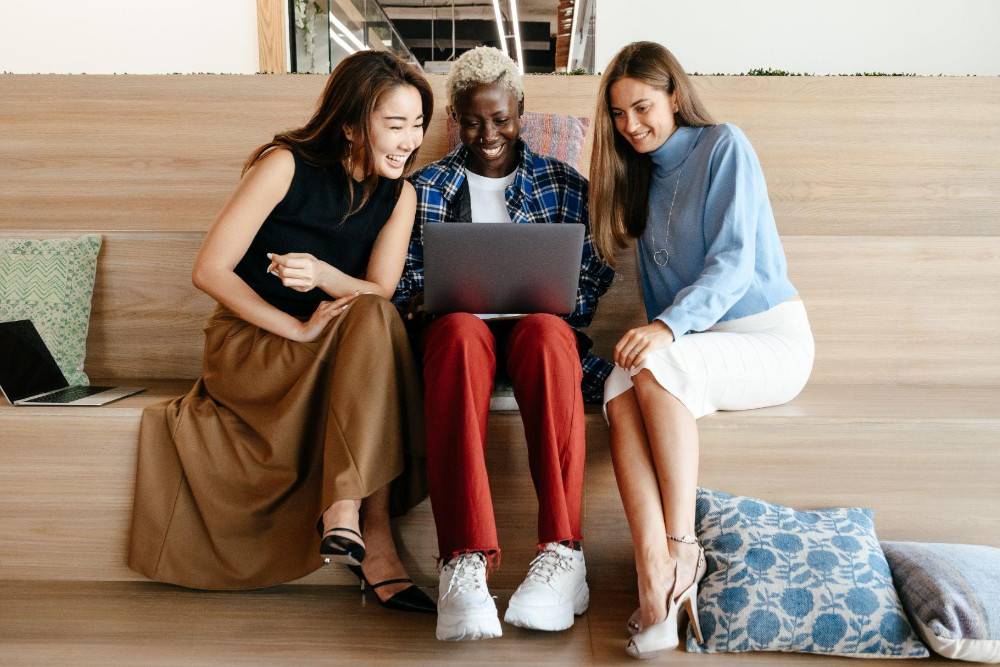 What Do Awesome Graphic Designers Wear To Work
As a Graphic Designer, you'd want your clothes to show creativity and professionalism. Your outfit will introduce you before you do, especially when it reflects your design attitude, and that can be daring, simple, or straightforward.

There are many outfits out there, and the dress codes are getting more restrictive by the day for all Graphic Designers. However, thinking out of the box is a known fact for every creative mind, and it goes without saying for most Graphic Designers.

Discover stylish, classy, and reflexive outfits that can give away your Graphic Designer identity before adding the vocals to the introduction.


Panaprium is proud to be 100% independent, free of any influence, and not sponsored. We carefully handpick products from brands we trust. Thank you so much for buying something through our link, as we may earn a commission that supports us.

Fitting Jeans


Looking classy is all about choosing the just right fitting jeans. Not too wide and not too tight, but just right! Just wear the jeans that feel right for all those ideas and creativity to show in your selection.

If you still need help choosing, let us offer you our exclusive organic collection of cotton jeans.


A Casual Top


Are you running out of time? Fine! A casual shirt! Quick! Choose one that reflects your mood, but stay classy and creative in your colour choice. Since you are a graphic designer, you should look the part.

Can I interest you in our selection of tops to try on?



Boots


Who said a graphic designer could not wear boots to the workplace? Put those boots on and turn those heads because, as a graphic designer, that is what your designs already do, so follow those steps.

Check out the selection of boots we have prepared for you.



A Simple Blouse


As a graphic designer, you do not really have always to stress the fact because it is enough to look simply elegant. Elegance goes a long way, so it is important to take it into consideration.

You could have a look at our blouses while at it.


A Knitted Cardigan


If it's that time of year that you cannot determine if it's cold or hot, then maybe you should consider wearing a knitted cardigan that'll keep you warm when needed just to keep the creativity and fancy look going.

Let us show you such cardigans right here!



Sneakers


If you are wondering if, as a graphic designer, you can wear sneakers to work or not, well, let me tell you that graphic designers don't exactly follow the dress code by heart, especially since they run the trends in the workplace.

Most graphic designers go smart casual or classy comfort rather than suits because graphic designers simply don't wear suits.

Here are a collection of our choices of sneakers.



A Sweater Vest


Let us set aside the season and consider the quick element of style. That is when a sweater vest may cross your mind. It is stylish, breathable, and natural-looking. That is why it is worth considering.

You might want to check out this collection of different sweater vests right here.



A Classy Tee Shirt


If you know how to style out the fit, even tee shirts will come out fancy and classy, turning your graphic designer sense on through the smart, comfy casual.

This is why you should start knowing more about the types of tee shirts here.



A Blazer


If you are keen on keeping elegant attire of undeniable professionalism, then you might want to go for a blazer. A blazer will definitely show off your professional elegance, but make sure you choose a soft color. However, if you are a daring graphic designer, then go for those bright colors even though matching them up is a hassle.

That is why we wanted to save you time with these filtered fits of blazers.



Summer Dresses


What could ever go wrong with a quick put-on dress for work? A dress is always a good option, especially when in summer. A summer dress is perfect for your quick graphic designer look to complete the overall impression.

So make sure to check our exclusive summer dresses collection.


Turtlenecks


Turtleneck knitwear will always look fabulous and feel cosy, especially on those cold winter overtime shifts. Not only will you look professional, but you will feel it too.

So take a quick peek at our selection of turtlenecks right here.



Sweaters


Yes, even if you are a graphic designer, you get cold, so it is perfectly fine and actually practical to set aside any outer effects that may hinder your production of ideas, so staying warm on cold work nights is your sweater's priority here.

Take a look at our sweaters, knit-picked just for you.



A Skirt


Come on! Skirts are just too elegant, so you have to consider them. They are comfortable and reflect most of your inner voices in the colour choice, so make sure you consider that to match the outfit as a whole.

Could a quick list of skirts help you out?



Nice Pants


Who said you always have to wear jeans?! Pants can never go out of fashion, especially when a graphic designer wears them! You are the fashion!

So check out this collection full of pants!


A Classic Shirt


Some things will invariably be around. The classic shirt will always do the trick when you need a quick backup. You'd always want to choose durable and high-quality picks, such as premium shirts, especially since they look way better and last longer.

Here is a selection of affordable and sustainable shirts made from hemp.
Was this article helpful to you? Please tell us what you liked or didn't like in the comments below.
About the Author: Manar Yehia