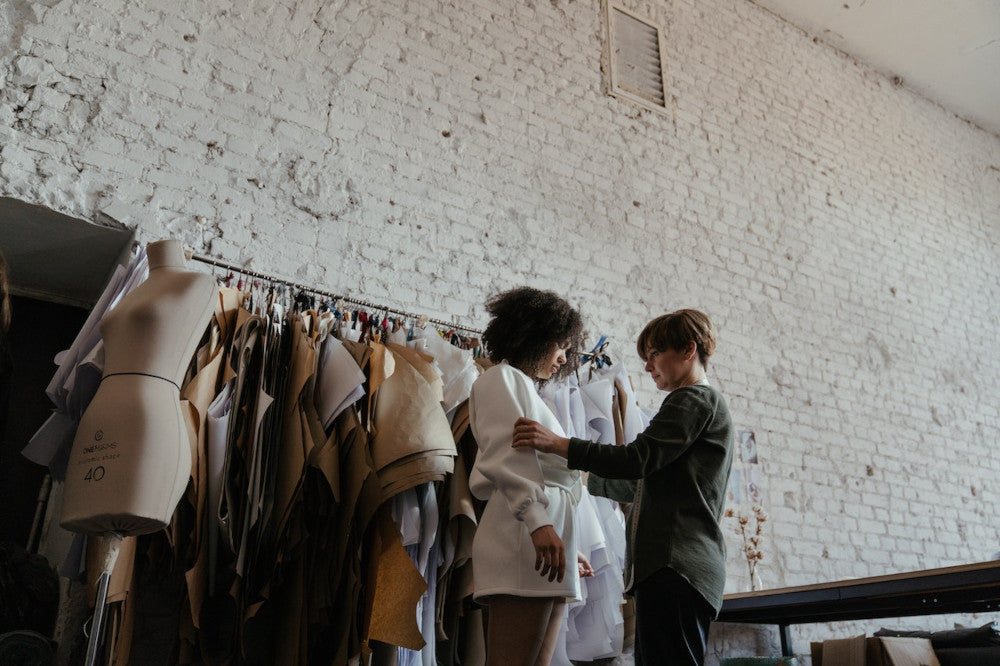 10 Hidden Truths About What Fashion Designers Wear
Most fashion designers wear tailored, neutral clothing in classic shades like brown and black. This may seem odd, given that they spend their lives designing intricate and elaborate outfits for the runway! But in real life, most designers wear simple clothing.
The fact is that even well-known fashion designers will more likely wear a little black dress or a black suit to an important occasion than a ballgown or one of the architectural marvels you sometimes see on the runway during Milan or Paris fashion week. Some designers famously even wear the same basic outfit to every show! 
This is not to say that designers do not value good quality in their clothing. After all, they have every tool of the fashion trade at their fingertips! But they do often dress to blend into the background of their own work.
Panaprium is proud to be 100% independent, free of any influence, and not sponsored. We carefully handpick products from brands we trust. Thank you so much for buying something through our link, as we may earn a commission that supports us.
Flattering Cuts
Even though many fashion designers show up to important events in simple clothing, the pieces they wear always have flattering cuts. They tend towards tailored pieces with sharp lines, though some prefer a more flowing outline as it flatters certain figures more than a severe silhouette.
If you can't afford to have your clothing made to measure to flatter your figure, you can do the next best thing and take off-the-rack clothing to a professional tailor to have it altered. This can give you the illusion of dressing in high-end pieces just like famous fashion designers!
Another way to look like a fashion designer is to build your wardrobe around a few iconic pieces that fit you well and suit your body type. Take a look at these 20 easy tips to dress well for cheap to get more ideas!
Neutral Colors
Another thing you will notice if you study what fashion designers wear is that they almost always dress in neutral colors or in black. They do not deck themselves out in the bold colors and seasonal shades that make such big waves in their designs. Instead, they stick with simple, classic shades like cream, white, brown, and grey.
Why do designers generally stick to such a simple color palette? Perhaps they don't want to compete with the models wearing their designs. Or perhaps they know that really high-quality fashion does not need to call a lot of attention to itself.
If you want to mimic this classy look, focus on finding a few good pieces in neutral colors. You can start by considering pieces like the 20 best affordable and sustainable white denim jeans.
Black on Black
If you have ever attended a fashion show, you may have noticed that the designers seem to have a sort of unspoken uniform of solid black clothing. Everyone styles the black garb in different ways, of course! Alexander Wang often shows up in black jeans paired with a black t-shirt, while Karl Lagerfeld and Tom Ford famously always wear black suits. 
Why do designers wear so much black? This unspoken uniform of the trade could have many meanings. Black is simple, and almost everyone can look understated and elegant in it. It also provides a great contrast to the much more vivid outfits designers spend their lives creating.
If you want to start on your own black-on-black wardrobe, take a look at this list of the 20 best affordable and sustainable black dresses.
Same Outfit
Another weird thing fashion designers are known for is wearing repetitions of the same outfit over and over again. For example, Carolina Herrara wears a simple button blouse and an A-line midi skirt for most public events. Jason Wu rocks sneakers, a t-shirt, and a blazer on a daily basis.
This may sound silly to you--if you had the most amazing closet in the world within reach, would you wear the same thing all the time? But actually, it makes sense. Designers know what looks good on different body types, so they stick to what works!
If you want to embrace this philosophy, start by learning what type of clothing looks good on your body type. For example, you can learn about the 20 best outfits for an inverted triangle body type here.
Jeans and T-shirt
Like many people, designers tend toward basic jeans and t-shirts for everyday wear. In the studio, designers will much more likely wear a pair of comfortable jeans than a suit and tie! 
If you want to add to your collection of quality denim, but you want to make sure your jeans come from an ethical source, take a look at the 50 best affordable and sustainable denim brands.
Athleisure
These days, you can also commonly find fashion designers dressed in super casual athleisure at work or in everyday life. After all, designers are people, too! The modern trend for comfy athleisure is hard to resist, even for people who spend their lives creating haute couture.
You can find the 20 best affordable and sustainable yoga and gym leggings to build your own athleisure collection here.
Casual Footwear Vs. Dress Shoes
The kind of shoes fashion designers wear is a matter of personal preference. Lots of designers embrace casual, comfortable footwear like loafers or sneakers, even on formal occasions. But you will also see big-name designers wearing heels or polished dress shoes, too. 
If you want to make a statement by mixing casual and formal fashion and pairing sneakers with fancy dress, take a look at the 12 best brands for ethical sneakers in Europe here.
Statement Jewelry
Just like with clothing, fashion designers select accessories with care to make a statement or to blend into an understated outfit seamlessly. You may notice designers wearing chunky statement pieces, high-end watches, or iconic pieces like silk scarves and black gloves. On the other hand, sometimes you don't notice a fashion designer's accessories at all on first glance, because the designer's whole outfit melds together so seamlessly!
If you want to pick out a few statement pieces of your own, take a look at the 15 best sustainable jewelry brands you need to know about.
Formal Suits
There is a time and a place for wearing jeans and a t-shirt to important events, and most designers will dress up in a tailored, high-end suit when the occasion requires it. If you want to dress like a fashion designer, it is a good idea to invest in one good suit that fits you really well.
You can find the 20 best affordable and sustainable suits for women and men here.
Their Own Designs…Sometimes
Believe it or not, many fashion designers do not commonly wear their own designs. But on occasion, you will see a designer like Vera Wang styling a gorgeous and classic black dress at a red-carpet event.
If you want to pull off this red-carpet look but you don't want to spend hundreds of dollars on a dress or suit, take a look at the 20 best places to rent prom dresses and gowns near you.
Was this article helpful to you? Please tell us what you liked or didn't like in the comments below.
About the Author: Hannah Cobb