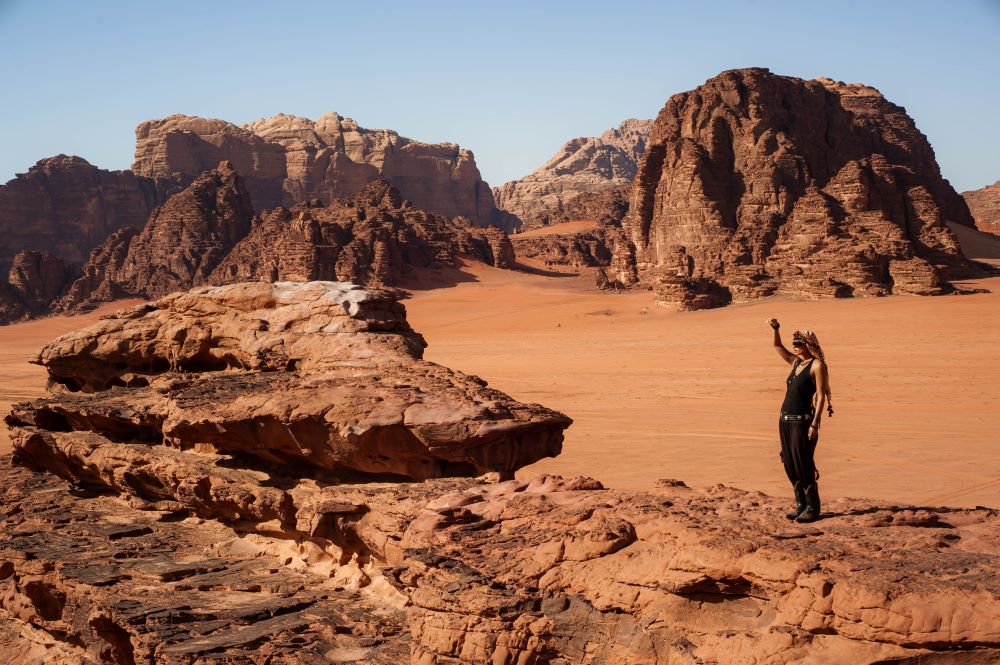 The Ultimate 15+ Outfits For an Adventurous Trip to Wadi Rum
Wadi Rum, also known as the "Valley of the Moon," is a mesmerizing desert landscape nestled in the heart of Jordan. With its striking red dunes, unique rock formations, and rich Bedouin culture, it is a destination that beckons adventurous travelers from around the world.
However, preparing for a journey to this famous wonderland requires careful consideration, not only for comfort but also to show respect for the local culture, which values modesty.
In our detailed guide, you will discover a comprehensive list of outfit items to pack for your Wadi Rum adventure. Each item is thoughtfully selected, and we offer practical pairing tips to help you create functional, stylish, and culturally respectful outfits for your desert exploration.
Keep scrolling to discover the essential outfits for Wadi Rum, as well as extra packing tips and outfits best left at home. Get ready with us for once in a lifetime adventure in this mesmerizing destination.
Whether you are planning to climb the dunes, visit local villages, or simply take in the natural beauty, these clothing choices will ensure you are well-prepared and appropriately attired for this unique desert destination.
Panaprium is proud to be 100% independent, free of any influence, and not sponsored. We carefully handpick products from brands we trust. Thank you so much for buying something through our link, as we may earn a commission that supports us.
Lightweight Long-Sleeve Shirts
Opt for breathable, moisture-wicking fabrics to protect your arms from the sun. Pair with lightweight pants or shorts for a comfortable, sun-safe outfit. Discover the 20 best affordable hemp shirts, Tees, and tops. 
Breathable T-Shirts
Choose lightweight, quick-drying, neutral-colored T-shirts to keep cool in the desert heat. These pair well with hiking shorts or loose-fitting pants.
For eco-friendly and sustainable options, check out our wide selection of the best affordable and ethical T-shirts made in Australia. 
Lightweight Pants
Loose-fitting, breathable pants in earthy tones offer protection from the sun and keep you comfortable in the desert. Pair with T-shirts or long-sleeve shirts for a practical ensemble.
Linen pants, for instance, are an ideal choice for the desert climate. Discover the 10 best affordable linen yoga pants we have selected just for you. 
Comfy Hiking Shorts
If you plan to explore dunes or hike, pack moisture-wicking hiking shorts. These pair perfectly with T-shirts and a sun hat for a casual, active look. Here are the 15 best organic cotton shorts both for men and women. 
Lovely Sun Hat
A wide-brimmed sun hat not only provides shade but also complements your outfit. Pair it with any desert-appropriate attire to shield your face from the sun.
Cardigan or Sweater
A cardigan or sweater can be layered over T-shirts or long-sleeve shirts for added warmth. Pair with pants or shorts as needed. Check out these amazing affordable and sustainable cardigans we have selected just for you. 
Sunglasses
Protect your eyes with high-quality sunglasses. These can be paired with any outfit and are essential for desert glare. Do not forget to have a look at these most affordable and sustainable sunglasses. 
Bandana or Scarf
Versatile and practical, a bandana or scarf can be worn around your neck to shield against the sun or pulled over your face during sandstorms. Coordinate with your other clothing items for a cohesive look.
Modest Swimsuit
If your accommodation has a pool or you plan to visit water sources, a modest swimsuit is essential. Pair it with a sun hat and lightweight cover-up when not swimming. Here are the 15 best recycled bikinis and swimsuits you will love. 
Hiking Boots or Closed-Toe Sandals
Sturdy hiking boots or closed-toe sandals are vital for exploring the desert. Pair them with lightweight pants and breathable shirts for a rugged yet comfortable look.
Make sure to check out our extensive selection of the best affordable vegan hiking boots. 
Light Jacket or Windbreaker
Evenings can be chilly in the desert, so bring a lightweight jacket or windbreaker. Pair it with a T-shirt, hiking pants, and a scarf for layering options. Discover the 10 best affordable and sustainable waterproof jackets. 
Buff or Neck Gaiter
Coordinate the color of your neck gaiter with your outfit and wear it around your neck or pull it up over your face as protection from the sun or wind.
Lightweight Backpack
A lightweight backpack with multiple pockets is perfect for carrying essentials. Match its color to your outfit for a coordinated look. Do not forget to check out our selection of the best affordable, vegan, and eco-friendly backpacks. 
Modest Clothing
When visiting local villages or interacting with the Bedouin community, choose conservative clothing like long-sleeve shirts, long skirts, or pants. Check out the 15 best affordable and sustainable long maxi skirts. 
These outfits should be coordinated with head coverings and respectful attire to honor the local culture.
Extra Tips!
Sunscreen
A high-SPF sunscreen is essential for protecting your skin. Apply it before putting on your clothing for maximum sun protection.
Reusable Water Bottle
Stay hydrated with a reusable water bottle. Attach it to your backpack and coordinate the bottle color with your clothing for a put-together appearance.
Headlamp or Flashlight
Attach your headlamp to your clothing or backpack for nighttime activities. Pair it with your nighttime camping attire for practicality.
Insect Repellent
Keep insect repellent in your backpack to apply when needed. Choose a compact, easily accessible container for a comfortable trip.
Avoid These Outfit Items!
Short Shorts or Skimpy Clothing
Dress modestly to respect the local culture and avoid sunburn.
Sleeveless Tops
Opt for short-sleeve shirts or lightweight long-sleeve shirts.
Revealing Swimwear
Choose a modest swimsuit or cover-up when not swimming.
Open-Toe Sandals
Protect your feet from the hot sand and sharp rocks.
Expensive Jewelry
Leave valuable items at home to avoid attracting unwanted attention.
Heavy Winter Clothing
Evenings can be cool, but heavy winter clothes are unnecessary.
High Heels
They are impractical for the desert terrain.
Remember to pack appropriate clothing for the time of year you will be visiting, as the desert climate in Wadi Rum can vary significantly from season to season.
It is also important to be respectful of the local culture and dress conservatively when interacting with the Bedouin community and when visiting villages in the area.
Was this article helpful to you? Please tell us what you liked or didn't like in the comments below.
About the Author: Gohar Davtyan