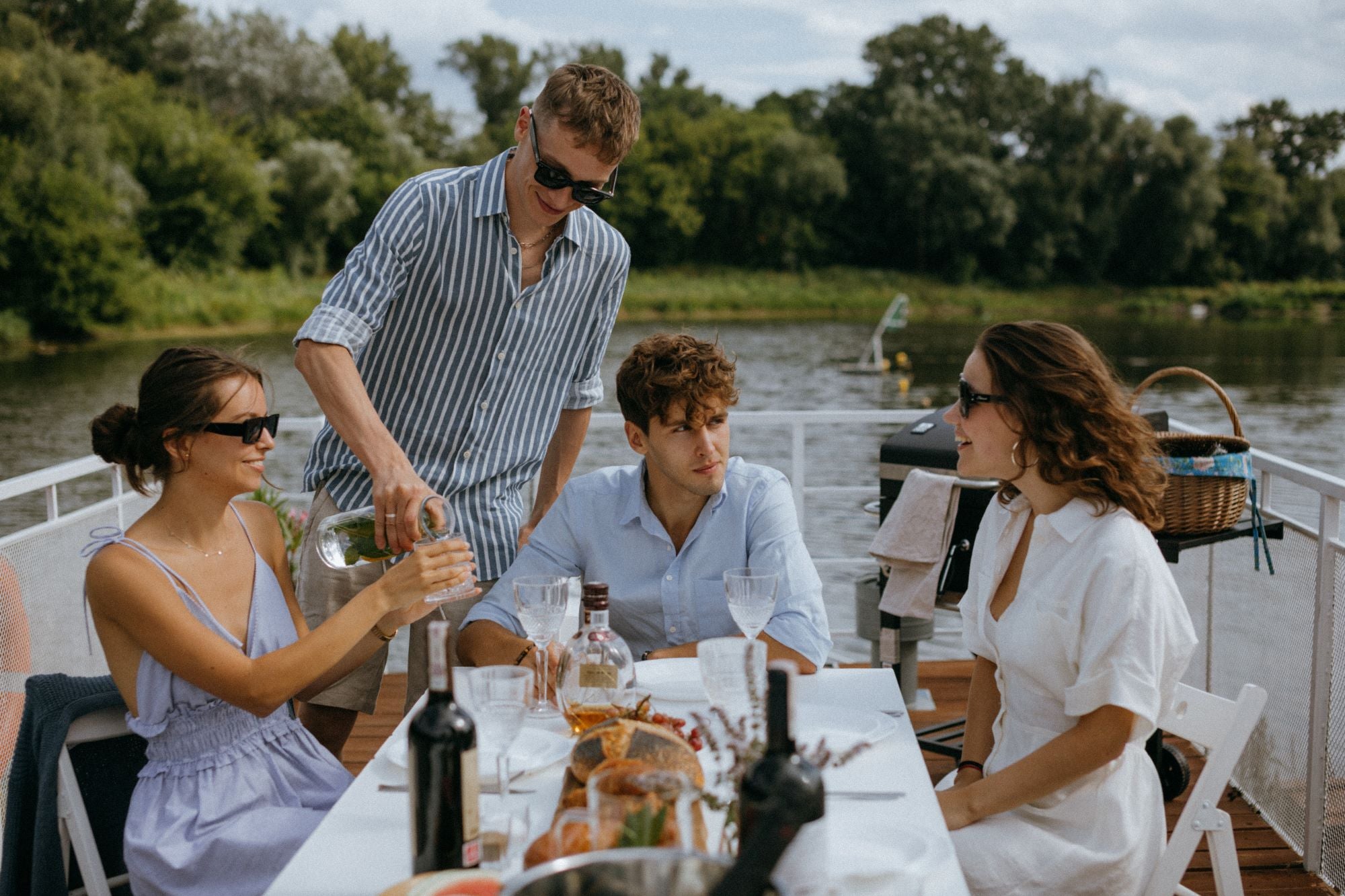 Top 15 Outstanding Outfits For A Lovely Double Date
Going on double dates is exciting and surely a fun experience. However, deciding what to wear and how to look your best can be an exhausting task. But do not sweat it, we are here to help you. 
There are many ways you can create amazing looks for your double date. You can wear matching clothes with your partner. Or go for a stylish chic look or a cute casual one. 
We have put together 15 amazing outfits and dressing tips to help you look fabulous and have a great time. 
Panaprium is proud to be 100% independent, free of any influence, and not sponsored. We carefully handpick products from brands we trust. Thank you so much for buying something through our link, as we may earn a commission that supports us.
Cute Short Dress
A cute short dress is a terrific outfit idea for a double date. Depending on the venue of the date, you can go for elegant dresses or casual ones.
An elegant, fitting bodycon dress is a brilliant outfit if you are meeting in an upscale restaurant. If it is a casual get-together on a terrace, a cute and casual shift dress could be a brilliant option. 
Check out our selection of the 12 best affordable and sustainable bodycon dresses to help you choose one. 
Matching Outfits
Get matching outfits with your partner for a romantic look. You can color-match your pants or skirt with his shirt, Tee, or vice versa. 
Wearing matching outfits is a sweet way of showing your love for one another. Go for daring looks if you are feeling particularly creative.
Denim Top and Bottom
Wearing a denim shirt and pants or shorts is another brilliant outfit for a fun double date.  
Go for light blue denim and combine it with a pair of cute sneakers. Accessorize the look with cool sunglasses and a cute, white or off-white purse. 
Discover the 50 best affordable and sustainable denim brands to make a conscious purchase. 
3/4 Sleeve Shirt and Pencil Skirt 
If it is a double date for brunch on a terrace, opt for a cute 3/4 sleeve shirt and a chic pencil skirt. It is an elegant, sophisticated look that will make you stand out and look great.
Accessorize with eye-catching pieces of jewelry. Wear heels if you are comfortable with them or go for ballet flats. 
Stylish Jumpsuit 
A cute trendy jumpsuit is an ideal outfit choice if you are going for a fashionable yet comfy look.
Double dates are not only fun, sometimes they can be stressful too. Maybe it is your first time going on a double date with your partner's friend and his girlfriend. 
So, combining beauty and comfort in an outfit is key to a fun date. 
Party Dress and Heels
 
Wear a cute party dress and a pair of chic heels if you are invited to a club for a double date.
Choose dresses that beautifully outline your figure and make you stand out. You can go for shiny dresses or elegant short black ones. 
We have selected the 12 best American-made cocktail dresses for any party to make your choice easier. 
Summer Dress
Nothing screams feminine and cute more than a summer dress. Go for flowy floral designs. Pair with espadrilles or sandals and enjoy a beautiful and fun double date.
Alternatively, get a monochrome summer dress, and accessorize with a belt and bulky jewelry for a fun summer outfit. 
Lace Top and Blazer
Pick a beautiful lace top and a well-fitting blazer if you are going for a feminine and sensual look. 
Go for a black lace top and a blazer either in black or a contrasting color. Combine it with a pair of chic pants for the ultimate impressive feminine look. 
T-shirt and Jeans
You cannot go wrong with a cute pair of jeans and a chic T-shirt. Go for this combo if you have more activities planned for the date. A double date does not mean just having lunch or dinner. 
You can go for strolls or check out a museum or a theme park. Opt for this ultra-comfy look. Accessorize with a scarf, cute sneakers, and a belt. 
Crop Top and Cardigan 
A crop top combined with a beautiful cardigan is an amazing outfit for a double date. Especially if it is a bit chilly outside. Pair this combo with cute jeans, classic pants, or tight skirts.
Combine this cute outfit with a pair of ankle boots or flats. And you have got yourself another excellent look for the date. 
Midi Skirt
Go for a beautiful floral midi skirt if is sunny and you are going to be outdoors. Pick a flowy midi skirt that does not stick to your skin.
Otherwise, it will make you sweaty and uncomfortable. A pleated skirt is an ideal option. 
Complete the look with a cute blouse or printed Tee. Wear sneakers if you are going to walk a lot. 
Shorts 
Shorts are versatile, and you can create an endless number of chic and cool-looking outfits. 
Pair denim shorts with a cool, light blue shirt for a fun outfit. 
Or opt for elegant black shorts with tights and ankle boots with heels. Complete the look with a chic shirt. Finish off with a beautiful necklace and stylish purse. 
Printed Shift Dress
Pick a comfy shift dress for a neat, relaxed, and casual style. 
A white and black print or polka dot shift dress is an excellent idea. Consider a pair of black pumps or flats to pull this outfit together.
Leggings and Loose Shirt 
Combine a pair of cute leggings with a long loose shirt for yet another cute outfit for a double date. 
Go for tight leggings in darker shades and a loose striped or monochrome shirt in lighter colors. 
Make the outfit more creative by accessorizing with a cross-body purse, a watch, and earrings. 
Sandals 
Sandals are a perfect idea if it is summer and you are having a double date outdoors. 
Depending on your outfit, go for sandals with heels or flat ones. Pick a comfortable pair that helps you look your best and nicely complements your outfit. 
Was this article helpful to you? Please tell us what you liked or didn't like in the comments below.
About the Author: Gohar Davtyan