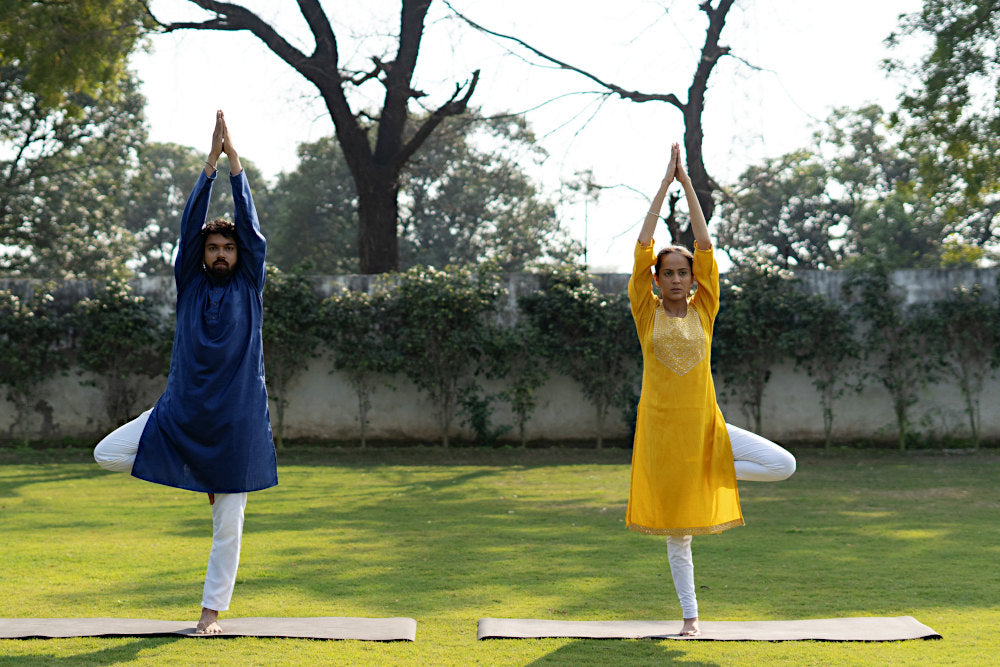 What To Wear Under Your Chikankari Kurti - Best Inspiring Tips
Chikankari kurti are mesmerizing traditional tunics with unique hand embroidery that goes far beyond other embroidery techniques and a vast range of stitching methods. These graceful garments have the power to enhance your style and make a statement.

Chikankari kurti are timeless and versatile. You can wear them on various occasions, from casual to formal. Wear chikankari kurti outfits as a day wear with jeans and flats for a more casual look. For an evening appearance, pair a chikankari kurta with dresses or skirts and complete the look with heels and jewelry.

Keep reading if you want to master the matching techniques for ideal bottom wear with your Chikankari kurti. We will help you open up a world of design options that will make you feel stylish and confident.
Panaprium is proud to be 100% independent, free of any influence, and not sponsored. We carefully handpick products from brands we trust. Thank you so much for buying something through our link, as we may earn a commission that supports us.
1. Maxi Skirt
Style a Chikankari kurta with a maxi skirt to create a unique and elegant ensemble. You can craft a coordinated look by wearing a maxi skirt in complementary colors or choosing contrasting colors for a more striking contrast.
Be mindful and try to maintain a balance. If your Chikankari kurta has intricate embroidery or embellishments, consider a polished skirt with a simple design. Choose cute and stylish skirts from these sustainable fashion brands that make clothes under high social and environmental standards.
2. Comfortable Leggings 
Create a contemporary daily look with a pair of comfortable and well-fitted leggings.
Choose monochromatic leggings from stretchy and breathable fabric and pair them with a chikankari kurta with beautiful colors and design.
3. Slip Dress
Layering a slip dress under your Chikankari kurti adds a touch of glamour while ensuring coverage if you are wearing a transparent Chikankari kurti. Place the slip dress underneath your Chikankari kurti. The slip dress acts as a base layer, providing coverage while allowing the Chikankari work to be the focal point.
The length of the slip dress is crucial. Ideally, it should be slightly shorter than your Chikankari kurta to allow the embroidery and details to shine through. Find beautiful, affordable, and sustainable slip dresses here.
4. Jeans
Create a blend of traditional Indian elegance and contemporary fashion by wearing jeans with a Chikankari kurta. This combination is modern and suitable for various occasions.
Opt for well-fitted jeans that complement your body shape. Skinny, straight-leg, or bootcut jeans can all work well, depending on your personal style and comfort.
Buy ethically-made lyocell jeans and replace polluting conventional cotton. Check out our best selection of Lyocell jeans here. 
5. Harem Pants
Opt for a unique and comfortable outfit by pairing harem pants with a Chikankari kurta. This look is particularly well-suited for casual and bohemian-inspired looks.
The length of your Chikankari kurti and harem pants is essential. A kurta that falls slightly below the hips or mid-thigh can pair well with harem pants. Avoid very short kurti, as they may not work as effectively with this combination.
6. Churidar
Churidar pants are a variant of the common shalwar pants or harem pants. Shalwars are loose at the top and narrow at the ankle while churidars taper more quickly to reveal the contours of the leg. They are usually made of a naturally elastic fabric. They are also longer than the leg and sometimes end in a buttoned cuff at the ankle. 
Wear churidar pants with flats, fancy loafers, or sandals during the summer. Buy vegan and budget-friendly sandals here.
7. Palazzo Pants
Wide-legged palazzo pants provide an avant-garde twist to the Chikankari kurti, offering comfort and style. 
Opt for palazzo pants from breathable cotton or linen fabric and add accessories that enhance the overall look. Statement jewelry, such as chunky bracelets or layered necklaces, can elevate the outfit.
8. Turtleneck
If you are wearing a chikankari kurta during the cooler months, put a turtleneck underneath for maximum comfort. Turtlenecks are stylish and versatile. You can match them with jeans, pants, or skirts.

Opt for a turtleneck from natural fibers with a soft touch and second-skin fit. Look stylish and feel warm and cozy with these ethically made and affordable turtlenecks.
9. White Jeans
Pair a chikankari kurta with white jeans to create a clean and modern backdrop that allows the intricate embroidery of the kurta to stand out beautifully.
To infuse a touch of tradition into the outfit, consider draping a matching or contrasting dupatta or scarf over your shoulders or around your neck. This combination adds an extra layer of style and sophistication.
10. Tank Top Or Camisole
Wear a tank top or a camisole under your chikankari kurta during the hot summer months. Choose tops from organic cotton or bamboo to avoid excessive sweat and allergies to the skin.
Go for neutral colors or lighter tones, as they may look better with the bright and rich colors and patterns of the Chikankari Kurti.
11. Chino Pants
Wear chino pants under a chikankari kurta for a casual and comfortable outfit. Experiment with colors and craft a monochromatic look with chino pants in the same color as your kurta, or create a visually appealing look with contrasting colors.
Opt for chino pants that fit comfortably and flatter your body shape. Slim-fit or straight-leg chinos can create a balanced silhouette with the loose-fitting chikankari kurti.
Discover the best affordable chinos and khakis for women and men made in the USA under high social and environmental standards.
12. Midi Dress
Craft a delicate feminine look with a midi dress and a chikankari kurta. Ensure that the length of the midi dress falls below the kurta to create a beautifully layered look. Also, consider a sleeveless midi dress if you are wearing a kurta with sleeves.
Add accessories that complement the overall look. Think about wearing a belt to define your waist and improve your silhouette. Depending on the neckline of the midi dress, you can choose jewelry that complements the style.
13. Denim Skirt
Combine the timeless elegance of a chikankari kurta with the casual and versatile nature of a denim skirt for a stylish and unique look.
Choose a classic A-line, pencil, or flared denim skirt for a mid-hip kurti. This combination will ensure a beautifully balanced silhouette. Complete the outfit with sandals, espadrilles, or sneakers. For a slightly dressier appearance, consider ankle boots or block heels.
14. Jumpsuit
Get creative and infuse traditional styles with modern looks by wearing a jumpsuit and a Chikankari kurta. You can wear this striking combination to various events, from casual outings to semi-formal ones.

Wear the jumpsuit under the Chikankari kurta, allowing the kurta to serve as a top layer. The jumpsuit can act as a base layer, offering both coverage and a contemporary twist to the traditional kurta. Here are the best organic cotton jumpsuits to look fashionable and feel comfortable on a budget.
15. Footwear
Chikankari kurta looks great with every type of footwear. What you choose strictly depends on the occasion you are going to. Pair a chikankari kurta with kolhapuri chappals, espadrilles, slip-on sneakers, and sandals for casual outings.

If you are wearing an elegant chikankari kurta outfit, complete it with heels, wedges, or block-heeled sandals. To spice up and add a trendy edge to your look, wear knee-high boots with your chikankari kurta.

Remember, the right pair of shoes can complete your outfit and help you feel confident and well-dressed for any event or outing.
Was this article helpful to you? Please tell us what you liked or didn't like in the comments below.
About the Author: Iana Jekova