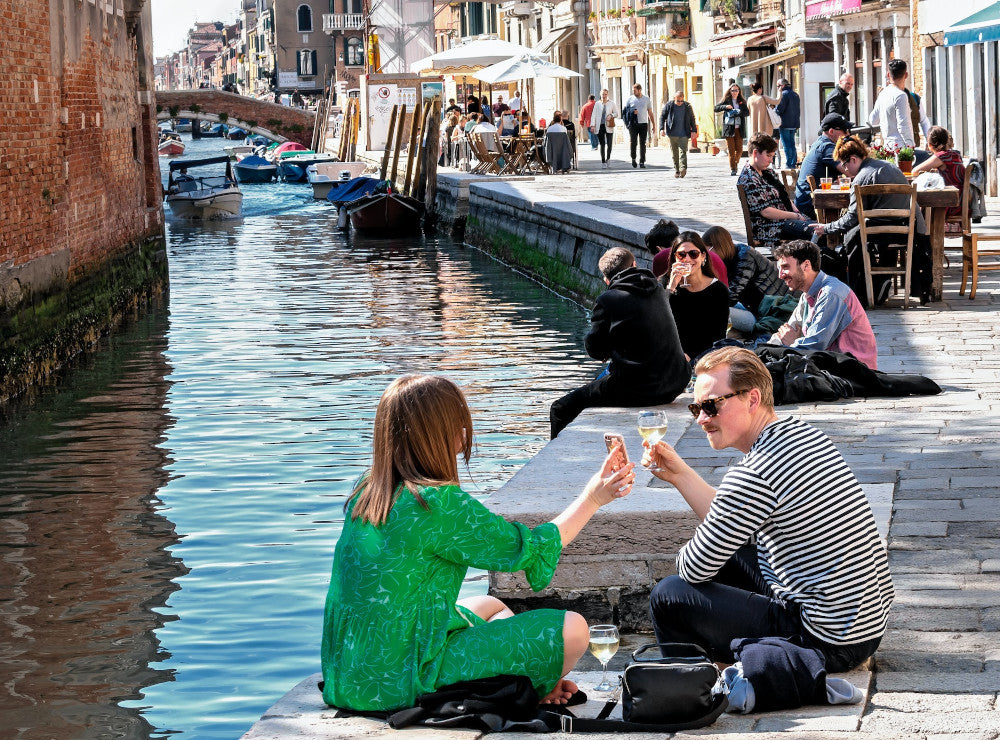 Ultimate Formula for Uncomplicated Outfits to Wear to Europe
When you visit Europe in the fall bring layered outfits for changing temperatures and focus on solid colors, tailored fits, and classy styles. Leave the sweatpants and t-shirts at home and trade them up for more European styles like button-up shirts, nice sweaters, and slim-fit pants. While you want comfortable footwear for your tourist excursions, look for practical but nice shoes like ankle boots or loafers rather than sneakers.
Unless you want to stick out like a sore thumb, avoid blatantly American logos or graphics on your clothing, too. Splashy camo, glitter, or neon colors will also make you stand out. Instead, aim for simple, classic, and practical styles.
Panaprium is proud to be 100% independent, free of any influence, and not sponsored. We carefully handpick products from brands we trust. Thank you so much for buying something through our link, as we may earn a commission that supports us.
Lots of Layers
Whether you plan to backpack across Europe or stay in one city and tour its ancient streets for several days, you should pack plenty of layers for each outfit you plan to wear. This way you can cover up when a chilly breeze strikes, or remove a layer if the sun comes out. Wearing outfits with layers also helps you easily transition from indoor to outdoor spaces, because you can simply take off a jacket or sweater to feel more comfortable in a cozy indoor temperature.
Easy layering elements for your travel outfits include a jacket or blazer in the summer and a cardigan or raincoat in the fall. For your base layers, go for insulating thermals in the winter months or sleeveless or short-sleeve shirts in the summer. 
If you need to add good layering elements to your wardrobe before your trip, take a look at these 20 affordable and sustainable cardigans.
Focus on Fit
The best way to look less like a tourist while visiting Europe is to wear well-fitted, tailored clothing that looks as if you had it made just for you! This focus on fit provides a note of classic elegance to any outfit.
If you buy a blazer off-the-rack in a department store, it will probably puff out or pinch in at slightly wrong places for your body shape. Taking the blazer to a tailor to have it altered to fit you will make you look elegant and well-dressed, even if the blazer itself did not cost a lot!
This holds true for your nice pants, dresses, and blouses or button-down shirts as well. Wearing items with a slim, tailored fit tends to have a more European vibe. You can check out the 20 best popular European clothing brands here to get an idea of this style.
Choose Conservative Colors
If you want to fit in while walking the streets of most European cities avoid eye-smarting neon colors or wild prints and patterns in your clothing. Instead, opt for more conservative shades like neutral browns or blues, or solid blacks and creams. This is not to say that Europeans never wear clothing with bright colors, but generally, you should save the bright shades for accent pieces like a scarf or hand bag.
Focusing on plainer color choices helps you establish a timeless style with a few classic, elegant pieces that you can mix and match into all kinds of outfits while you travel. Look for base pieces like a sheath dress for women or a good blazer for men. Then add other garments to those key pieces to create multiple outfits.
You can also check out this list of 20 timeless outfit styles to get some ideas for classic outfits!
Shoulder Anti-Theft Bag
One practical item you should bring with you to go with all your outfits to wear in Europe is a shoulder or anti-theft bag. It's a sad truth that most busy cities have a problem with theft, and you should take this practical step to protect yourself. Wearing a backpack is not as safe so avoid that option unless you want to carry your backpack strapped to your front.
You can find a variety of ethical, vegan hand and shoulder bags to consider here.
Short Sleeve Shirt
Another practical way to make your travel wardrobe more versatile for your trip to Europe is to pack three or four short sleeve shirts. Look for button-down shirts, silky blouses, or polos instead of the trendy American T-shirt, though. 
You can definitely bring t-shirts to wear under a hoodie during long travel days on the train or in the comfort of your hotel, but try to dress up your outfits with a classier shirt for your tourist activities. Wearing t-shirts, sweatpants, or hoodies on the streets of most European cities will make you stand out as an obvious tourist. 
If you don't have a super dressy wardrobe at home, consider these 15 sustainable button-up shirts!
Henley
For guys, one nice way to upsell your outfits while remaining comfortable is to pair a henley with a nice jacket, blazer, or sweater. The soft waffle weave in the henley will feel just as stretchy and comfortable as wearing a t-shirt, but you will look just a tad dressier. You can also use this idea with a polo shirt.
Don't forget to pair your henley or polo shirt with a nice pair of slacks or khakis! You can find 15 affordable, sustainable American-made brands of khakis and chinos here.
Sweaters
If you plan to visit Europe in the spring, fall, or winter, you should pack two or three sweaters to keep you warm. Look for one light fine sweater in a fitted style to wear with slacks or a skirt a a wrist watch or nice jewelry. You will also want an oversized, heavier sweater for casual outings, and a cardigan or button sweater to layer over a stylish shirt on warmer days.
If you pack a sweater in a plain, solid color, you will find it easy to mix it with multiple outfits. For example, a navy blue cardigan can match khakis or jeans, or even a black or brown skirt. You should also make sure you buy your sweaters from an affordable and ethical brand like these 10 best vegan sweater brands.
Sweaterdress and Leggings
For women, one of the easiest ways to style a cozy outfit during a fall trip to Europe is to pair a sweater dress with leggings. Make sure to add a note of sophistication to the outfit by adding ankle or knee-high boots, too! For a classic style, choose a thick cable-knit sweater dress in a solid shade like red, cream, or blue. Then add opaque black tights and your favorite boots.
You can find twenty cheap and cute sweater dress options to check out here!
Sweatshirt or Hoodie
Sweatshirts and hoodies make a practical, comfortable outer layer to wear while traveling or relaxing in your hotel during your trip to Europe. Most sweatshirts contain a special kind of fabric with a t-shirt-like knitted material on the outside and a soft fleece on the inside. This fabric makes some of the most comfortable loungewear in the world! The key here is to save your cozy hoodies for lounging, not for wearing out and about on your tourist adventures.
Europeans do not really embrace the idea of athleisure in public places as much as Americans do, so pack a nice jacket that you can swap out for your hoodie when you venture into public places.
Not all hoodies are made with the same level of ethical manufacturing, so make sure to check out the 20 best affordable and sustainable hoodie brands here!
Long Cardigan
You can't go wrong with a fleecy, soft, hip-length cardigan for your trip to Europe. A cardigan easily layers over any short-sleeve shirt to give you an outfit that you can modify for multiple temps. If the weather warms up as the day progresses, just take off the cardigan to reveal your short-sleeve blouse or button-down! Plus, a cardigan feels cozy while also looking just a tad dressier than a more casual hoodie or fleece jacket.
If you don't already own a selection of ethical cardigans, consider trying one of the 20 best affordable and sustainable cardigans listed here.
Rain Jacket
No matter what time of year you plan to visit Europe, you should pack a stylish rain jacket to prepare for temperamental weather shifts. Unlike an ordinary jacket, a raincoat typically has a fully waterproof coating on the outside and a soft comfortable lining on the inside. 
You can find 20 affordable and sustainable raincoat options to consider here!
Blazer
A blazer adds a smart, classic style to create outfits perfect for your tour of Europe. For a monochrome style, pair a blazer with loose trousers in the same color. Or dress up an outfit of khakis and a nice shirt by adding a dark blazer in a solid black, hunter green, or navy blue. For ladies, you can easily style a blazer on top of a dress and a slim belt to turn a casual outfit into a chic European style!
You can find a good selection of affordable, sustainable blazers to consider here. Remember that if you really want to take your outfit to the next level, you should consider taking your new blazer to a tailor for alterations, too!
Jeans
Wear jeans with caution during your trip to Europe. You can easily style up a pair of slim, dark-wash jeans by adding a blazer and a button shirt, but you could equally easily create a too-casual outfit if you wear your jeans with a t-shirt and sneakers. The key to wearing denim in a European-style outfit is to contrast casual denim with more formal garments and footwear, like a button shirt, loafers, and a cardigan or blazer.
If you want, you can wait till you reach your destination, and then shop for the 17 best popular and cheap European jeans brands.
Slim-Fit Pants
If you have a rectangular or apple-shaped body, try wearing classic slim or straight-leg pants with the outfits you pack to wear in Europe. Anything tailored and shaped to your body tends to mimic the classic, timeless style of expensive European clothing brands. But you also want to dress to complement the shape of your body, so if you have a more pear-shaped body, go for pants with a slight flare at the hem instead, to balance out the contours of your body.
In general, stick with slacks or khakis rather than jeans for most of your European outfits. For a winter vacation, you may even want to try an option like these 15 types of affordable, sustainable corduroy pants!
Maxi Dress or Skirt
Some parts of Europe such as Italy can get quite warm in the summer months, so you should plan to bring lightweight, cooling garments like a maxi dress or maxi skirt for a summer trip. Of course, you can also look cute in a flirty sundress or skirt-and-blouse pairing, but a maxi dress has a longer length that allows you to easily dress it up or down for different venues. For example, you could layer a blazer over your maxi dress for a nice dinner in the evening, but leave your shoulders bare for an afternoon out shopping.
Take a look at the 15 best affordable and sustainable maxi skirt brands here!
Dress and Tights
In chillier weather, you can pair a dress and warm tights with a sweater, jacket, dressy overcoat, or stylish shrug to elevate your European style. Pick a dress that comfortably fits your body type, but aim for a length of knee length or lower. Once again, the longer length makes it easier to convert the dress to a more formal setting when necessary.
If you don't have several pairs of warm tights ready to go, take a look at 10 ethical, eco-friendly hosiery brands here!
Ankle Boots
One of the easiest ways to add a touch of elegance to almost any outfit you plan to wear during your trip to Europe is to add ankle boots. You can walk around comfortably in a pair of nice low-heeled boots, and they look much dressier than sneakers or hiking shoes! In Europe, athletic footwear is often reserved for athletic pursuits like hiking, camping, or jogging. For shopping or visiting a restaurant, you should wear fancier footwear.
Of course, you also want to make sure you buy ethical footwear! Check out the 18 best affordable vegan leather boots of 2023 here.
Loafers
Another way to rock stylish footwear on the streets of Europe is to swap out your sneakers for loafers. You can wear your loafers with or without socks, and easily pair them with denim, slacks, or even a skirt and tights! Like ankle boots, loafers will provide a comfortable walking experience without marking you out as a tourist wearing sneakers.
For ladies, you may also want to bring your favorite heels if you plan to attend a party or a fancy-dress event. While you might not want to trek around Paris in heels, you can certainly enjoy the most formal type of footwear at an important event! If you need affordable, vegan heels to take with you, check out this list.
Scarf
If you feel bored in your conservative colors and sharply tailored outfits, try adding a pop of color with a fun scarf! In warmer weather, you can select a faux-silk scarf in an engaging print or vivid color. In winter months, look for cozy vegan scarves like these 15 ethical options!
Straw Hat
Do you intend to lounge on a beach during your trip to Europe? You may want to add a stylish straw hat to your packing list for those extra sunny days abroad.  You can go with many different styles such as a boater, a Panama hat, or a floppy wide-brimmed beach hat.
In the winter months, stick with a more insulating hat like these 15 affordable and sustainable hats and beanies. 
Was this article helpful to you? Please tell us what you liked or didn't like in the comments below.
About the Author: Hannah Cobb