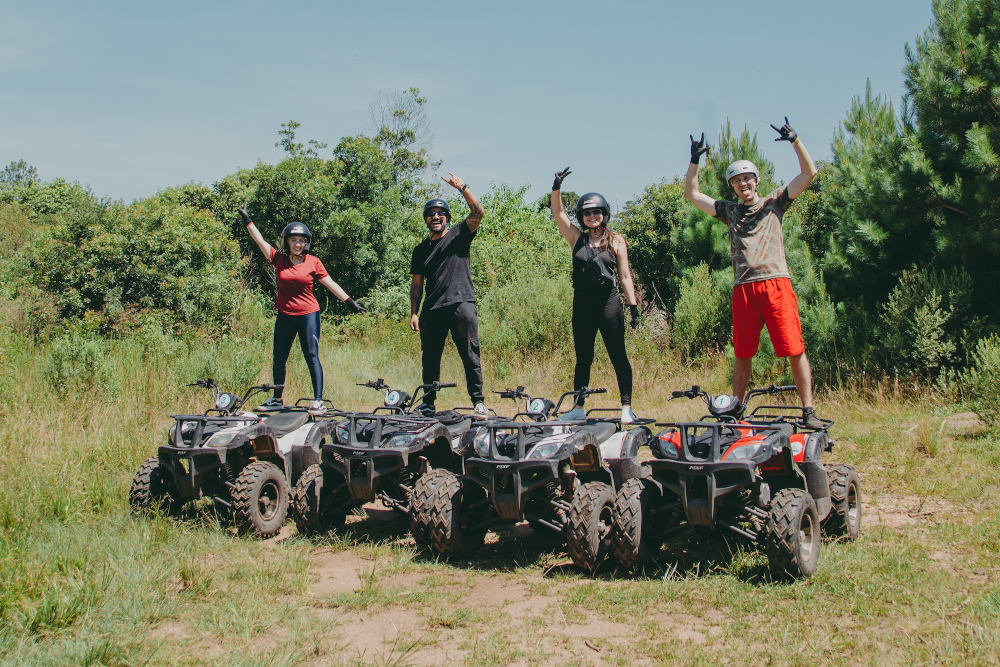 Top 15 Outfits For The Ultimate Quad Biking Adventure
Quad biking is a thrilling and exciting experience that combines the adventure of off-road exploration with the rush of riding a powerful all-terrain vehicle. You do not have to be an experienced rider because quad bikes are easy to learn to drive and make for big fun.

However, there is one essential thing when preparing for a quad biking adventure. You have to choose the right outfit that balances style, comfort, and safety. Quad biking is an adventurous outdoor activity that may get you dirty and wet, so wear clothes that are comfortable fit and that you do not mind getting dirty.

Whether you're a seasoned rider or a beginner, we've curated 15 outfit ideas to help you look and feel your best while hitting the trails.
Panaprium is proud to be 100% independent, free of any influence, and not sponsored. We carefully handpick products from brands we trust. Thank you so much for buying something through our link, as we may earn a commission that supports us.
1. Short leggings and a tank top
Opt for moisture-wicking short athletic leggings and a fitted tank top for optimal flexibility and comfort.
Complete the look with cross training shoes, and don't forget to wear a helmet and glasses.
Discover our selection of the best affordable and sustainable tank tops for women and men here.
2. Classic look with jeans and a jumper
Pair jeans with a long-sleeved moisture-wicking jumper, preferably made of cotton fabric. Choose boyfriend-style jeans or straight boot-cut jeans for maximum comfort.

Complete the look with durable hiking boots or obsolete sneakers that you don't mind getting dirty.
Here are some of the most affordable and ethical jumpers made in Australia.
3. Wear overalls
Overalls typically offer a loose and relaxed fit, allowing for freedom of movement and flexibility during quad biking. Make sure to choose a pair that provides ample room for comfortable leg movement.

Choose cargo-style overalls made of jeans or cotton fabric. Wear the overalls over a lightweight, quick-drying technical shirt

Overalls can offer good protection against dirt, mud, and scratches while riding a quad bike.
Here is our selection of the best affordable and sustainable dungarees and overalls.
4. Regular leggings and a tee shirt
Wear leggings if you plan to do quad biking in mild weather conditions. If the climate is warm and the terrain isn't too rough or muddy, leggings can help keep you cool and comfortable.
Match the leggings with a lightweight oversize t-shirt and a pair of sneakers.
Check out our selection of the best affordable and organic bamboo leggings sustainably and ethically made under high standards.
5. Wind-proof jacket for extra protection
Invest in a high-quality, waterproof, and wind-proof ATV riding jacket for maximum protection in wet or windy conditions.

Wear it over a breathable cotton t-shirt or sweater and pair it with matching waterproof pants. Complete the look with boots.
Check our list of high-quality, sustainable outdoor clothing brands here.
6. Wear shorts for a summer quad biking
Cotton shorts are a great outfit idea if you plan to do beach quad biking during the summer. Shorts provide comfort and better ventilation around your legs.

However, consider that shorts can be comfortable, but they may not provide enough protection against hazardous elements, such as sand, rocks, or vegetation. Also, put on sun protection on your legs, arms, and face.

Even if you choose to wear shorts, it's crucial to prioritize safety gear. Wear a well-fitted helmet, goggles, gloves, and sturdy footwear to protect yourself during quad biking.
Here are the best eco-friendly, ethical, and sustainably made organic cotton shorts.
7. Military-style outfit
Embrace the spirit of the outdoors with military-style pants and a matching camouflage jacket or shirt. Wear a moisture-wicking tank top underneath for added comfort.

Complete the ensemble with a neck gaiter and sturdy stringed vegan leather boots or hiking boots.
Make conscious purchasing decisions and buy sustainable vegan hiking boots here.
8. Sweatpants set
Sweatpants offer a comfortable and protective option for quad biking, particularly in cooler weather or when you want added coverage. In order to fully enjoy your quad biking experience, choose sweatpants made from breathable materials and ensure you have the necessary safety gear.

Remember to consider the specific terrain and weather conditions you'll be riding in. Wear sweatpants and a hoodie in cool and dry weather conditions. 
Here are some of the best affordable and sustainable sweatpants and joggers.
9. Vegan leather jacket
Wearing a leather jacket for quad biking is practical and will make you look cool. A leather jacket will keep you safe against hazardous elements during quad biking and will keep you warm during the activity.
Leather jackets are known for their durability and ability to withstand rough conditions, making them a popular outfit choice for outdoor activities like quad biking.
Make a conscious purchasing decision and buy a vegan leather jacket from ethical fashion brands. Here are the best affordable, sustainable, and vegan leather jackets made under high social and environmental standards.
10. Cargo pants
Cargo pants are a great outfit choice for quad biking. They are durable and resistant and offer comfort, flexibility, and protection for your legs. They have multiple pockets, making them a practical choice for outdoor activities like quad biking.

We recommend you choose water-resistant cargo pants if you anticipate rough or muddy terrain.
Check out our selection below for the best affordable and sustainable cargo pants made under high standards.
11. Retro look in total denim
The total denim look is one of the favorite and timeless outfits of many bike and squad lovers.

Pair a classic-style blue denim jacket with rugged jeans and sturdy boots for a timeless yet adventurous style.

We recommend you choose the total denim look for dry terrains because denim usually absorbs moisture.
Here are some of the best affordable denim jackets that everyone needs to have in her wardrobe.
12. Be bold in bright colors
Wear bright-colored clothes during quad biking. A bomber jacket of neon or high-visibility shades will make you visible and recognizable, especially in outdoor environments where varying lighting conditions are met.
This practice helps enhance safety by making it easier for others to see and identify the riders in a group.

Bright-colored clothing will make you attract attention and feel like a professional rider on the quad trails.
13. Essential safety accessories
Safety is a top priority when quad biking. Always choose safety gear that fits properly, is in good condition, and meets appropriate safety standards.
A properly fitting helmet is crucial for protecting your head in case of a fall or collision. Also, wear sturdy gloves to protect your hands from blisters, abrasions, and impacts.
Here is our selection of the best ethically made, affordable, and vegan leather gloves you need to keep your hands comfy and dry.

Additionally, you can wear protective vests or jackets that include padding, armor plates, or both. They offer additional protection to vital areas like the chest, back, shoulders, and elbows.
14. Proper footwear
It is essential to wear proper footwear during quad biking. Choose footwear that provides protection, support, and grip. Some examples can be motocross boots, hiking or trail boots, and sneakers. Motocross and hiking boots are made from durable and resisting materials and provide ankle support, impact protection, and grip.

If you choose sneakers, go for high-top sneakers. Sneakers are more lightweight and flexible than boots but still offer good protection for less intense quad biking activities.
Check out our selection of the best eco-conscious sneaker brands from Europe here.
15. Wear a scarf or balaclava
Are you going on a desert quad-riding adventure? If yes, wear a scarf or balaclava to protect your face from the sun, dust, and sand. They provide perfect protection to your head, neck, and face without being too heavy.

In addition, desert quad biking can kick up a significant amount of dust and sand. Consider wearing a scarf or a specially designed balaclava that covers your nose, mouth, and neck to prevent inhaling dust and sand particles.
Was this article helpful to you? Please tell us what you liked or didn't like in the comments below.
About the Author: Iana Jekova