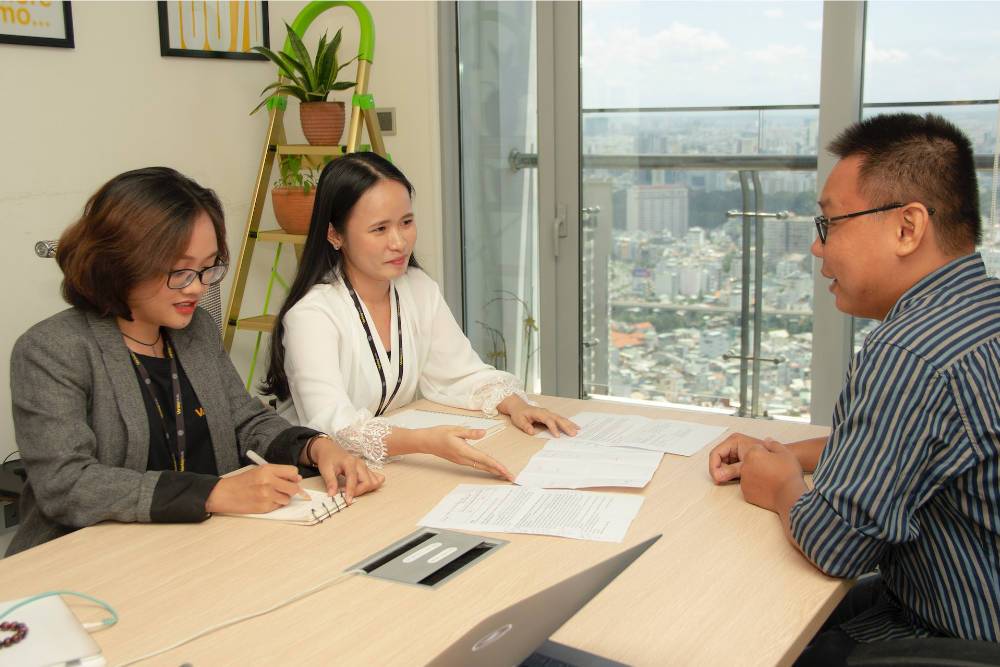 What To Wear To A Teacher Interview - Read Our Golden Tips
Your decision on what to wear to a teacher interview can play an essential role if you are going to get the job. Your first impression is crucial, and whether you like it or not, employers make a snap judgment based on your attire as soon as you enter the room. Remember that your first impression will also influence the development of the interview.

To form an impeccable first impression, you must keep your clothing choices between formal business attire and business casual attire. It may sound boring to you at first, but there are many combinations that you can play with, especially if you choose a business casual look. Keep in mind that jeans are considered acceptable for a business casual look. However, we recommend you keep them out of your choices for the interview.

Interviewers are looking for a responsible person who takes the job opportunity seriously, an applicant who has a positive and confident attitude, and someone who looks smart.

Research conducted by Columbia University and California State University showed that dressing formally serves to obtain respect, signaling professionalism.

If you want to make a good impression and avoid common mistakes, follow our golden tips for what to wear to a teacher interview. They will guarantee that you look elegant and professional and take you one step closer to getting the job.


Panaprium is proud to be 100% independent, free of any influence, and not sponsored. We carefully handpick products from brands we trust. Thank you so much for buying something through our link, as we may earn a commission that supports us.

Do some research on the place and employers
Get to know the place where you want to work. Once you get the call for the interview, familiarize yourself with the staff. You can often find this information on the school's website. Pay attention to what employees wear. Don't forget to check their social media accounts, videos, and open days records can also help you understand if they have a dress code.

Many studies suggest that people who dress similarly have more effect on each other than those who do not. Besides, those who wear formal clothing elicit a different response than those who dress more casually.


Navy blue to cope with anxiety


Did you know that navy blue is considered the most relaxing color in the world? It helps you calm your mind, slow your heart rate, and reduce anxiety. Consider this if you often feel your nerves at the edge before each interview.

In fashion and clothing, the blue color represents loyalty and stability. It is one of the most common colors in formal business attire. A study on 2,099 hiring managers showed that employers most often recommended blue, followed by black.

So, if you do not want to risk it and convey professionalism and trust, choose the blue color for your attire. A navy blue blazer and white bottom-down shirt will add a sleek and sophisticated touch to your formal attire.

Ref. https://press.careerbuilder.com/2013-11-20-New-CareerBuilder-Study-Looks-at-Best-and-Worst-Colors-to-Wear-in-a-Job-Interview

 

Make sure everything fits well


Feeling good about what you wear will affect the impression you make. You must feel great in your outfit so that you can express confidence. Your clothes must fit well. Nothing must be too tight or short. You must be able to button the jacket well, while the buttons must stay even. Avoid V-neck tops and anything else low-cut. Comfortable shoes, yes, but no sports or flat shoes. Classy, elegant loafers can be an exception here.
 
Basic and Elegant


If you are looking for a classic and simple color combination, go for black and white. Simplicity is fundamental to the business formal dress code. It is a timeless color combination, and you can never go wrong with it, especially when deciding what to wear to a teacher interview. Match black dress pants with an elegant white shirt or blouse, and you are good to go.

Discover our selection of 20 Beautiful And Timeless Outfits You Need To Wear.
 
Wide-leg pants give you a stylish formal look


Wide-leg pants and flared trousers can be formal in the right combination of shirt and jacket. Style your wide-leg pants with a neat basic shirt or blouse, longer-length cardigans, and blazers or monochromatic suits. Finish the look with pointed closed-toe medium heels to add height to your overall appearance.

Here is our selection of affordable wide-leg pants.
 
Use an accent color


A combination of an elegant outfit and fresh accent color can add some personality to your overall look. Just be careful and use it wisely, do not overpower it. Otherwise, the accent color will become distracting. An accent color shall only add a fresh feel to your clothing and not take over the stage.

Anything from a discreet hair ribbon, light satin scarf, and bold floppy bow tie can do the job for you.


For men, it is equally possible to introduce an additional color when wearing a patterned tie. If you like pocket squares, then you have even greater freedom when you want to add color to your business attire. Pocket squares are expected to differ from the rest of your outfit, so combinations can be endless here.
 
Knee length or midi skirt for women and no break pants for men


A skirt is essential in a woman's wardrobe and gives endless possibilities for combinations. Yet, you must adhere to the following rule - no mini-skirts are allowed. Your legs from the knees above must be covered when seated. Choose a straight-suit skirt or long midi skirt in combination with a shirt or blouse for a formal and elegant look. Pencil-shaped skirts are also a good choice. However, remember that they are often tight and can limit your movement.

Discover our selection of sustainable midi-skirts.


When it comes to men's formal pants, you want them to be between no break and a full-break length. For classic and impeccable-looking business attire, choose formal pants that merely touch the top of your shoes without a break.
 
Coat and trench coats are ideal for interviews during the cold season


A timeless classic is the camel coat – it looks elegant and trendy and matches almost everything. Coats and trench coats work well for both men and women.

Our selection of trench coats.




Turtleneck sweater and a blazer


A combination of a turtleneck sweater and a blazer is another great idea for a business casual look during the cold season. You will be amazed, but your otherwise boring turtleneck sweater looks fantastic in it. Match the blazer to the color of your high neck or keep it contrasting.

Check our selection of 12 Best Recycled Blazers For An Elegant Outfit.


Cardigans outlive fashion styles through the years


If we think of a conservative formal look, monochromatic cardigans always pop up in our minds. They are stylish and classy and can be both masculine and feminine.

Choose a cardigan that fits well. The cardigan you wear on top of your bottom-down shirt must not be too big or too small. Play with plenty of colors but remember to pair no more than three colors per outfit. Maintain the same undertone and build it with cool or warm-toned clothing. In this way, you will achieve an elegant and polished look.

Find your favorite, comfortable, fashionable, and made from eco-friendly fabrics cardigan here.
 
Accessories? Yes, but the fewer the better.

 
Accessories are to enhance your look. We recommend you keep your accessories minimal yet influential. A proper choice of accessories elevates your style and has the power to make even the plainest attire appealing.

Keep your dandling earring for other occasions and avoid large cheap-looking jewelry. Avoid wearing loud statement jewelry as it can give a wrong impression to your interviewers.

Remember that your job interview is your first and most important opportunity to make a great first impression on your potential employer. Appropriate workplace attire may slightly differ based on the different industries, but when deciding what to wear to a teacher interview, conform to business formal or business casual outfit norms.

Dressing smart is essential for your confidence and sense of self-empowerment. In addition, your style not only impacts the people but also influences your thoughts.

Ref. https://www.psychologicalscience.org/news/minds-business/when-clothing-style-influences-cognitive-style.html#.WTmBucaZNBw
Was this article helpful to you? Please tell us what you liked or didn't like in the comments below.
About the Author: Iana Jekova