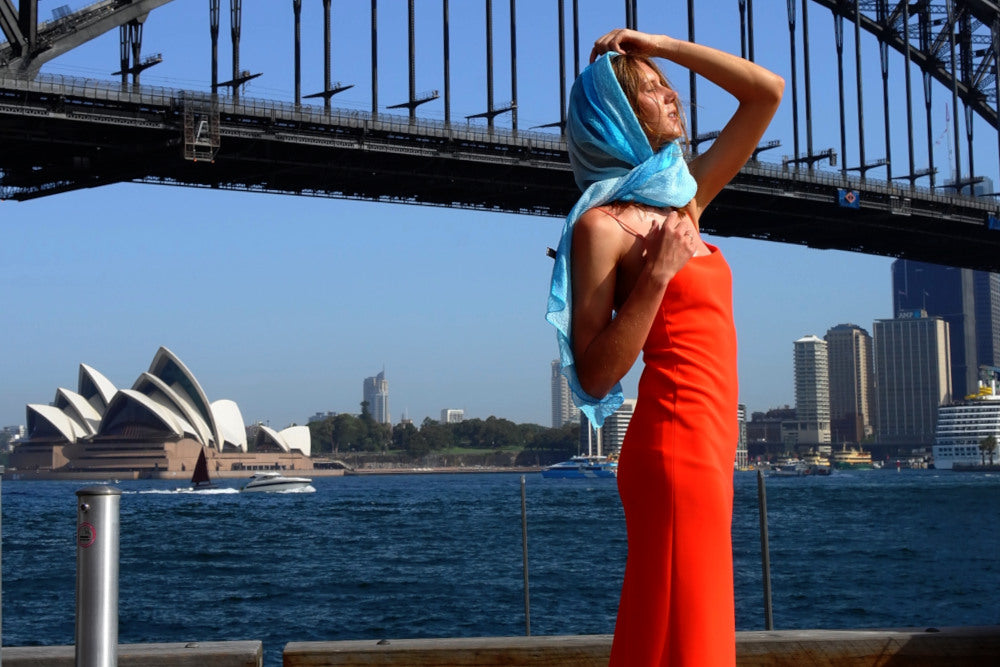 Sydney Opera House Outfit Ideas - 15 Looks You'll Love
The Sydney Opera House, an iconic architectural masterpiece nestled along the sparkling waters of Sydney Harbor, is renowned for its breathtaking design and world-class performances that grace its stages.

Whether you are attending a captivating opera, symphony, ballet, or a thought-provoking theater production at this cultural landmark, a smart-casual outfit will be a perfect fit for all of them. The smart-casual look should convey a sense of sophistication while still being comfortable.

In this article, we will help you find the best outfit that ensures you feel both refined and at ease as you immerse yourself in the world of artistic brilliance.
Panaprium is proud to be 100% independent, free of any influence, and not sponsored. We carefully handpick products from brands we trust. Thank you so much for buying something through our link, as we may earn a commission that supports us.
1. Beautiful Blouse And Suit Pants
This beautiful combination of colors and shapes will give your look the right balance between elegant and easy-going style. Wear a blouse with broad sleeves, puff sleeves, ruffles, or lantern sleeves to create structure and volume in the upper body.
Find beautiful blouses in our selection of the best affordable, ethical, and sustainable blouses made under the highest social and environmental standards.
Pair it with well-fitted pants in the same hue as the blouse, and complete the outfit with low heels. This combination will create an appealing contrast of shapes and make you look chic.

2. Slip Dress
If you are looking for a simple and unpretentious garment for a business-casual look, go for a classic slip dress. Choose your dress in a solid, neutral color like black or navy, and pair it with closed-toe heels or elegant ankle boots.
Bring a chic coat or shawl that complements your outfit if the weather is cool, or plan to visit the outside area of the Sydney Opera House, which is always a little chilly due to its proximity to the sea.
3. Pleated Skirt
Craft a comfortable and chic business-casual outfit to visit the Sydney Opera House with a knee-length or midi pleated skirt in a solid color and a basic top. A pleated skirt is a versatile option that suits a variety of body types. Choose one in a solid color to keep the look professional. Knee or midi length are ideal as they visually elongate the figure. Find beautiful and sustainable midi skirts here.
Combine the skirt with a close-fitting and stretchy top or blouse. This combination will give you a beautiful hourglass shape and enhance the appearance of the skirt.
4. Jeans And A Button-Up
Wear a timeless and classy business casual outfit with classic straight-leg jeans and a white button-up. Choose jeans in dark hues like black, grey, or navy for a more elegant image or light blue for a more relaxed look.

Add a white button-up and tuck it into the jeans to create a clean and polished appearance. Add a thin belt in a complementary color to define your waist and add a stylish touch to the outfit.
5. Blazer And A Mini Skirt
Mix and match attractiveness with elegance with a beautiful combination of a blazer and a mini skirt. The blazer is the fundamental component of this outfit, adding a touch of professionalism and structure. Choose a blazer in a contrasting color to make it stand out. Opt for a well-fitted blazer with clean lines.
Check out our selection of the 20 Best Ethical And Sustainable Blazers You'll Love.
A mini skirt in dark-wash denim will give you a more polished look, but you can choose it based on your personal preferences. The skirt should be free from rips or excessive distressing. Pair it with a satin top in the same hue to create an appealing contrast between the refined look of the top and the casualness of the denim skirt.
6. Lovely Cocktail Dress
Craft a delicate and lovely semi-formal look to visit the Sydney Opera House with a beautiful cocktail dress. Choose a dress in a classic black color for a timeless and sophisticated image, or go for a delicate and ethereal white dress.
Renting is a fantastic solution to access thousands of beautiful, luxurious, and stylish cocktail dresses. Find 20+ Best Places To Rent Cocktail Dresses Near You.

Enhance your overall look with simple yet elegant jewelry and a small clutch bag.
7. Maxi Black Dress
If you are looking to achieve an elegant yet not overly formal look, opt for a maxi black dress. Choose a simple silhouette. Look for a style that skims your body without being overly form-fitting. This style will give you an elegant, classic look without appearing overly done.

Look for subtle and tasteful details, like a cinched waist, pleats, or a slight slit in the skirt. These details can add sophistication to the dress without making it too formal.
Here is our selection of the best affordable maxi dresses made in the USA under high social and environmental standards.
8. Lightweight Cardigan And Chino Pants
A lightweight cardigan is an excellent layering piece for a business-casual outfit. It provides additional warmth and can be taken off once you are in the Sydney Opera House. Wear it open, or add a skinny belt to define your waist and get a more polished image.
Find beautiful and ethically made cardigans to craft this outfit here.

Match the cardigan with chino pants in a complementary color and add simple and elegant accessories such as a classic wristwatch and a medium-sized handbag in warm colors that match the ensemble.
9. Jumpsuit
Enhance your style with a beautiful jumpsuit when visiting the Sydney Opera House. Choose a jumpsuit that fits well your body shape in classic black, grey, or navy color.
Add a belt to create a more defined look and delicate jewelry for a perfectly balanced business-casual style.
10. Jeans With Heels
Jeans and heels will never go out of style. This combination is a favorite of many women, and it will make you feel sexy, powerful, and confident.

You can choose from skinny, straight-leg, or flared jeans – they all look fabulous for both day and night with classic high-heeled pumps.

Complete this look with a fitted top to create a business-casual look that is both comfortable and stylish for a visit to the Sydney Opera House.
11. Palazzo Pants And A Fitted Top
Stick to this fancy business casual look with palazzo pants and a fitted top. Wear white palazzo pants and pair them with a tailored blouse with clean lines or a fitted top with modest detailing. Tuck the fitted top into the palazzo pants to create a more defined waistline.

Complete the outfit with closed-toe pumps, heeled sandals, or ankle boots. Bring a blazer or shawl to add warmth if the weather is cool.
12. Dress In Layers With A Cozy Sweater
Create a layered look to add an extra touch of style and versatility to your outfit. Wear suit pants, a well-fitted button-up, and a cozy sweater on top. Layering a sweater over a button-up shirt provides added warmth, which can be particularly beneficial while visiting the outside area of the Sydney Opera House.
Layering can help you strike the right balance between comfort, style, and adaptability to the climate, ensuring that you enjoy your visit to this iconic cultural venue to the fullest.
Find ethical and affordable vegan sweater brands here to help you make this beautiful outfit.

Play with colors and patterns to add visual interest to your outfit.
13. Chic And Versatile Turtleneck
Well-fitted turtlenecks adapt to every style. They look good under casual jackets, leather jackets, blazers, coats, and puffer jackets.
Since the turtleneck is a classic and basic piece, pair it with statement bottoms. You can wear a high-waisted skirt or tailored trousers in a contrasting or coordinating color. This combination adds a touch of sophistication to the outfit.

For an extra layer, bring a chic blazer or a tailored coat that complements the turtleneck and the rest of the outfit.

14. Off-the-shoulder Tops
Add a romantic flair to your look with an off-the-shoulder top or dress. Off-the-shoulder tops have a flattering and pretty appearance. They bring you back to the '60s when young designers were keen to find new angles on established forms.

You can choose an off-the-shoulder bodycon dress for an elegant and sexy look or a chic off-the-shoulder top paired with jeans or pants for a more laid-back outfit.
15. Extra Layer With A Coat
Make any outfit look put-together and polished with a classic coat. There is just something so elegant about coats!

Depending on the season, choose a classic overcoat for the winter season or a trench coat for the transitional seasons.

Layer the coat over a business-casual ensemble, such as a button-up shirt, slacks, a blouse, a skirt, or a dress.
Was this article helpful to you? Please tell us what you liked or didn't like in the comments below.
About the Author: Iana Jekova