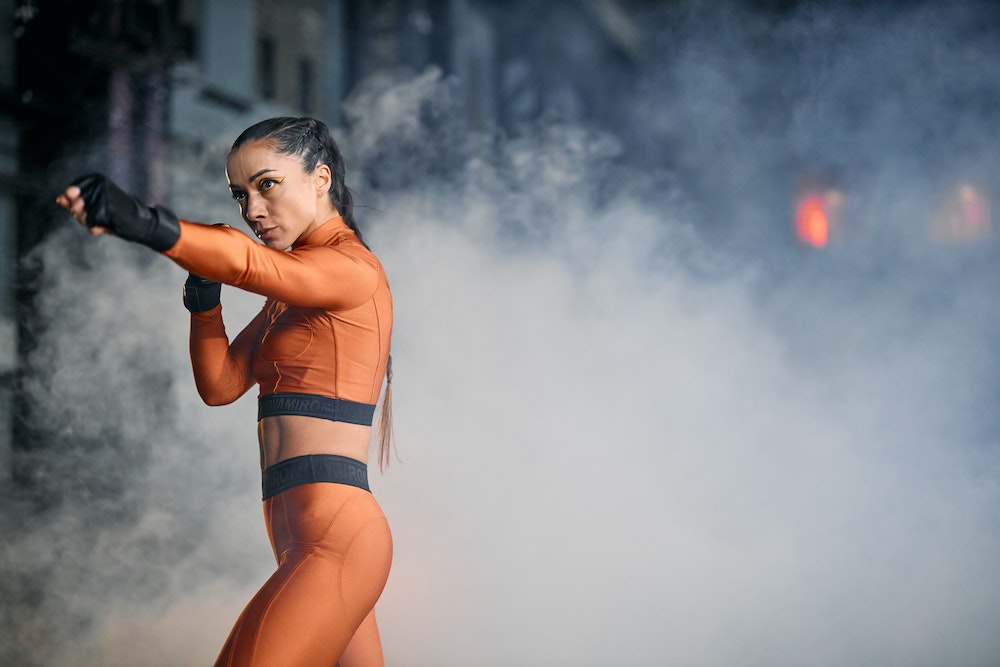 How To Look Stylish At A Boxing Match
Attending a boxing match is an exhilarating experience that combines athleticism, excitement, and a touch of glamour.
Whether you're a die-hard fan or a first-time spectator, dressing appropriately for the occasion will enhance your overall experience and make you feel like a ringside VIP. 
In this style guide, we'll explore some fashion-forward outfit ideas that strike the perfect balance between comfort, style and a nod to the sport's rich history.
Get ready to wow with these knockout looks for a boxing match.
Panaprium is proud to be 100% independent, free of any influence, and not sponsored. We carefully handpick products from brands we trust. Thank you so much for buying something through our link, as we may earn a commission that supports us.
Sporty Chic
For a casual yet stylish look, opt for a sporty chic ensemble that captures the energy and athleticism of the boxing match. 
You could pair flared leggings or sweatpants with a sleek, form-fitting tank top. Layer a cropped bomber jacket in a bold color or pattern for an edgy touch. 
Check out our list of the 10 best sustainable bell-bottom and flared leggings.
Classic Glam
If you are aiming for a more sophisticated and glamorous outfit, take inspiration from the classic boxing era. 
Channel your inner old Hollywood star with a curve-hugging dress and add a touch of retro elegance with a faux fur stole draped over your shoulders. Complete the look with statement earrings, a pair of strappy heels, and a clutch bag in a complementary shade. This timeless ensemble will make you feel like a ringside VIP.
Take a peek at these amazing recycled gowns for unique looks.
Athletic Edge 
To showcase your love for the sport and embrace the boxing aesthetic, go for an athletic edge look. 
Start with a pair of black leather leggings or bike shorts for a bold and fierce vibe. Pair them with a graphic boxing-themed t-shirt or a sleeveless hoodie. Add a leather jacket for an extra layer of attitude. Complete the look with chunky combat boots or high-top sneakers, and accessorize with fingerless gloves or a studded bracelet. 
Here you can find our recommendations for the best affordable bike shorts to help build your look.
Smart Casual 
For a polished yet comfortable look, opt for a smart casual outfit that balances style and functionality. 
Choose a pair of well-fitted dark jeans and pair them with a crisp white button-down shirt. Layer a tailored blazer in a complementary color for a sophisticated touch. Add a statement belt to cinch your waist and accessorize with understated jewelry. 
Look effortless with a button-up shirt and check out our selection here.
Sporty Retro
Embrace the nostalgic vibes of boxing history with a sporty retro look. 
Start with high-waisted shorts or a pleated tennis skirt, and pair them with a vintage-inspired boxing-themed t-shirt. Layer a varsity jacket adorned with patches for a nostalgic touch. Accessorize with retro sunglasses and a baseball cap for a truly vintage-inspired look.
Check out these super cute pleated tennis skirts.
Statement Pieces
Make a bold statement with standout pieces that command attention. Consider incorporating a dramatic coat or cape in a vibrant color or pattern. This will instantly elevate your outfit and turn heads as you enter the boxing arena. 
Remember to pair the statement piece with simpler garments to let it take center stage.
Find more tips here on how to execute an artsy fashion style.
Cute T-shirt
Boxing matches can be nerve-wracking and the boxers often need to hear support from the audience. That is why choosing a cute and comfortable T-shirt that allows you to cheer your favorite fighter on, could be a fantastic option.
Pair a nice tee with denim shorts, a mini skirt, or hot-looking leather pants to let everyone know you mean business.
Have a look at the best American-made Tees here.
Denim Delight
For a laid-back and effortlessly cool look, embrace the power of denim. 
Pair your favorite jeans with a fitted t-shirt or a trendy denim shirt. Complete the ensemble with sneakers or ankle boots for a comfortable yet fashionable outfit that's perfect for a boxing match.
Check out our extensive list of the 50 best affordable and sustainable denim brands around.
Monochrome Magic
Create a sleek and sophisticated look by going monochrome.
Choose an all-black or all-white ensemble for an elegant and refined appearance. Play with different textures and silhouettes to add depth and interest to your outfit. If in doubt, then opt for an LBD.
Here are some of our favorite stylish black dresses.
Luxe Layers
Experiment with layering to create a visually appealing and texturally rich outfit. 
Combine different fabrics and textures, such as leather, faux fur, or knitwear, to add depth and dimension to your look. For example, pair a leather jacket with a chunky knit sweater or layer a faux fur vest over a fitted top. 
We have selected some of the best vegan leather jackets in 2023.
Stylish Sneakers
Make a fashion statement with your footwear by opting for stylish sneakers. Choose a pair in a bold color or with interesting details to add a pop of personality to your outfit. 
Sneakers provide the perfect balance between comfort and style, allowing you to enjoy the boxing match without sacrificing your fashion game.
Build your look by checking out the best brands for sustainable sneakers in Europe.
Accessory Play
Elevate your boxing match outfit with cool accessories. 
Choose statement pieces, such as oversized sunglasses, a wide-brimmed hat, or a chunky belt, to complete your look. These accessories are an easy way to add flair to any outfit.
Here is our list of the 10 best ethical vegan belts for women.
The Power of Red
Red is a color associated with power and confidence. Incorporate this vibrant hue into your outfit to stand out in the crowd. 
Whether it's a red dress, a bold blazer, or a pair of red statement heels, this fiery color will make a striking impression at any boxing match.
Style your daring look by checking out the 40 best outfits with a red skirt.
Playful Prints
Inject some fun and personality into your boxing match outfit with playful prints. 
Opt for patterns like animal prints, stripes, or geometric designs to add visual interest to your look. Pair a printed garment with simpler pieces to let the print shine.
Take a peek at our 20 best patterned pants list.
Shimmer and Glitz
Put a sparkley spin on your boxing match outfit by wearing glitter or sequins.
You can add a shimmering eye-catching touch by way of a sneaker, a handbag, or even a full dress, whatever takes your fancy.
Find some more sequin inspired looks in our blog 15+ Daring Outfits to Wear to The Rocky Horror Picture Show.
Was this article helpful to you? Please tell us what you liked or didn't like in the comments below.
About the Author: Catriona Jean