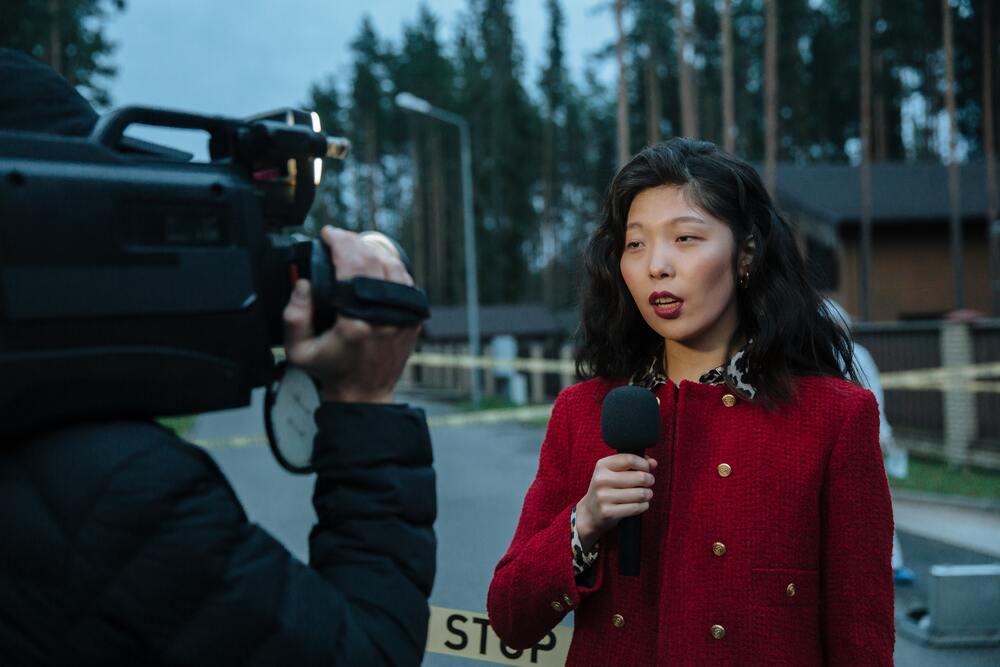 19+ Stunning News Reporter Outfits
Knowing how to dress as a TV news presenter does not come easy. You obviously already know that you should put your best foot forwards in terms of looks, but looking nice isn't the only thing to consider when it comes to dressing for the camera.
Although there is no global dress code for news anchors, since every media outlet or network may have its own, news reporters are typically expected to dress professionally in clothing suited for the time of day and type of program.
Many of them dress in a suit or business-casual attire with a color palette that pops out on the screen and no complicated or distracting patterns. Most reporters work under studio lights, which may make the set quite hot, so dress comfortably.
Keep reading to learn more about how to dress to impress as a news reporter.
Panaprium is proud to be 100% independent, free of any influence, and not sponsored. We carefully handpick products from brands we trust. Thank you so much for buying something through our link, as we may earn a commission that supports us.
A
void

complex

patterns
Complex patterns and stripes tend to be too distracting for the camera to catch up on. While you may adore pinstripes, herringbone, or delicate check designs on your blouses, dresses, and skirts, they don't always appear nice on camera.
In numerous instances, busy patterns might actually generate a disturbing appearance for viewers since they appear to move on their own on your clothing. Solid colors are a safer choice when wearing as a news reporter.
Don't

g

et

h

ot
Although hot shades like red, orange, pink, yellow, green, and purple may be your favorite colors, they're usually not recommended for television. This is because the colors often have a bleeding effect, coloring your skin tone similar to what you're wearing.
You may look beautiful in an orange jacket or dress, but you will not look good on TV with an orange tinge on your face.
White

o

n

b

lack
Wearing a blazer with any outfit is a simple way to attain that boss style. Going for the sophisticated black-and-white color scheme produces a powerful impression. It's elegant, timeless, and entirely professional, yet appearing like a news reporter with a mission.
The wonderful thing about blazers is how readily they can be customized, not just in terms of color but also in terms of what outfit you match it with. A blazer may be worn with jeans, formal trousers, or even a dress!
Take a look at our selection of the 20 best ethical and sustainable blazers you'll love.
Pencil skirt and blouse
This is a style that every female news reporter should acquire, and it belongs in the boss clothes category due to its sleek and robust design. This is the kind of clothing you wear and instantly feel ready to go live on TV.
Check out these 20 best affordable and sustainable pencil skirts.
Go for cool colors
In front of the camera, taupe, cool blues, cream, and tan are excellent selections. Black and white or dark hues like navy and white usually work well for a sterner look that works well on camera.
The all-business suit
Every female, regardless of career, should have her own business outfit. It's the ideal attire for various occasions or events, as you'll always look and feel like a serious professional!
It's one of those attires you wear and immediately feel confident. A powerful color, such as navy blue, is often linked with confidence, intellect, wisdom, and black heels will complete the perfect ensemble!
The Lois Lane

look
If you have done your research well as a journalist, then you perhaps already know about Lois Lane. She was a very innovative girl boss reporter who knew how to chase her stories well. And she didn't let down her fans and viewers either regarding her outfits.
By blending a blouse and classic pencil skirt look and subbing in a sweater vest, she created a fantastic boss outfit that every news reporter should have.
Here is our selection of the top 15 affordable and sustainable sweater vests.
The

b

lazer

d

ress
The piece looks like a jacket but transforms it into a dress that is attractive, professional, functional, and all-around a wardrobe must-have. As a reporter, you'll definitely wind up owning a lot of blazers because they're such versatile pieces of clothing. However, that does not preclude you from wearing dresses! Combine it with statement heels for that stunning look.
High-waisted plaid pants

Although the plaid pattern resembles the old-fashioned journalist outfits that used to be fashionable decades ago, that does not mean the look is outdated! Blending a splash of old with a modern touch will result in a unique and totally boss outfit. The top can be a tight turtle neck, a loose-tucked blouse, or a long-sleeved V-neck; the choice is yours with these customizable bottoms.
Consider outfits with
pockets or belts
If you are going to wear a lapel microphone(most reporters are usually expected to wear one when they are on set), you'll also need a location to store the battery. This is where male reporters have an advantage. Their suits or coat pockets can easily be used to store such batteries.
Unfortunately, that is not usually the case because most women's suits do not include those lovely jacket pockets. So, go for attire with a pocket or belt for a battery pack.
Watch your bling
This tip is mainly for the ladies. Jewellery jingles and distracts. Remove all pieces that make noise, move around, or could hit your microphone. Also, do not wear dangly earnings. It is hard for a TV camera to focus on big shiny accessories.
Check out our collection of the top 15 affordable and sustainable bracelet brands.
Be careful with your shoes and socks
A reporter's feet are arguably the most frequently overlooked part. So be sure you shine your shoes and wipe the soles in case they are caught on camera. Don't forget to keep your socks basic – the color guidelines also apply here. Men and women should also wear high socks under their pants so that their flesh does not show when they sit or cross legs.
Look at our selection of the 8 best affordable and organic socks made in the USA.
Polish up your makeup and hair
Looking good is very important, particularly if you will appear on TV. Take the 1960 US presidential debate between Richard Nixon and John F Kennedy, for example. The latter used makeup to polish his looks and look presentable to the public.
On the contrary, his challenger did not use makeup and looked pale with facial stubble. Additionally, he looked very sweaty in front of the cameras, which worked against him. Analysts believe Richard Nixon's sweaty and pale look eventually cost him the election. So polish up and do not overdo it.
Here is our selection of the best affordable and sustainable hair accessories made from organic or recycled materials.
Tweed

v

est
Vests, in general, should become a wardrobe essential. It can be business attire, a casual outfit, or part of a complete suit depending on what you blend it with. There are several alternatives, but incorporating tweed into the mix offers a throwback to old-fashioned journalism. Add a modern twist to complete this traditional vintage style with force and professionalism.
Avoid
skirts and dresses that finish above the knees
Female news reporters should avoid wearing short skirts or dresses if they want viewers to concentrate on what they're saying. This is especially important for TV interviews. Dresses and skirts that fall below the knees are not appropriate for ladies. This is because you have no idea where you will sit.
You may be requested to sit on a bar stool, a conventional chair, or in a panel of chairs with other interviewees.
Don't expect to be concealed behind a desk. Most of the time, you are not. This implies that if your lovely skirt is a little too short, you risk sharing more with the viewers, which you DO NOT want to do. Short skirts are prone to wardrobe disasters, so before you leave the house, grab a chair and place it in front of a mirror to double-check your length.
Long-sleeve dresses
Sleeveless blouses and dresses are your best bet for battling the heat and getting sun-kissed shoulders in the summer. However, maxi dresses with sleeves will be your best friend in the fall. They will give you enough coverage when the temperature drops. Wear your maxi or midi dress with boots and a denim jacket.
To help you make conscious purchasing decisions as a well-informed consumer, here are some of the best affordable and sustainable maxi dresses, denim jackets, and boot brands
Sleek V-neck or Boat neck
Although we all love to show our personalities and style via different necklines, if you want to dress like a serious news reporter, there are some necklines that you should avoid. For example, one-shoulder or off-shoulder can be controversial.
So to be safe, pick a dress or a top with a boat neck for an elegant look or a sleek-V neck. If you want some affordable yet decent choices, here are some quality, affordable, and sustainable formal dresses, I have handpicked for you! The simple yet sleek designs are unbeatable.
P
eplum dress
If you are insecure about the belly area like me, a peplum dress is a must-get if you are a news reporter. Its flared ruffle will add extra frill and accentuate your waist. Peplum outfits constrict at your upper waist and rise as they train to your belly button. Perfect for your curves. Ruffle tops draw attention away from the bulges while concealing them. It's all about generating the illusion the way you want it.
Closed-toe shoes in formal settings
Most female reporters wear closed-toe shoes. They project a robust and mature appearance and are best worn during interviews. Flats are also an option for less formal occasions. However, I'd prefer sharp, sleek, charming ballerina flats. They lengthen your leg and make you appear more sophisticated and crisp overall.
To help you make conscious purchasing decisions as a well-informed consumer, here is our selection of some of the best affordable and comfortable ballet flats for women.
Additional dressing tips for news reporters
Go for
solid

neutrals hues for a

professional news anchor

Let's dive into the nitty gritty of color. Instead of feminine hues like dusty pink and lavender, go for neutral and classic colors like black, beige, white, and navy blue.

The deeper the hues, in general, the more powerful and confident you'll look. Navy blue, for example, generates concepts of strength and authority, while baby blue exudes easygoing and relaxed sentiments.

 
Patterns
When it comes to patterns, they can be done for a female reporter's style, but they should be kept to a minimum. If you want to incorporate animal print, use a solid dark pantsuit and snake-print pointed shoes for a delightful flash of vibrancy.
Accentuate and

a

ccessorize

minimally

Wear the right makeup to highlight your facial features. Concentrate on your eyes by using complementary shadow hues with no glitter. Choose a foundation that is appropriate for your skin type and mix carefully to eliminate any makeup lines.

Women should apply powder to conceal any shining regions of their faces. The same is true for male bald areas. Keep the jewelry minimal, opting for simple, non-dangling earrings. Avoid anything overly whimsical or striking if you want to be considered seriously.

 
Finally, relax and be confident
When it comes to dressing well as a reporter, the main goal is to look polished, comfortable, and confident. So pick a timeless fashion and treat every reporting session as a conversation. Do not panic even when you are being recorded live.
If you go for a distracting outfit, particularly on TV, many people will only remember that and not what you were actually saying. Many people are watching you because you have some critical information to pass across. As such, plan well to avoid any embarrassing moments or distracting mishaps as you report.
Was this article helpful to you? Please tell us what you liked or didn't like in the comments below.
About the Author: Dinushka Breaker Gunasekara