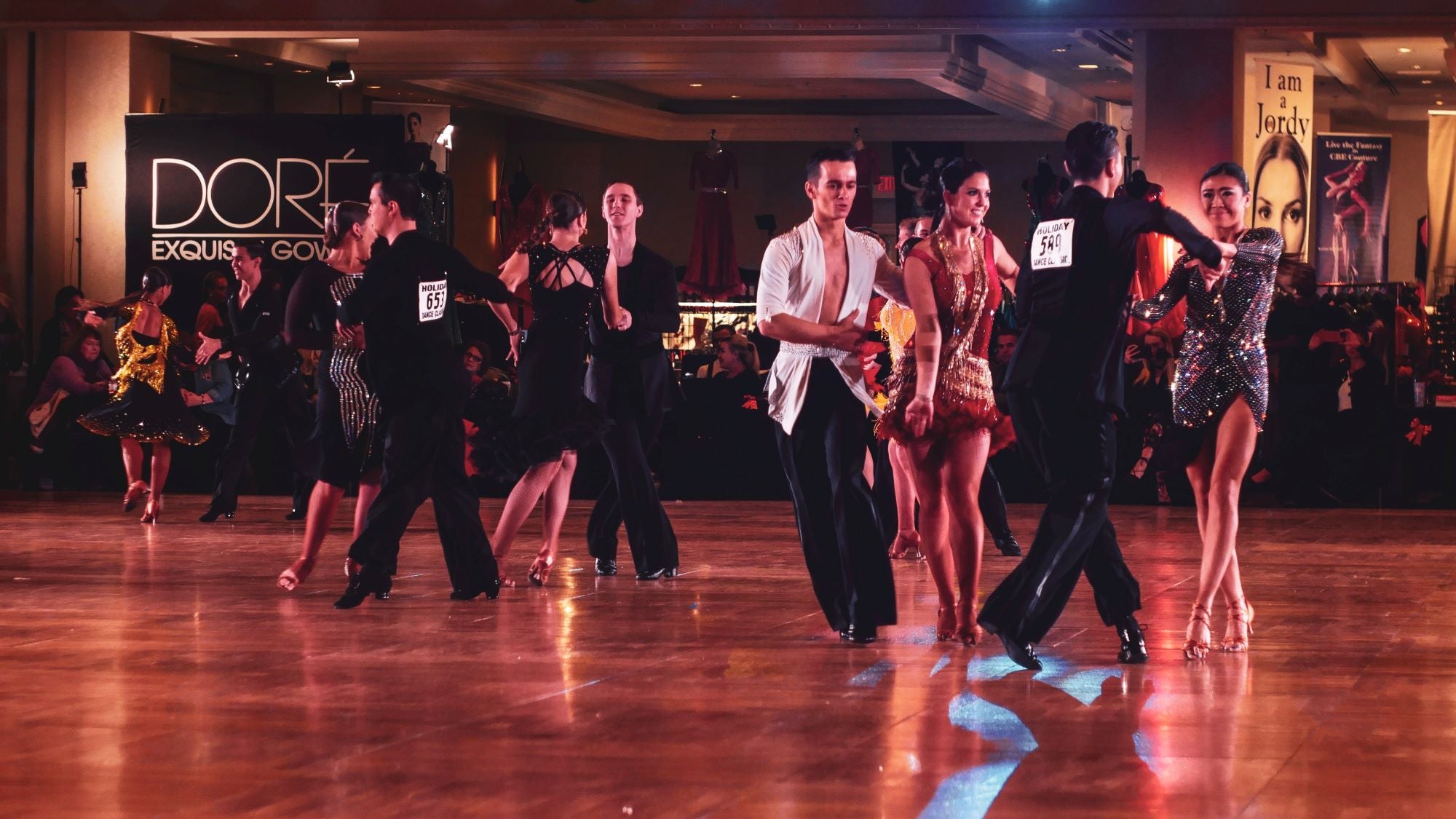 11 Fun Must-have Outfits For A Successful Salsa Class
Interested in taking salsa lessons but not sure what to wear to your first class? Or you have been a salsa dancer for a while now and are looking for wardrobe inspiration? Our article has got you covered.
Salsa is a beautiful, active Latin dance that involves moving around and swinging. So, your dance outfit must be comfortable, stretchy, or flowy and should not restrict your movements.
Scroll down to discover more tips, necessary items, and fun outfit ideas for a great salsa practice.
Panaprium is proud to be 100% independent, free of any influence, and not sponsored. We carefully handpick products from brands we trust. Thank you so much for buying something through our link, as we may earn a commission that supports us.
Cute Salsa Dress
A cute salsa dress is a must if you have taken a few classes already and feel comfortable and confident on the dance floor.
Most dance studios do not require you to wear a salsa dress, but it is a terrific idea to have one. You will look like a professional dancer and fully emerge in the image and spirit of the dance.
Go for bright colors, color-match them with your dance shoes, or pick shiny or sparkly ones. In short, let the creative juices run and go bold with your dance outfits.
Salsa Shoes
Salsa shoes are specially designed shoes that have soft soles and make dancing and swinging easy. Many types of shoes come with different heights of heels.
You will also want to ensure your shoes have sufficient grip, as you will be pivoting and spinning a lot. Salsa dancing might be difficult at first, but with practice and the proper footwear, it can also be a lot of fun.
If you are new to salsa or Latin dance, for that matter, opt for a short heel, like 5-6 cm. You must dance well in coordination with your partner and keep your balance.
It is best to start with shorter heels and later switch to higher heels, which make you look more confident and sexier.
Check out our selection of the 13 best affordable, vegan, and sustainable heels, for more inspiration.
Yoga Pants or Leggings
Yoga pants or leggings are perfect if you are not into flowy skirts or dresses. Pick leggings or yoga pants that are easily stretchable and not too tight at the waist.
Salsa dances are active and energetic, and you will be moving your hips and legs a lot. Having pants that sit comfortably and support your movements is crucial.
Discover our selection of the 10 best affordable and organic bamboo leggings  for  comfortable and amazing dance practice.
Crop Top or Sports Bra
Crop tops are perfect for salsa dances. They allow a lot of movement for your arms. Alternatively, wear a sports bra to the class if there are no crop tops at hand. Both are brilliant options.
When buying a crop top or sports bra make sure to pick breathable and stretchy fabrics. You will sweat a lot during the class, and you do not want to feel itchy and uncomfortable.
Check out the 15 best organic cotton crop tops you will love.
Fitted Jeans or Pants
Having a pair or two of fitted jeans or pants is a must for your salsa dance class.
Remember to pick stretchable jeans or pants that in no way restrict your movements.
You can opt for darker bottoms and match them with colorful crop tops, Tees, or sports bras for varying outfits for each class.
Right Fabrics and Decorations
Wear clothing that is fitted and has little extra material. Clothing like baggy pants, long skirts, or dresses makes it harder for your salsa instructor to properly see how you are moving. This may impede your progress and make you upset.
Do not opt for clothing with lots of sequins or other decorations, as they can snag on other dancers' clothes. Avoid bulky jewelry and hair accessories as well. Keep your outfits simple yet attractive.
Check out our recommendations for the top 10 sustainable fabrics for sportswear.
Stylish Biker Shorts
Stylish biker shorts are perfect for a salsa dance class. Pick biker shorts made of stretchy materials.
Biker shorts should hug your hips tightly but not in a restrictive manner. You should feel free to move, spin and swing.
Mix and match your biker shorts with cute Tees, crops, or tank tops for a cool salsa class look.
Check out our selection of the 20 best affordable and sustainable biker shorts.
Floaty Skirt
A stylish cute, floaty skirt is a terrific option for a successful salsa dance class.
Floaty skirts are unbelievably versatile, and you can combine them with cute, comfy tops for the ultimate outfit.
Avoid long floaty skirts, as they might get in the way of your dancing. So, mini or midi options are the best. Mix and match your outfit with your dance partner for a fun dancing experience.
Proper Underwear
The right underwear for a salsa class is crucial. Pick organic materials that do not make you itchy or cause skin irritations. Seamless underwear could be perfect for your classes.
Dance briefs are a terrific option as well. These briefs are made for dancers who move around a lot and are very stretchy and sturdy.
Pay attention to your undergarments especially if you wear a cute short dress or skirt. You do not want to appear tasteless. Some women wear stretchy shorts under dresses or skirts. Give it a go if that sounds like something for you.
Check out the 20+ best organic and biodegradable underwear brands to make your choice easier.
Salsa Jumpsuit
A cute salsa jumpsuit is a perfect outfit for a successful dance practice. Most jumpsuits are super comfy and made of stretchy fabrics. They allow you to move and spin freely which is what you need.
These jumpsuits have become trendy in the last few years and are also worn for bachata dances and classes.
Floral prints or bright colors are terrific options to make your dance practice unforgettable and stand out on the dance floor.
Cute and Comfy Dress
A cute and comfy dress is another salsa staple. There are various shapes and colors to choose from.
Pick ones that suit your body shape best, allow free movement, and make you look your best.
We have carefully put together the 20 best affordable, ethical, and fair-trade dresses to help you make a conscious choice.
Was this article helpful to you? Please tell us what you liked or didn't like in the comments below.
About the Author: Gohar Davtyan