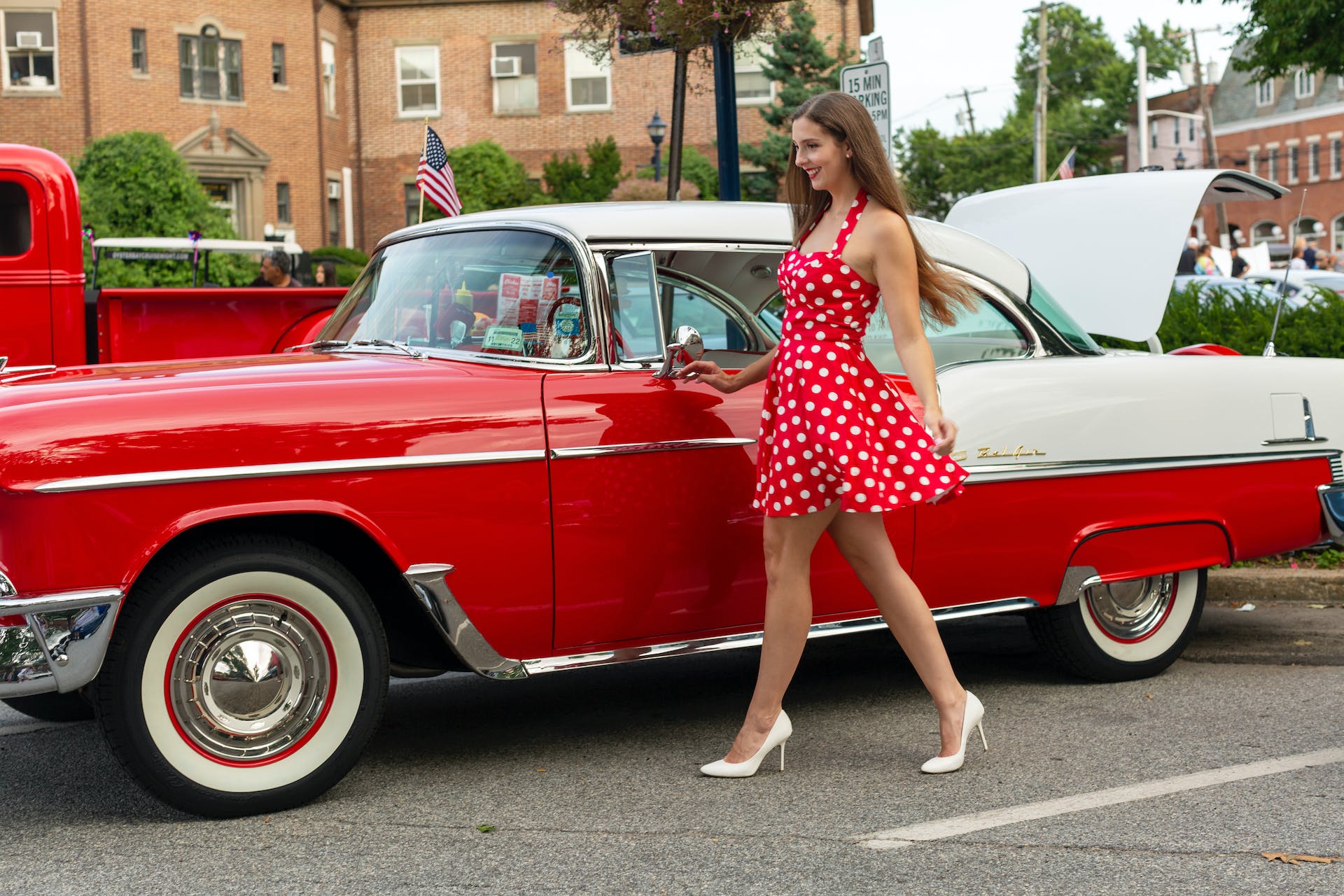 The 15 Most Amazing Retro Party Outfit Ideas
When it comes to dressing for a retro party, the right outfit can make all the difference. You need to choose clothes that highlight your best qualities while showing that you've done your research on vintage.

This may be difficult, especially for someone who usually keeps up with the latest fashion trends. If you only own modern clothing items, you might need to start from scratch when creating your retro outfit. This sounds difficult and expensive, doesn't it?

Nothing to worry about! We are here to help you. In this article, you will find some interesting and fun outfit ideas that can make you feel confident and stylish. Keep reading to discover the best retro party outfit tips.
Panaprium is proud to be 100% independent, free of any influence, and not sponsored. We carefully handpick products from brands we trust. Thank you so much for buying something through our link, as we may earn a commission that supports us.

Polka dots
Even if many modern-day clothing items feature polka dots, this pattern screams vintage. The retro connotation happens because polka dots used to be very popular in the 1940s and 1960s.
Wearing a polka dot print is an effortless way to nail the retro look like a pro.
Our recommendation? Choose a beautiful dress that features polka dots and wear it with a pair of stiletto shoes.
Discover some of the best brands that sell sustainable fashion.




Pin-up up fashion
A-line skirts, flirty silhouettes, bold prints, sweetheart necklines, amazing hairstyles - what's not to like about pin-up fashion?
Even better, the pin-up style fits the retro theme perfectly!
Click here if you want to learn how to achieve the pin-up fashion style.




Trousers
Create a simple but versatile outfit with a beautiful pair of trousers and a shirt.
The best trousers for a retro party are durable and made from a comfortable material. Go for a conservative color such as black, gray, dark blue, or brown.
They are a great investment in your wardrobe because you can create many amazing outfits with a pair of high-quality trousers.
Complete your outfit with beautiful and comfortable shoes.
Check out the 20 best organic cotton trousers in 2023.



Vegan leather jacket
Leather jackets were very popular in the past. Today, they are still a go-to for many people.
That is because leather jackets are easy to wear in many combinations. They look fantastic with jeans and shirts, dresses, skirts and blouses, and overalls. With the right leather jacket, you can create outfits that go in many directions: Rock and roll, edgy, sporty, or retro.
For a vintage look, choose a jacket with a classic cut that doesn't feature any modern elements.
We have great news for you! Many ethical fashion brands create amazing vegan leather jackets with animal-free materials.
Be the best dressed with one of these budget-friendly and cruelty-free jackets.




Jeans
If you decide to wear jeans, here's how to make sure they look retro enough: Choose a flattering pair in the right size for your body, go for a classy design, and avoid acid-washed and distressed jeans.
Create a fantastic outfit with a pair of sustainable jeans and a sweater.

Oversized blazers
Slightly oversized blazers featuring shoulder pads were a thing in the 1980s, and are back in style in 2023.
Instantly transform any regular outfit into a retro party-appropriate one by adding a blazer with the above specifications.
You have a lot of freedom when it comes to choosing the perfect blazer color, but we recommend going for a pastel color if you want to make sure that your blazer can be worn on many other occasions.
Take a peek at the best-recycled blazers for an elegant outfit.



White shirts
White shirts are timeless, beautiful, and versatile.
With the right, multifunctional white shirt you can create work outfits, party outfits, and smart casual outfits.
Luckily, many ethical brands sell durable and timeless designs that can help you look great and feel confident. Click here to discover some of them.



Midi skirts
Achieve a feminine and retro look with a beautiful midi skirt. You can wear it with a white shirt, a lightweight blouse, or a T-shirt in the same color.
Complete your wardrobe with one of these affordable and eco-friendly midi skirts.



Tank tops
A tank top and skirt combo make a hot look for a retro party.
If you want to be effortlessly attractive, think no further. Purchase an affordable and versatile tank top that flatters your silhouette and increases your confidence.
Discover our selection of the best affordable and sustainable tank tops here.

Jewelry
Complete your amazing retro outfit with beautiful jewelry.
A great tip is to do a quick online search on the decade that inspired your outfit and choose a piece of jewelry that was fashionable back then.
If you want to be a conscious consumer, we've got you covered! Here are 15 sustainable jewelry brands.



Denim shorts
Denim shorts became popular in the late 1960s.
For a retro look, we recommend a high-waisted pair of sustainable denim shorts. Wear them with a cute tank top and a pair of comfortable shoes.
Explore more ideas that will help you embrace the 70s fashion in 2023.

Flapper style
"Flapper" is the name assigned to the young women who did not adhere to traditional social constraints in the 1920s.
Of course, fashion was one of the easiest ways to stand out. Some of the most common clothing choices for flappers were sleeveless dresses, knee-length cuts, hair accessories, bracelets, gloves, fringed designs, small handbags, and long necklaces.
Bring the 1920s to life in 2023 by wearing some of the key clothing items and accessories that used to be stylish back then. To obtain an interesting and unique look, add some modern elements to your attire, such as black lipstick.
Read our article if you want to learn more about the best second-hand clothing apps for affordable vintage.

Mini skirts
If you want to create a cute and stylish outfit, choose a mini skirt.
The number of combinations you can make with a well-fitted mini skirt is only limited by your imagination.
Add a cute blouse and you'll have an adorable 1960s outfit. With a T-shirt and a slightly oversized jacket with some shiny details, you'll be on the right path to obtaining an amazing 1980s look.
Check out our selection of fabulous mini skirts.



Hair accessories
The right hair accessories can complement your outfit.
Choose your clothes first and then decide which type of hair accessory would be the best for you. A few hairpins or a colorful headband will beautifully complete a pin-up outfit. A statement headpiece will look very nice worn with a simple dress.
Take a look at our sustainable recommendations.




Stripes
Stripes have been around for quite a while.
Although they existed before, stripes became mainstream in the 19th century when wealthy people began wearing them as leisure symbols.
Nowadays stripes are everywhere you can easily create a retro outfit with a striped blouse or tank top. Add a pair of high-waisted denim shorts or a midi skirt to complete your party outfit.
Let yourself be inspired by the best affordable and timeless clothing brands.
If you like this article, share it with your friends!
Was this article helpful to you? Please tell us what you liked or didn't like in the comments below.
About the Author: Miruna Dulcea