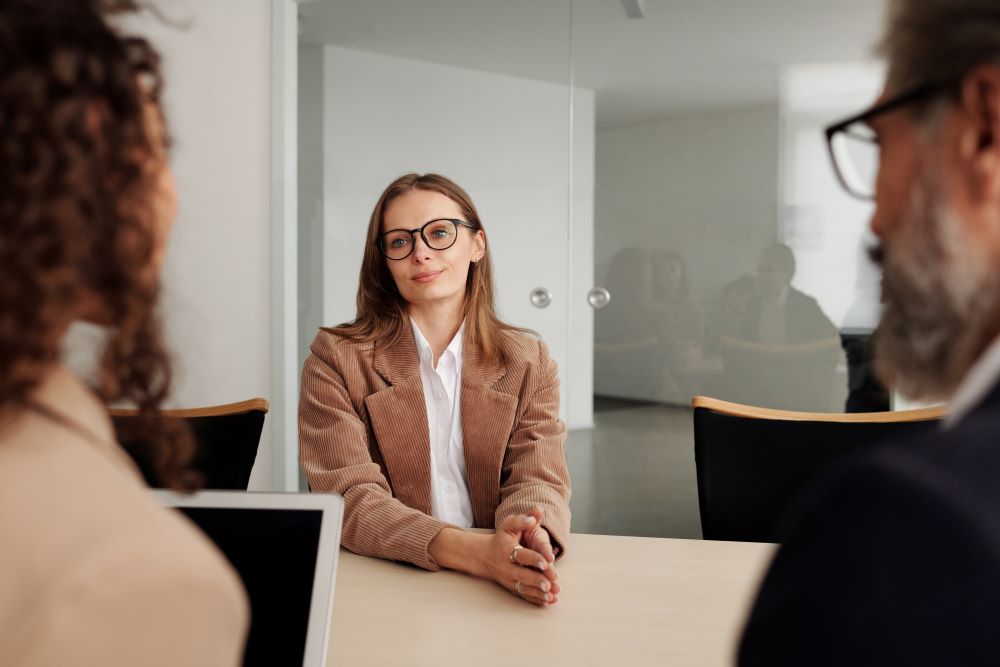 What to Wear to Receptionist Interview: 17 Best Outfits You Will Love
Dressing appropriately for a receptionist interview is crucial. It is a strategic step towards establishing trust and conveying your dedication to the role. Hence, your outfit speaks volumes about your attention to detail, professionalism, and cultural alignment with the prospective employer.
At the reception area, you will be the face of the company, and the first person of contact. In our comprehensive guide, we will lead you through the intricacies of dressing for success in a receptionist interview.
We have with great care selected a list of 17 outfit items, accompanied by tips and item recommendations. Our article will help you navigate the fine line between looking impeccable and fitting seamlessly into the company culture.
Whether you are aiming for a classic and conservative look or a modern and chic style, we aim to ensure you step into your interview with the utmost confidence and poise, ready to make an unforgettable impression. So, keep scrolling to discover all the ultimate outfit items you can wear to a receptionist interview.
Panaprium is proud to be 100% independent, free of any influence, and not sponsored. We carefully handpick products from brands we trust. Thank you so much for buying something through our link, as we may earn a commission that supports us.
Tailored Blouse
A well-fitted blouse in a solid color like white, light blue, or pastel pink exudes professionalism and can be paired with various bottoms for a polished look. Ensure it is not too revealing or wrinkled.
Pair your tailored blouse with tailored pants or wear it as part of a chic pantsuit ensemble. Do not forget to check out the 15 best affordable, ethical, and sustainable blouses. 
Button-Down Shirt
A classic button-down shirt in a neutral color is a timeless choice that signifies a conservative and put-together appearance. Tuck it into your skirt or slacks for a neat finish.
Opt for a crisp white button-down shirt and dark blue or black skirt or tailored trousers for an ultimate professional look. Have a look at these amazing American-made shirts both for women and men. 
Beautiful Blazer
A tailored blazer, matching the color of your blouse or shirt, adds a layer of sophistication and authority to your outfit. It should fit comfortably, allowing easy movement.
Alternatively, you can wear a dark blazer with a crisp white shirt for a professional yet contrasting look. Make sure to check out these amazing ethical and sustainable blazers you will love. 
Pencil Skirt
A knee-length pencil skirt in a conservative color like black, navy, or gray is a versatile option that flatters most body types. It should fit well without being too tight or too loose. Do not forget to check out the 20 best affordable and sustainable pencil skirts. 
Slacks
Well-fitted, straight-leg slacks in a dark color provide a professional and comfortable alternative to skirts. Ensure they are hemmed to the right length for your shoes. For more inspiration, check out the 15 best affordable work pants made in the USA. 
Lovely Pantsuit
A pantsuit in a neutral color, well-tailored to your body shape, exudes confidence and professionalism. It should have a modern, streamlined appearance.
Check out the 20 best affordable and sustainable suits for men and women for more inspiration and eco-friendly options. 
Tailored Dress
A professional, tailored dress is ideal for a receptionist interview. A knee-length A-line dress in a solid color or subtle pattern offers a stylish yet conservative choice.
Ensure it is not too short or revealing and is appropriate for the company culture. For more inspiration, check out our careful selection of the most affordable and sustainable bodycon dresses. 
Closed-Toe Heels
Comfortable, closed-toe heels in a neutral shade complement your outfit while adding height. Choose a heel height you can confidently walk in. Pick one from our curated list of the best affordable, vegan, and sustainable heels. 
Polished Flats
Polished flats in a color that matches your ensemble provide a professional look without the discomfort of heels. They should be clean and well-maintained. Do not forget to have a look at the 10 best affordable and comfortable ballet flats. 
Hosiery
Sheer, natural-toned hosiery completes your look and adds a touch of elegance. Make sure they are free of runs or snags. Have a look at the 10 best ethical hosiery brands for eco-friendly tights. 
Lovely Belt
A subtle, coordinated belt cinches your waist, creating a polished appearance when wearing slacks or a skirt. It should be in good condition and match your shoes or handbag. Pick one from our collection of ethical and vegan leather belts for women. 
Statement Necklace
A simple, elegant necklace adds a touch of sophistication without overwhelming your outfit. Choose one that complements the neckline of your top. Here are the 15 best affordable and sustainable necklace brands. 
Earrings
Opt for small, conservative earrings like studs or small hoops that enhance your appearance without distracting from your face. Check out these 15 best affordable and sustainable earrings brands. 
Classic Wristwatch
A classic wristwatch not only serves a practical purpose but also adds a timeless accessory to your ensemble. Ensure it is in working order and matches your jewelry. Opt for a minimalistic design to match well with your professional attire. 
Portfolio or Padfolio
A professional-looking portfolio or padfolio keeps your documents organized and can be a stylish accessory in itself. Make sure it is clean and free of visible wear.
Minimalistic Handbag
A medium-sized, structured handbag in a neutral color is both functional and stylish. Keep it clean and organized to maintain a professional appearance. Pick a beautiful and functional handbag from our selection of the best faux leather designer handbags in 2023. 
Be Confident!
Remember that your best accessory is your confidence. Maintain good posture, make eye contact, and be well-prepared for the interview to leave a positive and lasting impression.
Remember, your clothing is not just a reflection of your personal style; it is a testament to your dedication to the role of a professional receptionist.
By paying attention to the details, ensuring a neat and polished appearance, and choosing attire that resonates with the company's values, you have already taken a significant step toward success.
Was this article helpful to you? Please tell us what you liked or didn't like in the comments below.
About the Author: Gohar Davtyan