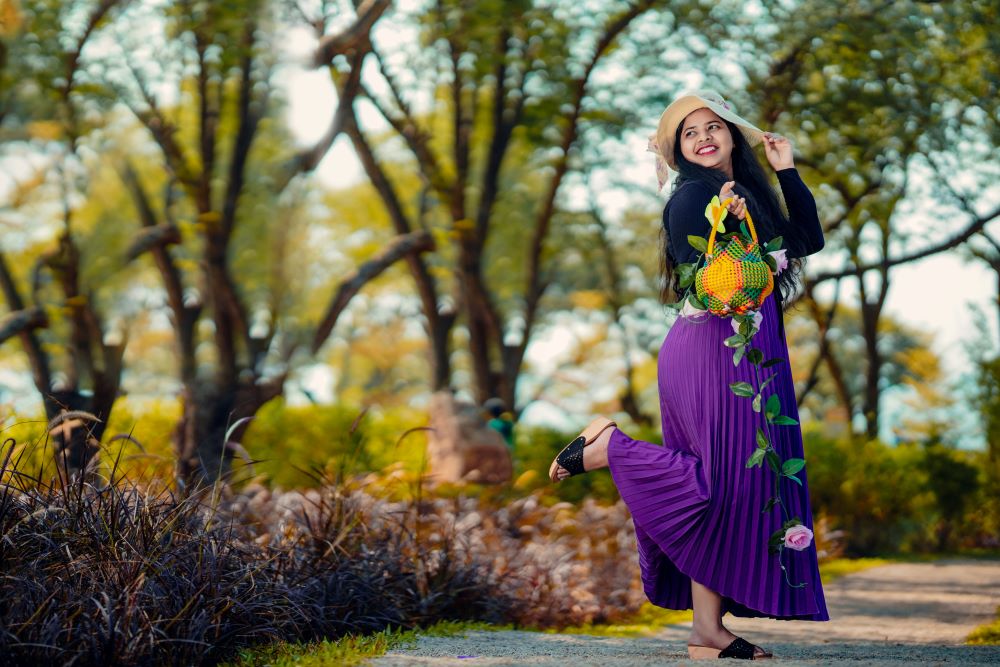 The Best Styling Ideas for Purple Skirts (40 Ultimate Outfits)
Welcome to another exciting fashion blog post as we delve into the captivating world of styling the ever-versatile and alluring purple skirt. Whether you are a seasoned fashionista or just embarking on your style journey, our article is your ultimate guide to crafting stunning outfits that radiate sophistication and style.
Purple, often associated with creativity, luxury, and individuality, holds a special place in the fashion realm. The purple skirt is a chic canvas upon which you can create countless ensembles suitable for diverse occasions.
From soft lilac hues to deep, rich plums, the spectrum of purple shades allows for endless possibilities in personal expression. Whether you are yearning for a professional blazer ensemble or a breezy summer look, we have got you covered.
As you scroll through this comprehensive style guide, you will discover that the choices are boundless. We will explore how to pair your purple skirt with a white top or shirt to achieve classic elegance or delve into the allure of sexy lace or satin tops for an evening out. 
Accessories play an integral role in perfecting your outfit, so we will delve into the finer details of selecting jewelry, bags, and hats that accentuate your purple skirt style. We will also explore the magic of layering with cardigans, scarves, and jackets for those transitional seasons.
Not to forget, we will investigate the power of footwear, from comfortable sneakers to elegant high heels, to elevate your overall appearance. So, if you're ready to embark on a fashion adventure, join us as we unlock the secrets of making your purple skirt a true wardrobe staple.
Panaprium is proud to be 100% independent, free of any influence, and not sponsored. We carefully handpick products from brands we trust. Thank you so much for buying something through our link, as we may earn a commission that supports us.
White Top or Shirt
A white top or shirt is a timeless choice that complements a purple skirt beautifully. For a casual look, consider a white linen blouse with a relaxed fit and rolled-up sleeves.
Tucking it into the skirt gives your outfit structure. If you are aiming for a more formal or office-appropriate ensemble, opt for a crisp white button-down shirt, which exudes professionalism when neatly tucked in.
For more inspiration and beautiful looks, check out our wide selection of the best affordable shirts made in Italy. 
Cool Sunglasses
Sunglasses are more than just a fashion statement; they protect your eyes and can instantly upgrade your style. Oversized black or tortoiseshell frames provide an air of mystery and elegance.
They shield your eyes from the sun's harsh rays and can be the focal point of your look. Pick a stunning pair from our list of the best affordable and sustainable sunglasses from Australia. 
Outfits with a Cardigan
A cozy cardigan in a neutral shade like cream or beige adds warmth and comfort to your outfit. Look for one with a soft and lightweight knit for ease of wear. You can leave it open for a relaxed, effortless look, allowing your purple skirt to take the spotlight.
Alternatively, button it up for a more put-together appearance that is perfect for transitional seasons. Here are the 15 best sustainable chunky knit cardigans you will love. 
Go Monochrome!
Creating a monochrome outfit using various shades of purple demonstrates your fashion prowess. Combine a lighter shade of purple top with your purple skirt and accessorize with a matching handbag and shoes to complete the monochromatic effect.
The subtle variations in purple tones add depth and dimension to your ensemble, making it a sophisticated choice. For more inspiration, make sure to check out our ultimate styling tips for purple pants. 
Outfits with a Lovely Sunhat
A wide-brimmed sunhat in a complementary color, such as beige or lavender, not only elevates your style but also provides excellent sun protection.
This fashion-forward accessory is perfect for sunny days at the beach or a garden party. Its brim shields your face from the sun's rays, helping you stay cool and stylish.
Youthful Crop Top
A crop top adds a trendy and youthful touch to your outfit. Opt for one in a matching or contrasting color to your purple skirt, showing a hint of your midriff.
This choice exudes a playful and modern edge, making it perfect for casual gatherings, summer festivals, or any event where you want to showcase your personal style.
We have selected the 15 best affordable and sustainable crop tops for you. And make sure to check out our ultimate tips on what to wear with a crop top to avoid showing stomach skin. 
Outfits with Boots
Depending on the season, ankle boots or knee-high boots in a neutral color like black or brown provide a stylish complement to your purple skirt. These boots not only add a touch of sophistication but also keep your feet warm and cozy during cooler months.
Ankle boots offer a more versatile option, while knee-high boots make a statement and work well with longer skirts. Pick an eco-friendly pair from our extensive collection of the best affordable and sustainable boot brands. 
Black Blouse or Top
A black blouse makes a striking statement when paired with a purple skirt. This classic combination is ideal for evening events or formal occasions. Consider a black lace top for a touch of elegance and romance, or a black silk blouse for a sleek and luxurious look.
The contrast between black and purple creates a visually captivating effect. Do not forget to check out the 15 best affordable blouses for broad shoulders. 
Accessorize with Jewelry
Elevate your outfit with delicate silver or gold jewelry. A fine necklace with a pendant adds a touch of refinement to your neckline, while small stud earrings and bangles or bracelets offer a subtle and elegant flair.
The key is to strike a balance between accessorizing and letting your outfit shine. We have selected the best affordable and sustainable necklace and earring brands for you. Pick an eco-friendly and sustainable option and create stunning looks with your purple pants.
Outfits with Beautiful Bags
A neutral-colored handbag, such as a black or tan tote, is a practical and stylish choice. It can carry your essentials while maintaining the focus on your outfit.
A structured handbag exudes professionalism and sophistication, while a crossbody bag offers convenience and a more casual look, depending on your needs.
Check out the 15 best affordable vegan leather bags and purses we have selected just for you. 
Pair with Floral Tops
A white or pastel floral top with a design that complements the shade of purple in your skirt adds a sweet and feminine touch to your outfit.
This choice is ideal for spring and summer, offering a fresh and vibrant feel. The floral pattern brings a playful and lively energy to your ensemble. Accessorize with stunning statement jewelry pieces for an ultimate cute look.
Outfits with Sneakers
Sneakers lend a casual and comfortable vibe to your look. They provide a sporty and trendy contrast to the femininity of the skirt. To maintain a polished appearance, choose clean and well-maintained sneakers.
The combination of comfort and style makes this an excellent choice for running errands, exploring the city, or casual outings. Here are the 12 best brands for sustainable sneakers in Europe. 
Cozy Sweater
In colder weather, a cozy knit sweater in a neutral color adds both warmth and comfort to your outfit. You can choose to tuck it in for a neater and more structured appearance or leave it loose for a relaxed and cozy style.
The choice of sweater material, such as chunky knit, can impact the overall texture and feel of your outfit. Pick an ultimate cozy sweater from our list of the best affordable, ethical, and vegan sweater brands. 
Outfits with Sexy Tops
For a touch of allure and sophistication, opt for a sexy lace or satin top in a complementary color like silver or black. Discover what to wear under a lace top for stylish looks. 
This choice is perfect for a night out, special occasions, or a date night, as it adds a seductive and elegant dimension to your look. The luxurious fabric and alluring details create a captivating and daring impression.
Outfits with High Heels
High heels are a go-to choice when you want to elevate your style. Whether you choose to match the color of your heels with your outfit or create a contrast, they elongate your legs, create a more formal appearance, and add a touch of glamour.
The choice of heel height and style can be a game-changer in your outfit. Classic pumps provide an elegant and timeless look, while strappy heels or embellished heels add a contemporary and playful touch. The right pair of high heels can enhance your posture and overall presence.
Pick a pair of stunning eco-friendly heels from our extensive list of the best affordable, vegan, and sustainable heels. 
Accessorize with Cute Scarves
A lightweight scarf in a coordinating color can be draped elegantly around your neck or shoulders. This accessory adds texture and can keep you warm when the temperature drops.
Consider an elegant soft scarf for a touch of luxury or a cozy knit scarf for a more casual and comfortable look. Scarves also offer the flexibility to change your look throughout the day.
For more inspiration, check out the 15 best affordable, ethical, and vegan winter scarves. 
Off-the-Shoulder Tops
Off-the-shoulder tops exude a flirty and romantic charm. Opt for a white or neutral off-the-shoulder blouse to pair with your purple skirt.
The exposed shoulders and delicate neckline provide a touch of elegance and femininity. For added sophistication, choose a top with ruffles or intricate detailing along the neckline.
Outfits with Sandals
In warmer weather, strappy sandals in a neutral tone like nude or metallic offer a breezy and comfortable option for your purple skirt ensemble.
They keep your feet cool and add a touch of summer flair to your outfit. Consider a pair of espadrille wedges for a relaxed, resort-inspired look. Here are the 15 best affordable, vegan, and sustainable sandals we have selected just for you. 
Opt for a Jacket
A tailored blazer or a vegan leather jacket in a neutral color, such as black or gray, adds structure and sophistication to your outfit.
This option is ideal for more formal or professional occasions, enhancing your overall appearance with a touch of authority. A well-fitted blazer can instantly transform your look from casual to polished.
Check out the 15 best affordable jackets for broad shoulders. 
Elegant Conservative Tops
A conservative blouse in a soft and muted color like blush or cream exudes timeless elegance and professionalism. This option is ideal for formal or business settings, offering a refined and sophisticated appearance.
A blouse with subtle details like pleats or lace can elevate the look while maintaining a sense of modesty. For more inspiration and eco-conscious purchases, check out the 20 best affordable hemp shirts, tops, and Tees. 
Outfits with a Lovely Blazer
When paired with a purple skirt, a well-fitted blazer can transform your outfit into a smart and professional look. It adds a layer of structure and polish, making it suitable for office settings or business meetings.
Choose a blazer with attention to tailoring and details like lapels and buttons to emphasize your authority and style. A blazer can easily transition from day to evening by changing accessories and footwear.
Check out the 12 best recycled blazers for an elegant outfit. 
In conclusion, the purple skirt is an incredibly versatile and stylish wardrobe piece that offers countless opportunities for creativity and self-expression.
By pairing it with a variety of tops, accessories, and footwear, you can craft a range of looks suitable for any occasion, from casual outings to formal events.
The key to mastering your style with the purple skirt is to experiment, mix and match, and embrace the art of fashion. So, go ahead and have fun creating your own unique and stunning ensembles – your fashion journey awaits!
Was this article helpful to you? Please tell us what you liked or didn't like in the comments below.
About the Author: Gohar Davtyan