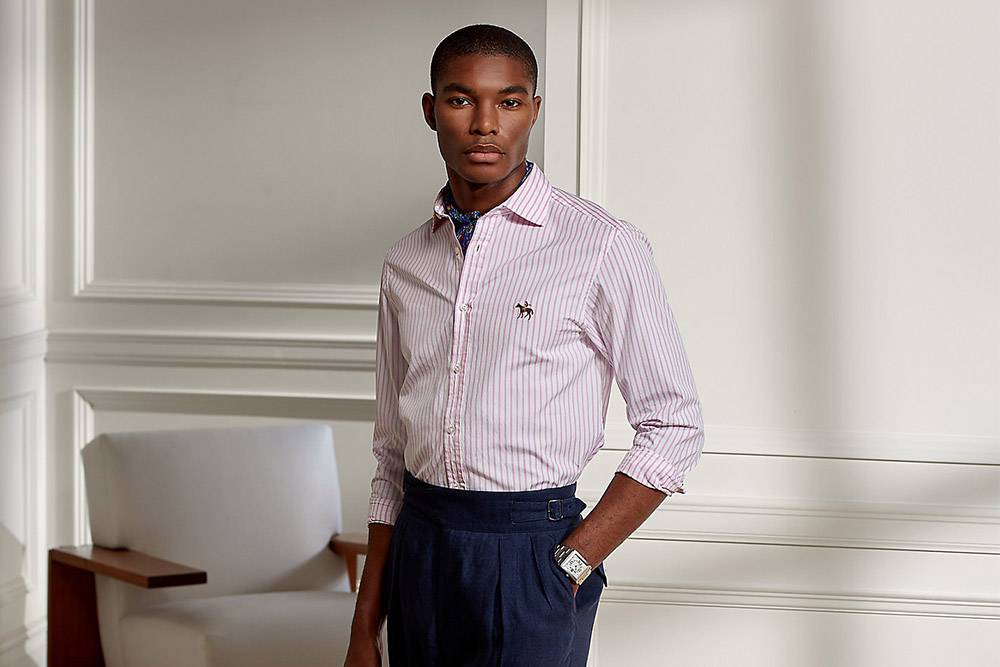 Purple Label is an American apparel brand that creates timeless and elegant luxury fashion, bags, shoes, and accessories. Its releases effortless clothing collections for men, including sportswear in airy fabrications and sun-soaked hues.

Ralph Lauren owns Purple Label and other global luxury brands, including Club Monaco, Double RL, Polo Ralph Lauren, Ralph Lauren Childrenswear, Denim & Supply Ralph Lauren, RL Home Collections, and RL Fragrances.

The company believes in global citizenship and sustainability. It rethinks its impact on the environment and society by utilizing creativity, the power of design, and innovative technologies to drive change.

The Ralph Lauren Corporate Foundation has committed USD 10 million to help communities around the world. It also donates 1.5 million clothing products to frontline workers and families in need worldwide.
Panaprium is proud to be 100% independent, free of any influence, and not sponsored. We carefully handpick products from brands we trust. Thank you so much for buying something through our link, as we may earn a commission that supports us.

Sustainability Rating: 7/10
Rating FAQ

Category: Clothing, bags, shoes, accessories

For: Men

Type: Basics, denim, swimwear, sportswear, loungewear, outerwear, knitwear, sneakers, boots, flats

Style: Chic, classic

Quality: High

Price: $$$

Sizes: 2XS-XL, 0-16 (US), 4-20 (UK), 32-48 (EU), 4-20 (AU)

Fabrics: Cotton, linen, hemp, ramie, jute, lyocell, modal, viscose, acetate, cupro, polyester, nylon, spandex, acrylic, polyethylene, polypropylene, polyurethane, rubber, leather, wool, silk, down

100% Organic: No

100% Vegan: No

Ethical & Fair: Yes

Recycling: Yes

Producing country: Cambodia, China, France, Germany, India, Indonesia, Israel, Italy, Japan, Korea, Mexico, Peru, Poland, Romania, Spain, Sri Lanka, Switzerland, Taiwan, Thailand, Tunisia, Turkey, United Kingdom, United States, Vietnam

Certifications: BCI, GOTS, OCS, GRS, RCS, FSC, RWS, TDS, ZDHC

Sustainability Practices
"We believe that business has a critical role to play in creating an equitable and sustainable future. In 2019, we launched Design the Change, our strategy to accelerate our work across citizenship and sustainability.

Design the change is anchored in commitments that will drive progress across our three focus areas: Creating Timeless Style, Protecting the Environment, and Championing Better Lives."


Purple Label is taking action to create a culture of belonging where everyone can be their best selves and succeed, both in the workplace and its communities.

It is taking steps to mitigate its environmental footprint and water use, wastewater discharge, hazardous and non-hazardous waste management, air emissions, and chemicals.

Purple Label commits to integrating zero waste principles across its business. It aims to divert waste from landfills through recycling and upcycling, reducing waste at its source, and implementing other best practices.

Its retail stores continue to recycle to divert waste from landfill. 100% of its stores in North America continue to have recycling programs.

Purple Label is also developing a reusable shipping package pilot as part of its effort to reduce shipping packaging waste. The box contains sustainably sourced materials such as recycled cardboard and responsible wood from FSC certified sustainable forests.

Purple Label continues to increase the proportion of sustainable materials it sources. It supports innovation to make more responsible and sustainable products.

Purple Label uses a medium proportion of natural and sustainable materials, such as organic cotton, linen, hemp, ramie, and jute. It also uses recycled fabrics, such as regenerated nylon and recycled polyester.

Its organic fabrics are GOTS or OCS certified, a widely recognized certification standard that guarantees sustainable processes, environmentally friendly, and socially responsible conditions.

Purple Label also uses semi-synthetic regenerated fibers, such as lyocell, modal, viscose, cupro, and acetate, made from renewable materials extracted from wood pulp from FSC certified sustainable forests.

However, many of the fabrics it uses are still highly polluting synthetic petroleum-based fibers, such as polyester, nylon, spandex, acrylic, polyethylene, polypropylene, polyurethane.

As part of Ralph Lauren Corporation, Purple Label has Operating Guidelines and Fair Treatment Policies that apply to all its suppliers and subcontractors. It measures performance and compliance with its work practices.

Purple Label monitors compliance with its Operating Standards through independent third-party audits together with audits conducted by its in-house team and assessments from Better Work.

The fashion brand is working with suppliers to develop transparent human resource systems for wages in its factories. It also undertakes several wage studies in its key sourcing regions to deepen its understanding of workers' pay levels and needs.

Purple Label doesn't use any exotic animal skin, or hair, fur, angora. But it uses leather, wool, silk, and down feathers to manufacture many of its products.

These animal-derived materials are cruel and unethical. They also harm the environment by producing greenhouse gases and wastes. More sustainable alternatives exist.

Sustainability Goals
Purple Label signed the "We Are Still In" declaration and the UN Fashion Industry Charter for Climate Action. It pledges to limit its emissions in line with the Paris Agreement goals.

Purple Label is also a G7 Fashion Pact member, a group of fashion leaders working to stop global warming, restore biodiversity, and protect the oceans.

It aims to reduce its carbon emissions across its global supply chain by 30% by 2030.

By 2025, 100% of its polyester will be recycled polyester. And 100% of its viscose will be sustainably sourced and verified through CanopyStyle audits.

Purple Label aims to source 100% sustainable cotton and achieve 100% sustainable input chemistry by enabling Zero Discharge of Hazardous Chemicals (ZDHC) to phase out hazardous chemicals by 2025.

The fashion corporation plans 100% renewable electricity for owned and operated offices, distribution centers, and stores by 2025.

Purple Label wants to reach zero waste to landfill across its distribution centers by 2023.

100% of its packaging material will be recyclable, reusable, or sustainably sourced by 2025.

Purple Label also aims to reduce its total water use across its operations and value chain by 20% or more by 2025, compared to the 2020 baseline.

The fashion brand coordinates with factories to improve worker well-being and career progression through its Better Life programs. It aims to make these empowerment and life-skills programs available to 250,000 workers across its supply chain by 2030.

Buy Here
Discover Purple Label's sustainable collections at ralphlauren.com.


Reviews And Experiences With Purple Label
Have you had (good) experiences with shopping at or the products of Purple Label? Then leave us your rating below.