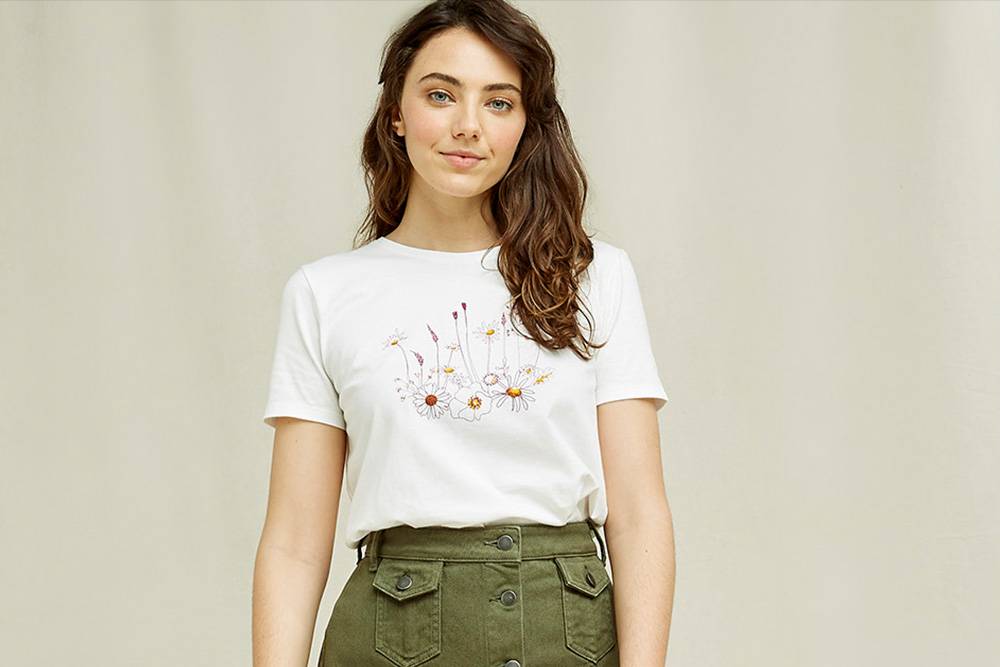 People Tree is an online garment retailer making clothes from environmentally-friendly materials, including Fair Trade, certified organic cotton.

British social entrepreneur and author Safia Minney founded People Tree in 1991 in Tokyo to provide conscious consumers with Fair Trade lifestyle clothing and accessories.

People Tree launched its first collection in 1997 after years of struggles and investments in labor-intensive processes. People Tree first expanded to England in 1999.

In 2013, People Tree became the first fashion company to be awarded the World Fair Trade Organisation (WFTO) product label, guaranteeing dedication, and compliance with the principles of Fair Trade.

Today, People Tree manufactures and markets fashion products sold in more than 500 stores around the world, including ASOS and Amazon.

The Fair Trade clothing company offers a wide range of organic basics for women, including jumpsuits, trousers, dresses, skirts, knitwear, denim, and more. It also sells sleepwear, activewear, accessories, and jewelry.

People Tree aims to set an example with a Fair Trade business model based on partnership, people-centered values, and sustainability. It promotes environmentally and socially responsible initiatives that create sustainable solutions.
Panaprium is proud to be 100% independent, free of any influence, and not sponsored. We carefully handpick products from brands we trust. Thank you so much for buying something through our link, as we may earn a commission that supports us.

Sustainability Rating: 8/10
Rating FAQ

Category: Clothing, accessories, jewelry

For: Women

Type: Basics, dresses, denim, sportswear, sleepwear, underwear

Style: Casual, classic

Quality: Medium

Price: $$

Sizes: XS-XL, 2-14 (US), 6-18 (UK), 34-46 (EU), 8-20 (AU)

Fabrics: Cotton, linen, lyocell, nylon, spandex, wool

100% Organic: No

100% Vegan: No

Ethical & Fair: Yes

Recycling: Yes

Producing country: Italy, Portugal, Turkey, Kenya, Bangladesh, India, Nepal

Certifications: GOTS, OE 100, Oeko-Tex, Fair Trade, Fair Wear, PETA, ISO 9001

Sustainability Practices



"People Tree is a pioneer of Fair Trade fashion and is a licensee of FAIRTRADE certification. It means that products that have the Fair Trade mark are fair trade certified throughout the whole supply chain. Through close partnerships, we work to the highest Fair Trade standards on projects to support our producers. It includes hand skills training, the development of natural and low-impact dyes, and organic cotton farming."


People Tree is committed to working with disadvantaged farmers and workers to promote fairer trading conditions. It helps combat poverty and employs people in underserved communities around the world.

People Tree is a social business that initiates change. It offers reusable packaging to donate some of your unwanted clothes and household items to charity.

The clothing label undertakes a regular social review to improve its certifications, materials, partners, environmental impact, and transparency.

It works alongside the People Tree Foundation to support farmers and artisans, environmental initiatives, raise awareness, develop fair and sustainable fashion.

People Tree uses a large proportion of organically grown raw materials and natural textiles such as Fair Trade organic cotton and linen.

Its organic fabrics are GOTS certified, a leading, widely recognized certification standard that guarantees sustainable processes, environmentally friendly, and socially responsible conditions.

People Tree also uses some regenerated cellulosic fibers such as Tencel lyocell, made using a renewable resource, wood pulp coming from FSC certified and sustainably managed forests.

The apparel brand makes some of its clothes with recycled synthetic materials such as recycled nylon.

People Tree manufactures its products in many facilities around the world. Its garment workers make clothing in clean, safe environments following the highest social and environmental standards.

The Fair Trade label is committed to transparent and traceable supply chains. It strives to provide opportunities for economically disadvantaged farmers, artisans, and producer partners.

People Tree maintains its commitment to Fair Trade through peer reviews and trusted independent audits from the Fair Wear Foundation, GOTS, and WFTO.

It's committed to the Fair Trade certification standards to make quality, sustainable, organic cotton clothing and to support an ethical, sustainable global trade model that benefits workers, consumers, and the Earth.

People Tree doesn't use any exotic animal skin, hair, fur, angora, leather, silk, or down feathers. But it uses wool to make some of its clothes.

Wool production has a disastrous impact on the environment. The farming and processing of wool produce greenhouse gases and wastes. Clothing made of wool isn't ethical or sustainable.

Wool fiber is the fifth most harmful textile material to the environment, worse than synthetic fibers such as polyester, acrylic, viscose rayon, elastane, and nylon.

Sustainability Goals
People Tree doesn't show any measurement of its water usage, pollution, greenhouse gas emissions, and waste across its supply chain. It doesn't have any clear sustainability goal, science-based target, or timeline to improve in the future either.

Buy Here
Discover People Tree sustainable collections at peopletree.co.uk.
Reviews And Experiences With People Tree
Have you had (good) experiences with shopping at or the products of People Tree? Then leave us your rating below.