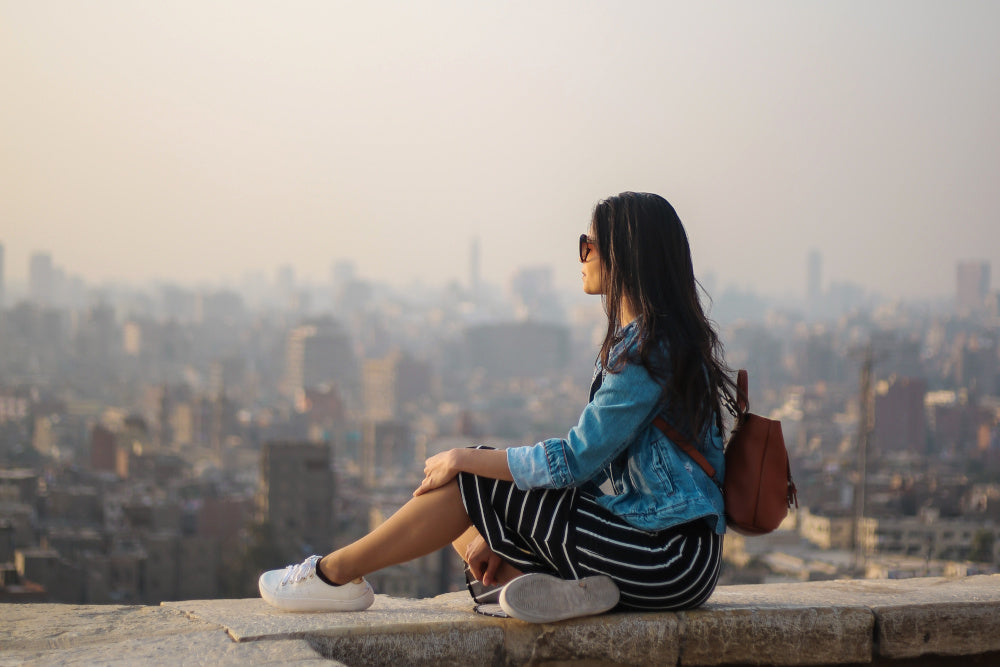 Best Tips On How To Dress When Visiting The Pantheon
The Pantheon is a catholic church and typically requires dressing modestly and respectfully due to its status as a religious and cultural site. Cover your shoulders and knees when visiting the Pantheon. This dress code applies to both men and women.

Blend comfort, style, and cultural respect in a way that allows you to fully immerse yourself in the awe-inspiring ambiance of this ancient masterpiece. Wear non-restrictive jeans, airy wide-leg pants, skirts, and dresses. For footwear, choose comfortable shoes such as sneakers, espadrilles, sandals, or ankle boots.

In this article, we'll guide you through the art of dressing comfortably and beautifully while following the dress code guidelines to visit the Pantheon.
Panaprium is proud to be 100% independent, free of any influence, and not sponsored. We carefully handpick products from brands we trust. Thank you so much for buying something through our link, as we may earn a commission that supports us.
What To Avoid
Sleeveless tops or dresses with thin straps may not be appropriate unless you have a shawl or scarf to cover your shoulders.

Avoid wearing dresses or tops with low-cut necklines that reveal a lot of cleavage and belly.

Avoid mini skirts and shorts. Sheer or see-through clothing may not be suitable as well.

Avoid wearing baggy clothing, ripped jeans, and t-shirts with strong or offensive slogans.
Wear A Midi Skirt
Midi skirt is one of the most comfortable and appropriate garments to visit Rome's religious historical sites. Midi skirts cover the knees and are particularly suitable during the hot summer months.

Craft timeless, fashionable, and earth-friendly outfits with these versatile midi skirts. Pair it with a basic t-shirt for a fresh and stylish look. Complete the outfit with sneakers or sandals.

A variation to this outfit is a maxi skirt with a basic tee. Maxi skirts come in many styles and patterns, so you can find one that suits your personal style and adds a fashionable element to your sightseeing attire.
Get inspired by our selection of eco-friendly maxi skirts.
Wide-leg Pants
Wide-leg pants are comfortable, chic, and versatile. Wear them with a nice blouse or a shirt for a dressier look, or put on a tee for a more relaxed appearance.
Opt for cotton or linen during the summer and jeans or wide-legged corduroys for the cooler months. Check out our selection of the best sustainable wide-leg pants and jeans here.

Wide-leg pants look great with spaghetti straps and tank tops. However, if you choose this combination, remember to have a large scarf or a light jacket to cover your shoulders when entering the Pantheon.
Jeans And A Shirt
The combination of jeans and a shirt is classic and timeless. It is suitable for numerous occasions because it is modest and neat. You can dress it up or down, depending on your preferences. For example, wear a combination of jeans, a shirt, and a blazer with nice loafers for a classy and sophisticated look. Or pair sneakers and a denim jacket for a relaxed everyday look.
If you are looking for ethically made Fair Trade jeans, read our article here.
Kimono Dress
Craft a unique and stylish outfit with a kimono dress. Italy welcomes and respects cultures and traditions from all over the world. While a kimono dress is not a traditional garment in Italy, it makes a statement because of its beautiful and culturally rich aspect.

Choose a kimono dress that is not overly revealing or flashy. Opt for a style that covers your shoulders and knees, or wear a plain top or tank and leggings beneath the kimono dress, ensuring that you are adequately covered.
Lightweight Jacket
Wearing a lightweight jacket even during the summer in Rome can be very handy. You may need to cover your shoulders and cleavage when visiting the Pantheon.

You will also take public transport, visit shops and enter restaurants which sometimes have strong air-conditioning. Wearing a light jacket will save you from uncomfortable changes in temperature.
Find find affordable and sustainable denim jackets here.

For a semi-casual appearance, consider wearing a blazer. Blazers are incredibly versatile. Wear them with jeans, skirts, jumpsuits, and cargo pants.
Pretty Dress
Wear a knee-length dress to visit the Pantheon. Ensure that your dress provides adequate shoulder coverage. If you are wearing a sleeveless dress, carry a shawl or scarf to cover your shoulders while inside.
Get some tips on how to style a midi dress from our 15 great outfit ideas.

Wear comfortable and practical shoes suitable for walking, as you will likely be exploring the area around the Pantheon.
Denim Dungarees
Create a charming and youthful look with denim dungarees and a nice tee underneath. Dungarees are comfortable and suitable for city sightseeing during the mid-season when the weather is neither hot nor cold.

Pick long white dungarees and pair them with a T-shirt and comfortable shoes. There is something very chic and effortless about white denim dungarees, particularly when paired with stripes and a pair of sandals. 
Shirt With a Tank Top
We all know that summers in Rome are hot! So, it is hard to imagine yourself exploring religious sites such as the Pantheon in a hot summer covered from top to toe.

Here is a hint for you! Don't give up your favorite tank top or spaghetti straps. You can wear them under a shirt. This combo is chic and pretty. Plus, you can take on and off the shirt whenever you need. Tie a knot in the front or tuck it in your pants or skirt for a more polished look.
Discover our collection of the top-quality and ethically made men's and women's tank tops.
Maxi Dress
A stylish and flowy maxi dress is perfect for visiting the Pantheon during the summer. Choose a modest and conservative style with short sleeves. If you prefer maxi dresses with straps, consider wearing a T-shirt or top that covers your shoulders.
Faux Leather Pants
Infuse a little bit of rock-and-roll into your look with faux leather pants or leggings. They have been a fashion staple for many years and can be versatile pieces to visit the Pantheon.

Pair black faux leather pants with a white button-down shirt and black ankle boots for a classic, sophisticated look. Or create an all-black or all-brown outfit by matching your leather pants with a top and shoes in the same color. This combination makes a sleek and sophisticated appearance.
Check out the top luxurious and affordable faux leather pants made under high social and environmental standards.
Mini Skirt With Leggings
Mini skirts are not allowed in the religious sites in Rome. But you can surely wear them in combination with leggings. This duo is a practical choice for those who love wearing a mini skirt and want to enjoy it while visiting the Pantheon.

Opt for opaque leggings in a solid color that complements your mini skirt. Black leggings are versatile choices that look great with various skirt colors and patterns.
Cargo Pants
Cargo pants can be a practical choice for city sightseeing and visiting the Pantheon because they offer more storage space for essentials like a phone, wallet, map, or snacks.

Cargo pants come in various styles, from casual to more tailored designs. Depending on the cut and color, you can dress them up or down to suit different settings, whether you are visiting the Pantheon, walking through parks, or dining at restaurants.
Choose your favorite model in our selection for the best affordable and sustainable cargo pants.
Trendy Coat
Coats and trench coats elevate every outfit. They are both versatile outwear, offering warmth and style for various situations.

Craft a casual outfit to visit the Pantheon by pairing a coat or trench coat with jeans or casual trousers. Add a simple T-shirt or sweater, and complete the look with sneakers or ankle boots.
Was this article helpful to you? Please tell us what you liked or didn't like in the comments below.
About the Author: Iana Jekova