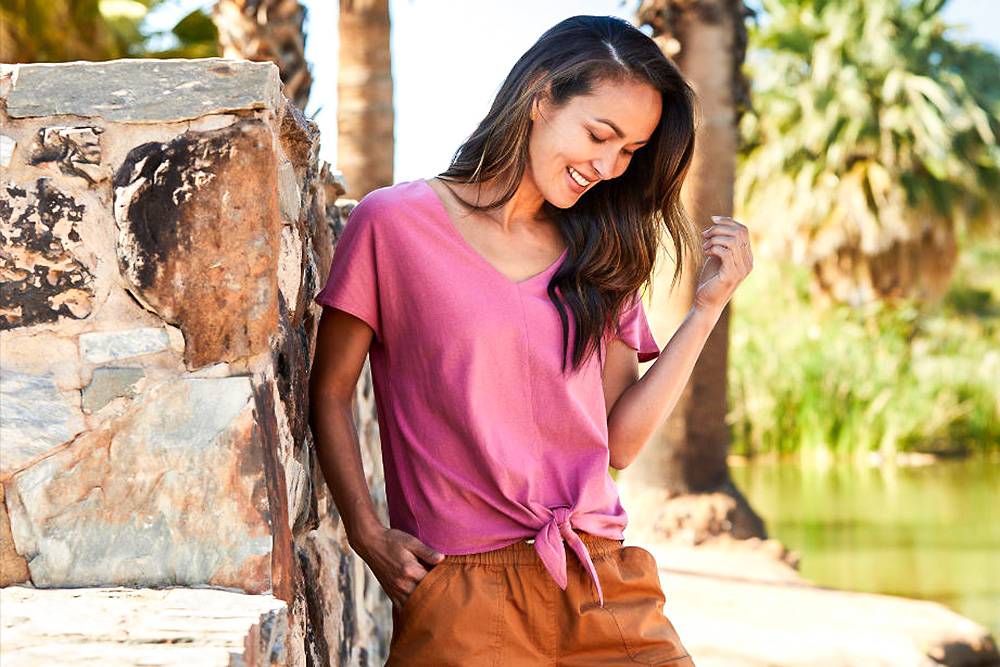 PACT is a leading sustainable fashion brand using organic fabrics and Fair Trade factories to design stylish essential clothing. It creates ethical apparel for women, men, kids, and babies.

PACT offers a change you can wear, organic cotton clothing, and home goods, sustainably and ethically made. It strives to inspire change by doing better and being better.

PACT promotes organic clothing for everyday use. It designs clothes that are affordable, practical, comfortable, and easy. It offers organic alternatives that fit the lifestyle of conscious consumers because doing good should be easy.

Jeff Denby and Jason Kibbey created PACT in 2011 after meeting at business school at the University of California, Berkeley.

Since then, the American label has been on a mission to make individuals to not only care about what they put in their bodies but also what they put on their bodies.

It aims to design the most ethical fashion products on the market, create change, and spark a movement. The brand believes in the coexistence between style and sustainability, simplicity, and doing more with less.
Panaprium is proud to be 100% independent, free of any influence, and not sponsored. We carefully handpick products from brands we trust. Thank you so much for buying something through our link, as we may earn a commission that supports us.

Sustainability Rating: 8/10
Rating FAQ

Category: Clothing

For: Women, men, children

Type: Basics, loungewear, dresses, sleepwear, underwear, maternity

Style: Casual, classic

Quality: Medium

Price: $

Sizes: XS-2XL, 4-14 (US), 6-16 (UK), 34-46 (EU), 8-18 (AU)

Fabrics: Cotton, linen, hemp, modal, polyester, nylon, spandex

100% Organic: No

100% Vegan: No

Ethical & Fair: Yes

Recycling: Yes

Producing country: Kolkata, India

Certifications: OCS, GOTS, Fair Trade

Sustainability Practices



"We do organic. It's all we've ever known and it is what separates us from the trend chasers and the half-hearted. Our authenticity allows us to challenge the stereotypes of organic -- it's too expensive, it's only important when it comes to food, it's only for environmental activists. Wrong - it's for everyone -- all day, every day -- from work to travel to lazy Sunday mornings in bed and even those crazy on-the-go days."


PACT is aware that the fashion industry is a top environmental polluter and wants to change that. It uses raw materials and manufacturing processes that save water, and avoid toxic dyes and chemicals.

The clothing brand also ships its products in recycled, biodegradable, and compostable packaging. It uses carbon-neutral shipping and has a Clothing Donation Program in place to deliver your used clothes to inspiring nonprofits.

PACT uses a high proportion of organically grown raw materials and natural textiles such as organic cotton and linen.

Its organic fabrics are GOTS certified, a leading, widely recognized certification standard that guarantees sustainable processes, environmentally friendly, and socially responsible conditions.

It also uses man-made regenerated cellulosic fibers such as modal, made from a renewable resource, wood pulp.

PACT also makes some of its clothes with recycled synthetic materials such as recycled polyester. But it uses some virgin nylon and spandex made from crude oil as well.

PACT manufactures most of its products in the world's first Fair Trade certified factory in Kolkata, India. Its garment factory workers make clothing in clean, safe environments following the GOTS and Fair Trade standards.

PACT is committed to the Fair Trade certification standards to make quality, sustainable, organic cotton clothing and to support an ethical, sustainable global trade model that benefits workers, consumers, and the Earth.

PACT doesn't use any exotic animal skin, hair, fur, angora, leather, silk, or down feathers but it uses wool to make some of its clothes.

Wool production has a disastrous impact on the environment. The farming and processing of wool produce greenhouse gases and wastes. Wool isn't an ethical or sustainable fiber.

It's the fifth most harmful textile material to the environment, worse than synthetic fibers such as polyester, acrylic, viscose rayon, elastane, and nylon.

Sustainability Goals
PACT doesn't show any measurement of its water usage, pollution, greenhouse gas emissions, and waste across its supply chain. It doesn't have any clear sustainability goal, science-based target, or timeline to improve in the future either.

Buy Here
Discover PACT sustainable collections at amazon.com and at wearpact.com.
Reviews And Experiences With PACT
Have you had (good) experiences with shopping at or the products of PACT? Then leave us your rating below.