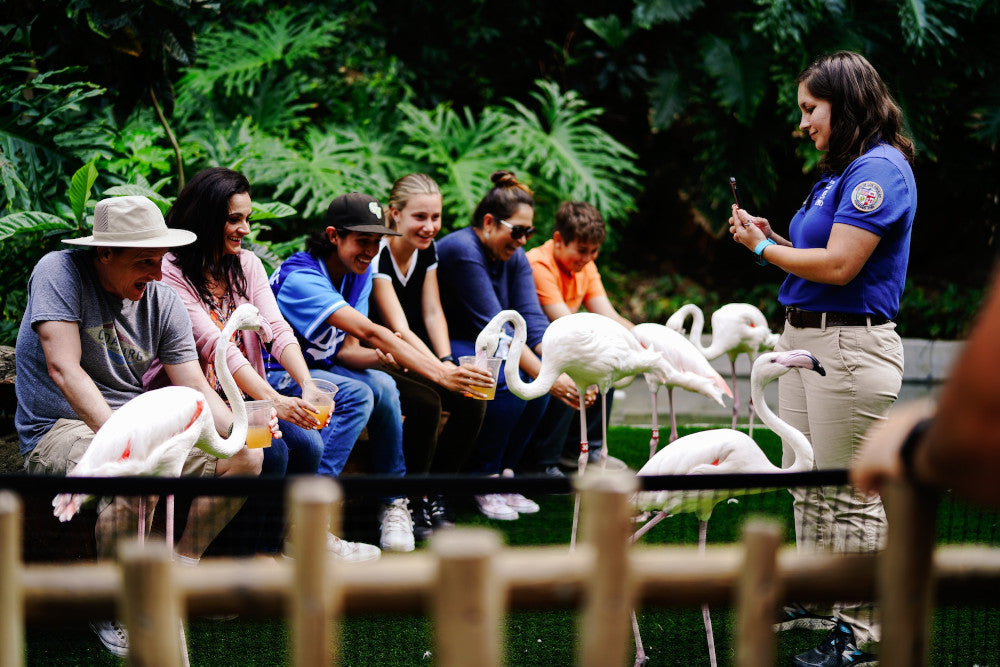 10 Best Practical Outfits Zookeepers Wear
Zookeepers and zoologists often wear a "zoo uniform" of a branded polo shirt and khaki shorts paired with sturdy work boots and a handy belt to hold tools. This practical outfit allows the zoo visitors to easily identify a zookeeper in a crowded zoo. Plus, the shorts and short-sleeved top allow zookeepers to move easily and interact with many messy animals.
Zookeepers also use a lot of protective clothing such as thick rubber gloves, face shields, or even rubber-coated coveralls when working in wet environments like a penguin enclosure. When zookeepers work with human customers instead, they tend to dress up a bit more in button-up shirts and khakis.
Panaprium is proud to be 100% independent, free of any influence, and not sponsored. We carefully handpick products from brands we trust. Thank you so much for buying something through our link, as we may earn a commission that supports us.
Khaki Shorts and Polo 
Most zookeepers wear an official uniform consisting of a polo shirt sporting the zoo logo, khaki or cargo shorts, and practical items like a belt with loops for gear and keys. In colder seasons zookeepers will often wear a branded weatherproof jacket over their shirt, and khakis instead of shorts.
This practical outfit makes it easy for visitors to find a zookeeper, and to respect the authority of what a zookeeper says during a lecture or presentation at the zoo. Besides easily branding zookeepers as zoo staff, the practical outfit also provides ease of movement. Plus, a polo shirt and khaki shorts allow easy washing, which matters a lot when you work with animals all day!
Looking for comfortable khakis to help you dress like a practical, comfortable zookeeper? Check out the 15 best affordable chinos and khakis here.
Lab Coat
Some zookeepers and zoologists also wear lab coats and protective lab equipment during their daily work at a zoo. Taking care of animals in a zoo requires all kinds of skills, including the ability to run tests to find out if an animal is healthy. In this kind of setting, white lab coats, face masks, rubber gloves, and other protective garments help a zookeeper do their job.
When working in a lab, a zookeeper will often wear a button shirt and khakis rather than the polo shirt and shorts worn while outdoors with animals. You can find the 15 best ethical button-up shirts to check out here.
Work Boots or Waders
No matter what kind of animal they care for most zookeepers wear special boots like sturdy work boots or hiking boots. This keeps the zookeepers safe and agile in sometimes risky environments, like a tiger's cage! 
When working in a wet environment, like feeding penguins or checking on a polar bear, a zookeeper will often wear tall wading boots that look like extra-long rainboots.
The trouble with finding good, sturdy boots these days is that you want to make sure your footwear comes from an ethical source. Check out this list of the 20 best affordable and sustainable boot brands as a good starting point in your search.
Protective Gloves
Another item many zookeepers wear as needed is various types of protective gloves. Zookeepers who work with birds often wear thick, protective gauntlets to avoid injury from beaks and talons. Zookeepers providing medical care or inspections for animals often wear disposable latex gloves to avoid any cross-contamination from one animal to another.
Of course, in colder seasons, zookeepers will also wear warm gloves just to keep their hands comfortable. You can find the 11 best affordable vegan gloves you need this winter here.
Coveralls
Sometimes zookeepers working in wet or messy environments will pull on a big, puffy pair of rubbery coveralls over their outfit for additional protection. In zoo enclosures that include water, zookeepers often wear the kind of waders with suspenders that you might see old-timey fishermen wear, too.
When working in wet settings, zookeepers often pack extra pairs of socks just in case, so they can change back into work boots and a dry pair of socks later in the day. You can find the 20 best affordable, sustainable, organic socks here.
Raincoat
Zookeepers don't get to take the day off when it rains, so their uniform often includes a protective rain jacket for bad weather. After all, the elephants, lions, and tigers still need to eat even in a thunderstorm!
You can find the 20 best stylish and eco-friendly rain jackets of 2023 here.
Headband or Hat
Because they spend a lot of time outside under the sun, most zookeepers will wear a hat, often embroidered with the zoo logo, during their daily tasks. In some cases, zookeepers will wear an 80s-style workout headband to keep their hair back out of the way when dealing with challenging animals, too.
Most often, zookeepers wear a simple ball cap, using the brim to provide a little bit of shade for their eyes. You can find the 15 best affordable and sustainable hats and beanies here.
Underwater Gear
Some zookeepers spend part of their day underwater, checking on animals like beavers, dolphins, or polar bears. In this case, the zookeeper needs specialized equipment like scuba gear, a wet suit, or a diving suit.
Of course, finding sustainable underwater apparel can prove challenging. To get started, take a look at this comprehensive list of 80 affordable ad sustainable swimwear brands.
Face Shield, Mask, or Respirator
When taking care of sick animals, zookeepers often wear face protection like a face shield, mask, or even a respirator. The face shield provides simple protection from an animal lashing out while injured or in pain. However, a lot of the time zookeepers actually wear face coverings to protect the animals, not themselves. This is because some illnesses can actually transfer from humans to animals, and vice versa!
You can find the 20 best affordable and sustainable face masks to consider here.
Button Up and Khakis
Finally, zookeepers often dress up a little when speaking in front of people rather than tending to animals. They typically still wear a branded shirt that sports the zoo logo but they may wear a button-up shirt rather than a polo, and slacks or khakis instead of shorts.
Both male and female zookeepers often wear sturdy belts along with this outfit. You can find the 10 best affordable ethical, vegan belts for men here.
Was this article helpful to you? Please tell us what you liked or didn't like in the comments below.
About the Author: Hannah Cobb