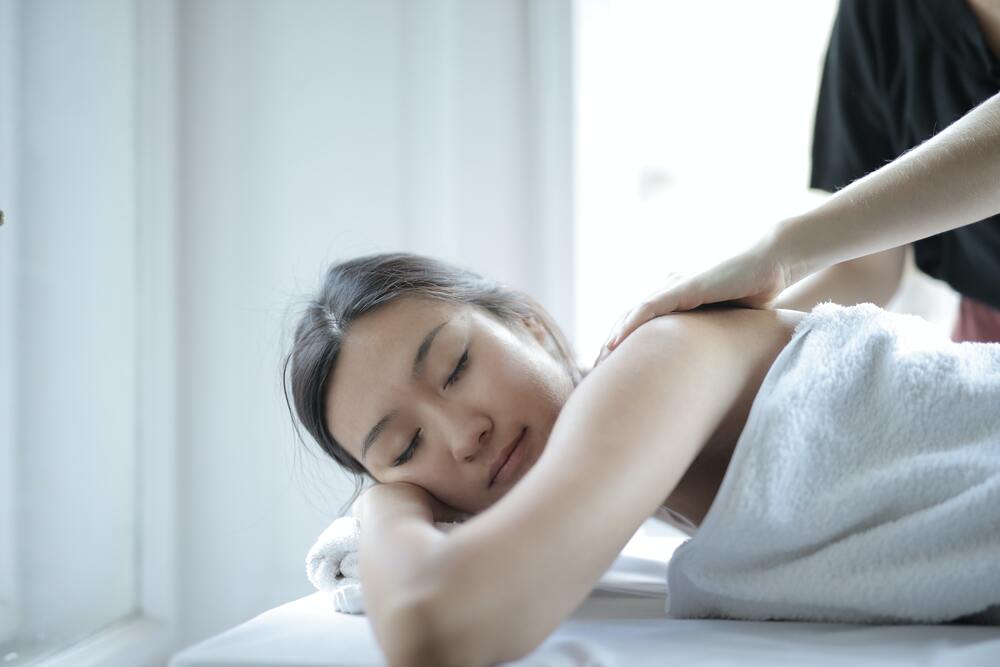 15 Stunning Outfits to Wear Before/During a Massage
Planning for a massage after a busy week is exciting and overwhelming at the same time. While you are happy you will finally have a relaxing moment; you may also wonder what you wear to make the whole experience more enjoyable. Well, most massage therapists offer robes and footwear to wear during the process. However, you should also wear light clothes which are easy to remove.
Ideally, you should avoid jeans, denim, and other heavy clothes unless it's winter and you still want to remain warm. In this guide, we will discuss the top outfit ideas on what to wear for your next massage therapy. We will also discuss style tips for each outfit and the accessories you can combine to stay comfortable and stylish. Read on.
Panaprium is proud to be 100% independent, free of any influence, and not sponsored. We carefully handpick products from brands we trust. Thank you so much for buying something through our link, as we may earn a commission that supports us.
Maxi dress and strappy sandals
A maxi dress is an incredible outfit for a massage and spa session, especially if you still need to go out for dinner or hang out with your loved ones. Unlike skirts and most clothes, maxi dresses are pretty comfortable and flexible. Put on your favorite maxi dress, whether flowery or plain-colored.
Pair up your maxi dress with simple saddles, preferably neutral colors. Wear a hat if its summer and you want to protect yourself while staying stylish. If possible, get a polyester or cotton maxi dress for maximum breathability. Ensure you are comfortable in the dress, and tie a belt if the dress is big around the waist.
Take a look at our 15 best affordable maxi dresses made in the USA.
Matching sweatsuit
Do you like sweatsuits? If yes, wearing your favorite sweatsuit to a massage session is a great idea. Sweatsuits are very comfortable, and you can quickly drive and even go out shopping while wearing them. A cotton sweatsuit is the best for a massage, especially in summer. You can pick any color, whether neutral or bright colors.
As for the shoes, you can choose between sandals, rubber shoes, and sneakers. You don't need many accessories when wearing a sweatsuit because it covers most body parts. However, you can wear your watch and a wristband. A matching sweat suit is typical attire for both males and females. Ensure the outfit is well fitting because you need an airy, flexible outfit for a massage session.
Here are the best sustainable tracksuits and sweatsuits you need to look fashionable and feel comfortable before and after a massage session.
Shirt dress
Massage therapists want their clients to be comfortable during the sessions, and a shirt dress can give the desired comfort. Depending on the weather, your shirt dress could be short or long-sleeved, but it should be buttoned for easy removal in case your massage attendant wants you to remove it.
You can wear your short dress alone, or wear it with skin-tight or tight trousers. Similarly, you can throw in a stylish blazer, a hat, and a pair of sneakers. Your shirt dress could be of any color, but a minimalist appearance would be the best for the occasion. You don't need many accessories for a short dress, but you can wear your favorite matching necklace, wristband, and earrings.
Camisole and loose pants
Wear loose pants and a camisole for your massage day if you like trousers. Loose pants are comfortable at the waist and don't interfere with your movement. A camisole is the best pairing outfit for your pants, but you can still try other options like a fitting tee or a crop top. If it's cold, throw on a blazer or a hand-knitted cardigan to remain stylish while keeping warm.
Your loose pants could be made of any material, including cotton and satin. A neutral color is the best for the pants, but you can consider patterned/flowered if it's summer and you want to visit the beach with friends after the session. Oversized pants go well with almost all types of shoes except boots.
As for men, you can style your baggy trouser with a baggy tee or a button-down shirt. You can wear a hat and complement the look with sneakers.
Check out our selection of the best organic cotton camisoles made under high social and environmental standards.
Floral sundress
Sundresses are common in summer because of their comfort and versatility. You can wear a floral sundress to your massage therapy if you like dresses. Your sundress can be made of any material, although silk, polyester, and cotton are the best for the occasion.
Both neutral and bright colors are okay because a massage therapy session is not formal. Just ensure that the dress fits you well and is not overly tight. If it's baggy, tie a neutral color belt to improve its appearance.
As for the shoes, a pair of sneakers would be the best for a knee-length sundress. However, you can wear sandals or boots if the dress is short. Don't hesitate to wear a blazer or a long cardigan if it's cold. Also, complement the look with a clutch bag for your clothing accessories.
Check out our selection of the best affordable sundresses made in the USA that every woman needs.
Leggings and Jacket
Leggings are not only great for gym sessions but for massage and spa sessions as well. A pair of leggings is quite comfortable and easy to remove if your massage attendant wants you to remove the clothing. Your leggings should be made of high-quality cotton material for comfort during the period. Also, pick leggings of a neutral color so that you can match them with any color.
Pair your leggings with a crop top, camisole, or vest. Ensure the tights are not excessively tight to avoid movement restrictions. Wear a skirt or a top dress if you are uncomfortable wearing a pair of leggings alone.
As for the shoes, you can wear sneakers, boots, or just flat shoes you are comfortable wearing. If it's cold, wear a blazer or a jacket to keep warm.`
Loose jumpsuit and a belt
Jumpsuits come in many styles and designs, and you can choose a loose, casual jumpsuit for your massage session. Most casual jumpsuits are made of cotton or denim and often tend to be patterned or floral. If you like jumpsuits, find a well-fitting or loose jumpsuit and wear a neutral-color belt.
You can add a well-fitting jacket or a blazer to complement your look. As for the shoes, a pair of strappy sandals, boots, or even sneakers will be great, provided they match your jumpsuit's overall color and design. If the jumpsuit is short-sleeved, wear a camisole inside and a neck scarf if it's cold and you don't want to wear a sweater.
Take a look at our top affordable and sustainable jumpsuits.
Midi dress
Midi dresses have become popular recently because of their comfort and versatility. You can wear your midi dress on almost every occasion, including attending a massage and spa occasion. If it's summer, wear a short-sleeved, light midi dress and a thick, long-sleeved one if it's winter. These dresses come in almost all types of materials, so you will have plenty of options to pick what you want.
The shoes you wear will highly depend on the design of your midi stress. Wear long black or brown boots if your midi dress is short. Similarly, pick a pair of sneakers or sandals if the dress is long. A belt is optional in this outfit, but you will need it when the dress is big. Wear a coat of the exact hem length, or a short jacket if your midi dress is long.
Shorts and Kimono Jacket
Would you like to wear a pair of shorts for your massage session?  If yes, how about you style it with a kimono jacket? This outfit is ideal for males and females, creating the perfect casual look when visiting a spa. Most kimono jackets are open and long, so they go well with shorts.
The shorts could be made of denim, jeans, or cotton. However, they should not be excessively tight to allow flexibility and improve comfort during the session. If your short is made of a neutral color, ensure your kimono jacket is floral or patterned for the best combination.
The ideal underwear for the kimono would be a crop top, camisole, or a well-fitting tee. Complete the look with boots, sneakers, sandals, or rubber shoes. You can wear a hat, sunshades and carry a hand clutch as your clothing accessories.
If you are looking for shorts, we've got you covered too. Check our denim shorts or these affordable and cute women's lounge shorts.
Pajamas
Do you have a petty pair of pajamas you can wear publicly? If so, you can wear your pajamas to your massage therapy session and have a fantastic time. This dress code is super comfy irrespective of whether you wear it indoors or outdoors. A long-sleeved pajama would be the best for the spa date, although you can still choose a short-sleeved one.
Not comfortable wearing your pajamas alone? Don't worry; lay over the pajama over tee shorts, preferably plain white. You can also wear a kimono on top of it, especially if the pajama is short-sleeved. Pajamas are pretty versatile for shoes; you can style them with any shoe type. Whether it's a leather boot or flat shoes, ensure they are comfortable and match your pajamas.
Here is our selection of the 25 best affordable and sustainable pajamas in 2023.
Oversized tee and shorts

Oversized tees are airy and offer the comfort you need when going to a massage. A classic way to pair your favorite oversized tee is to wear shorts to balance the tee's look. If you are uncomfortable with shorts, wear tight leggings.
A cotton tee is the best and can be plain or graphic. Any color is excellent, although white and gray are the best, as they easily pair up with any color of shorts and shoes. A blue or black pair of shorts will be the best match for your oversized tee, and you can complete the look with a pair of sneakers or boots.
Loose pants and tube top
Loose pants are comfortable, casual and bring a hip-hop look. If you like trousers, loose pants, a tube-up outfit will be perfect when visiting the spa for your massage session. Loose pants come in all styles, designs, and materials, so choosing what you desire should be easy.
You can pick between jeans, or cotton for the pants. However, you should ensure the pants are not excessively tight around the waist area for maximum comfortability and easy adjustment if your massage attendant asks you to. A tube top perfectly matches the pants, but you can wear a crop top, a well-fitting tee, or a button-down shirt that matches the pants.
The shoes you wear will depend on the length of the pants. If the pants hang, wear short boots or sneakers. Similarly, wear flat shoes or sandals if the pants are long.
Matching romper set
One good thing about massage is that you can attend your session in almost any outfit you are comfortable with, including rompers. A pair of matching rompers is an incredible outfit with which you can also go to other places after your massage date.
A plain color romper is the best, and you can pair it with black sneakers or flat shoes. You don't need a sweater or jacket unless it's winter or you will stay till late.
Here is our selection of the most adorable, comfortable, and affordable organic cotton rompers.
Sweater dress
Sweater dresses are versatile and fit well in all body types. They come in various materials, including cotton, wool, acrylic, and nylon, but most are hand knitted. If your sweater dress is short, pair it with leggings and wear boots or sneakers.
You don't need leggings if the dress is long, and a pair of flats, shoes, or sandals will be enough. Wear a belt around your waist if the sweater top is oversized, and feel free to add more accessories like necklaces and a hat.
Off- shoulder top and pants
Off-shoulder tops are popular because of their versatility. They are a perfect outfit for a massage because they are easy to remove and you can have the massage without removing them.
A pair of loose pants will be the perfect match for your off-shoulder top, although you can still wear shorts or a skirt. Feel free to choose any color or design for the top, provided it matches the pants well. Wear boots or sneakers to complete this dress code.
Final thoughts
It's normal to feel overwhelmed when choosing what to wear, especially if it's your first time going to the spa for a massage. Hopefully, the above outfit suggestions will give a better idea of what you can wear and remain flexible and stylish.
Was this article helpful to you? Please tell us what you liked or didn't like in the comments below.
About the Author: Dinushka Breaker Gunasekara