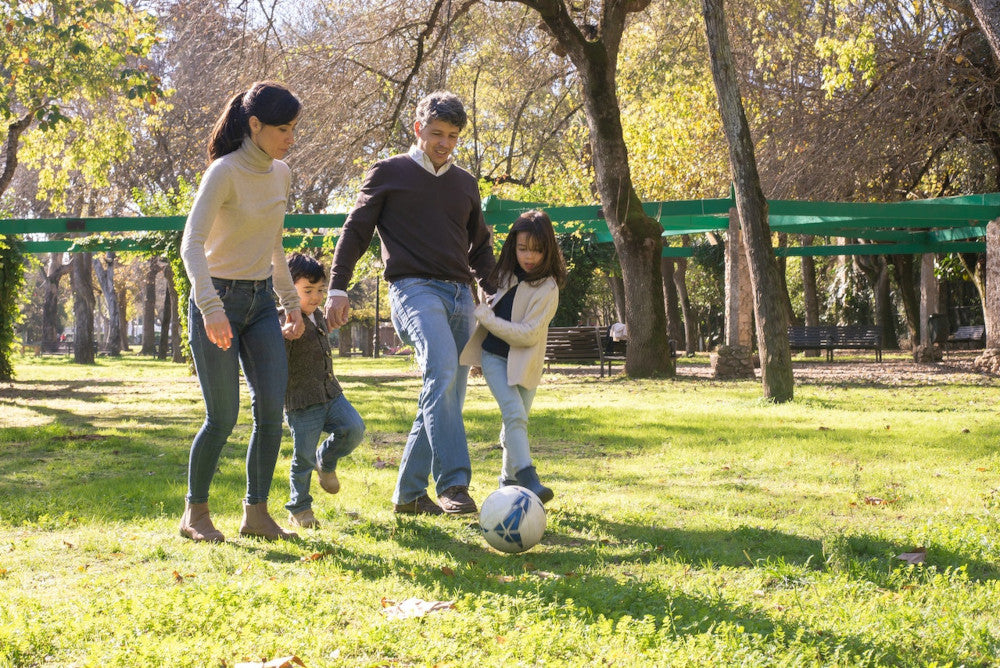 Top 10 Best Sporty and Comfortable Outfits for Soccer Moms
Soccer moms rock comfortable, semi-athletic outfits perfect for sitting on bleachers or a blanket by the field to cheer on their favorite team. These outfits feature garments like leggings, hoodies, t-shirts, denim shorts, and sneakers. Every item provides comfort and serves a practical purpose, without looking completely laid-back like loungewear.
The term "soccer mom" generally applies to any mom supporting a child in a sport, including sports like basketball and baseball. This can mean dressing for a rainy day game at an outdoor field, or for a hot and sweaty couple of hours on the bleachers in a gym.
Generally speaking, soccer moms also wear kid-friendly styles with loose, concealing cuts. A crop top and leggings paired with a jacket will look fine, but a soccer mom probably will not wear a more revealing outfit like a sports bra and leggings to her child's sports game. 
Panaprium is proud to be 100% independent, free of any influence, and not sponsored. We carefully handpick products from brands we trust. Thank you so much for buying something through our link, as we may earn a commission that supports us.
Comfortable Athleisure
Most soccer moms wear comfortable athleisure, which encompasses any clothing that would serve for both relaxing and exercising. This includes clothes like yoga pants, t-shirts, sneakers, or hoodies for a game or practice. In the summer, a perfect soccer mom outfit could also include a tank top and leggings, or even a crop top and shorts on a really warm day. 
Of course, eco-conscious moms also want to make sure their athleisure comes from an ethical source. You can learn about the top 10 sustainable fabrics for sportswear here.
Yoga Pants or Leggings
Yoga pants and leggings form one of the staples of the soccer mom's wardrobe. This is because these stretchy, comfy pants pair well with so many different athleisure styles, like a loose t-shirt and leggings, a crop top and yoga pants, or a hoodie and yoga pants. Plus, the stretchy pants keep you comfortable whether you have to sit cross-legged on a blanket beside a field or tuck your knees up in a crowded set of bleachers.
You can find the 15 best organic cotton leggings to check out here.
Shorts and T-Shirt
In the summer, a casual outfit of shorts and a t-shirt paired with sneakers works great for the soccer mom on the go. You can wear denim shorts and a tee for a slightly dressier look or comfy cotton shorts to keep you cool on really hot days.
Take a look at the 20 best affordable and sustainable denim shorts here.
Jeans and Sweater
In the fall, your favorite pair of jeans and a warm sweater make a perfect soccer mom outfit. You can pick any comfortable sweater style, like a trendy off-the-shoulder look, an oversized sweater, a sweater with cut-outs at the shoulders, or just your favorite chunky knit.
Take a look at this list of the ten best affordable, ethical, and vegan sweater brands.
Hoodie and Yoga Pants
Another classic soccer mom style for the fall and winter is a snuggly hoodie paired with yoga pants. Yes, this looks pretty casual, but you need to keep warm while waiting for your little soccer star to score a goal! To make your look a tad more sporty, try putting your hair up in a ponytail, or wearing a ball cap.
One great way to make this comfortable outfit even more special is to buy sustainable clothes that come from recycled sources. You can find the twelve best recycled hoodies and sweatshirts here.
Sneakers or Athletic Shoes
When it comes to soccer mom footwear, think practical. Running your five-year-old to the gym for his first basketball practice is not the time to pull out your stiletto heels or cute summer sandals. You may need to squelch through mud beside a football or soccer field or dash through a rain storm carrying your daughter's gym bag, lunch for the whole family, and a diaper bag! 
Busy soccer moms usually wear practical, comfortable athletic shoes like sneakers or running shoes. You can find the ten best ethical and affordable vegan running shoes to consider here.
Sunglasses
A good pair of sunglasses is another practical necessity for a soccer mom outfit. Even if your child plays an indoor sport, you will want your shades for driving to and from each game. For outside sports, were your sunglasses, and make sure you and your child wear a protective layer of sunscreen, too!
Plus, stylish sunglasses offer an easy way to glam up your sporty outfit a little. For example, take a look at the 15 best affordable and sustainable sunglasses here.
Ball Cap
A ball call over a messy ponytail adds a finishing touch to many soccer mom outfits. If you love sporting a sleek hairdo, you may want to take a pass on this accessory. But a ball cap serves the practical purpose of shading your eyes from the sun as you squint down a long football field to see your son make his first tackle. 
A ballcap can also hide the fact that you didn't have time to wash your hair for the past few days!  Whether you wear a ball cap with your soccer mom outfit or not you may want to consider adding a few of the twelve best affordable and sustainable hair accessories to your wardrobe for these busy days.
T-Shirt and Cardigan
Another classic soccer mom look is to toss a cozy cardigan over a t-shirt. This outfit looks casual and will keep you warm on chilly spring or fall days, especially if your child has an early morning game! Like sweaters, cardigans come in many styles. The best mom cardigans have pockets for stashing last-minute essentials, a warm, thick knit, and a soft texture perfect for hugging a little one who suffered a scraped knee on the field.
Take a look at the 20 best affordable and sustainable cardigans here.
Rain Jacket
Soccer mom outfits often layer up with a rain jacket, sweatshirt, or coat over a t-shirt or tank top. Moms like to have the right layer for every occasion, for themselves and their families! After all, if you pack the whole family in the minivan early on a sunny morning, only to drive into a rain storm for the second game of the day in the afternoon, you need raincoats for everyone!
Take a look at the 20 best stylish and eco-friendly rain jackets in 2023 here.
Was this article helpful to you? Please tell us what you liked or didn't like in the comments below.
About the Author: Hannah Cobb