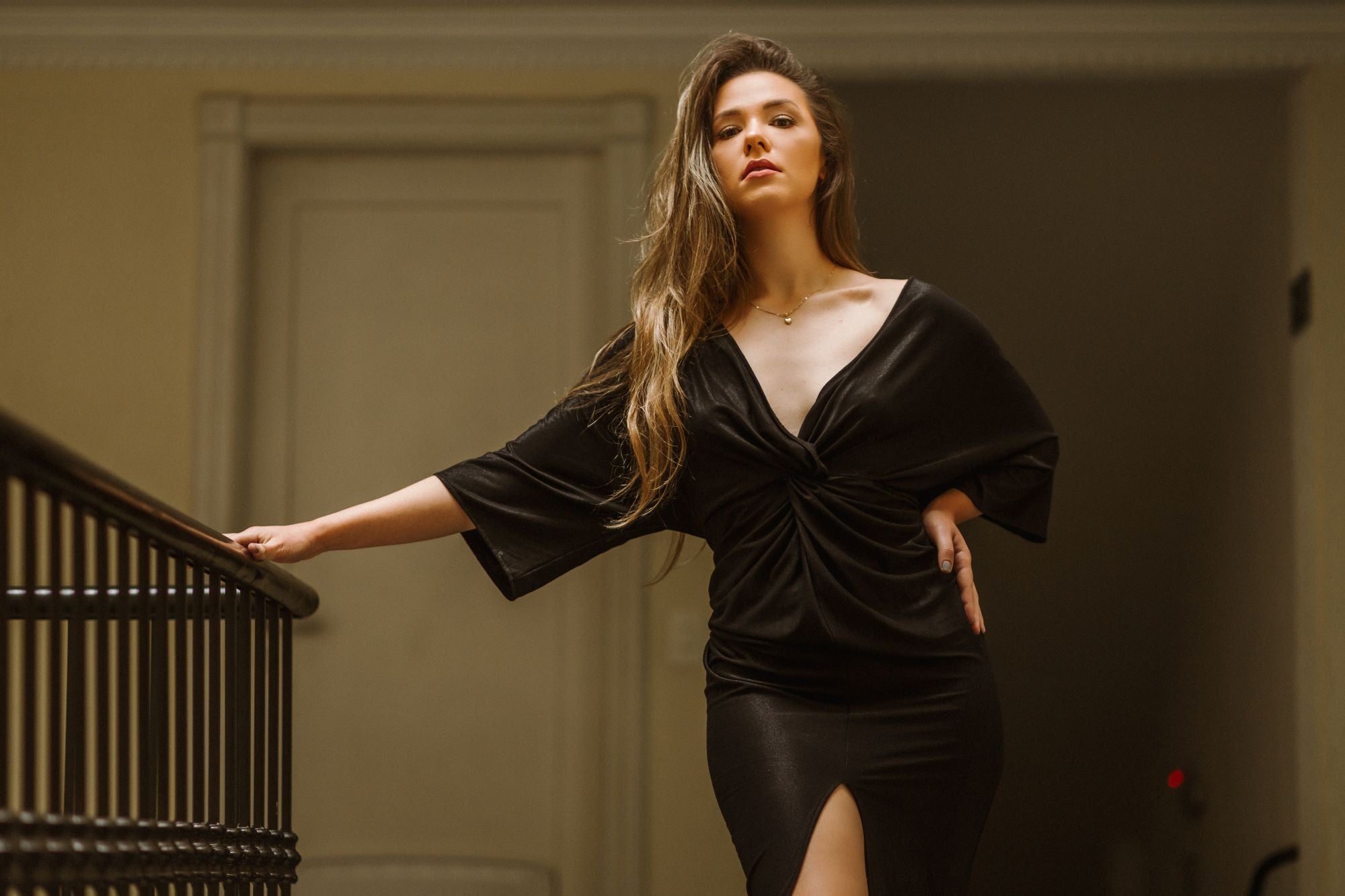 What To Wear Over Black Dress? Best Stunning Outfit Tips
A black dress is a timeless outfit item. It is so versatile that you can wear different types of clothes over it and get endlessly creative with the outfits.
Black dresses come in many shapes, designs, and patterns.
There is an abundant choice of tops you could wear over a black dress: from faux-leather jackets to ultra-elegant coats.
Scroll down to discover the ultimate list of items you can wear over a cute black dress. Alongside the 15 outfit suggestions, you will also discover insider tips and recommendations to help you create timeless and unique outfits.
Panaprium is proud to be 100% independent, free of any influence, and not sponsored. We carefully handpick products from brands we trust. Thank you so much for buying something through our link, as we may earn a commission that supports us.
Blazer
A colorful blazer is a terrific item to wear over a cute black dress. Wear black shoes with the dress and add a beautiful colorful blazer over it for an ultra-chic look.
Alternatively, color-match your blazer and shoes and accessorize the look with a necklace and earrings.
Check out our selection of the best 12 recycled blazers for an ultimate elegant outfit.
Denim Jacket
A denim jacket is another piece that can create a timeless look when combined with a nice black dress. Wear a light denim jacket and a pair of trendy sneakers for an extra cool look.
A denim jacket will add the element of coolness and trendiness to your full outfit.
Discover our extensive list of the 20 best affordable denim jackets to help you choose one.
Chic Belt
A belt is another priceless item to wear over a black dress. Go for faux-leather belts with shiny buckles if you want to draw attention to your waistline.
Opt for thin, elegant ones in pastel colors if you would like to create a feminine and elegant look.
Check out our selection of the 10 best ethical and vegan leather belts for women.
Lovely Cardigan with Buttons
Combine an elegant black dress with a lovely cardigan with buttons for a super cute look.
Go for tight dresses that best outline your figure. Put on a cute, knitted cardigan with buttons over it to create a uniquely feminine look.
For inspiration, check out our list of the 20 best affordable and sustainable cardigans.
Faux-leather Jacket
You can create great looks with a cute black dress and faux-leather jackets.
For a dark, goth look, wear a black vegan leather jacket. Opt for a white faux-leather jacket for a contrasting and cool look.
Discover the 12 best affordable vegan leather jackets of 2023. Get inspired and create the look you have been dreaming of.
Buttoned Suit Jacket
A stylish tailored jacket can add structure and sophistication to your black dress.
Opt for a color that complements the dress, such as white, gray, or navy. Alternatively, go for a bold statement with a vibrant color.
Cute Knitted Sweater
If you are looking for a more casual or cozy look, layer a cute sweater over your black dress. You can choose a chunky knit for a winter outfit. Go for a lightweight sweater to achieve a spring or summer look.
Experiment with different lengths and textures to add feminine flair to your attire.
Discover the 10 best affordable, ethical, and vegan sweater brands to make your choice easier.
Elegant Coat or Trench Coat
A coat or trench coat can be an elegant outer covering for cooler weather or more formal situations.
To add color or pattern to your outfit, select a fitted coat in a complementary color or a statement trench coat.
Scarf or Shawl
Adding a scarf or shawl to your black dress can help you elevate the look while also adding warmth to the ensemble.
You can add a touch of elegance with a lightweight scarf. Or go for a comfortable and textured style with a bulky knit scarf.
Make sure to check out our selection of the 15 best affordable, ethical, and vegan winter scarves.
Classic Sweater Vest
Pair a sleeveless sweater vest in a solid color, such as gray, beige, or navy, over your black dress. This creates a timeless and sophisticated ensemble.
Get creative and mix and match your outfit items for the ultimate fun, feminine, sophisticated look.
Sweater vests offer versatility and can be styled in various ways to suit your taste. Check out our extensive selection of affordable and sustainable sweater vests for inspiration.
Statement Jacket
Make a bold fashion statement by wearing a statement jacket over your black dress.
Choose a jacket with eye-catching details like sequins, embroidery, or unique textures to add flair to your outfit.
Elegant Cape
Add a touch of elegance and drama to your black dress by wearing a cape. This flowy and loose-fitting garment can provide a layer to elevate your look and make a statement.
Get creative with the diverse palette of colors and choose a cape that best expresses your style and personality.
Sophisticated Button-up Shirt
Layer a button-up shirt over your black dress for a sophisticated and polished look.
You can opt for a classic white shirt for a timeless appeal. Or experiment with different colors and patterns to add a personal touch to the look.
Discover our extensive selection of ethical button-up shirts for a dressy look.
Oversized Cardigan

For a cozy and relaxed vibe, try wearing an oversized cardigan over your black dress. This creates a comfortable and stylish outfit.
An oversized cardigan paired with a cute black dress is perfect for casual occasions.
Make sure to check out our list of ethical brands for organic cotton cardigans for a more conscious and well-informed decision.
Faux Fur Jacket

For a glamorous touch, put on a faux fur jacket over your black dress.
This adds texture and luxuriousness to your outfit. Which makes it suitable for evening events or special occasions.
For more ideas and inspiration, check out our article on what to wear over a midi dress.
Remember to take the occasion, weather, and style into consideration when selecting what to wear over a black dress. The ideas and tips above can help you create diverse and fashionable looks based on your preferences.
Was this article helpful to you? Please tell us what you liked or didn't like in the comments below.
About the Author: Gohar Davtyan