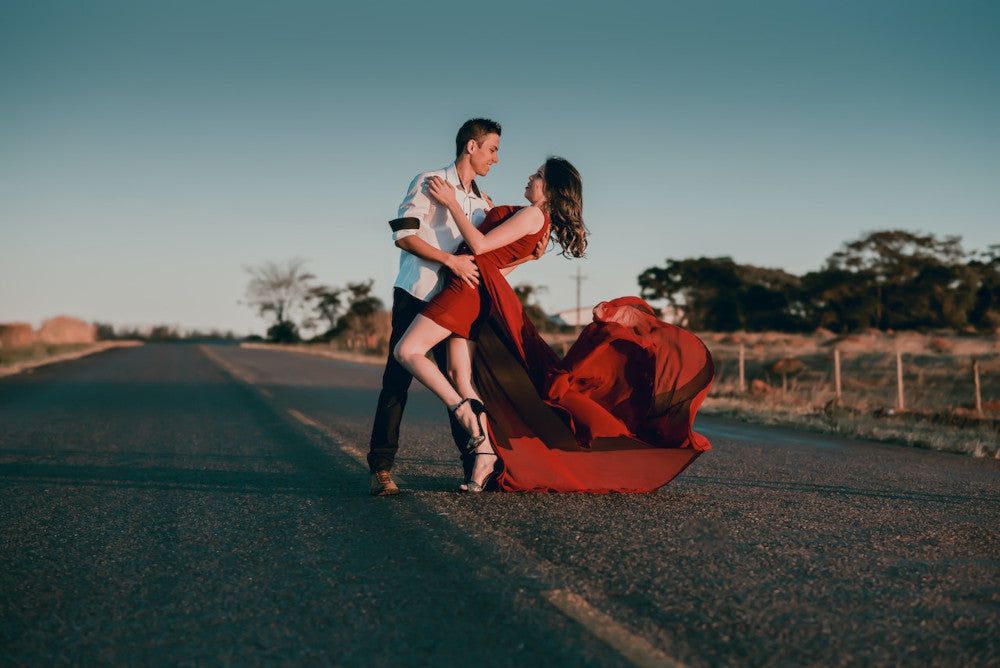 The Top Ten Practical and Dazzling Outfits Jive Dancers Wear
Jive dancers wear casual partner outfits to local dances but often dress up in matching costumes featuring ballroom dance shoes and formal dresses for professional competitions. The fast nature of the dance requires clothing that allows a wide range of movement. Non-slip heels and dress shoes also help dancers through the speedy footwork of this dance.
The jive dance is a variation of the swing dance that gained huge popularity across the States from the 1920s through the 1940s. The jive is a partner dance characterized by super fast and bouncy movements with fun names like the "chicken walk" and the "comb."  After WWII, the fast-paced jive fell out of favor temporarily but reemerged at professional dance competitions in the 1960s. 
Today, you can often find the jive danced at a local swing dance or even ballroom dance classes and gatherings. You can also enjoy watching professionals take on this high-speed dance at competitions, where the jive is usually saved as the final dance because of its challenging nature!
Panaprium is proud to be 100% independent, free of any influence, and not sponsored. We carefully handpick products from brands we trust. Thank you so much for buying something through our link, as we may earn a commission that supports us.
Retro Dress
Because of the historic background of the dance, you may see jive dancers wearing retro or period dresses in a style from the 1930s or 1940s. This retro look fits in well with the casual, fun nature of the dance. A WWII retro look could include a knee-length dress, silk stockings with a rib up the back of the leg, and low heels with a Mary Jane-style strap over the arch of the foot.
If you need help finding sustainably made stockings to go with your retro costume, take a look at this list of the 10 best ethical hosiery brands.
Pin-Up 1950s Style Dress
Another popular period costume choice for dancing the jive is to dress up in "rockabilly" or retro 1950s style, sometimes with a sexy edge. This includes pin-up style dresses with full circle skirts, or poodle skirts and a cardigan. Make sure you were a petticoat under your skirt to get that ruffled, flouncy look, and add bright red lipstick to complete the bold style.
If you have not found the perfect cardigan for your 1950s vibe, consider this list of the 20 best affordable and sustainable cardigans.
Shirt and Tie
For guys, the classic outfit to wear while dancing a jive is a simple shirt and tie, or even just a shirt and a pair of jeans or slacks. You can turn this into a retro look or simply show up in your dancing shoes, slacks, and a button shirt. You will definitely feel warm while dancing this bouncy jib-like version of the swing dance, so you will want to wear a t-shirt under your button shirt!
If you need to add to your dress shirt collection for the occasion, take a look at this list of the 15 best ethical button-up shirts for a dressy look.
Casual Couple Outfit
If you plan to attend a local swing dance at a community hall or dance room near you, you do not need to dress up in period costumes or in fancy ballroom attire. It is totally acceptable to wear a cute, casual couple's outfit such as overalls, or jeans and matching plaid shirts. While real dancing shoes provide the best traction for this fast dance, you can also wear comfortable matching sneakers to make sure you keep your feet during the fast footwork.
You can find the 30 best ethical and vegan shoe companies to consider here.
Competition Costume
Of course, if you do dance the jive professionally, you will want to dress up in a fancy competition costume with your partner. This often features a full, ruffled skirt to show off the fast swings as the female partner's feet frequently leave the floor!
You will also need heels to go with your fancy dance costume. Ideally, you will want comfortable ballroom dance shoes. Take a look at this list of the 13 best affordable vegan heels to get some ideas.
Jeans
While it is less common than wearing slacks or a matched couple's outfit, you can definitely wear jeans to dance the jive. Just make sure they have a loose enough fit or enough stretch to feel flexible as you move. Take a look at the 20 best affordable and sustainable black jeans here.
Leggings
For ladies, wearing leggings and a long shirt or dress shirt works well for a casual swing dance session featuring the lively jive. Leggings often include stretchy fibers like Spandex to give you lots of ease of movement. Plus, leggings give you opaque coverage, unlike tights or stockings, This can help as you twirl, dip, and flip in this wild dance!
Take a look at the 10 best affordable and sustainable bamboo leggings here.
Dance Sneakers
If you decide to go casual as you attend a local jive dance, you may need dance sneakers like jazz sneakers to keep your feet comfortable. These shoes have the soft and comfortable feel of jazz dance shoes but a harder and sneaker-like exterior. 
Of course, you should also wear comfortable socks to keep your feet from getting sweaty as you dance! You can find the 20 best affordable and sustainable socks to consider here.
Cuban Heels
If you dress up or plan to wear a formal competition outfit, you may prefer Cuban heels instead for your jive dance outfit. This style of shoe has a broad heel instead of a narrow stiletto, which gives you more balance as you dance. 
If you really want to dress up but you don't want to buy a gown to go with your Cuban heels, consider this list of the 20 best places to rent evening, party, or gala dresses.
Shorts Under Skirt
Finally, many female jive dances wear inconspicuous, short, close-fitting shorts beneath their skirts. This handy safety tip allows them to easily flip over, twirl, and jive all night long without worrying about anything showing if their skirt flies up!
You can find the 15 best organic cotton shorts to consider here.
Was this article helpful to you? Please tell us what you liked or didn't like in the comments below.
About the Author: Hannah Cobb