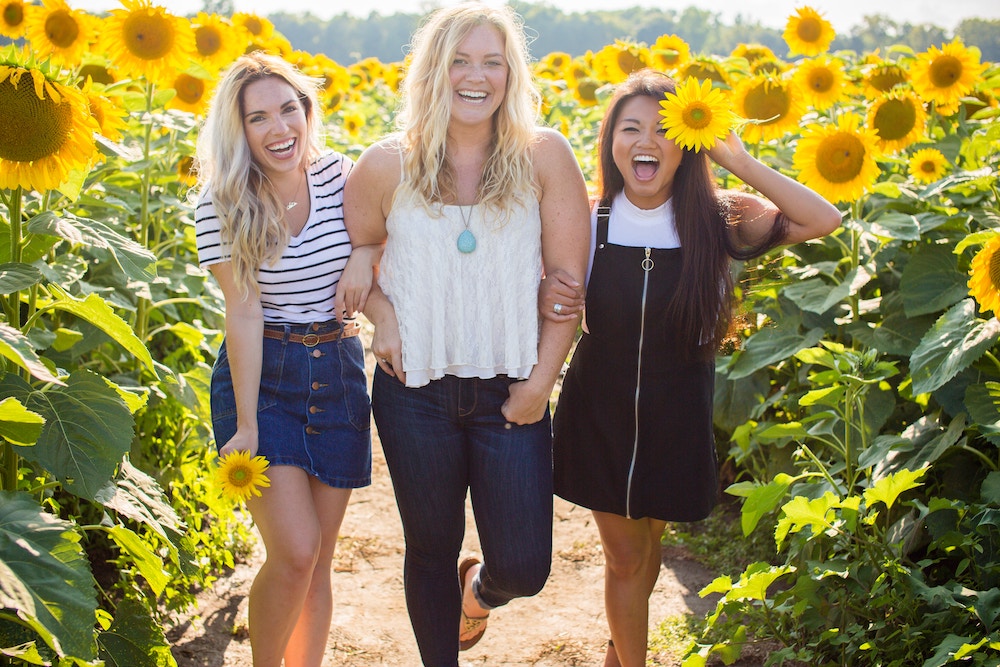 15+ Attractive Outfit Ideas When It's 85 Degrees Outside
It can be challenging to dress your best when it's 85 degrees Fahrenheit outside. You don't want to overheat, but you also want to look cute, cool, and collected when going out with friends or meeting up for a date. 
From breezy, breathable fabrics to embracing looser silhouettes, we've got all the fashion hacks you need to turn up the heat when it comes to summer style. 
Here are our favorite tips and ideas for what to wear in 85-degree weather. 
Panaprium is proud to be 100% independent, free of any influence, and not sponsored. We carefully handpick products from brands we trust. Thank you so much for buying something through our link, as we may earn a commission that supports us.
Wear Loose Fabric
A key strategy to keeping cool in 85-degree weather is to wear loose fabrics. Flowing blouses, wide-leg trousers, and relaxed tank tops are all perfect examples of this relaxed look. 
A more relaxed silhouette allows for more airflow and freedom of movement. You'll immediately feel less sweaty, sticky, and uncomfortable when you wear loose-fitting clothes in the summer. 
A looser silhouette can mean something different for everyone. Learn some tips and tricks to look cute in oversized clothes. 
Denim Shorts
Nothing screams "summer" more than a good pair of denim shorts. This versatile 85-degree weather mainstay is comfortable, flattering, and easy to wear. 
It's easy to pair high-waisted denim shorts with a cute tank top or graphic tee. You can also wear your favorite pair of denim shorts with a belt and breezy blouse as a fun date night outfit. 
Denim shorts come in various styles, from distressed and vintage to chic and classic. Explore the possibilities with our list of affordable denim shorts.
Light Linens
Linen is an absolute game-changer when it comes to keeping cool in 85-degree weather. 
Linen is a lightweight and breathable natural fiber that provides plenty of airflow and room to breathe on hot summer days. In addition, linen drapes beautifully and is budget-friendly despite being such a luxurious fabric.  
Check out the best affordable linen clothing brands to build your summer wardrobe. 
Cotton Keeps You Cool
Cotton is another natural fiber that is excellent for 85-degree weather. Cotton is extremely breathable and soft, making it a true champion when it comes to summer fashion. 
Whether it's a cotton sundress, a breezy tank top, or a lightweight pair of shorts, this natural fabric is your best friend when getting dressed for the heat. 
To create a long-lasting and timeless summer wardrobe, buy high-quality items made with organic cotton. Organic cotton is sustainable, durable, and uses far fewer harmful chemicals to produce. 
Check out our selection of organic cotton skirts to start building your sustainable summer look. 
Sundresses
A sundress is a cute and feminine way to stay effortlessly cool when the weather starts to heat up. A sundress makes a fabulous summer outfit because it's versatile, comfortable, and flattering. 
There are so many different styles of sundresses out there that you're sure to find one you love. Wear a frilly boho-inspired dress for a laid-back vibe or a classic wrap dress to create an elegant allure. 
Explore our selection of affordable hemp dresses. 
Light Colors
When it's 85 degrees or hotter outside, wearing light colors will help keep you cool and stylish. Light colors like pastels, soft neutrals, and whites naturally reflect sunlight instead of absorbing it. This helps regulate body temperature under the hot summer sun. 
Get creative when incorporating light colors into your wardrobe. Wear a flowy white sundress, wide-brimmed sunhat, and strappy sandals for an elegant beach look. For a more casual vibe, wear an off-white linen button-up or a fun pastel jumpsuit. 
Natural fabrics like linen, hemp, and cotton often come in lighter colors, making it even easier to keep cool. 
Oversized Graphic Tees
An oversized graphic tee is a fun and relaxed way to keep cool while expressing your personal style. With an oversized silhouette, you get more airflow and breathability in 85-degree weather. 
The possibilities for fun graphic tees are endless. Pair a vintage band tee with high-waisted cut-off shorts, or wear a graphic tee featuring artwork from a local artist or small business. Focus on buying vintage or thrifted tees for ultimate sustainability. 
Check out our selection of sustainable graphic tees. 
Crop Tops
Crop tops are a fun way to dress for the heat while expressing your style. There are endless styles and cuts, from cropped classic tees to lace-trimmed spaghetti straps. 
Crop tops are a summer staple because they are easy to mix and match with just about anything. For example, bare some skin with low-rise denim shorts or a fun mini skirt. If classic and chic is more your speed, wear a crop top over a linen dress or with some high-waisted pants.  
Organic cotton crop tops are an excellent option for 85-degree weather. Explore our favorite styles in this handy guide.
Overalls & Rompers
Overalls and rompers are fun to wear when it's warm out because they're comfy and easy to style. 
In addition to classic denim overalls, there are a ton of overall and romper styles made with stretchy, breathable fabrics. Pair an oversized cotton romper with strappy wedges and a sunhat, or wear relaxed denim short overalls with a simple t-shirt and tennis shoes. 
Shop the best selection of ethically-made overalls and organic cotton rompers for adults. 
Mini Skirts
Mini skirts are the ultimate outfit choice if you want a hot girl summer. They're cute, flirty, and perfect for warm weather. 
Don't be afraid to play with color, fabric, and cut when it comes to wearing a summer mini skirt. Wear a pleated tennis skirt with a minimalist crop top or vintage babydoll tee. Or, play with proportions and sport a body-hugging skirt with a flowy blouse. 
Cool off with our selection of sustainable and cute mini skirts. 
Tank Tops
Tank tops are a summer wardrobe classic. You can wear anything from a simple cotton tank to a frilly, feminine top and still look great under the summer sun. 
Tank tops make a great casual look with denim shorts or worn under classic overalls. You can also dress up a tank top with a dressy skirt or chic linen pants. 
Check out our favorite sustainable tank tops that won't break the bank. 
Breezy Blouses
Lightweight, breezy blouses are the perfect way to dress up in 85-degree weather while remaining cool and comfortable. 
The beautiful thing about blouses is that you can find one to match any style. From girly peplum tops to sheer spaghetti straps, the possibilities are endless. High-quality blouses made with sustainable fabrics like linen and hemp are best. 
Explore these high-quality, affordable blouses. 
Maxi Skirts
If you want to stay cool but look modest, maxi skirts are an excellent option. This loose-fitting, floor-length skirt style is flattering, breathable, and versatile. 
Maxi skirts look great with any kind of top, including your favorite blouse or tank top. Embrace boho style with a floral tiered maxi, or create an elegant garden party look with a pleated skirt and striped boatneck tee. 
Check out these cute and affordable maxi skirts. 
Beachwear
Summertime usually means long days at the beach. But you don't have to change out of your bathing suit when you finish swimming. Believe it or not, beachwear can easily transform into a cute outfit that takes you from day to night. 
Transform your one-piece bathing suit into a chic bodysuit by wearing it under denim shorts or a midi skirt. If you prefer bikinis, an oversized button-up or a semi-sheer sundress can quickly transform your beachwear into a scintillating evening look. 
Explore our ultimate list of the best sustainable beachwear brands. 
A Cute Hat
When it's 85 degrees outside, that usually means the sun is out in full force. Accessorizing your outfit with a cute hat is an easy and fashionable way to protect your skin from the harsh summer sun. 
You can complete your summer outfit with any kind of hat, from a classic baseball cap to a beachy wide-brimmed sunhat. Complete your look with an oversized tote bag and some sunglasses, and you're good to go. 
Gear up for summer with our best selection of sustainable hats. 
Relaxed Pants
It may seem counter-intuitive to wear pants in 85-degree weather, but it's actually very comfortable if you do it right. 
A pair of wide-leg pants made of breathable fabric like linen or cotton looks chic and feels great. The relaxed silhouette of wide-leg pants looks amazing with a flowy top, a fitted tank, or even a bikini top if you're relaxing on the beach. 
Shop our list of the best sustainable wide-leg pants to find your perfect pair. 
Dress for Comfort
An important part of dressing for 85-degree temperatures is to wear clothing that makes you feel comfortable. 
Don't feel pressured to wear teeny-tiny shorts and skin-tight tank tops if you don't want to. There are plenty of ways to dress for summer that are modest, comfortable, and won't cause you to overheat. 
Flowy maxi dresses, loose-fitting blouses, and breathable rompers are all excellent options that will keep you comfortable without showing off parts you'd rather keep covered.
Was this article helpful to you? Please tell us what you liked or didn't like in the comments below.
About the Author: Liz Flynn