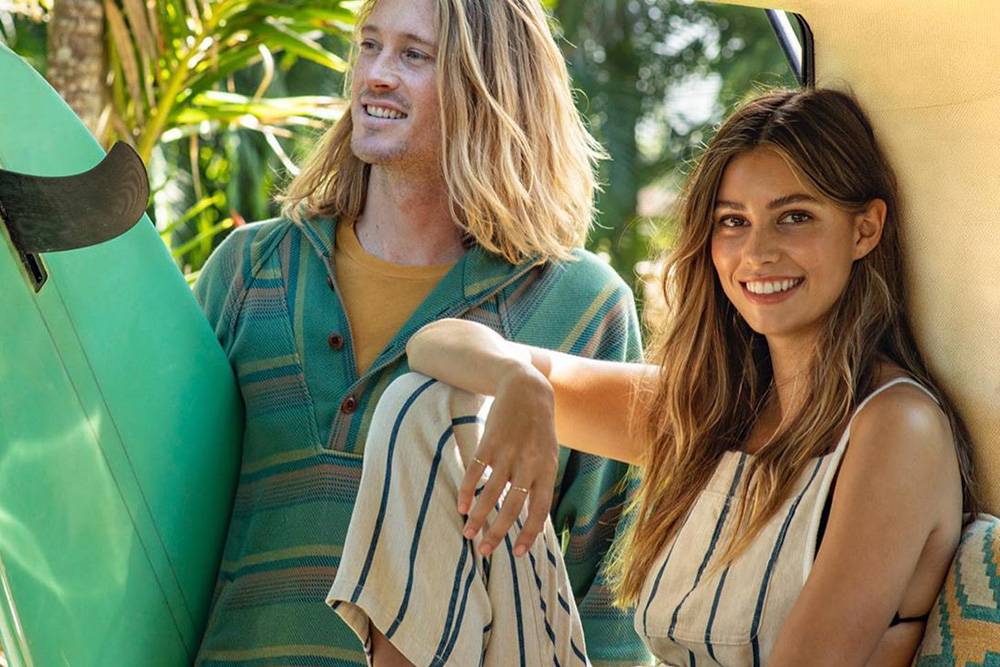 Outerknown is a sustainable fashion brand established in Los Angeles from an understated approach to design and an overstated approach to quality and material.

The clothing label makes effortless, casual beach styles for women and men rooted in sustainability and transparency. It creates Fair Trade essentials with the most planet-friendly fibers.

Kelly Slater and John Moore founded Outerknown to do things better than they have been done before. They are passionate about showing the apparel world what can be done for people and the planet.

Outerknown keeps strict sustainability rules and aims to raise the standard for sustainable design in the global fashion industry. It uses eco-friendly materials to reimagine design and embrace circularity.
Panaprium is proud to be 100% independent, free of any influence, and not sponsored. We carefully handpick products from brands we trust. Thank you so much for buying something through our link, as we may earn a commission that supports us.

Sustainability Rating: 7/10
Rating FAQ

Category: Clothing, bags, accessories

For: Women, men

Type: Basics, dresses, denim, outerwear, loungewear

Style: Casual, boho

Quality: Medium

Price: $$

Sizes: XS-XL, 2-14 (US), 4-16 (UK), 32-48 (EU), 6-18 (AU)

Fabrics: Cotton, linen, hemp, lyocell, polyester, nylon, spandex, rubber, leather, wool, down, silk

100% Organic: No

100% Vegan: No

Ethical & Fair: Yes

Recycling: Yes

Producing country: China, Peru, Portugal, Mexico, Sri Lanka, United States, Vietnam

Certifications: GOTS, OCS, RDS, FSC, Bluesign, Fair Trade

Sustainability Practices



"At Outerknown, we're making every decision with the highest regard for the hands that build our clothes and the world we call home. From seeds to suppliers to a circular design, our mission is to protect natural resources, empower the people crafting our clothes, and inspire change within the industry and beyond. We believe you shouldn't have to sacrifice style for sustainability - the two should be synonymous."


Outerknown makes great clothes with a radical commitment to sustainability and without comprise on style. It wants to contribute to a world where people and the planet prosper.

90% of the fibers used by Outerknown are either organic, recycled, or regenerated. The brand uses a high proportion of sustainable materials such as certified organic cotton, hemp, linen, regenerated nylon, and recycled polyester.

Outerknown also uses some petroleum-based synthetic fabrics such as polyester, nylon, and spandex, as well as regenerated cellulosic fibers such as Tencel lyocell.

Tencel Lyocell is a semi-synthetic man-made cellulosic fiber and an environmentally friendly material made from renewable resources, wood pulp extracted from wood produced in FSC certified sustainable forests.

Outerknown publishes a list of its manufacturing and processing facilities and makes it available publicly on its corporate website. It monitors all of its supply chains to ensure compliance with labor standards.

Outerknown is accreditated by the Fair Labor Association (FLA) and invests in the livelihoods of over 5K workers through Fair Trade USA. Three of its manufacturing partners are Fair Trade certified.

The Fair Labor Association (FLA) is a non-profit collaborative effort making unannounced visits to factories, reporting findings, and delivering accreditation based on social compliance.

Outerknown doesn't use any exotic animal skin, or hair, fur, angora. But it uses leather, wool, silk, and down feathers to manufacture some of its clothing.

These animal-derived materials are cruel and unethical. They also harm the environment by producing greenhouse gases and wastes. More sustainable alternatives exist.

Sustainability Goals
Outerknown was created to protect both people and the planet. It designs for a better tomorrow, shifting from a broken linear model to a circular model.

The clothing label is committed to advancing commercialization for emerging circular technologies and innovations for the benefit of the industry as a whole.

Outerknown plans to pilot or scale ten existing circular technologies and innovations to share industrywide by 2025.

It also aims to make 75% of fabrics and 50% of products circular by 2025. By 2030, 100% of its products will be circular.

Outerknown plans to expand its Fair Labor program to include Tier 3 and Tier 4 strategic partners and disclose all of its suppliers by 2025.

The brand will also create programs that include direct worker involvement for all its tier 1 suppliers and implement a fair compensation strategy by 2025.

Outerknown will continue to support water stewardship and climate action as part of its philanthropic efforts for relevant causes, events, political and social movements.

However, Outerknown doesn't show any measurement of its water usage, pollution, greenhouse gas emissions, and waste across its supply chain. It doesn't have any science-based target or timeline to improve in the future.

Buy Here
Discover Outerknown sustainable collections at outerknown.com.


Reviews And Experiences With Outerknown
Have you had (good) experiences with shopping at or the products of Outerknown? Then leave us your rating below.