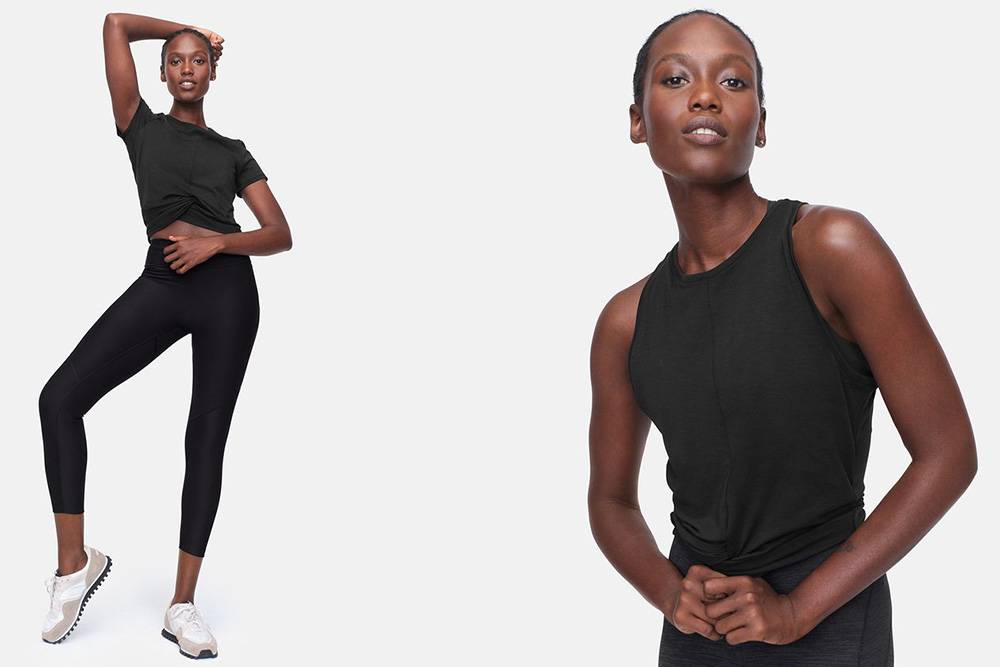 Outdoor Voices is an American technical apparel brand founded by Tyler Haney in 2012. It makes activewear for Doing Things daily, dog walks, runs, and yoga included.

Outdoor Voices is a recreation brand on a mission to get the world moving. It gets rid of the expectations to perform and prioritize having fun with friends.

The sportswear brand encourages you to get your body moving, create endorphins, and be happy. It aims to have the greatest global impact and share its values for human rights and environmentalism.
Panaprium is proud to be 100% independent, free of any influence, and not sponsored. We carefully handpick products from brands we trust. Thank you so much for buying something through our link, as we may earn a commission that supports us.

Sustainability Rating: 4/10
Rating FAQ

Category: Clothing, accessories

For: Women, men

Type: Sportswear

Style: Casual

Quality: Medium

Price: $$

Sizes: XS-XL, 2-14 (US), 4-16 (UK), 34-44 (EU), 6-18 (AU)

Fabrics: Cotton, polyester, nylon, spandex, wool

100% Organic: No

100% Vegan: No

Ethical & Fair: Yes

Recycling: Yes

Producing country: China, Taiwan, Hong-Kong, not transparent enough

Certifications: Bluesign



Sustainability Practices



"Protect our Playground. We design our product and operate our business through a lens of circularity and longevity to minimize environmental impact."


Outdoor Voices uses closed-loop materials, designs with the end of life in mind, on a path toward a more sustainable future. It uses recycled and recyclable packaging and eliminates single-use plastics from all community events.

Outdoor Voices uses a very low amount of natural materials such as cotton. It uses an average proportion of recycled polyester rPET. Most of its clothes are made from synthetic fabrics such as nylon, polyester, and spandex.

Outdoor Voices doesn't exactly reveal where and how its clothes are produced. It chose partners who abide by its code of conduct based on the International Labour Organization standards (ILO) but doesn't make it available to the public.

The activewear brand supports fair wages, benefits, and regulated work hours. It visits its factory a few times per year to ensure sustainability and social compliance.

Outdoor Voices doesn't use any exotic animal skins, leather, fur, angora, or down feathers but uses Merino wool.

Wool is obtained from animals subjected to painful treatments and exposed to dangerous substances with long-term disastrous effects on ecosystems and human health. There are more ethical and sustainable alternatives.

Sustainability Goals
Outdoor Voices aims to eliminate all waste from community events, with 90% landfill diversion. It plans to launch take-back and repair programs but with no concrete timeline.

The sportswear label aims to expand the number of Bluesign certified fabrics to 50% by 2021. Additionally, it wants to increase the percentage of recycled fibers to 80% by 2022.

However, Outdoor Voices doesn't show any measurement of its water usage, pollution, greenhouse gas emissions, and waste across its supply chain. There is no evidence that its environmental targets will be reached in time either.

Buy Here
Discover Outdoor Voices sustainable collections at outdoorvoices.com.


Reviews And Experiences With Outdoor Voices
Have you had (good) experiences with shopping at or the products of Outdoor Voices? Then leave us your rating below.