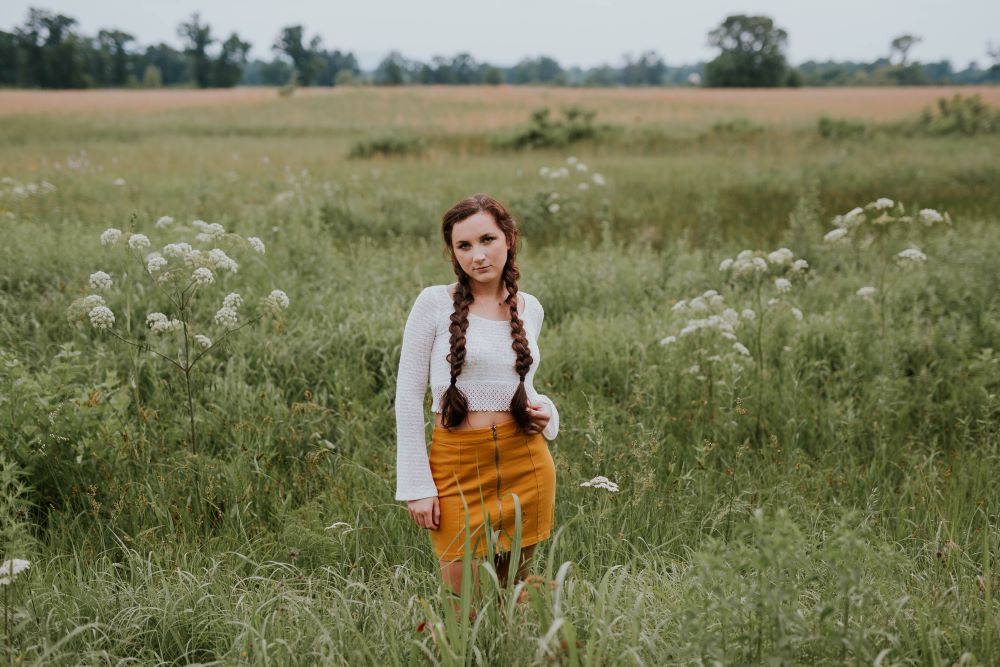 What to Wear with Orange Skirts: 40+ Ultimate Outfit Ideas
In your fashion journey, an orange skirt is a standout piece that can not only inject a burst of vibrancy into your wardrobe but also challenge your styling abilities. Orange stands out as a bold and vivacious choice, symbolizing energy, optimism, and enthusiasm.
Whether it is a bright and zesty orange, a deeper, more earthy shade, or a playful pattern with hints of orange, this skirt is a versatile canvas upon which to create stunning, eye-catching ensembles.
However, the task of pairing your orange skirt with the right clothing and accessories can be a delightful yet sometimes puzzling task. The magic lies in finding the perfect balance between complementary and contrasting elements, as well as knowing how to adapt your outfit for different occasions and seasons.
In our guide, we will delve into the world of outfit ideas, providing a detailed exploration of how to style your orange skirt with a variety of items. Keep reading to discover the perfect combinations for both casual and formal events, as well as ideas suitable for different seasons, from the heat of summer to the chill of winter.
From the timeless elegance of a plain white top to the edgy sophistication of a black blouse, from the relaxed charm of sneakers to the poised confidence of high heels, we will explore each piece's unique role in elevating your orange skirt outfit.
Whether you are dressing for a day at the office, a casual outing, a special event, or simply seeking inspiration to infuse your daily style with freshness and creativity, this guide will provide you with the inspiration and know-how you need.
So, embark on this journey with us as we unlock the secrets to styling your orange skirt in ways that reflect your individuality, and let your fashion choices speak volumes about the vibrant and confident you.
Panaprium is proud to be 100% independent, free of any influence, and not sponsored. We carefully handpick products from brands we trust. Thank you so much for buying something through our link, as we may earn a commission that supports us.
Plain White Top
A classic plain white top is a timeless and versatile choice when styling an orange skirt. It offers a clean and fresh canvas for your outfit. You can opt for a short-sleeved, long-sleeved, or sleeveless white top, depending on the weather and your style.
Tuck it into the skirt for a more structured and put-together look, or leave it untucked for a relaxed and casual vibe. For more inspiration and eco-conscious options, make sure to check out the 20 best affordable hemp tops, Tees, and shirts. 
Cool Sunglasses
Sunglasses are not only a fashion accessory but also a practical item to protect your eyes from the sun's rays. Choose a style that suits your face shape and complements the outfit.
Black or brown-framed sunglasses add a touch of sophistication, while colorful frames can bring a playful element to your look. Do not forget to have a look at these amazing affordable and sustainable sunglasses from Australia. 
Casual Denim Jacket
A denim jacket is a must-have wardrobe staple that pairs wonderfully with an orange skirt. The rugged texture and casual vibe of denim create a chic and laid-back contrast with the skirt's vibrancy.
Wear it open or buttoned up, and you will have an outfit that is perfect for transitioning between seasons. Here are the 20 best affordable denim jackets every woman needs. 
Opt for a White Button-Down Shirt
A white button-down shirt is the epitome of classic style. This piece is a fantastic choice when you want to achieve a polished and put-together look.
Tuck it into your orange skirt, cinch your waist with a belt, and add some statement jewelry for a sophisticated touch, making it suitable for office wear or dressier occasions.
Monochrome Look
Creating a monochrome ensemble with your orange skirt involves wearing a top in the same or a similar shade of orange. This bold fashion choice is daring and fashion-forward.
To keep the look from being overwhelming, consider varying the shades of orange within the outfit. For instance, a lighter or darker orange top can create a dynamic and visually interesting monochrome effect.
Cute Outfits with Crop Tops
A crop top is a playful and youthful option that pairs exceptionally well with an orange skirt, particularly in warm weather. It allows you to show a bit of skin and adds a fun and flirty element to your outfit.
You can choose a crop top in a matching color, a complementary hue, or even a pattern to infuse personality into your ensemble.
For more inspiration and the cutest outfits, do not hesitate to check out our wide selection of the best affordable and sustainable crop tops. Also, check out our ultimate guide on what to wear under a crop top for effortless style. 
Statement Boots
When pairing boots with your orange skirt, you have several options. Ankle boots, whether in black, brown, or white, can add a touch of edge to your outfit.
They work well for both casual and semi-formal occasions. Alternatively, knee-high boots in a neutral color like black can create a sleek and elongated silhouette, perfect for cooler weather.
Here are the 18 best affordable vegan leather boots in 2023 you absolutely need to check out.
Outfits with Black Blouse or Top
A black blouse or top is a striking contrast to the vibrant orange skirt. This combination exudes elegance and is suitable for evening events or formal gatherings.
Ensure that the black top fits well and complements your body shape, creating a visually appealing balance with the skirt's color. For more inspiration and cute outfit ideas, check out the 15 best affordable, ethical, and sustainable blouses. 
Outfits with Statement Jewelry
When selecting jewelry for your orange skirt outfit, you can choose between gold and silver accessories based on your preference. A statement necklace can draw attention to your neckline, while elegant earrings can highlight your face.
Simpler jewelry, like a delicate pendant or stud earrings, can provide a more understated and classier look. Discover the 10 best ethical jewelry brands using recycled materials. 
Accessorize with Cute Bags
The choice of a bag is essential to complete your outfit. A neutral-toned bag, such as a beige or black tote or a crossbody bag, is a practical and stylish choice.
It offers functionality while letting your orange skirt take center stage as the focal point of your ensemble. Check out the 15 best affordable vegan leather bags and purses. 
Opt for a Striped Top
A striped top with white and orange stripes is a playful choice to pair with your orange skirt. This combination adds a hint of pattern without overwhelming the outfit. It creates a summery and casual vibe, perfect for a day out or a beach vacation.
Comfy Sneakers
White sneakers are the epitome of comfort and style when combined with your orange skirt. They bring a laid-back and relaxed vibe to your outfit, making it ideal for everyday wear.
To add an extra layer of style, consider low-top or high-top sneakers depending on your preference. Discover the 10 best brands for ethical sneakers in Australia and New Zealand. 
Go for a Cozy Sweater
During cooler seasons, a cozy sweater in a complementary color or a neutral tone like cream or beige can provide the warmth and comfort your outfit needs.
Opt for a knit sweater to maintain a cozy yet stylish look. For a more eco-conscious purchase, check out the 10 best affordable, ethical, and vegan sweater brands. 
Colorful Ensembles
To create a vibrant and colorful look, pair your orange skirt with a top in a contrasting color. Consider shades like turquoise, royal blue, or pink for a visually stunning combination.
This choice allows you to make a bold fashion statement and turn heads wherever you go. Pick a colorful piece from our extensive list of the best affordable and sustainable tank tops. 
Sunhat
A wide-brimmed sunhat is more than just a practical accessory for shielding your face from the sun's rays; it is a symbol of timeless elegance. When paired with your orange skirt, it adds a touch of glamour and sophistication to your outfit.
Opt for a sunhat in a matching or complementary color to your skirt for a coordinated look, or choose a neutral shade like beige for versatility. This accessory is perfect for beach vacations, garden parties, or strolls under the sun.
Wear a Cute Scarf
Incorporating an orange scarf into your outfit is a delightful way to introduce an extra pop of color. Whether it is a lightweight scarf or a cozy knit one, this accessory offers both style and functionality.
You can drape it over your shoulders for a touch of elegance or wrap it around your neck for added warmth. The vibrant orange hue can harmonize with your skirt, creating a coordinated look that is visually appealing.
An orange scarf is a versatile accessory that can transition seamlessly from casual daytime wear to a more sophisticated evening ensemble, depending on the way you choose to wear it. For cute and cozy winter scarves, check out our wide selection here. 
Off-the-Shoulder Tops
Off-the-shoulder tops are a playful and flirtatious addition to your wardrobe. These tops expose your shoulders, adding an alluring touch to your outfit when paired with your orange skirt.
The off-the-shoulder style can be worn in various forms, from loose and bohemian to more structured and fitted designs. Choose a top in a complementary color to your skirt or a pattern that incorporates shades of orange for a balanced yet captivating look.
This style is particularly well-suited for casual outings, date nights, or beachside gatherings, as it exudes a carefree and summery vibe. Discover over 10 best affordable plus-size linen tops and shirts. 
Orange or Brown Sandals
When the temperature rises, it is time to reach for your favorite sandals to complement your orange skirt. Orange or brown sandals are an ideal choice to create a cohesive look while keeping your feet comfortable.
These earthy tones match beautifully with the warmth of your skirt, offering a relaxed and summer-friendly appearance. Whether you prefer flat or heeled sandals, they can seamlessly transition from daytime adventures to evening occasions.
The versatility of these shades means they pair effortlessly with a variety of top styles, making your footwear a reliable choice for any sunny outing. For more inspiration and cute looks, check out the 15 best affordable, vegan, and sustainable sandals. 
High Heels
High heels are the epitome of sophistication and can transform your entire demeanor. Opt for nude or white heels to maintain versatility and perfectly complement your orange skirt.
Depending on your comfort level and the formality of the occasion, you can select between stilettos for a more dramatic effect, block heels for added stability, or wedges for a touch of bohemian charm.
This footwear choice is perfect for more formal events, such as weddings, parties, or romantic dinners, and is sure to turn heads and leave a lasting impression.
Remember to choose a heel height that suits your comfort and style preferences, as confidence is key when wearing high heels. Here are the 13 best affordable, vegan, and sustainable heels at your disposal to create the cutest outfits. 
Relaxed Jacket
Depending on the season, adding a jacket to your outfit can be a smart choice. A light blazer in a neutral color, such as white or beige, can create a more formal look that is perfect for the office or events. Make sure to check out the 15 best affordable jackets for broad shoulders. 
A vegan leather jacket, on the other hand, brings a touch of edginess and can be great for a casual or evening look. Discover the 12 best affordable vegan leather jackets in 2023. 
Remember that personal style, the specific shade and style of your orange skirt, the occasion, and the season will all influence your choice of outfit.
Experiment with these options to find the combinations that resonate with your unique style and the occasion you will be wearing your orange skirt to.
Was this article helpful to you? Please tell us what you liked or didn't like in the comments below.
About the Author: Gohar Davtyan