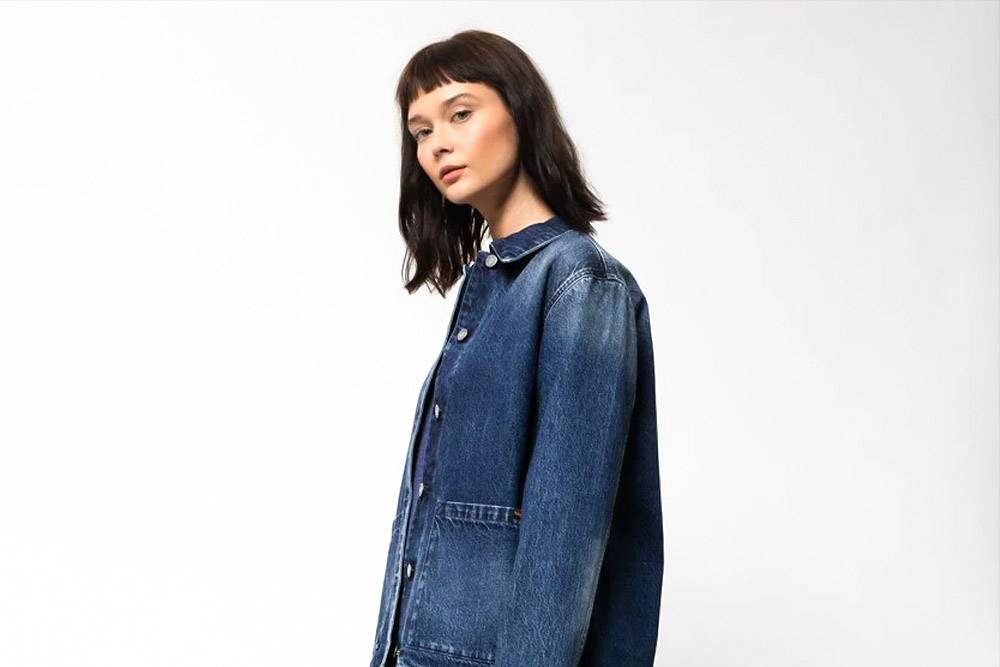 Nudie Jeans is a Swedish denim brand based in Gothenburg and founded in 2001 by Maria Erixon Levin. It makes high-quality jeans sustainably and ethically.

The Swedish denim company has been recognized for its sustainability, both environmental and social. Since 2012, it offers a denim selection made from organic cotton.

By creating high-quality products made in a fair way, Nudie Jeans encourages a smarter way to consume. It aims to be one of the most sustainable denim brands on the market by taking responsibility throughout its full supply chain.
Panaprium is proud to be 100% independent, free of any influence, and not sponsored. We carefully handpick products from brands we trust. Thank you so much for buying something through our link, as we may earn a commission that supports us.

Sustainability Rating: 7/10
Rating FAQ

Category: Clothing, accessories

For: Women, men, children

Type: Denim

Style: Rock, casual

Quality: Medium

Price: $$

Sizes: XS-XL, 2-14 (US), 4-16 (UK), 32-48 (EU), 6-18 (AU)

Fabrics: Cotton, spandex, lyocell, acrylic, steel

100% Organic: No

100% Vegan: No

Ethical & Fair: Yes

Recycling: Yes

Producing country: Tunisia, Italy, Portugal, India, Turkey, Poland, Sweden

Certifications: Fair Trade, GRS, GOTS, OCS, OEKO-TEX, FSC, Fair Wear

Sustainability Practices
"We are very proud of what we have accomplished so far, and by continuing our practical approach to sustainability, we will take further steps to maintain our leading position in the denim industry."


Nudie Jeans wants to become one of the most sustainable denim company. It collects and repairs jeans. It also sells pre-loved Re-use jeans in its repair shops.

Nudie Jeans offers its customers 20% off a new pair of jeans when handing in an old pair. It's exploring ways of recycling its products. Its polybags are made of 80% recycled plastics.

Nudie Jeans uses a high amount of certified organic cotton as well as some recycled materials to produce its denim. It only works with organic, Fair Trade, or recycled cotton.

Nudie Jeans also uses man-made regenerated cellulosic textiles such as Tencel lyocell and synthetic fibers such as spandex (elastane) and acrylic.

The denim label manufactures its clothes mostly in Europe but also in Tunisia, Turkey, and India. It guarantees basic social standards verified by third-party organizations including the Fair Wear Foundation.

It has a code of conduct that applies to all its suppliers and subcontractors based on the regulations set by the International Labor Organization (ILO), the UN Universal Declaration of Human Rights, and the Code of Labor Practice from the Fair Wear Foundation.

Nudie Jeans' factories have been audited in the past and need improvements. Worker complaints are still being reported. Nudie Jeans sees the need for employee education and training to make sustainable improvements.

Nudie Jeans replaced the leather patches on its jeans since 2018 with a Jacron patch, made of FSC certified cellulose and synthetic acrylic. It doesn't use any exotic animal skin, hair, fur, down, or silk but uses wool and leather in some of its products.

Wool and leather production is cruel and unnecessary. These materials are obtained from animals that suffer immense pain. More ethical and sustainable alternatives exist.

Sustainability Goals
Nudie Jeans plans to offset all its emissions in 2020. It joined the Swedish Textile Initiative for Climate Action (STICA) in 2019 and plans more proactive work.

Nudie Jeans doesn't have science-based targets (SBT) and a relevant action plan yet. It plans to set targets by 2023.

Nudie Jeans wants to decrease its emissions from business travel by 20% by 2022.

It also aims to increase the number of collected, repaired, and sold second-hand jeans over time, with 50 repair spots opening by 2030, a goal set in 2018.

Nudie Jeans strives to achieve payment of living wages for 100% of its workers by 2025.

Nudie Jeans is working on minimizing the use of harmful chemicals and increasing water use efficiency in its supply chain. It doesn't have any clear goal or timeline yet.

Buy Here
Discover Nudie Jeans' sustainable collections at nudiejeans.com.
Reviews And Experiences With Nudie Jeans
Have you had (good) experiences with shopping at or the products of Nudie Jeans? Then leave us your rating below.