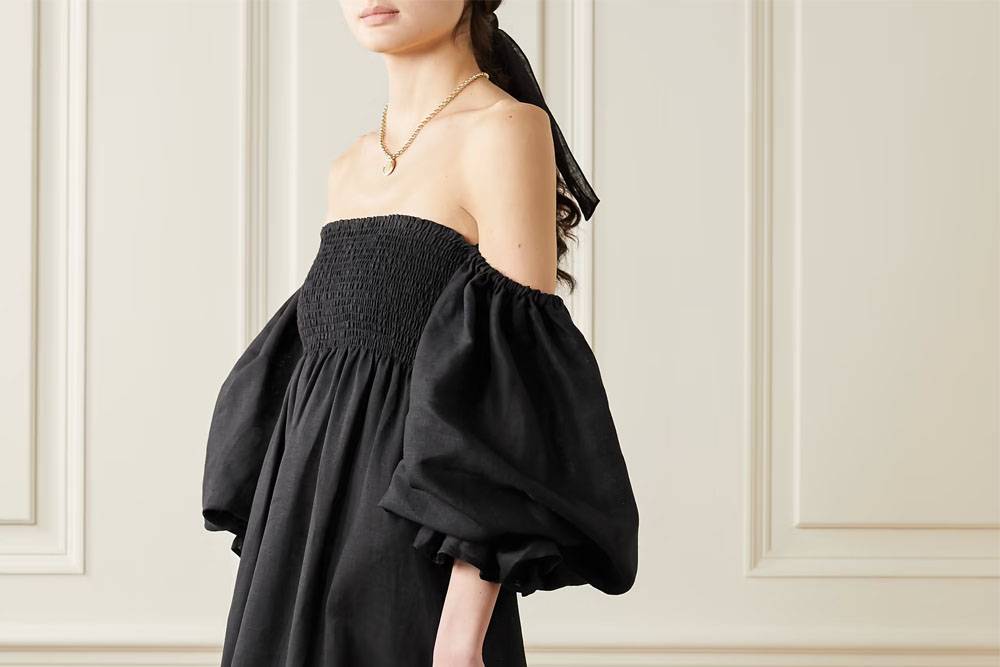 Net-A-Porter is an online fashion retailer founded in 2000 in London, United Kingdom, by Natalie Massenet. The multinational clothing-retail company delivers lasting luxury fashion for women.

Net-A-Porter makes clothing, accessories, shoes, lingerie, beauty, and jewelry. The Italian fashion group Yoox Net-a-Porter Group now owns Net-A-Porter with many other unique brands.

The company is the world leader in online luxury and fashion and has a unique ecosystem of four multi-brand online stores, including Net-A-Porter, Mr. Porter, Yoox, and The Outnet.

The Yoox Net-A-Porter Group serves 4.3 million customers in 180 countries. It has offices and operations in the United States, Europe, the Middle East, Japan, China, and Hong Kong.

Net-A-Porter launched a new sustainability strategy called Infinity under the motto: Lasting Luxury Fashion. Lasting Positive Impact. The Group is working towards a more sustainable and inclusive circular fashion system for the industry.

The Yoox Net-A-Porter Group is a clothing retailer headquartered in Milan, Italy. It offers apparel, footwear, accessories, beauty, and jewelry for women and men.


Panaprium is proud to be 100% independent, free of any influence, and not sponsored. We carefully handpick products from brands we trust. Thank you so much for buying something through our link, as we may earn a commission that supports us.

Sustainability Rating: 5/10
Rating FAQ

Category: Clothing, accessories, shoes, bags, jewelry

For: Women

Type: Basics, denim, knitwear, activewear, underwear, loungewear, swimwear, outerwear, nightwear, bridal, flats, sandals, heels, boots, sneakers

Style: Chic

Quality: High

Price: $$$

Sizes: XS-XL, 2-12 (US), 8-16 (UK), 34-42 (EU), 8-16 (AU)

Fabrics: Cotton, linen, hemp, ramie, jute, lyocell, modal, viscose, acetate, polyester, nylon, spandex, polyethylene, polypropylene, acrylic, neoprene, polyurethane, rubber, leather, wool, silk, down

100% Organic: No

100% Vegan: No

Ethical & Fair: No

Recycling: Yes

Producing country: not transparent enough

Certifications: GOTS, OCS, BCI, GRS, FSC, RDS, RWS, RJC, SA 8000, ISO 14001


Sustainability Practices
Net-A-Porter is committed to making positive changes towards a more sustainable and inclusive future. It builds incredible brands leading the way in sustainability, technology, innovation, editorial, and curation.

Net-A-Porter takes wide-ranging measures to bring change and strengthen its commitment. It aims to bring luxury and fashion into balance with our planet.

Net-A-Porter aims to capitalize on its global influence and reach to foster a future where the clothes we love last for longer. Its ten-year sustainability strategy called Infinity commits to four focus areas:
Circular Business
Circular Culture
Planet Positive
People Positive

Net-A-Porter offers a relatively small number of clothes made from organic materials such as organic cotton and hemp or recycled materials such as recycled polyester and regenerated nylon. 

Net-A-Porter dedicates very few of its collections to sustainable fashion. "Net Sustain" is its platform for sustainable clothing pieces and its strong commitment to sustainability. 

Most of the fabrics in its clothes are either natural without relevant certifications, such as cotton or linen, or synthetic petroleum-based fibers such as polyester, nylon, acrylic, and more. 

Net-A-Porter also sells clothing made from semi-synthetic fibers or regenerated cellulosic fabrics such as Tencel lyocell, modal, acetate, cupro, and viscose.

Tencel is an eco-friendly fiber made with wood pulp from certified sustainable forests. But only a tiny proportion of the materials used by Net-A-Porter are environmentally friendly and sustainable.

Net-A-Porter doesn't publish a list of all its suppliers on its corporate website, ynap.com. It works with thousands of brands and suppliers to purchase millions of products. 

The clothing retailer checks individual suppliers and periodically evaluates the parts of its operations and supply chain most exposed to the risk of human rights violations.

Net-A-Porter has a Code of Conduct that applies to all its suppliers and subcontractors to understand the risks facing workers and make positive changes throughout its supply chain.

Net-A-Porter doesn't offer apparel made from exotic animal skin, hair, fur, or angora. But it sells many clothing pieces that contain leather, wool, silk, and down feathers. 

These animal-derived materials are cruel and unethical. They also harm the environment by producing greenhouse gases and waste. More sustainable alternatives exist.



Sustainability Goals
The Yoox Net-A-Porter Group will lead circular design and care and repair initiatives, run carbon emissions reduction programs, and become climate positive over the coming years.

The luxury clothing retailer believes that planet and people commitments must go hand in hand for a sustainable future. It will ensure that 20% of its annual editorial and social media content focuses on sustainability by 2022.

Net-A-Porter plans to become climate positive across its operations and private label value chain by 2030. And by 2023, it will become a zero-waste business by ensuring that 100% of its operational waste is reused, recycled, or composted.

Net-A-Porter is building an inclusive world, continuously accelerating progress and raising awareness on equality and inclusion. It will make financial contributions and nurture partnerships that support organizations working on solving these issues.


Buy Here
Discover Net-A-Porter's sustainable collections at Net-A-Porter.com.
Reviews And Experiences With Net-A-Porter
Have you had (good) experiences with shopping at or the products of Net-A-Porter? Then leave us your rating below.