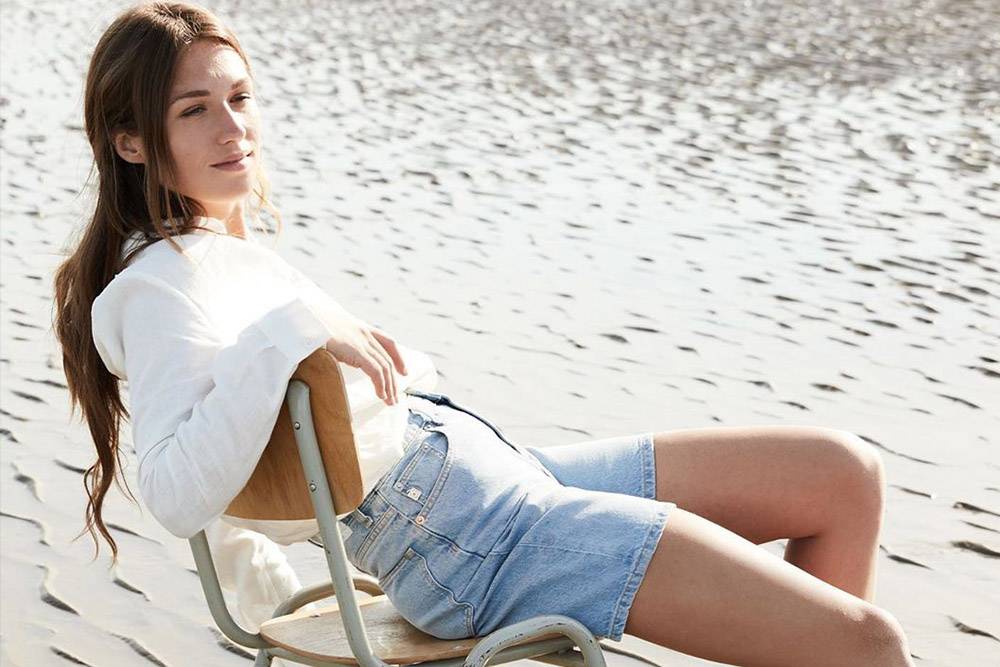 Mud Jeans is a sustainable denim brand founded in 2013 by Bert van Son and based in The Netherlands. It makes high-quality jeans sustainably and ethically.

After 30 years of experience in the fashion industry and realizing how dirty and unfair it is, Bert launched its denim brand to make ethical jeans available to more people.

The denim label aims to change the fashion industry. It creates jeans, tops, shorts, and jackets for women and men according to the principles of the circular economy.
Panaprium is proud to be 100% independent, free of any influence, and not sponsored. We carefully handpick products from brands we trust. Thank you so much for buying something through our link, as we may earn a commission that supports us.

Sustainability Rating: 8/10
Rating FAQ

Category: Clothing

For: Women, men

Type: Denim

Style: Rock, casual

Quality: Medium

Price: $$

Sizes: XS-XL, 2-14 (US), 4-16 (UK), 32-48 (EU), 6-18 (AU)

Fabrics: Cotton, spandex, steel

100% Organic: No

100% Vegan: Yes

Ethical & Fair: Yes

Recycling: Yes

Producing country: Tunisia

Certifications: GRS, PETA, B Corp, GOTS, OEKO-TEX, ISO 14001, ISO 19000

Sustainability Practices



"We are on a mission to radically change the fashion industry by taking the most popular fashion item in the world, a pair of jeans, and producing it in the most sustainable way without losing a timeless sense of style."

 - Bert van Son, Mud Jeans Chief Executive Officer


The circular economy guides every decision at Mud Jeans. Each product is designed for recycling. The company aims to shape a world without waste. It has also eliminated all toxic chemicals from its supply chain.

Mud Jeans uses renewable energy in its factories. It has a take-back program in place that sends old garments to the recycle factory Recovertex in Spain.

80% of all Mud Jeans sales are returned within its Lease-A-Jean Program, 50% of which returned to the market as vintage jeans.

Mud Jeans uses a high amount of recycled materials such as recycled cotton to produce its denim as well as GOTS certified organic cotton. Its clothing is made of 40% post-consumer recycled cotton.

The denim label manufactures its clothes in Tunisia at Yousstex International. The jean factory is has been audited in the past and needs improvements. New audits will take place in 2020.

Mud Jeans has a Code of Conduct for Suppliers based on the ethical trade principles of the United Nations and International Labor Organization (ILO).

It aims to continuously improve policy and practice regarding human and workers' rights, corruption, female empowerment, gender equality, and the environment.

Mud Jeans sell any item made from animal-derived materials. It replaced the usual leather patch on jeans with a printed label. No animals are armed in Mud Jeans' production. The brand received the PETA Approved Vegan certification.

Sustainability Goals
Mud Jeans aims to sell 100% recycled denim. It plans to try its first sample in 2020. The brand also strives to reduce its energy and water use.

It plans to become carbon positive by 2021. Together with other B Corporations, Mud Jeans strives to reach Net Zero, carbon neutrality by 2030.

Mud Jeans wants to enable full traceability of its jeans by 2021 and make it available to its customers.

According to its 2019 sustainability report, Mud Jeans has set the following targets for the coming years:
Emission reduction (CO2 equivalent) of 15% by 2020, 80% by 2030.
Land use reduction of 15% by 2020, 80% by 2030.
Water depletion reduction of 7% by 2020, 80% by 2030.
Energy consumption reduction of 6% by 2020, 60% by 2030.

Buy Here
Discover Mud Jeans sustainable collections at mudjeans.eu.


Reviews And Experiences With Mud Jeans
Have you had (good) experiences with shopping at or the products of Mud Jeans? Then leave us your rating below.