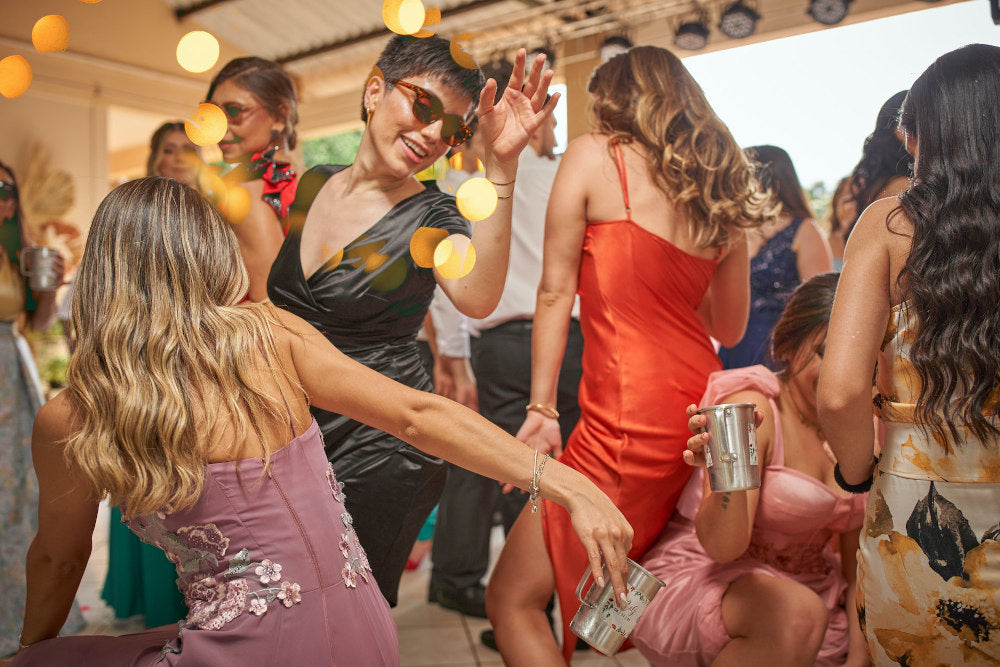 How To Dress For A Michael Bublé Concert - 15 Mesmerizing Outfit Ideas
Michael Bublé concerts are romantic, elegant, moving, and ironic at the same time. His pop-based musical style features jazz, rock, swing, and soul music, mostly with vocals playing a dominant role. Reinterpretations of immortal songs through his unmistakable style demonstrate his incredible crooner skills, making him one of the best performers in his genre.
If you are lucky enough to have tickets to a Michael Bublé concert, you will want to look your best while you enjoy his soulful tunes. Deciding what to wear can be tricky, but our outfit ideas will make you stand out in the crowd.
Here are some mesmerizing outfit ideas for a Michael Bublé concert.
Panaprium is proud to be 100% independent, free of any influence, and not sponsored. We carefully handpick products from brands we trust. Thank you so much for buying something through our link, as we may earn a commission that supports us.
1. Pleated skirt 
Pleated skirt outfits make the best blend of both casual and elegant styles. Pleated skirts first became popular in the early 20th century, the era of swing jazz music.
Pleated skirts are easy to style and adapt to almost all body shapes. Pair your pleated skirt with a turtleneck sweater if you are looking for a casual look. Remember to tuck the sweater in. You can also add a thin belt to accentuate the waist.
Complete the look with heels or pointed loafers to give height to your figure.
Discover our selection of the best midi skirts for women made from sustainable and eco-friendly materials.
2. Tailored shorts
Shorts are not the first garment that pops into your mind when deciding what to wear to Michael Bublé concert. But not all types of shorts are the same.
Tailored shorts are a great way of keeping cool while adding an elegant and flattering hint to your outfit.
Match tailored shorts with a top and ballerina flats, or if you prefer a more stylish look, you can complete it with heels.
3. Total black look
One of the most favorite looks of Michael Bublé during his concerts is undoubtedly the total black look. The black color is the color of elegance par excellence in the fashion industry. It is often associated with formality and luxury, making it a prominent outfit for a jazz concert.
Check out our selection for the best affordable and sustainable black dresses.
4. An asymmetric ruffle top
An asymmetric ruffle top is a very flattering option for a casual yet elegant look. With its voluminous design and eye-catching silhouette, an asymmetric ruffle top works best when styled with wide or slouchy bottoms. Think the 90s-inspired mom jeans, 70s wide-leg trousers, and pleated culottes to balance the trend.
5. Sequin jacket
If there is clothing in the fashion industry that was influenced by music, this would be sequin clothing. Sequin clothes were favorite for many musicians – from psychedelic rock to soft soul music.

You cannot get unnoticed with a sequin outfit. Besides, sequins remain a symbol of glamour and a strong personality.

Pair a sequin jacket with black dress pants for a truly show-stopping look. Complete the look with elegant heels for a truly glamorous look.
6. Satin top with jeans
Pair a satin top with high-waisted jeans or pants for a comfortable yet stylish look. Choose a top with thin straps and tuck it in to define your waistline and create a flattering silhouette.
Dress up your satin top, and layer it under a blazer or trench coat for a sophisticated look.
Buy your trench coat from eco-responsible clothing brands, find our selection of 10 Best Affordable And Sustainable Trench Coats here.
7. Wear a statement blazer
Blazers are a versatile fashion item that can be dressed up or down and will be a great outfit idea for a concert. Michael Bublé concerts often have a sophisticated and stylish atmosphere, and a statement blazer can help you look put together and elegant while also showing your individuality and personal style.
A statement blazer with bold colors, patterns, or unique embellishments can be particularly fitting for a jazz concert, as it can reflect the creativity and improvisational nature of the music.
 Find out our collection of stylish and recycled blazers here.
8. Lace cocktail dress
Michael Bublé is known for his timeless style, so why not follow his lead with some classic cocktail attire? Lace is a classic and elegant fabric and can be a perfect choice for his concert.

A lace cocktail dress will make you look elegant and add a touch of sophistication to your outfit.

A pair of pointed-toe heels, a clutch, or a small handbag will amazingly complete the look.
Get inspired by our selection of the finest cocktail dresses here.
9. Chic jumpsuit
A chic jumpsuit is a perfect choice if you want to wear something comfortable that will not restrict your movements while dancing.

Look for a jumpsuit in a flattering cut with a touch of glamour, such as a metallic finish or bright color. Wear a belt to add a personalized touch. You can pair this with statement jewelry and simple heels for a sleek and modern look.
To help you highlight your best features, feel comfortable, and look charming effortlessly, here are some of the best affordable and sustainable jumpsuits.
10. Shiny faux leather mini skirt
Pair a shiny faux leather mini skirt with a turtleneck sweater for a glamorous look.
Go for a mini skirt with a flattering cut and pair it with some simple accessories and ankle boots.
Find your perfect mini skirt from our selection of the best affordable and sustainable mini skirts.
11. Boat neck top
Originating in the 1920s by the fashion designer Coco Chanel and popularized by Audrey Hepburn in the 1950s and 1960s, boat neck tops are the best pick for Michael Bublé concerts.

Boat neck tops are elegant and can fit many body types. They visually widen the shoulders and can help balance out wider hips.

Boat neck tops look great paired with high-waisted pants, skirts, or shorts. This combination can help balance out the proportions of the outfit and create a flattering silhouette.
12. Denim and leather
You cannot go wrong with a denim and leather combination if you want casual but stylish attire. Pair your favorite skinny jeans with a leather jacket or vest and a classic white t-shirt. This look is fancy yet comfortable and can be dressed up or down with the right accessories.

Get motivated by Michael Bublé, who perfectly matches a leather jacket with a shirt and tie and looks absolutely astonishing! 
Make conscious purchasing decision and go for a vegan leather jacket. Here are the best affordable, sustainable, and vegan leather jackets made under high social and environmental standards.
13. Crop top with jeans and a blazer
A crop top paired with skinny jeans is an offhand and stylish outfit idea for a Michael Bublé concert. Choose a simple crop top, and dress it up with a blazer. Complete the look with ankle boots or cute flats.
Here is our selection of ethically made vegan leather boots.
14. Wide-leg pants
Wide-leg pants can be a fantastic outfit choice for a concert night. Choose wide-leg pants made of a dressier material like satin, organza, or chiffon.

Wide-leg pants can be voluminous, so it is crucial to balance the proportions by pairing them with a more fitted top. A crop top or a tucked-in blouse can be a great choice.
You can find 20 best sustainable wide-leg pants and jeans here.
15. Slip-on dress
Michael Bublé concerts can involve a lot of standing, dancing, and moving around, so it is fundamental to wear something comfortable that does not restrict your movements. A slip-on dress can be a great choice in this regard, as it is typically loose and flowy.
A satin slip-on dress is elegant, as satin is a luxurious and lustrous fabric that can add a touch of sophistication to any outfit.
Was this article helpful to you? Please tell us what you liked or didn't like in the comments below.
About the Author: Iana Jekova