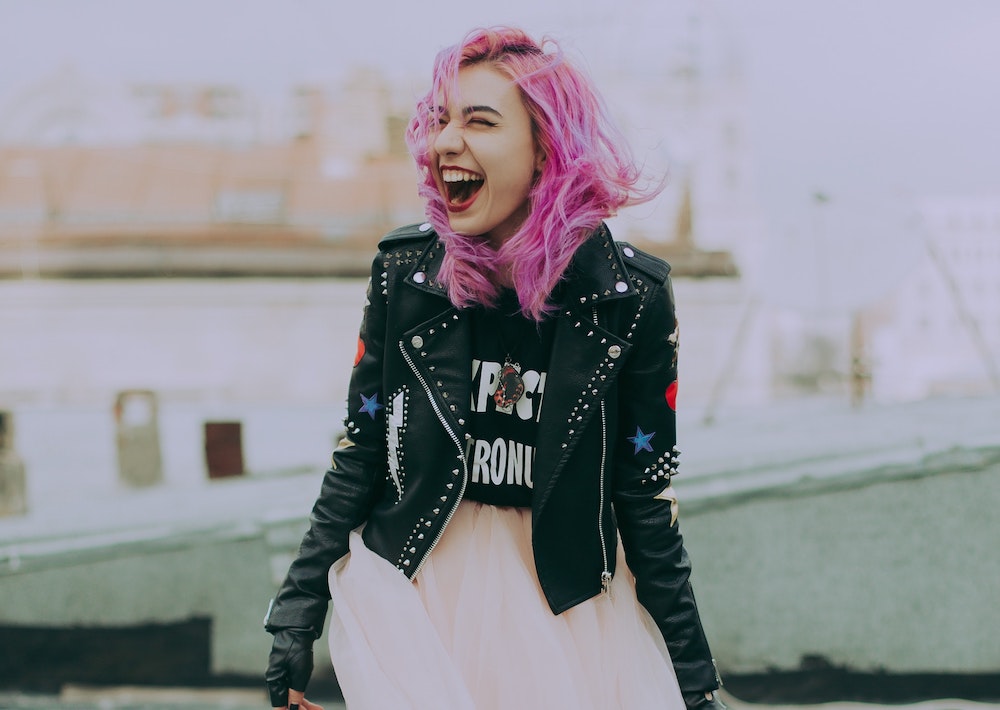 20 Ways to Rock the Metalhead Fashion Style
Metalhead fashion has its roots in biker, rocker, and outsider subcultures. It's a relaxed, edgy, and timeless look that stands out for all the right reasons.
Metalhead fashion incorporates elements of goth and punk culture into a signature look all its own. 
If you're a heavy metal fan, you probably have a tried-and-true wardrobe rotation of your favorite band shirts, ripped jeans, and high-top sneakers. 
But every metalhead needs a wardrobe refresh from time to time. 
Get your black apparel and studded belts ready. Here are 20 fantastic ways to rock the ever-edgy metalhead fashion style.
Panaprium is proud to be 100% independent, free of any influence, and not sponsored. We carefully handpick products from brands we trust. Thank you so much for buying something through our link, as we may earn a commission that supports us.
Band T-Shirts
Band t-shirts are the number one essential for metalhead fashion. Score some t-shirts from your favorite bands and wear them with pride. 
Represent new metal bands or old classics like Megadeth or Black Sabbath. The more worn-in your band shirt, the better. 
Check out these online thrift stores to score affordable vintage band shirts. 
Ripped Jeans
Metalhead fashion is pretty laid-back and casual. Ripped, distressed denim fits into the style because it's effortlessly cool and edgy. 
Wear a pair of beat-up vintage jeans or buy sustainable pre-distressed denim. 
Shop for your new favorite pair of jeans with our ultimate list of the best sustainable denim brands. 
All-Black Outfits 
True metalheads are the nicest people you will ever meet. But they have to keep up appearances by wearing intimidating all-black outfits. 
Rock this look by wearing black jeans, shirts, and outerwear. Basically, any all-black outfit will work. Make sure to wear slim fits and accessorize with silver jewelry and piercings. 
Check out the best goth clothing brands for all the black clothing your metalhead heart desires. 
Black Hoodies and Jeans
A black hoodie and jeans is a great casual outfit that still holds some metalhead flair. 
Rock a slim-fit black hoodie and jeans with chunky platform sandals or heavy-duty black work boots. 
Don't miss our selection of sustainable and affordable hoodies. 
Vegan Leather Jackets
Any true metalhead knows that a high-quality leather jacket is a must. 
Invest in a sustainably made, cruelty-free vegan leather jacket. Heavy metal is all about going against the grain of the mainstream, after all. 
Check out these vegan leather jackets that won't break the bank. 
Black Dresses and Combat Boots
This may come as a surprise to some, but metalhead fashion can be feminine, too. 
Wear a black dress with combat boots for a tough, totally metal outfit. Finish off your look with fishnet stockings and dark eye makeup. 
Explore our favorite sustainable black dresses for a glam metalhead look. You'll be intimidating people with your music and fashion in no time. 
Button-Up Shirts Over Band Tees
Try a dark-colored button-up over a classic band tee when you need to dress up your look but still want to hold on to your metalhead aesthetic. 
Dark flannels or checkered button-ups are always a fantastic choice. They're masculine and fashionable while remaining just casual enough. 
Check out our favorite sustainable button-up shirts. 
Metal Accessories
Hardcore accessories like belt chains, black belts, and dark earrings are essential for metalhead fashion. 
Focus on masculine hardware, skull iconography, and other edgy aesthetics. The darker the imagery and tougher the accessories, the better. 
Dark-Wash Denim
If you don't feel like wearing black all the time, switch it up with dark-wash denim. 
Metalhead guys can wear slim-fit dark-wash jeans with a vintage band tee, dark flannel, or no-nonsense outerwear. 
Women can create an edgy metal look with distressed dark-wash jeans, combat boots, and various styles of black tops. 
Check out these affordable fair-trade jeans to get started. 
Utility Outerwear
Metalhead fashion draws a lot of inspiration from practical workwear. Wear utilitarian outwear like canvas jackets and workwear zip-ups. 
Add your favorite pins and patches for some unique metalhead flair.
Black Parkas and Heavy-Duty Boots
A black parka and heavy-duty work boots create the perfect combo of chic and edgy. 
Wear a black parka with cuffed black jeans, platform boots, and a worn-in t-shirt for a relaxed yet put-together look. 
Shop our favorite winter parkas for more outfit inspiration. 
Incorporate Camo
Wearing all-black can get old after a while. Incorporate camo print into your wardrobe for added interest and texture. 
Wear a camouflage jacket or cargo pants with black work boots, a belt, and a black t-shirt. You can also incorporate camo print with patches, accessories, and handbags for a more subtle touch.
Vintage Tees and Cargo Pants
Wear vintage band tees and cargo pants to switch things up with your heavy metal look. 
Cargo pants tucked into vegan leather combat boots are the way to go if you want a metalhead vibe.  
Don't miss our selection of the best sustainable cargo pants. 
Long-Sleeve Flannel Shirts
Metalheads have to be cozy, too. A warm, long-sleeve flannel shirt is an excellent choice for a heavy metal winter wardrobe. 
Go for darker colors, like black and gray, dark green, or neutral browns. Button your flannel all the way up to the collar, or wear it unbuttoned over a metal band t-shirt. 
Check out our favorite American-made flannel shirts for women. 
Gray and Black Are Your Friends
Metalhead fashion is all about being edgy and dark with a sprinkling of goth style. 
Focus on clothing and accessories that are darker in hue, like gray outerwear and all-black shirts, jeans, and sweaters. 
A Vintage Denim Jacket
A denim jacket is a must-have for a metalhead's wardrobe. Make this classic piece of outerwear your own by adding patches, pins, and DIY alterations. 
For an extra layer of authenticity, find a vintage denim jacket that fits you well and is already worn in.
Check out our selection of affordable denim jackets we guarantee you'll love. 
Heavy Dark Makeup
Complete your metalhead look with dark and moody makeup. 
Think heavy eyeliner and dark red lipstick. If you're feeling especially daring, wear black liquid eyeliner with matching black lipstick. 
Slim-Fit Black Jeans
Slim-fit black jeans look great with just about anything, making them the perfect addition to any heavy metal closet. 
Wear slim-fit jeans with a mesh top, button-up flannel, or black parka. You can also keep things simple with a vintage t-shirt. 
Don't miss our ultimate list of the best sustainable black jeans. 
Worn-In Sneakers
A pair of comfy, worn-in sneakers look great with distressed jeans, a band tee, and a vegan leather jacket. 
Wear a pair of your favorite beat-up Converse or Vans for a casual vibe that still captures the edginess of metalhead fashion. 
Explore our selection of sustainable, European-made sneakers. 
Vegan Leather Work Boots
Invest in a pair of heavy-duty work boots to add a layer of toughness to any outfit. 
You can wear lace-up combat boots, vegan leather Doc Martens, or Chelsea boots with a thick platform sole. Whatever style you choose, make sure it comes in black. 
Check out our selection of the best affordable vegan work boot brands. 
Was this article helpful to you? Please tell us what you liked or didn't like in the comments below.
About the Author: Liz Flynn