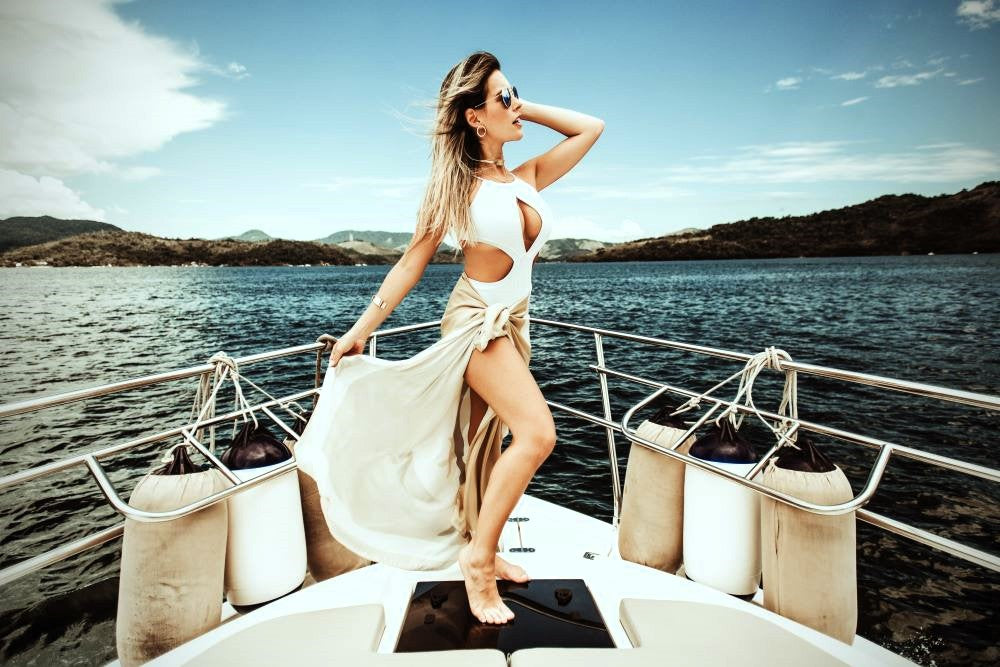 What to Wear on Mediterranean Cruise: 25+ Best Stunning Outfits
A Mediterranean cruise offers a unique opportunity to indulge in the region's rich culture, savor its delectable cuisine, and soak in the warm, azure waters of the Mediterranean Sea.
With each new port of call, you will find yourself immersed in a tapestry of experiences, from wandering through ancient ruins to sipping espresso at a charming seaside café.
Your cruise wardrobe should not only reflect your style but also adapt to the changing moods and landscapes of the Mediterranean.
Whether you are exploring the bustling markets of Barcelona, basking in the sun-drenched beaches of the Greek Islands, or savoring a romantic dinner overlooking the Amalfi Coast, your choice of attire can enhance your overall cruise experience.
In this comprehensive guide, we will not only provide you with a list of outfit items but also offer insights into how to mix and match them for various occasions.
From the practicality of swimwear and cover-ups to the elegance of evening gowns and blazers, we have got you covered from sunrise to sunset and beyond. So, let's embark on this sartorial adventure together and ensure your Mediterranean cruise is as stylish as it is memorable.
Panaprium is proud to be 100% independent, free of any influence, and not sponsored. We carefully handpick products from brands we trust. Thank you so much for buying something through our link, as we may earn a commission that supports us.
Maxi Dresses
Maxi dresses are versatile and perfect for Mediterranean evenings. They offer both comfort and style. Look for breathable fabrics like cotton or linen in vibrant prints or solid colors.
Maxi dresses with empire waists or wrap styles are not only flattering but also comfortable for dining and dancing onboard. Make sure to check out the best affordable maxi dresses made in the USA. 
Sun Hat
A wide-brimmed sun hat not only adds a touch of glamour to your cruise attire but is also a practical choice for shielding your face and eyes from the Mediterranean sun.
Look for one with UPF protection for added sun safety. Opt for a hat in a breathable material like straw or cotton, and make sure it is adjustable for a comfortable fit throughout the day.
Sunglasses
Stylish sunglasses are a must to protect your eyes from the intense Mediterranean sun. Opt for a pair with polarized lenses to reduce glare and choose a shape that complements your face shape and style.
Consider investing in a quality pair with durable frames and scratch-resistant lenses to ensure they last throughout your trip. Choose a pair from our wide selection of the 15 best affordable and sustainable sunglasses. 
Stylish Swimsuit or Bikini
Pack at least two swimsuits for your cruise. Choose a flattering and comfortable style that suits your taste, whether it is a one-piece, bikini, or swim trunk. Vibrant colors and patterns are perfect for the vibrant Mediterranean atmosphere.
Ensure that your swimsuits are made from quick-drying, chlorine-resistant materials that will hold up well in pool and saltwater environments. Here are the 15 best recycled swimsuits and bikinis you will love. 
Cute Sundresses
Sundresses are a staple for daytime excursions. Choose dresses with breathable fabrics, such as cotton or chambray, and opt for playful patterns or bright hues to capture the Mediterranean spirit.
Look for sundresses with adjustable straps and convenient pockets for storing small essentials while exploring ashore. Discover the 15 best affordable sundresses made in the USA. 
Lovely Rompers
Rompers are a chic and comfortable option for exploring ports. Look for styles with adjustable straps and easy-to-wear fabrics. They are perfect for active days of sightseeing.
Rompers with elasticized waistbands provide comfort for long walks and allow you to indulge in Mediterranean cuisine without feeling constricted. Discover 15 creative ideas on what to wear under a romper. 
Elegant Blouse
A versatile blouse can be dressed up with slacks or paired with shorts for a more casual look. Choose breathable materials like lightweight cotton and opt for neutral colors or patterns.
Look for blouses with unique details, such as lace trim or embroidery, to add a touch of elegance to your daytime or evening outfits. Check out our selection of the best affordable, ethical, and sustainable blouses. 
Tank Tops
Tank tops are ideal for hot days. Look for options with moisture-wicking properties and consider packing both solids and patterns to mix and match with your bottoms.
Tank tops with built-in shelf bras or adjustable straps provide extra comfort and support for all-day wear. Here are the 20 best affordable and sustainable tank tops. 
Sneakers
Comfortable walking shoes are a must for excursions. Choose sneakers with good arch support and cushioning and consider versatile colors that match your cruise wardrobe.
Sneakers with breathable mesh uppers or moisture-wicking liners keep your feet cool and comfortable while on the go.
Cute T-Shirts
Comfy T-shirts are perfect for casual outings. Choose quality fabrics like soft cotton or blends and bring a mix of neutral and colorful options to create various looks.
Look for T-shirts with a flattering fit and consider packing a few with maritime or nautical-themed prints to embrace the cruise theme. Discover the 15 best affordable and ethical T-shirts made in Australia. 
Comfy Shorts
Stylish shorts are essential for daytime adventures. Consider high-waisted or mid-length styles in breathable fabrics. Opt for classic neutrals or bold prints to match your tops.
Shorts with stretchy waistbands or drawstrings ensure a comfortable fit and adaptability to your activities, whether you are exploring historical sites or enjoying a leisurely bike ride. Check out the best organic cotton shorts here. 
Wedge Sandals
Wedge heels are a stylish option for dressier evenings. Look for comfortable styles with ankle straps for stability and choose neutral colors that complement your dresses or skirts.
Wedge heels with padded insoles offer comfort without sacrificing style, allowing you to dance the night away.
Flowy Skirts
Flowy skirts are versatile and can be paired with different tops for varied looks. Maxi skirts or wrap skirts in lightweight materials are great choices.
Look for skirts with adjustable waistbands or side slits for ease of movement, especially when climbing stairs or boarding tenders. For more inspiration, check out our selection of the best affordable and sustainable midi skirts. 
Linen Pants
Lightweight linen pants are a comfortable choice for exploring ashore. Opt for neutral tones or pastels and pair them with tank tops or blouses for a relaxed yet put-together look.
Linen pants with a drawstring or elastic waist provide comfort and flexibility, making them suitable for both casual and semi-formal occasions. Discover the 20 best affordable linen pants for women in 2023. 
Capri Pants
Capri pants are a chic option for a more formal look. Choose tailored styles in fabrics like cotton or linen blends, and pair them with blouses or button-down shirts for a sophisticated ensemble.
Capri pants with front or back pockets add functionality and can be dressed up or down with ease.
Cozy Cardigan
A lightweight cardigan is a versatile layering piece for cooler evenings on deck. Look for one in a neutral color that complements your cruise wardrobe.
Cardigans with open fronts or button closures offer flexibility in styling, allowing you to wear them draped or fastened depending on the weather and occasion. Here are the 20 best affordable and sustainable cardigans for you.
Clutch Bag
A small evening clutch adds a touch of sophistication to your formal dinners. Choose a versatile color or one that matches your evening gowns.
Clutch bags with detachable straps offer flexibility in carrying options, allowing you to go hands-free when needed.
Denim Jacket
A classic denim jacket is perfect for layering over dresses or tops. It adds a touch of casual chic to your outfit while keeping you warm during breezy evenings.
Choose a denim jacket with a flattering cut and consider options with distressed detailing or embellishments to add character to your look. Check out these amazing denim jackets every woman needs. 
Crossbody Bag
A crossbody bag is convenient for carrying essentials during the day when exploring ports. Look for one with multiple pockets and an adjustable strap for comfort. 
Evening Gowns
Pack one or two formal dresses for special evenings on the cruise. Choose elegant styles that flatter your figure and consider options with tasteful embellishments or draping for a touch of glamour.
Evening gowns with adjustable straps or removable accessories provide versatility, allowing you to switch up your look for different formal events. Discover the best 20 places to rent evening, party, and gala dresses. 
Blazers
A tailored blazer is a versatile addition to your cruise wardrobe. It is perfect for dressing up a pair of chinos or jeans and adding a polished touch to your look.
Look for blazers in wrinkle-resistant fabrics and choose classic colors like navy or black for maximum versatility. Check out these recycled blazers for the ultimate elegant look. 
Polo Shirt
Polo shirts are a comfortable yet polished option. Look for high-quality cotton or moisture-wicking fabrics and choose colors that match your shorts or slacks. Polo shirts with ribbed cuffs and collars maintain their shape and lend a sporty touch to your ensemble.
Button-Down Shirts
Crisp button-down shirts are a staple for a dressier look. Opt for breathable materials like cotton or linen and bring both long-sleeved and short-sleeved options.
Button-down shirts with wrinkle-resistant finishes are ideal for maintaining a sharp appearance during your cruise. Discover the 15 best affordable American-made shirts here. 
Chinos
Chinos are versatile pants that work for both casual and semi-formal occasions. Choose slim-fit or relaxed styles in classic colors like khaki or navy.
Chinos with stretch materials offer ease of movement, making them suitable for activities like dancing or exploring historic sites.
Stylish Sandals
Comfortable sandals are essential for beach days and casual outings. Opt for supportive and stylish options that are easy to slip on and off.
Sandals with contoured footbeds and adjustable straps provide comfort during extended walks and outdoor adventures. Here are the 10 best affordable, vegan, minimalist barefoot sandals. 
Espadrilles
Espadrilles are comfortable and stylish shoes for daytime walks. Look for styles with cushioned insoles and consider neutral colors or vibrant patterns to match your outfits.
Espadrilles with rubber or jute soles provide both comfort and durability, ensuring your feet stay happy as you explore. Here are over 10 best affordable and sustainable vegan espadrilles. 
Beach Tote
A spacious beach tote is a practical choice for beach outings. Opt for one with durable materials, a secure closure, and a stylish design.
Beach totes with reinforced handles and ample interior space allow you to comfortably carry towels, sunscreen, and other beach essentials. Discover the 10 best tote bags made from recycled materials. 
Stylish Scarf
Lightweight scarves are versatile accessories that can add flair to your outfits and serve as shawls on cooler evenings.
Choose colorful patterns or elegant solids to coordinate with your cruise wardrobe. Scarves with versatile lengths and fabrics provide endless styling possibilities.
Outfit Items You Should Avoid!
Heavy Winter Coats
Leave heavy winter coats at home. The Mediterranean typically has a mild to warm climate, so you will not need bulky outerwear. Instead, opt for lightweight layers to accommodate various weather conditions.
Overly Revealing Swimwear
While it is common to wear swimwear on a Mediterranean cruise, avoid overly revealing or thong-style swimsuits, especially when walking around the ship or visiting local towns. Some cultural norms in Mediterranean countries may frown upon excessively revealing beach attire.
Formal Eveningwear That is Too Elaborate
While formal attire is appropriate for certain cruise events, avoid packing extremely elaborate gowns or tuxedos. Most cruise lines have a dress code, but excessive formalwear may not be practical for the Mediterranean's relaxed atmosphere.
Heavy Hiking Boots
Unless you plan on engaging in rigorous hiking activities on your cruise, leave heavy hiking boots at home. They can be uncomfortable and unnecessary for most excursions in Mediterranean cities and towns.
Bulky Sports Equipment
Avoid packing bulky sports equipment like surfboards, golf clubs, or skis unless you are planning to participate in specific onboard sports or excursions that require them. 
Excessive Jewelry
While a bit of jewelry can enhance your outfits, avoid wearing or packing excessive amounts of expensive jewelry. It can attract unnecessary attention and may not be practical for active excursions or beach outings.
Inappropriate Cultural Attire
Be mindful of local customs and dress codes when visiting Mediterranean destinations. Avoid clothing items that could be considered culturally insensitive, such as clothing with offensive slogans or religious symbols that are not part of your belief system.
Was this article helpful to you? Please tell us what you liked or didn't like in the comments below.
About the Author: Gohar Davtyan